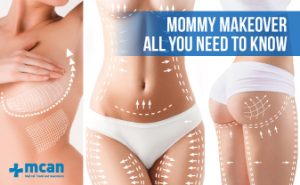 Mommy makeover is a type of plastic surgery treatment aiming to reverse the effects of pregnancy.
While pregnancy is a beautiful and exciting period for most women, it may come with some unpleasant and unwanted consequences: change in the body form and shape. Many women experience some drastic changes in their bodies after pregnancy and breastfeeding. Pregnancy may have some impact on different and multiple parts of women's bodies.
But thanks to Mommy Makeover, it is possible to have a firmer and balanced body shape as if you have never had pregnancy! In this blog piece, MCAN Health will try to answer the most frequently asked questions by the patients who are interested in a mommy makeover.
Let's get started!
What's included in a mommy makeover?
Mommy makeover is a set of combined plastic surgery treatments performed in one single session.
You and your needs determine the extent of your mommy makeover. For instance; if you want your breasts to be firmer and get rid of fat on your abdomen area, then your mommy makeover will consist of breast uplift and liposuction. If you also want to get rid of excess skin on your tummy and want to achieve a flat look, then your mommy makeover will also include a tummy tuck.
Most commonly a mommy makeover is performed to enhance the breasts, waist, tummy, genitalia, and buttocks.
However, as mentioned, it may include any part of the body depending on your needs and desires. So, it may include liposuction, tummy tuck, breast lift, breast augmentation, BBL, arm lift, vaginal rejuvenation, thigh lift.
How long does a mommy makeover take?
This depends on the treatments you have under your mommy makeover. But usually, it takes around 3 to 4 hours.
Is it worth getting a mommy makeover?
The answer to this question is actually in you! How comfortable and secure do you feel in your post-partum body? If you do not feel happy about the changes in your body then this constant insecurity and unhappiness may lead to depression. Having a mommy makeover may help you feel happy about your body and boost your self-esteem.
How painful is a mommy makeover? / What is the recovery for a mommy makeover?
Mommy makeover is performed under general anesthesia. So, during the surgery, you do not feel anything. As for the post-op, every patient is different so are their pain tolerance. As in any other surgery, there may be some pain during post-op recovery time. Mostly, patients are given some pain killer to ease the pain. The most important aspect of the recovery period is your commitment to post-op care. As long as you follow your surgeon's advice, your recovery time will not lengthen out.
How long does it take to recover from a mommy makeover?
This again depends on the extent of your mommy makeover surgery. For instance, the recovery period may be longer when you have a mommy makeover including a tummy tuck, lipo and breast lift than a mommy makeover consisting of lipo and breast lift only. But usually, initial recovery takes between a week or two. So, you can go back to your daily routine after 2 weeks. Full recovery may take up to 3 months.
Do I need to lose weight before a mommy makeover?
If your ideal weight is different than your actual weight and you like to lose weight, it is better to do so prior to surgery. And your BMI (Body Mass Index) should be equal or less than 30 for you to have a mommy makeover. If you do not know your BMI, you can use MCAN Health's simple calculator.
Do you lose weight after a mommy makeover?
You may lose some weight after a mommy makeover as some fat may be removed during the procedure. But it will not be a drastic weight loss. Mommy makeover is not a weight loss surgery. It is a surgery aiming to correct the shape and contour of the body which may be affected negatively due to pregnancy. Therefore, it is also not advisable to have weight fluctuations after the surgery because it may temper with the results of a mommy makeover. This is the reason why plastic surgeons advise their mommy makeover patients to reach their ideal weight before the surgery for the best results.
What does a mommy makeover cost?
The cost of a mommy makeover surgery depends on the extent of your needs and the treatments you need. However, compared to the UK and the rest of Europe, having a mommy makeover in Turkey is much more affordable thanks to lower labour and operational costs. And plastic surgeons in Turkey are highly experienced thanks to a high number of patients from diverse ethnic backgrounds travelling to Turkey to have a mommy makeover.
If you consider having a mommy makeover and wonder about the cost, then you can contact us to have a free consultation and find out the cost of your mommy makeover.
We hope we could answer some of the questions you may have. If you have any further questions, please write in the comments section below or simply contact us.
---
---