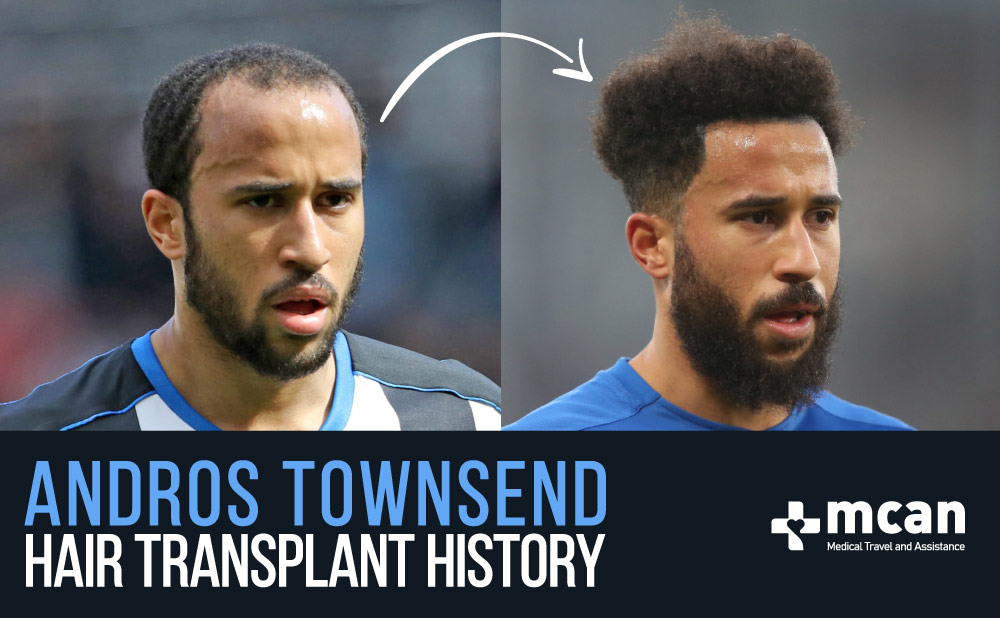 Andros Townsend is one of those footballers who magically get their hair back and pretend the holy ghost is behind such regrowth. Prithee! Looking back at his 2017-2018 pictures, we have little doubt over the fact that the Andros Townsend hair transplant definitely took place.
Either that or Townsend found a new ground-breaking hair restoration technique that no one else knows about (make your educated conclusions).
Could he be a scientist at night and a footballer in the daytime? Let's give Andros the benefit of the doubt before our in-depth analysis.
Who Is Andros Townsend?
Hair transplantation has become a trend, with celebrities worldwide going through hair restoration surgery, including global phenomena such as Lewis Hamilton, Elon Musk and Rafael Nadal.
Andros Townsend is another potential celebrity down the list. Townsend is famous for being the author of a 30-yard volley goal against Manchester City in December 2018, later declared the Premier League Goal of the Season. He represents England as a national player and is notorious for boasting stylised afro hair and a big, badass beard. 
The naughty boy's problems began when he could no longer look as intimidating in the field as he did before his hairline began receding. In a way, you could say that getting his hair back was based on pure professionalism. As a football player, your job is assessed by millions of people watching your every move.
It consists of facing leg-chopping defenders and a wild, screaming manager. There is no other way around it: you must be confident and solve any problem affecting your self-esteem.  
Andros Townsend Hair Transplant Amazing Results
Few things can hinder a man's confidence more than a heavy hair loss. Andros Townsend hair transplant speculation first spread through public media in 2018, when the Everton player publicly displayed thicker hair than previously shown.
His hair had been seriously thinning, and a recession on his frontal area (zone A) was more than noticeable. Townsend was a good 3-4 according to the Norwood-Hamilton scale. 
Townsend Hairline and His Hair Loss Problem
Androgenic alopecia -the condition commonly referred to as 'balding'-, is linked to testosterone production and DHT excess. DHT is actually a hormone responsible for male transformation during puberty. ts most common effects include deepening the voice, growing body hair, and increasing muscle mass. 
There is a negative side to DHT: it makes hair fall down in the scalp's tonsure, central and frontal parts. The footballer's father is bald too, which hints at a genetic root cause of his condition. 
When male pattern baldness is coded in your DNA, there is not so much you can do to fight it through diet or natural products. Instead of waiting to see his hair slowly disappear, Townsed followed the example of fellow players like David Silva and David Beckham. He decided to go for a hair transplantation.
Modern science and new technologies have allowed the development of innovative and highly effective hair transplantation techniques. As a result, balding cases as severe as Townsend's can be totally remedied, and even worse ones.
Andros Townsend Hair Transplant Before and After 
If you are not convinced about Andros Townsend hair transplant, take a look at this picture and think twice: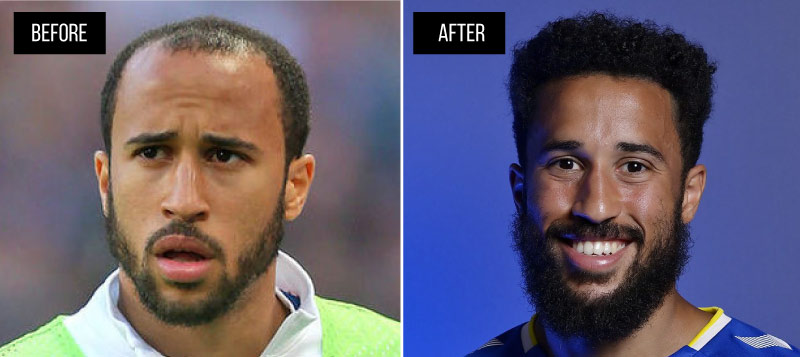 First of all, it is easy to see the density on the frontal area has tripled. Also, Andros Townsend hairline has advanced an inch down the forehead, and the hair density on his temples is greater.
Our surgeons have no doubt about it: a genetic condition such as Townsend's cannot be solved otherwise. Therefore, Andros must have undergone surgery. 
Get Your Hair Back Like Andros Townsend with MCAN Health
Now for the great news. You do not need to be a millionaire superstar footballer like Andros Townsend to get a hair transplant. You can enjoy a luxurious experience, including hotel, transportation and the complete medical procedure, including after-care services, for less than 2000 GBP with MCAN Health in Istanbul.
So don't wait any longer to have a life-changing experience while exploring one of the most beautiful cities on the earth. After a 3-day journey, you will be able to return back home as a new man. At MCAN Health, our motto is: beauty is for everyone!
---
---