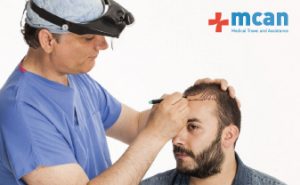 FUE Hair Transplantation is a surgical treatment that transplants individual hair follicles from a part of the body, known as the 'donor site', into bald part of the head called the 'recipient site'. In this technique, as the patient's own hair is used, it gives a very natural look and high density. FUE Hair Transplantation is a safe and outpatient procedure under local anesthetic. It is a pain-free and scar-free procedure thanks to the experienced hair transplant surgeons and cutting-edge technology.
Even if FUE Hair Transplantation is a safe operation, it may hold some complications such as pain, swelling or itchiness. Although the risks or complications are lower when compared to the other plastic surgery operations, it is always suggested to consider all of the risks before having surgery. Below you will find 5 common complications after FUE Hair Transplantation. All the side effects below are minor ones and they clear up in a couple of weeks.
1. Bleeding
During the operation, it is normal to have bleeding. With pressure, bleeding will be easily stopped by your surgeon.
2. Itching
Feeling itchy is one of the common causes of the healing process. As your donor area starts to recover, it becomes itchier. Shampooing your donor area and hair daily will help you to have a smoother recuperation.
3. Swelling
After FUE Hair Transplantation operation, swelling may occur in the forehead and the area around the eyes. With the help of anti-edema medications and the bandage, the swelling is prevented. In one week all the swelling will disappear.
4. Pain
As hair transplantation is performed under local anesthesia, you feel little pain while the injections are being done. After hair transplantation, you rarely feel pain. Your surgeon will definitely prescribe painkillers to have a smooth recovery period.
5. Shock Loss
Some patients may also experience Shock Loss, also known as Shock Fall Out Syndrome, after FUE Hair Transplantation. Shock loss is a type of hair loss which may result in not only the loss of the newly transplanted hair but also the loss of existing hair. When you experience Shock Loss, you should not panic as this is perfectly normal. Shock Loss is a temporary situation and your hair will grow back and will be healthier more than ever.