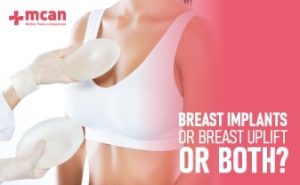 Generally speaking, decision-making is not an easy process. It requires thorough thinking as you need to consider each and every option to make an informed choice. And it may even be more difficult when it comes to making a decision on cosmetic surgery. Yes, there is internet, and all the information we need is 'just a click away!'. But googling also 'dumps' countless information on our screen; some accurate some not, some easy to read, some almost require a degree in medicine to understand.
We keep hearing similar questions and concerns from our patients about all plastic surgery procedures. We thought that we needed to start somewhere. Most women get confused when it comes to having implants with a breast lift. So, in this article, we aim to answer the most frequently asked questions on whether to have a breast lift with or without implants. And we promise it will be simple, accurate and hopefully, help you make an informed decision if you are planning to make one soon!
Will implants help sagging breasts?
Implants help reshape and resize the breasts! They are great in enhancing the volume of your breasts. But when it comes to sagging breasts, implants may not be helpful in most cases. Simply put, if there is a significant amount of loose skin on your breasts, then implants alone are not enough to fix that. If sagging bothers you, then you definitely need to consider a breast lift with implants.
Will a breast lift reduce cup size?
Yes, after breast uplift, your cup size will go down! Breast lift, also called as Mastopexy, is great in fixing sagging breasts. It gives a firmer look to the breasts by removing the excess skin. Regarding the size, our lovely contracted surgeon Dr Gurel advises that breast lift may result in a decrease in cup size, which is usually between a half and one cup size. This is also highlighted by the research of Plastic and Reconstructive Surgery, the official medical journal of the American Society of Plastic Surgeons (ASPS), women who had undergone breast uplift surgery reported an average decrease of one cup size.  For example, if your cup size is D, then your cup size after a breast uplift is expected to be C.
Do breast lifts require implants?
The answer to this question might be both yes and no, it actually depends on your preference. When you go for a breast lift, your cup size will decrease, as mentioned, it will go down approximately an average of one cup size. If you are OK with it, then you are good to go with breast uplift only. But if going smaller would bother you, then you definitely need to consider having implants with a breast lift.
How do I know if I need a breast lift with implants?
Simple, if you want both firmer and bigger breasts, then you need to have a breast lift with implants!
Is a breast lift safer than implants?
Although most people initially tend to think that a boob job might be less safer than a breast lift because something 'foreign' is implanted in your body, actually it may not be the case. 'Each and every plastic surgery has its own risks but it is not right to say that a boob job is less safer than a breast lift because there are implants. Implants are now safer than ever, most implants offer a lifetime guarantee. Here the question you need to ask is: "am I choosing the right surgeon?" because choosing the right surgeon is the key to minimise and eliminate the risks of any surgery' says our talented contracted plastic surgeon, Dr Gurel.
Are we good so far? There is one 'last but not least' question that we want to answer:
What are the costs?
The costs vary depending on the procedure and the country you will have your surgery. If you want to have a high-quality treatment for affordable prices, then Turkey would be the best option. Imagine, having your breast surgery with an experienced and talented contracted surgeon with the latest technology equipment at half-price! It sounds great, does not it? And it is for real. And there is absolutely no catch!
The average cost for a breast lift in Turkey starts from £1950. And the average cost of breast implants (breast enlargement in Turkey) would start from £2175. If you want to have both, breast lift with implants, then the prices start from £2875. And these prices are all-inclusive prices including the surgery, multilingual patient host, transfers and accommodation.
And when we say 'there is absolutely no catch', we mean it! The labour costs are lower in Turkey compared to the UK and the rest of Europe, so are the plastic surgery costs.
We hope we could shed some light on the confusion about having a breast lift or implants or both. If you think we missed any questions, please leave it as a comment below.
---
---