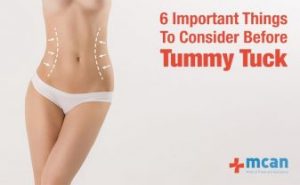 The Tummy Tuck procedure is among the top 5 cosmetic surgical procedures performed in 2017, based on the statistics of the American Society of Plastic Surgeons (ASPS). Tummy tuck, also known as abdominoplasty, is not preferred only on women but also on men.
A flat belly, a belly without a saggy skin, is something many people desire. The recommended solution for this is to exercise and to diet. But to stick to a diet and exercise regularly may not be enough. Age, pregnancy, genetic factors, significant weight loss can have an effect on both the skin and the underlying muscles. A Tummy tuck (abdominoplasty) is a procedure to remove excess fat and skin and repair the separated and weakened muscles.
There are 6 things to consider before going for tummy-tuck surgery. Enjoy the reading below.
1) Tummy tuck is not a weight loss surgery but a surgery after weight loss
If you are overweight, if your Body Mass Index or BMI is over 35 (you can easily calculate by the formula below) you first have to try to lose weight. We know this is difficult. But it is really necessary for your health, to prevent you from developing chronic conditions such as diabetes, hypertension or cardiovascular diseases.
Calculating Body Mass Index (BMI):
BMI= Weight (kg) / Height (m)2 or
BMI= Weight (lb) / Height (in)2 x 703
If you are unable to lose weight with the help of diet and exercise, weight loss surgeries may help you.
After you have lost weight, you should stabilize your weight. Then, in order to obtain a flat stomach, in order to get rid of your excess skin and to have the split muscles repaired, you can consider a tummy tuck surgery.
2) Proceed tummy tuck only if you are sure that you won't have any more children
MCAN Health's contracted plastic surgeons do not advise patients to have a tummy tuck when they are considering having a baby. It is best to have abdominoplasty when you don't want any more children, when your family is complete. Then, it is the best moment to go for a tummy tuck.
However, if you would have another pregnancy after you had a tummy tuck, don't worry. It is really safe and fine. You might only need a correction after your pregnancy, depending on how much weight you put on.
3) Get an advice from an experienced and certified plastic surgeon about the type of tummy tuck you need
Your surgeon will determine what will be the best tummy tuck technique for you. As the type of tummy tuck you need depends on various factors, such as the location and amount of excess skin, the requirement of muscle repair, your skin quality, your body type and possible scars from previous surgery.
The best-known tummy tuck procedures are:
-Full Tummy Tuck (standard tummy tuck)
-Mini Tummy Tuck
-360 Degree (Extended) Tummy Tuck
4) Generally, tummy tuck goes with liposuction for an excellent patient outcome
Sculpting the waist, the lower back or love handles with liposuction, briefly to reshape and contour the whole belly area, MCAN Health's contracted plastic surgeons generally prefer liposuction combined with tummy tuck (abdominoplasty), because it gives better results. It creates a high patient satisfaction and an improved self-esteem.
5) Be prepared to need a week to be able to move easily after the procedure
It will take you one week to stand up, reposition in bed or can easily walk again after your tummy tuck surgery. Do not worry though, the body easily restores itself. But keep in mind that for the first week, you will not be able to lead your ordinary daily life.
Although the complete recovery varies from patient to patient and also depends on the type of tummy tuck that has been performed, on average it takes 4-6 weeks.
6) Do your research and find one of the best and experienced plastic surgery clinics at an optimal price
Tummy tuck surgery should be performed by an experienced plastic surgeon and in a reputable plastic surgery clinic. The price of tummy tuck is not cheap. You need to find both; a very good, trustable clinic and an optimal price. Do not forget that a regular follow-up by your medical provider with aftercare is as important as the surgery itself. So, be sure that you will have routine follow-ups. Look at the before-and-after pictures, read the reviews of other patients and compare the alternatives. And then make your decision.
Full tummy tuck prices in Europe are around 8,000 EUR (7,000 GBP) while it is only 3,200 EUR (2,800 GBP) in Turkey.
MCAN Health Turkey provides tummy tuck with the best plastic surgeons and makes sure that its international patients are in good and skilled hands and compared to Europe, it saves 60% on costs for you.
Get a free consultation with one of our representatives to learn more.
---
---