'Should I stay or should I go?' – Your treatment in times of Coronavirus
What is Coronavirus?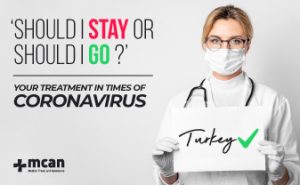 Also known as COVID-19, Coronavirus is 'a new illness that can affect your lungs and airways. It's caused by a virus called coronavirus'.
Globally we are worried about the coronavirus. Both at individual and governmental levels, we are trying to take some measures to keep ourselves and loved ones safe. But when there is a worry, there is inevitably misinformation all over the internet. Misinformation aims to feed our fears for the benefits of the spreader(s). So, with this blog piece, I will be trying to give some simple and factual information on COVID-19.
What are the signs and symptoms of Coronavirus?
According to the NHS, coughing,  having a high temperature, and shortness of breath are among the symptoms. And NHS adds that having these symptoms does not mean that you have COVID-19 because the symptoms of COVID-19 are similar to the most common illnesses such as cold and flu. It is advised not to go to GP or A&E if you think you are infected just to protect others and prevent spreading the virus. You will get proper advice by calling 111 and the healthcare professionals will take it from there to support you.
It is also very important to know that COVID-19 does not cause life-threatening effects on most of the people. According to the WHO (World Health Organisation), 80% of the people who have COVID-19 recover from the disease without needing special treatment. Older people and people with some other underlying health conditions, as in cold and flu, are more vulnerable to COVID-19.
How can I protect myself from Coronavirus?
The most important thing is to rely on official sources to get information, updates, and advice on Covid-19.
As stated by the WHO and the NHS, there are simple measures you can take to protect yourself and your loved ones from coronavirus. These measures are no different than the ones for other common illnesses such as cold and flu.
wash your hands regularly and thoroughly (at least 20 seconds) with soap; if you don't have access to water and soap you can also use alcohol-based hand-rub or sanitizer
cover your mouth and nose with a tissue or your sleeve (not your hands) if you need to cough or sneeze
try to avoid close contact with unwell people or people who are coughing and sneezing, WHO advises maintaining at least 1 meter (3 feet) distance
do not touch your face; especially eyes, nose and mouth
WHO advises using face masks if only you are affected by the coronavirus or you take care of/in close contact with someone who is affected.
Is it safe to travel?
As most would remember the virus has been first seen in China and spread to some other countries, as stated by the official figures to 80 including Italy, Spain, and the UK. However, many countries are told to be 'free' from COVID-19. Below you can see a map of countries that are safe from coronavirus. There are marked in lovely green colour and Turkey is among those countries. Yay!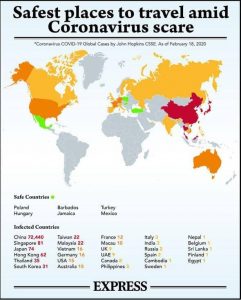 Would Corona prevent you to travel to Turkey for your long-desired treatment?
Turkey, with no COVID-19 cases so far, is still among the safest countries to travel. And globally there is no ban or advise on cancelling travel plans from the authorities. On the contrary, the authorities state that it is OK to travel as long as you avoid travelling to the countries and locations where are highly affected and lock-down due to spread of coronavirus.
According to the UK's Foreign and Commonwealth Office's latest information and advice, Turkey is not among the countries to avoid. Therefore, there is no need to cancel or worry about your travel plans to Turkey if you plan to have your hair transplant or plastic surgery treatment here.
Turkey has also been listed among the safe short-haul stops by the travel expert Nicky Kelvin, Director of Content at The Points Guy UK, express.co.uk.
When you read stuff about COVID-19 online, they make you feel like 'OMG! Life has stopped, I should stay indoors' but it is not the case. Coronavirus is not a pandemic and WHO suggests that 80% develop mild symptoms, 14% develop severe symptoms and only 6% become critically ill due to COVID-19. The ones who become seriously ill are older ones with other serious underlying health conditions. And not all countries are affected by the coronavirus. Turkey has been and is still a safe zone!
Daily, we go to work, the children go to school and we travel locally or internationally. So, life goes on and we do not remain indoors. As long as you take the necessary, usual and simple steps such as washing hands and avoiding unsafe locations, there is no need for you to cancel or postpone your travel plans including the ones to have your long-desired treatment.
---