How The Covid-19 Pandemic Increased The Demand For Plastic Surgery And Hair Transplant?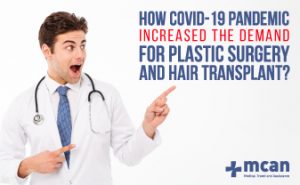 This might be surprising for some but plastic surgeons and clinics globally report an increase in the demand for plastic surgery and hair transplant. While most industries have been struggling nowadays due to the pandemic, thanks to higher demand from the patients, plastic surgery and hair transplant are on the rise. According to the American Society of Plastic Surgeons (ASPS), the top three plastic surgery treatments during the pandemic are respectively, Breast Augmentation, Liposuction, and Tummy Tuck.
Being able to spend more time at home during quarantine gave the most of us the chance to focus on our well-being and the things we need to do to feel better about ourselves. Most of our patients share that they have been postponing their desired treatment for so long but during the quarantine, they decided not to postpone their "dream" anymore, hence made their decision to travel to Turkey to have their treatments with us.
Most patients including our patients share that having their treatment during a pandemic comes with its own advantages such as being able to spend the post-operation period at home thanks to working from home possibility. Even in some cases, using a mask is considered an advantage when it comes to hiding the early signs of plastic surgery.
And to able to maintain maximum safety and security, plastic surgery and hair transplant clinics have adopted stricter measures such as performing routine Covid-19 tests for patients wanting to have their treatments and being more vigilant about cleaning and hygiene.
What are MCAN Health's measures?
Since the international flights had resumed in mid-June, we started welcoming our patients from the globe. And likewise other clinics, we witnessed an increase in demand for both plastic surgery and hair transplant treatments. This summer under the Covid-19 has been and is still very busy for us.
We are extremely happy to be with you again! And we are aware of our additional responsibilities in the times of Coronavirus. We have been following the instructions and advice of the authorities and taking the required measures accordingly. And we have been regularly updating you about the developments. If you would like to read more about our safety measures and what awaits you in Turkey, please feel free to read this Covid-19 Updates from MCAN Health.
Your well-being, health, and safety are paramount for us. By putting our patients at the centre of our service approach, we aim to make your experience worth remembering with a smile on your face. And nothing can stop us, not even Coronavirus!
We would love to share a testimonial of one of our lovely patients, Sarah, from the UK. Sarah chose to travel to Turkey to have her tummy tuck and three areas of liposuction during the times of Covid-19 and wanted to share with you how she was satisfied with all the measures we take. You can also access her video testimonial on our MCAN Health's Instagram. Sarah says:
"I came to MCAN Health in Turkey to have a tummy tuck and three areas of liposuction. I arrived on Monday. My flight was fine. They look after you at the airport. We were taken straight to the hospital to have Corona test and then to the hotel. The next morning, we were picked up and taken to the hospital. The driver wore a mask, we went into the hospital, everyone was wearing a mask. We were taken straightaway to a private room. I had my surgery on Tuesday and today is Saturday and I have been walking around for the last 2-3 days. There is no worry of infection at all, everyone is very careful. It actually feels safer than to be in the UK, to be honest in Turkey at the moment. I totally recommend MCAN Health."
Whether you are after a hair transplant or plastic surgery, contact us now to have a free consultation that will take you one step closer to your dream treatment. And do not let Coronavirus stop you! We are here as a "knight in shining armour" against the Covid-19. And we promise, like our lovely patient Sarah, you will be very happy and satisfied with your experience here in Turkey with MCAN Health!
---