COVID-19 Updates from the World and MCAN Health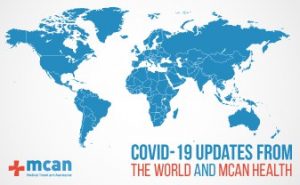 Now the whole world is affected by the COVID-19 which initially started in Wuhan, China. The way we live, work, and carry on our daily life has changed; no matter where we are from. Most people have been under isolation or quarantine globally due to the pandemic.
But the very good news is the fact that like China, some European countries started lifting their coronavirus restrictions. Austria, Denmark, Czechia are among these countries. And soon, Germany and the Netherlands will follow suit.
Turkey has been working hard to tackle the pandemic. And we are very happy and hopeful because starting from the 24th of April, we started seeing a decline in the total number of COVID-19 positive cases. Additionally, the number of daily recovered patients is way over the number of daily infected people.  These are indeed very good news! But still, to be on the safe side, we continue self-isolation. We may continue to do so until mid-May.
What about us? MCAN Health during the times of COVID-19
By following the advice of the authorities, we have started working from home since the 17th of March.
We respond to the new leads and do their bookings, and support our patients during their after-care period.
For our patients who were supposed to have their treatment in March, April or May; we reschedule their treatment days.
It would not be wrong to say that we work harder than before for our patients, both current and new.
And we get our strength from our patients. We cannot thank you enough for your support, understanding, and cooperation.
Thank you for being with us… and we are always here for you…
As a 'thank you' for our patients who book their treatments with us during these times, we offered some substantial discounts. We are happy to be able to support our patients who would like to have their 'dream' treatment.
Our patients' health is our priority. Therefore, we have taken the necessary steps for our patients' safety and well-being.
At our MCAN Polyclinic, we take the temperature of each patient before they even enter the building. If there is any fever, then we perform additional tests to make sure that anyone entering the polyclinic is healthy and does not pose any danger to others.
Our medical staff uses the latest technology protective equipment such as n-95 masks and coveralls while accepting patients.
We provide our patients with masks and sanitiser in our polyclinic.
To ensure safe social distancing; we accept a limited number of patients daily and leave intervals between the treatments/patients.
We can't wait to see you after the COVID-19 or in the new world order…
For sure the days where we will meet in person here in Istanbul is not far away. As mentioned, some countries have already started going back to their normal routines. And the scientists are working tirelessly to find a permanent cure for COVID-19. So, we are very close to the days that are free from pandemic fear.
But a new world order is waiting for us after the COVID-19 as stated by many different authorities. This does not mean that we will not go back to our normal. We will but with some little changes…
Therefore, we closely follow-up the advice of the WHO (World Health Organisation) and the MoH (Turkish Ministry of Health). We implement the necessary policies and procedures accordingly.
Because when it is finally the time to 'meet you', we want to offer you our service in the safest way.
Before we go, an answer to one last frequently asked question:
'Is it possible to book my treatment?'
Indeed it is possible. We all know that this pandemic will end soon. And, we have many patients who book their treatments with this in mind.
We only want you to know that the flights are suspended until May 20th. And there might be further suspension upon the advice of the health authorities.
So, you can still book your treatment for a future date.
In the meantime, we closely monitor the situation and will keep updating you regularly.
May healthy and happiness be with you and your loved ones!
Warmest regards from Istanbul-Turkey,
MCAN Health
---