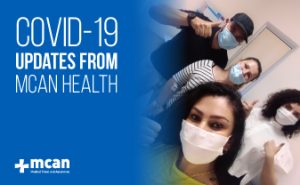 As some of the international flights resumed, we started welcoming our patients from all around the world. The words are not enough to express our happiness. We have missed you so much and were looking forward to these days to come…
However, as MCAN Health, we are also aware of the fact that we are now living in the "new normal". And the "new normal" is very different than our normal before the Covid-19. If we do not stick to the advice of the authorities now, we also know that we will go back to the days we do not want to.
And, as always, our patients' health and well-being are key for us. Therefore, we closely follow up on the advice of the health authorities such as the World Health Organisation (WHO) and the Turkish Ministry of Health (MoH).
We are happy to be sharing with you the measures against Covid-19 that you will experience when you arrive in Istanbul to have your long-desired treatment. These measures are in place for your safety and well-being.
So, what awaits you in Turkey?
After you landed at the airport, you go to the passport control where your fever is measured by thermal cameras. If you have a fever over 37.5, then the airport staff guides you to the medical center inside the airport to run additional tests.
MCAN Health's cars are regularly disinfected against the viruses. Our drivers always put on their masks. Once you are in the car, the driver will give you a complimentary hygiene kit which includes wet wipes made up of over 70% alcohol and a mask
If you are a hair transplant patient, then your driver takes you to your hotel. You have fever control at the polyclinic and fill the Covid-19 consent form on the day of your hair transplant
If you are having any other treatment other than a hair transplant, then you are driven directly to the hospital where you have the Covid-19 PCR test, Computerised Tomography for your lungs, and additional blood tests for Covid-19. Then you have your regular pre-op tests which take approximately 8 hours. You fill Consent Forms related to your surgery and Covid-19
After your treatment, you stay at your hotel which has taken the necessary precautions against the Covid-19 in line with the rules and advises of the Turkish Ministry of Tourism
And finally, after you have your final check-up, you are driven to the airport directly, happy and satisfied
We hope we could explain the safety measures that would hopefully give you some peace of mind. Having these measures onboard not only aims to ensure your safety but also aims to protect the whole society. These measures also make sure that we continue with our lives and are not stuck at homes under isolation.
Therefore, we believe that each one of us has responsibility in that matter and needs to be following the directions of the authorities in our new normal. Because this is is the only way we get through Covid-19; with collective awareness and solidarity.
---