They are all famous… They are all successful… And they all have had FUE Hair Transplantation. Nowadays a lot of famous men are undergoing Hair Transplantation. So don't be ashamed if you are suddenly faced with thinning hair problem and try the permanent solution: FUE Hair Transplantation.
As men get older, they experience hair loss, namely male pattern baldness. For some men, baldness can even start at their 20s or 30s. Losing your hair can be a distressing situation and you are not alone!
A lot of famous men started proudly talking about their hair loss problem. David Beckham, Wayne Rooney, Mel Gibson…they all had FUE Hair Transplantation. Thanks to high technology and affordable prices, it is not only for the rich and famous anymore. On the other hand, FUE Hair Transplantation does not require any maintenance. If done properly, the transplanted hair will never fall out.
Celebrities with Hair Transplantation
Here are some famous men who have chosen FUE Hair Transplantation as the permanent solution. Their stories will inspire you to seek treatment for your baldness.
David Beckham – The former British football player, David Beckham always had hair loss problem. He always tried to hide his receding areas with different hairstyles. When he realized that he could not hide the truth anymore, he had FUE Hair Transplantation.
Wayne Rooney – Rooney experienced hair loss before he was 25. He was brave enough to talk publicly about his choice of FUE Hair Transplantation. After FUE Hair Transplantation, he suddenly tweeted to his fans to confirm that he had a hair transplant.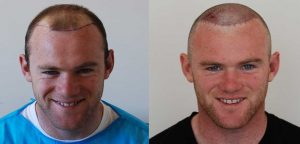 Mel Gibson – When Mel Gibson was listed as People's sexiest man alive in 1985, most probably he never thought that he would lose his hair in the upcoming years. Mel Gibson started to have receding hairline around 2006 and had hair transplantation. He confirmed that he had his hair transplant and he was very happy with his new appearance.
Hair loss is not your personal failure and it is really normal to want a better look. All these famous men show that a growing number of men proudly talk about their choice of hair transplants. You cannot change your genes but you can beat the baldness by trying FUE Hair Transplantation.