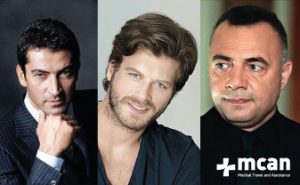 Kenan Imirzalioglu and Oktay Kaynarca are among famous Turkish actors who chose to have FUE Hair Transplantation. Both Kenan Imirzalioglu and Oktay Kaynarca are very much liked in Middle East region.
Imirzalioglu is famous with the character of Ezel in the TV serial 'Ezel'. He also acted as Mahir Kara in 'Karadayi' and as Devran in 'For Love and Honour'.
Oktay Kaynarca is very famous with the character of Suleyman Cakir in 'The Wolves of The Valley'. Currently he is acting as Hizir Cakirbeyli in 'Eskiya Dunyaya Hukumdar Olmaz'.
Many men from Middle East Region (such as Saudi Arabia, Egypt, Oman, Kuwait, Qatar, Bahrain, UAE) are coming to Istanbul for their FUE Hair Transplantation. Because it is relatively easy procedure and the result is completely natural looking. There is no scar, there is no pain. More over it is now very affordable as the technology has improved.
Men from Middle East region mostly prefers the hairline and the hair style of Turkish actors Kenan Imirzalioglu, Oktay Kaynarca and Kıvanç Tatlitug (Muhannet).
How Is Hair Transplantation in Turkey Arranged?
2 nights stay in Istanbul for FUE Hair Transplantation is enough to complete the treatment. Besides, coming to Istanbul gives opportunity to many men from Middle East region for sight seeing and shopping.
This is a fact that the transplanted hair will never drop again. Once the desired look is gained, it will be protected for years and years.
So why to wait for your new desired look? Istanbul is the top destination for FUE Hair Transplantation. Come and have your FUE Hair Transplantation and enjoy the beauty of Istanbul.