Pour une chevelure abandante et stylée
Finis les compléments capillaires ! MCAN Health a fourni depuis belle lurette jusqu'à présent des services de greffe de cheveux a plus de 10 000 patients satisfaits. L'expérience et les traitements que nous vous offrons sont de premier ordre, car nos médecins sont qualifiés et nos hôpitaux font partie des institutions rares accrédités internationalement en Turquie par le ministère de la santé. MCAN Health dispose également d'une clinique polytechnique dôtée d'un environnement luxueux et surtout très hygiénique. Notre but était toujours de réunir nos patients avec des équipes médicales expérimentées qui pratiquent la transplantation de cheveux depuis plus que 10 ans. En effet, vos besoins et vos désirs sont tous ce qui nous préoccupe, pour ce nous utilisons différentes méthodes telles que FUE, DHI et Saphir FUE, en fonction de vos attentes et vos souhaits.
Il est bien connu que la Turquie est la première destination des traitements de greffe de cheveux à l'echelle internationale. Cela est dû au fait que les pratiques d'implantation de cheveux en Turquie comprennent l'utilisation de technologies médicales de haute qualité. En outre, l'implantation capillaires en Turquie est relativement moins chère, en raison d'une panoplie de facteurs, tels que la disponibilité de la main-d'œuvre et le nombre élevé de personnes expérimentées dans ce domaine. MCAN Health a fourni des traitements à de nombreux patients internationaux pour la greffe de cheveux; des pays tels que le Royaume-Uni, les États-Unis, le Canada, la Nouvelle-Zélande, l'Australie, l'Italie, l'Espagne, l'Albanie et les Pays-Bas.
De notre part, nous proposons aux patients une variété de traitements médicaux en fonction de leurs besoins. Quel que soit le type de forfait que vous choisissez, vous recevrez le nombre maximal de greffes qui vous convient médicalement et qui est esthétiquement acceptable. Vous serez également assuré que plus de 80% des cheveux greffés pousseront avec succès. Le taux de repousse de 80% est également un taux standard pour une greffe de cheveux réussie, défini par la ISHRS (Société internationale de chirurgie de restauration des cheveux).
En ce qui concerne nos forfaits: On propose un package tout compris incluant le service de traitement, un service de transfert VIP à commencer par l'aéroport, l'hôtel et la clinique. On vous assure un hébergement dans un hôtel 4 ou 5 étoiles, des tests pré-opératoires, un forfait de soins avec des médicaments, des lotions et des accessoires pour greffes de cheveux, tels qu'un serre-tête et un oreiller cervical, des hôtes multilingues qui parlent (anglais, allemand, néerlandais, espagnol, italien, français et arabe), une procédure de suivi régulière (pour les 15ème jours suivants t pendant les 6 et 12 mois tout au long du processus de guérison).
La solution de greffe de cheveux de MCAN Health va encore plus loin en proposant tous les services mentionnés ci-dessus. Avec le forfait Luxe, vous séjournerez dans un hôtel 5 étoiles pendant 3 jours. Deux repas spéciaux  (petit-déjeuner et  déjeuner) vous seront proposés avec une grande variété d'options tout en dégustant votre jus de fruits frais et tout en utilisant votre iPad en pleine liberté lors de la journée d'opération!
CONSULTATION GRATUITE
Laissez-nous votre numéro et nous vous contacterons dans une heure.
Implantation capillaire en Turquie
Vous vous demandez comment y procéder?
1. Remplissez le formulaire de consultation en laissant vos coordonnées
2. Nos responsables vont vous contacter pour avoir des photos de votre tête de différents angles.
3. Nos conseillers vous poseront quelques questions sur vos antécédants médicaux
4. Nos médecins vous fourniront votre plan de traitement personnalisé
5. Réservez pour la date de traitement qui vous convient et nous nous occuperons de la suite.
Mcan health est bien consciente que vous avez des soucis par rapport aux résultats et conséquences de ce traitement, c'est pour cela qu'on a conçu des vidéos de nos précedants patients que vous trouverez ci-dessus pour vous rassurer et pour que vous aillez une meilleure idée sur nos offres et services.
La prochaine étape est entre vos mains! Tout ce que vous avez à faire est de passer 3 jours à Istanbul pour une greffe de cheveux avec MCAN Health. Vous resterez à Istanbul pendant 2 nuits à l'hotel et le 3ème jours vous partirez à la maison avec votre nouveau look envoutant. Vous pouvez retourner au travail après 3 jours si votre travail ne comporte aucune activité physique. La greffe de cheveux devient de plus en plus populaire chez les hommes grâce à la courte durée de la période de guérison, à une procédure indolore et à des coûts incroyables.
Le Prix De La Greffe De Cheveux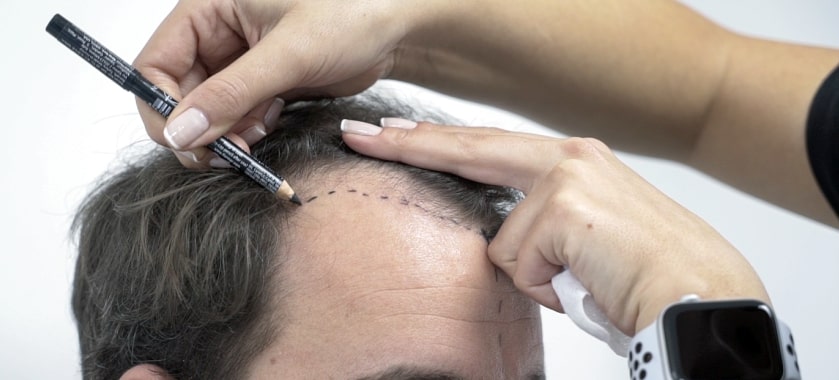 Le coût de la greffe de cheveux au Royaume-Uni, aux États-Unis d'Amérique et en Europe commence à 10 000 euros. Il existe également une longue période d'attente pour le traitement dans certains pays.
Les prix de la greffe de cheveux en Turquie commencent à partir de 1499 € . Le coût de la greffe de cheveux dépend de divers facteurs tels que le coûts de main-d'œuvre bas ou élevés dans différents pays.
Veuillez nous contacter maintenant et obtenir des informations détaillées sur votre traitement. Les forfaits sont de différents types: hébergement, transferts aéroport et internes, hôte patient, billet d'avion et visite de la ville.
Calculateur De Greffe De Cheveux
Vidéo De La Clinique Pour Les Greffes De Cheveux MCAN Health
Vous bénéficierez d'une équipe médicale expérimentée pour une greffe de cheveux sûre, hygiénique et optimale.
Greffe De Cheveux En Turquie Avant Et Après
Glisser Vers La Gauche et la droite pour voir les résultats de la greffe de cheveux.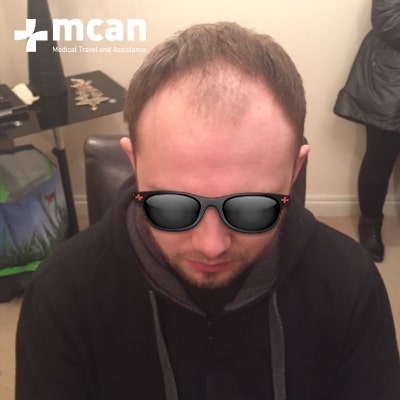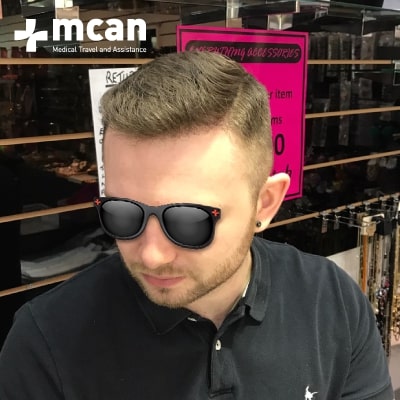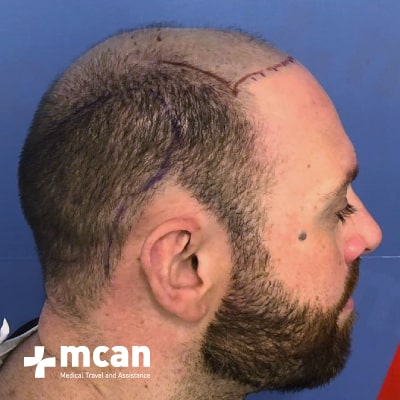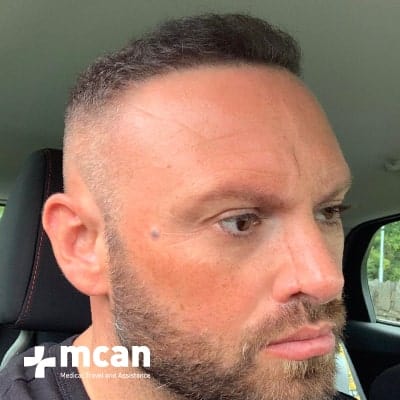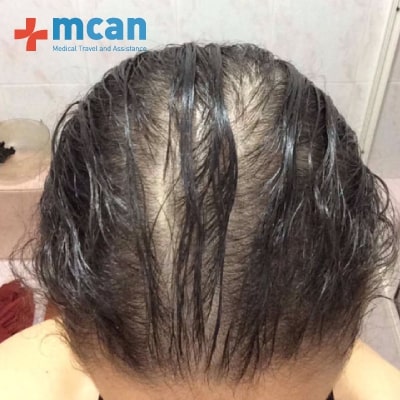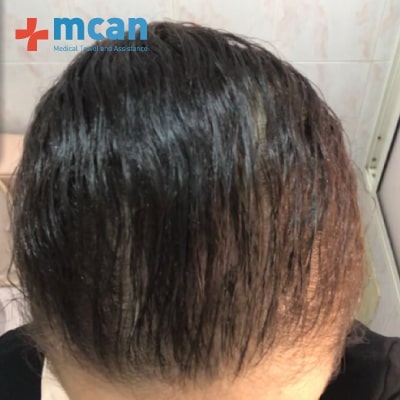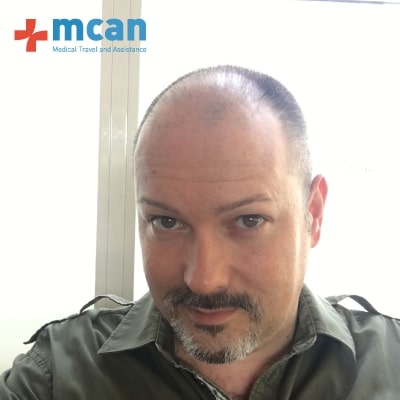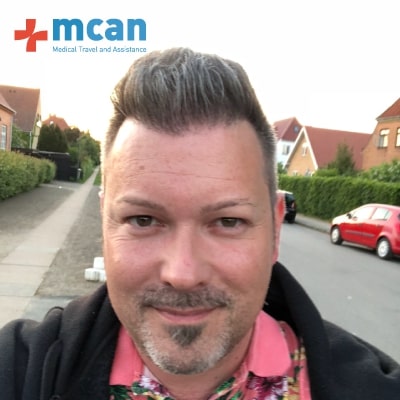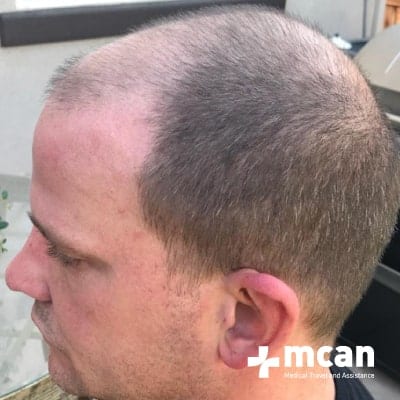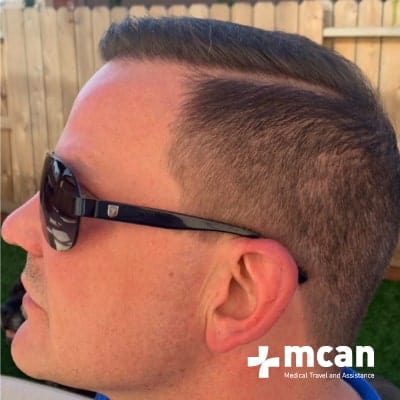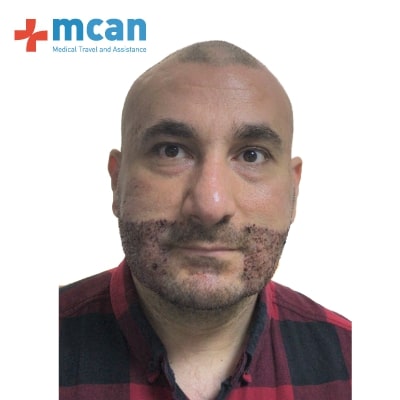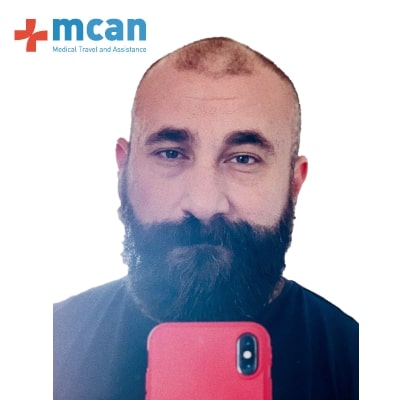 Avis sur MCAN Hair Transplant Turkey
I choose Mcan health after allot of research online & I'm so glad I did. I'm very happy with my results I had tummy tuck, 3 area lipo, muscle repair and breast uplift with 295 g implants. When arriving in Istanbul I was very nervous, however after meeting the team and Dr my nerves was put at ease. I couldn't be happier with how I look now. Thankyou mcan for a delightful experience and I will be back for my rhinoplasty in the next few years!
Posted 2 days ago
The staff at MCAN upon arrival to Istanbul were very organised and reassuring. They planned my whole stay to the last detail and kept in contact with me at all times. Doctor was very professional and skilled. My rhinoplasty procedure went amazingly well and the hospital facilities were very modern and clean. All in all, a professional, high quality service at an affordable price!
Posted 2 days ago
The admin staff are quick to reply and very helpful, the drivers are gentlemen, everything was straight-forward and easy. The hospital duration was a very pleasant experience with constant monitoring, the surgeon was lovely (and handsome!) and since returning home I have been advised I have 'perfect' breasts, thanks to him! I would definitely recommend this company
Posted 5 days ago
The care given in making me feel at ease and the general feeling being good around the procedure as a whole was outstanding and the nurses and staff made everything less stressful
Posted 1 week ago
This was my second procedure and have to say that I'm pretty happy with how it went. The doctor explained me exactly what can be achieved given my current condition, and made sure that the assistants carry out their tasks efficiently. Thanks again team and I'll make sure to recommend your services to friends and colleagues.
Posted 1 week ago
Amazing service from start to finish I am 4 days post op after a facelift and upper and lower eye surgery doctors driver case manager and interpreter are all amazing would reccomend troya hotel for your stay would highly recommend
Posted 2 weeks ago
Best trip for rhinoplasty I came from Holland to get a rhinoplasty. I'm so happy with the results and the whole trip went perfectly. The communication went well and my nose is healing good. I recommend this to everybody because I don't have any pain and my nose is looking beautiful already.
Posted 4 days ago
❮
❯
Comment Se Fait La Greffe De Cheveux?
MCAN Health fournit des traitements ambulatoires sécuritaires utilisant les dernières technologies médicales. La greffe de cheveux prend de 6 à 8 heures sous anesthésie locale. Cette procédure de transplantation de cheveux est sans douleur dans une certaine mesure. En fait, les patients peuvent écouter de la musique, regarder un film et même s'endormir pendant l'opération. Cependant, une douleur mineure est tolérable pendant l'injection anesthésique.
Pour les patients qui ne préfèrent pas les aiguilles, il existe une option sans aiguille avec un agent chimique sédatif appliqué sur le cuir chevelu via de l'air à haute pression. Vous ne sentirez absolument rien grâce à cette option. La procédure complète est expliquée en détail dans la section FUE Hair Transplant. Vous y trouverez toutes les informations sur la greffe de cheveux.
Pourquoi La Perte De Cheveux Se Produit-Elle?
La perte de cheveux est une maladie naturelle qui peut toucher n'importe qui à certaines périodes de la vie, sans distinction d'âge, ou de sexe. La perte de cheveux peut être causée par différents facteurs tels que le stress, les troubles hormonaux. En outre, cela peut être le résultat de la génétique. En outre, la perte de cheveux peut être génétique, saisonnière, liée au régime alimentaire ou être un effet secondaire de certains médicaments. Certains types de perte de cheveux sont permanents, d'autres peuvent être temporaires.
Le premier principe de MCAN Health est de comprendre le type de perte de cheveux. Si cela semble temporaire, il est préférable que la progression de votre perte de cheveux soit observée et surveillée pendant une période d'attente. S'il est nécessaire que vous subissiez un traitement de greffe de cheveux, MCAN Health vous propose la meilleure solution pour votre perte de cheveux. Le facteur le plus important dans la greffe de cheveux est le diagnostic correct permettant de comprendre parfaitement les raisons actuelles et futures de la chute des cheveux.
Nous avons créé un outil de calcul de greffe pour tous les candidats à la greffe de cheveux. Vous pouvez avoir une idée du nombre de greffes dont vous pourriez avoir besoin en 3 étapes simples.
Veuillez lire l'article suivant pour voir si vous êtes un candidat approprié pour la transplantation de cheveux: 5 choses qui font de vous le candidat idéal pour une greffe de cheveux.
Plus D'informations Sur La Transplantation De Cheveux
Qu'est-ce Que La Greffe De Cheveux?
La greffe de cheveux est un traitement chirurgical ambulatoire dans lequel les cheveux sont transplantés d'une partie du cuir chevelu, le site donneur, vers une autre partie du cuir chevelu, le site receveur. En d'autres termes, il s'agit d'un processus de redistribution des cheveux.
Habituellement, le site donneur est situé à l'arrière de la tête, entre les deux oreilles. Le site destinataire est la partie où le cuir chevelu est chauve ou celle où le cuir chevelu recule, les zones où les cheveux sont clairsemés. Les cheveux du site donneur à l'arrière de la tête sont immunisés contre l'hormone DHT, responsable de la chute des cheveux. C'est pourquoi les cheveux transplantés de cet endroit ne tomberont plus jamais.
Il y a des vols directs de 5 villes à partir de la France vers Istanbul: Paris, Marseille, Lyon, Nice et Toulouse.
Le prix du billet aller-retour pour Istanbul est entre €175 et €220. Les prix deviennent encore moins chers si vous achetez votre billet d'avion tôt, ou bien quelque mois avant votre visite.
La durée du vol est d'environ 3 à 4 heures.
Méthodes De Greffe De Cheveux
Dans un traitement de greffe de cheveux, il existe deux options méthodologiques différentes pour l'extraction de greffe: la méthode de Extraction d'unités folliculaires FUE et La greffe de cheveux par la technique de la bandelette (ou FUT) . Puisque la méthode de prélèvement en bande laisse une cicatrice, nos chirurgiens sous contrat extraient les greffes uniquement par extraction folliculaire (FUE) pour obtenir de meilleurs résultats et aucune cicatrice. L'ouverture du canal et l'implantation peuvent varier. Mais toutes peuvent être classées comme des méthodes différentes sous FUE. L'implantation directe de cheveux (DHI) et la greffe de cheveux en saphir sont deux types différents de transplantation de cheveux. Votre chirurgien sous contrat avec MCAN Health décidera de celui qui vous convient le mieux.
Les chirurgiens sous contrat de MCAN Health effectuent également des opérations réussies pour les sourcils, les moustaches et la barbe dans la clinique MCAN.
Obtenir un visa de Turquie est très facile.
Il suffit de visiter le système de demande de visa électronique, de suivre les étapes et vous aurez votre visa prêt dans la même journée.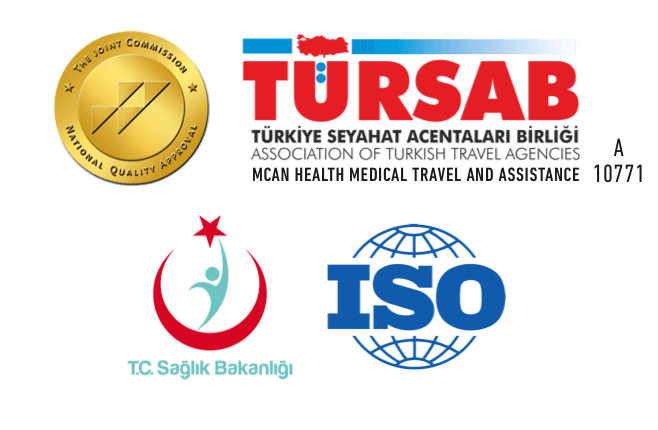 MCAN Health est voué à la satisfaction maximale du patient. Nous assurons que les patients tirent le meilleur parti de leurs expériences de services médicaux et de leurs traitements. après l'opération, MCAN Health suit régulièrement les progrès et les résultats des patients. Au cours des premier, troisième, sixième et enfin douzième mois, les patients sont contactés par le service des relations clientèle de MCAN Health. Les patients sont rassurés et guidés en fonction de leurs besoins immédiats. Même si cela est rare, en cas de complications, nos médecins examineront leurs cas et ils proposeront un traitement de révision gratuit  au cas où ils rencontreraient des complications médicales individuelles nécessitant une révision.