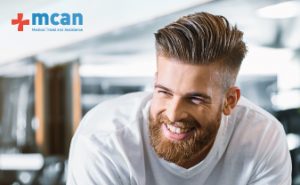 In time everyone starts to lose hair but the studies have shown that the male gender has more tendency to get bald than female.  Usually, you know when you need hair transplant by looking at the mirrors. If the situation started to bother you, you shouldn't wait any longer. Anyone deserves a better look and it is, without question, very important to have healthy hairs in business world and in personal world.
Besides hair transplant, non-surgical hair replacement solutions are also available. But the more permanent solution is the FUE Hair transplant. It looks natural and it is lifetime.
Why do we lose hair?
Hair loss is caused by many different reasons. If we count some of them:
Genetic: Despite the beliefs that the baldness gene pass down from the mother's side, the truth is if you have a bald father you can be get bald in time. The baldness through the X chromosome from the mother does carry the primary genetic factor but according to the last researches, baldness caused by the genes of both sides: paternal and maternal.
Fashion and cosmetic choices: Too much hair product use such as shampoo, conditioners, sprays and oils etc. may cause baldness in time. Also hats and bandana can harm your hair and cause inconvenient consequences. They can weaken your hair and that can cause baldness slowly. Moreover, tight man buns and tight braids can also result in thinning hair over time.
illness and pregnancy: Some illnesses like anemia or pregnancy may cause hair loss. You may probably start losing your hair after giving birth rather than the pregnancy time because giving birth is a stressful situation for some.
Why you should choose İstanbul, Turkey for your FUE Hair Transplant?
Whatever the hair loss reason is, FUE Hair transplant will provide you a better and natural look for lifetime. You should choose a clinic on which you should trust. The operation should be performed in an accredited and well equipped medical centre by the specialists who know exactly what they are doing. Also, Turkey is the most popular destinationfor FUE Hair Transplantation.
Contact MCAN Health based in Istanbul to get a free quote and enjoy the experience of having a consultation by a team of qualified and licensed doctors and technicians in proper sterility clinics with fully hygienic and technologic equipments.