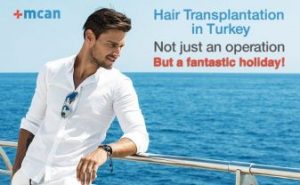 This year we have worked a lot and dreamed about ourselves and our holiday plans. Now the long-awaited holiday season has finally started and maybe Turkey is your next location. If you plan to have a hair transplant Turkey offers you the chance to combine your treatment with a fantastic holiday.
It is a popular combination among our previous patients who remember their experience with good fun and satisfaction. So, this article will inform you about a holiday plan assuming that you will have your hair transplantation in Turkey with MCAN Health.
Turkey: A Unique Bridge
Now let's define Turkey in a nutshell. Located as a bridge connecting two continents, Europe and Asia, Turkey has a unique position on Earth, and Istanbul is located exactly on this unique position, it is the bridge itself.
It is summer and the weather is really fantastic in Turkey during the season. So, let's put Istanbul aside for a while and dive into the sea of your choice; Mediterranean, Aegean, or the Marmara Sea. Actually, the first two are the most popular choices for summer holidays. Let's go then!
A Mediterranean dream or the Aegean journey?
Many of our patients, who had their hair transplant in Turkey, had a 7-10 days holidays in either southern or western coasts of Turkey, swimming along the refreshing seas.
During daytime, you can enjoy the sun, beaches and the sea, have fun at the beach parties or explore the hidden coasts on a boat trip.
For the evening, just go and have a fantastic dinner with a great variety of world cuisines or try local dishes at their best.
Nights are something else. You will see the city transforms into a massive playground for you. There are lots and lots of pubs, beach parties and clubs for your choice as well as bars along the sea for those who prefer a peace of mind.
We can arrange your treatment plan perfectly according to the date you choose for your holiday. After the holiday, we will be waiting for you in İstanbul, from transportation to accommodation, all details arranged for you to have your treatment.
After your hair transplant in Turkey and all these adventures, you will be back in your home with your dream look and with great memories. That's how you get your revenge from a tiresome year full of work, isn't it?
Istanbul: Plan B for your Hair Transplantation in Turkey
We can get back to Istanbul now.
So, first of all, you can literally cross continents in Istanbul by taking the ferry or crossing the bridge of your choice. It is a wonderful experience and you will feel very special to do so.
The cultures of East and West are blended in such a way that the result creates a brand-new culture which can only be experienced in Istanbul. That's why our contracted hotels are all located in the heart of the city, Taksim Square. You can easily walk around and explore the city as you like before or after your hair transplant in Turkey.
The activities in Istanbul are so numerous that even the locals have never experienced some of them. According to your taste, your holiday in Istanbul can be based on cultural exploration, entertainment and shopping or city gazing. Of course, also as the locals, we will guide you to the right directions in your journey through Istanbul, just tell your customer experience specialist what kind of activities you want and they will help you with pleasure.
If you want a sea holiday, it is also possible around the Marmara Sea as there are lots of great coasts and beaches and you won't miss a thing by not going to the south or the west. However, you should arrange your holiday before your treatment as it is not advised to swim after hair transplantation.
Don't worry though, summer is a great time to have your hair transplantation in Turkey. Just read our article on this topic for further information: Hair Transplantation During Summer: A Good Idea Or A Bad One?
So why don't you just take this journey for the change you are always planning? Have some great memories and the look you always want to have.
We are here and waiting for you to give you the best hair transplantation in Turkey.
---