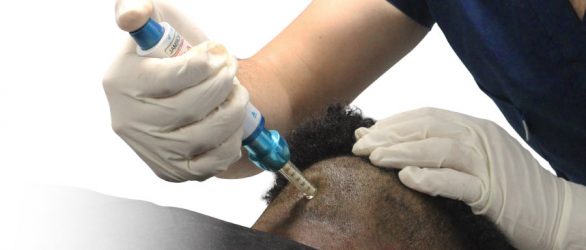 Needle-Free Hair Transplantation in Turkey
As MCAN Health, we always ask our patients for their feedback after their hair transplantation procedure. As a response to our question: "have you felt any pain?", almost all of them say that, except for a few minutes during local anesthesia, there is no pain at all. The most common description for the pain during local anaesthesia is that it is similar to a "mosquito bite". The patients experience that feeling because an anesthetic solution is injected into the back of the scalp to numb the treatment area before their hair transplant starts.
The local anesthetic may cause a mildly painful feeling for a few minutes due to the injection. Patients who want to avoid the unpleasant sensation of local anesthesia by needle or patients who are afraid of needle injection, MCAN Health offers Needle Free Anesthesia or also known as Needleless Numbing.
Needle-Free Anaesthesia With Jet Injector
Needle-Free Numbing Medication Injectors, also known as Jet Injector, are used for this type of local anesthesia. The device uses air pressure to inject the local anesthetic medication into the skin through its silicon heads. The air pressure ensures a super-fast (less than one-third of a second) penetration through the skin. Up to 0.5 ml/50 units of any subcutaneous liquid medication can be applied in one shot. Needle-Free Anesthesia or Needleless Numbing decreases the pain by 70% and gives comfort to the patients who do not want injection by needle regardless of the reason why. You will not feel any pain after the numbing process that is either performed by the traditional method or the needle-free anesthesia.