Il trapianto di capelli è stato applicato su oltre 10.000 pazienti soddisfatti dai medici convenzionati di MCAN Health a Istanbul, in Turchia. Il team di medici esperti di MCAN Health sta eseguendo il trapianto di capelli da più di 10 anni. Attendiamo bene i nostri pazienti e le loro preoccupazioni, ecco perché trattiamo ogni singolo paziente in un modo unico. Usiamo diversi metodi come FUE, DHI e Sapphire Percutaneous, a seconda delle esigenze del nostro paziente.
La Turchia è la destinazione principale per il trapianto di capelli, grazie all'uso delle ultime tecnologie, i prezzi sono relativamente economici per il trattamento di trapianto di capelli rispetto ad altri paesi a causa del basso costo del lavoro e del gran numero di pratiche. Abbiamo trattato molti pazienti internazionali per il trapianto di capelli in Turchia ,da : Regno Unito, Germania, Nuova Zelanda, Australia, Stati Uniti, Canada, Spagna, Italia, Albania, Paesi Bassi e molti altri…
Il trapianto di capelli è un trattamento chirurgico ambulatoriale in cui i capelli vengono trapiantati da una parte del cuoio capelluto, il sito del donatore, a un'altra parte del cuoio capelluto, il sito ricevente. In altre parole, è un processo di ridistribuzione dei capelli. Di solito, il sito del donatore si trova sul retro della testa, tra le due orecchie. Il sito ricevente è quella parte in cui il cuoio capelluto è calvo o dove l'attaccatura dei capelli si sta ritirando, le aree che hanno i capelli diradati. I peli del sito donatore nella parte posteriore della testa sono immuni all'ormone DHT che causa la caduta dei capelli. Ecco perché i capelli trapiantati da quel punto non cadranno mai più.
PRENOTARE QUI
Gentilmente, compila il formulario per ottenere un preventivo gratuito:
Comincia il tuo viaggio di Turismo Medico
Come iniziare il tuo viaggio?
Per il tuo trattamento, i nostri case manager chiederanno le tue foto di testa e faranno alcune domande relative al tuo stato medico.
Il medico fornirà il piano di trattamento personale in base alle immagini della testa e al suo stato medico.
Riceverai il tuo piano di trattamento per il trapianto di capelli e la nostra offerta di pacchetti all-inclusive.
Prenoti la data del tuo trapianto di capelli e ti organizzeremo ogni dettaglio per te.
Per tutto il resto, guarda il video qui sopra.
Il trapianto di capelli in Turchia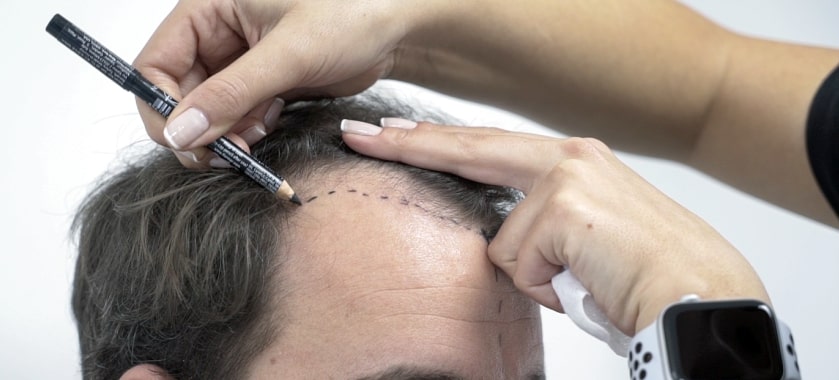 Il costo del trapianto di capelli nel Regno Unito, negli Stati Uniti o in Europa parte da € 10.000 e in alcuni paesi c'è un periodo di attesa per il trattamento.
I prezzi per Hair Transplant Turkey partono da € 1499 presso i fornitori sanitari affidabili e accreditati. Il costo del trapianto di capelli dipende da vari fattori.
Contattaci ora e ottenere informazioni dettagliate sul trattamento. Pacchetti che si presentano in diversi tipi, inclusi alloggio, trasferimenti aeroportuali e interni, host paziente, biglietto aereo e tour della città.
✔ Trapianto di capelli FUE:
€1499 – €2150
✔ DHI (Unshaved FUE):
€1800 – €2450
✔ Trapianto della barba:
€1499 – €2150
✔ Opzione di anestesia senza ago:
€1699 – €2250
✔ FUE Percutanea dello zaffiro:
€1799 – €2350
İl video della clinica MCAN Health Turchia
Otterrai il trapianto di capelli sicuro, igienico e il migliore in MCAN Clinic da parte di un team medico esperto.
Trapianto Capelli – Prima e Dopo
Scorri verso sinistra e destra per vedere i risultati del trapianto di capelli.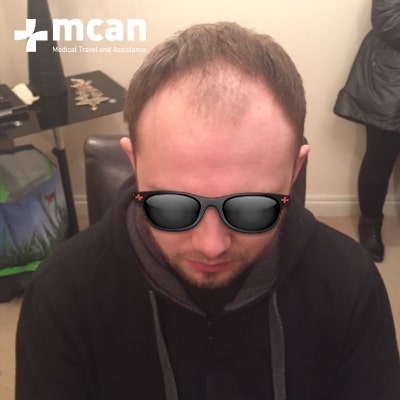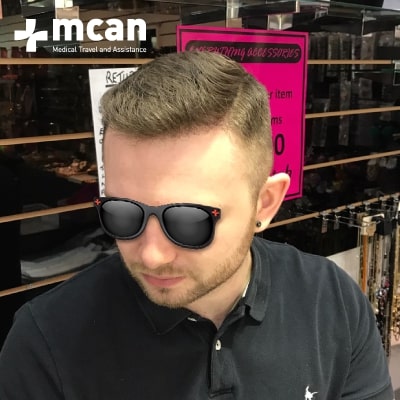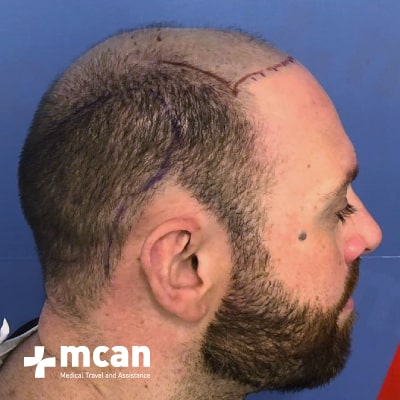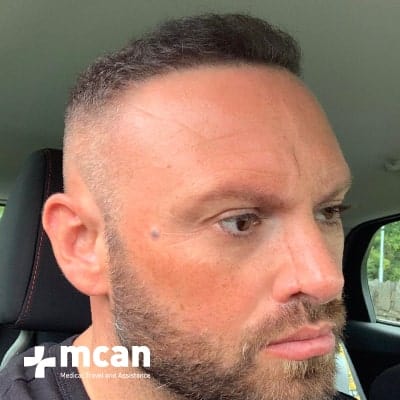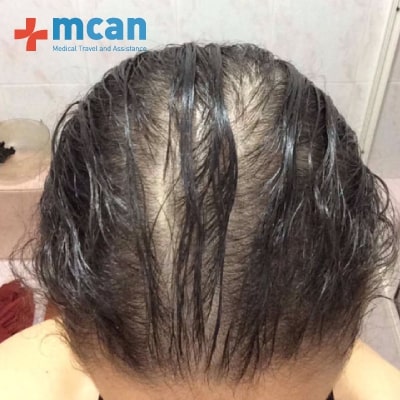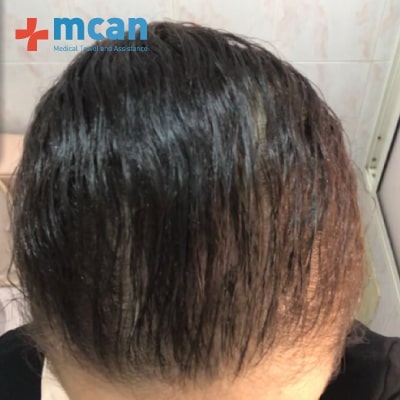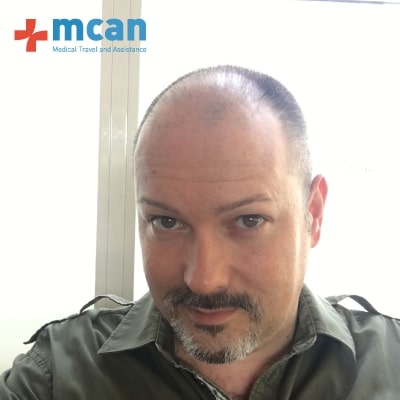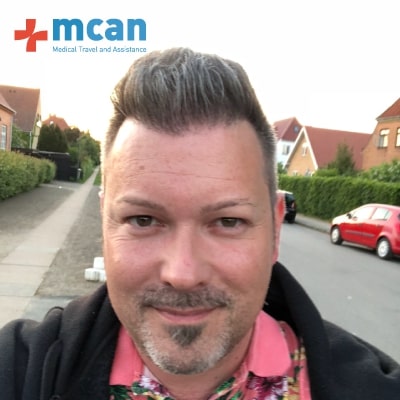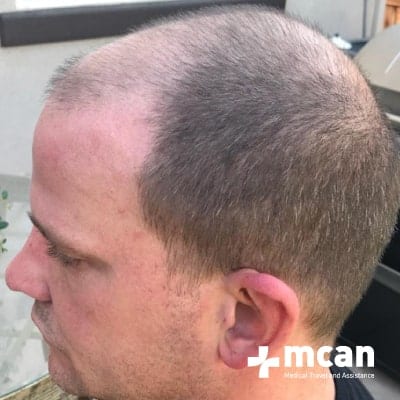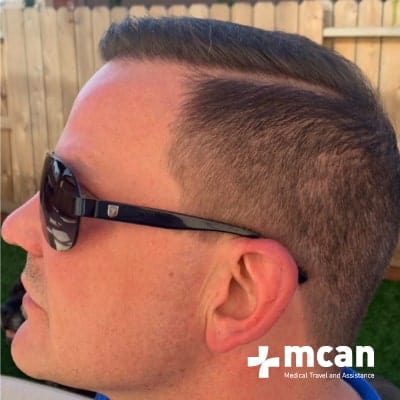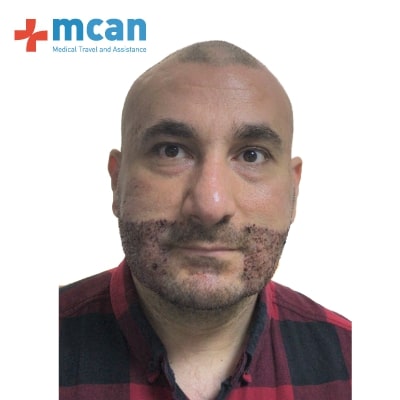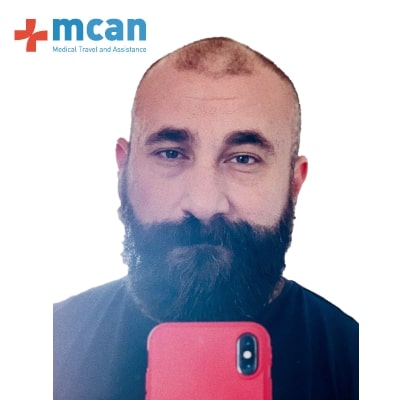 I choose Mcan health after allot of research online & I'm so glad I did. I'm very happy with my results I had tummy tuck, 3 area lipo, muscle repair and breast uplift with 295 g implants. When arriving in Istanbul I was very nervous, however after meeting the team and Dr my nerves was put at ease. I couldn't be happier with how I look now. Thankyou mcan for a delightful experience and I will be back for my rhinoplasty in the next few years!
Posted 2 days ago
The staff at MCAN upon arrival to Istanbul were very organised and reassuring. They planned my whole stay to the last detail and kept in contact with me at all times. Doctor was very professional and skilled. My rhinoplasty procedure went amazingly well and the hospital facilities were very modern and clean. All in all, a professional, high quality service at an affordable price!
Posted 2 days ago
The admin staff are quick to reply and very helpful, the drivers are gentlemen, everything was straight-forward and easy. The hospital duration was a very pleasant experience with constant monitoring, the surgeon was lovely (and handsome!) and since returning home I have been advised I have 'perfect' breasts, thanks to him! I would definitely recommend this company
Posted 5 days ago
The care given in making me feel at ease and the general feeling being good around the procedure as a whole was outstanding and the nurses and staff made everything less stressful
Posted 1 week ago
This was my second procedure and have to say that I'm pretty happy with how it went. The doctor explained me exactly what can be achieved given my current condition, and made sure that the assistants carry out their tasks efficiently. Thanks again team and I'll make sure to recommend your services to friends and colleagues.
Posted 1 week ago
Amazing service from start to finish I am 4 days post op after a facelift and upper and lower eye surgery doctors driver case manager and interpreter are all amazing would reccomend troya hotel for your stay would highly recommend
Posted 2 weeks ago
Best trip for rhinoplasty I came from Holland to get a rhinoplasty. I'm so happy with the results and the whole trip went perfectly. The communication went well and my nose is healing good. I recommend this to everybody because I don't have any pain and my nose is looking beautiful already.
Posted 4 days ago
❮
❯
Piu informazione sul Trapianto di Capelli
Perché accade la perdita dei capelli?
La caduta dei capelli è una condizione naturale che può colpire chiunque in determinati periodi della vita indipendentemente dal sesso o dall'età. Può avere molte cause come stress, disturbi ormonali, può essere genetico, stagionale, legato all'alimentazione o causato dall'uso di determinati farmaci. Alcuni tipi di perdita di capelli sono permanenti, altri possono essere temporanei.
Il nostro primo principio è capire il tuo tipo di perdita di capelli. Se sembra essere temporaneo, preferiamo aspettare e guardare i progressi della perdita di capelli. Ma se è davvero necessario, abbiamo la migliore soluzione per la caduta dei capelli. Il fattore più importante per un trapianto di capelli è una diagnosi corretta in cui sia la ragione presente che quella futura della perdita di capelli dovrebbero essere perfettamente compresi.
Per vedere se sei un buon candidato per il trapianto di capelli, leggi il nostro articolo per avere maggiori informazioni: 5 cose che ti rendono il candidato perfetto per il trapianto di capelli.
Come si è fatta il trapianto di capelli
Offriamo un trattamento ambulatoriale sicuro con le ultime tecnologie. Eseguito in anestesia locale, ci vogliono dalle 6 alle 8 ore.
La procedura è indolore e, infatti, i pazienti guardano un film o ascoltano musica o addirittura si addormentano durante un trapianto di capelli. Per lo più, la sensazione di iniezione è descritta come una "puntura di zanzara".
Per coloro che non preferiscono gli aghi, applichiamo la sostanza chimica sedativa tramite aria ad alta pressione al cuoio capelluto. Non sentirai assolutamente nulla con questa opzione.
L'intera procedura è spiegata nella nostra sezione FUE Hair Transplant in cui troverai tutte le informazioni sul trapianto di capelli in dettaglio.
Metodi di trapianto di capelli
In un trapianto di capelli, ci sono due diversi metodi di estrazione dell'innesto: FUT e FUE. Dal momento che FUT lascia una cicatrice, il nostro chirurgo estrae gli innesti solo con il metodo Follicular Unit Extraction (FUE) per ottenere risultati migliori e senza cicatrici. L'apertura del canale e il processo di impianto possono variare, ma tutti possono essere classificati come metodi diversi sotto FUE. DHI, Percutaneous sono diversi tipi di trapianto di capelli e il chirurgo MCAN deciderà quale si adatta meglio.
Baffi e barba, i trapianti di capelli per sopracciglia sono anche eseguiti con successo dai chirurghi MCAN nella nostra clinica.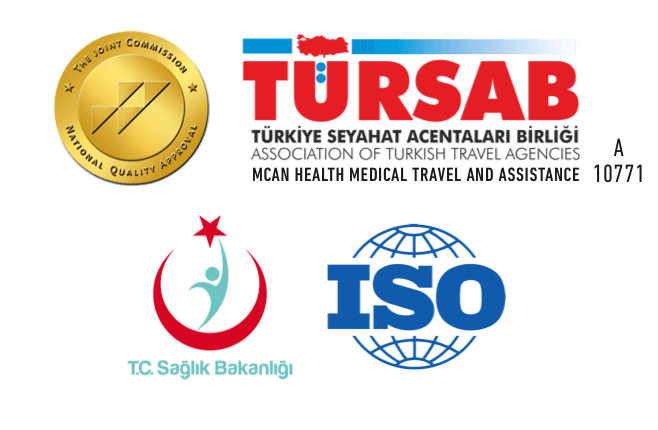 Puntiamo ad avere pazienti estremamenti soddisfatti, MCAN Health fa' si che il paziente ricevi il massimo dai nostri trattamenti. Anche dopo il trattamento , ci mettiamo in contatto con ogni paziente frequentemente per verificare il livello di sodisfazione e se hanno bisogno di altra assistenza. Anche se sono casi molti rari, se si trovano necessita d'interventi corretivi MCAN Health si occupa ed e' in carica di tutti I spesi.