Keeping Up With The Kardashians Part II: Kylie Jenner's Plastic Surgery Journey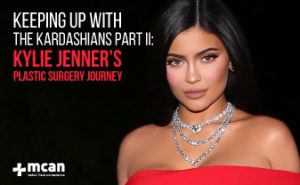 Similar to her step-sister Kim Kardashian, Kylie Jenner, a 22-year-old media personality, has started gaining fame in 2007 thanks to the show called Keeping up with Kardashians. Since then she became more and more popular.
In 2014 and 2015, Kylie was listed in the list of the most influential teens in the world of Time magazine. She is the 6th most followed person on Instagram with her 175 million followers.
Yes, we can hear you saying "she is only 22…" Indeed, she is only 22 but it would not be wrong to say that she is one of the most influential social media people especially among youth!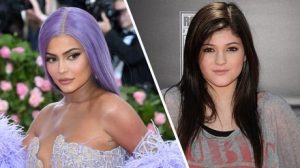 And despite being so young and in such a short time, we see an incredible change in her look! However, the youngest billionaire is also among the discreet ones when it comes to plastic surgery. Only recently she publicly shared that she had lip fillers. But we think that Kylie has much more than just lip fillers. And we think that you would agree with us while we rummage through her before and afters together.
Ready? Let's start with the one that she has been honest about the lips!
Kylie Jenner Lips Before After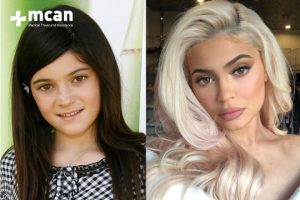 Kylie has such beautiful lips that "how do you get Kylie Jenner lips?" are one of the most frequently asked questions on Google! Luckily, there are no secrets around Kylie's lips as she has been honest about her fillers.
On an episode of Life of Kylie, she shared that she had lip fillers and explained why she got them done:
"I was 15 and I was insecure about my lips. I have really small lips. And it was like one of my first kisses and a guy was like, 'I didn't think you would be a good kisser because you have such small lips.' I took that really hard. When a guy you like says that, I don't know, it just really affected me. I just didn't feel desirable or pretty.
"I would over-line my lips with the lip liner to create the illusion of bigger lips and then, finally, I was like, this lip liner isn't doing it and ended up getting my lips done."
Kylie Jenner Breasts Before After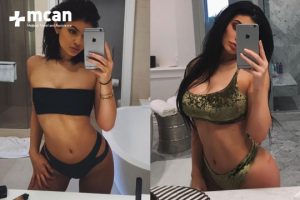 This is where the mystery begins… Because since the rumours have started, Kylie has always been adamant that she has not had a boob job.
She also responded to the rumours via her website: "No, people – I haven't gotten breast implants!" she wrote on her new website. "Everyone is obsessed with that. Truth is, as I've gotten older, I've gained 15 pounds and my body has changed; I've definitely filled out."
Although she is very keen when we compare her before and afters we can clearly see the change. What is your thought on that?
Kylie Jenner Body Contour Before After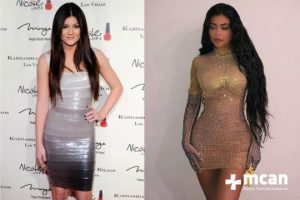 Breasts would improve the body shape but when we look at Kylie's photos, we see an enhanced "hourglass" shape. This makes us raise our eyebrows. Contrary to what she usually claims, you cannot gain an hourglass body shape as you mature. We think there is a magic touch of a BBL here! BBL aims to enhance the size and shape of the buttocks by grafting your fat into your butt. And when it is combined with breast implants, you have the most desired hourglass body shape!
As we all know that the Kardashians love plastic surgery procedures. You can read our article focusing on Kim Kardashian's Plastic Surgery Journey as well. But it does not mean that plastic surgery is exclusive to celebrities. You can have high-quality and affordable plastic surgery treatments performed by experienced surgeons. All you need to do is to contact us to have a free consultation about your desired treatment.
---
---