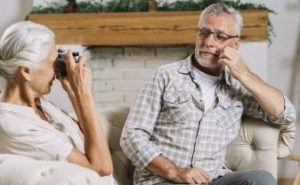 "Flow it, Show it, Long as God can grow it." This is – of course – about hair. Or actually: about HAIR. The famous Love-Rock Musical that premiered off-Broadway on October 17, 1967, that is now celebrating its 50th anniversary year in Manchester and next month in London.  Anti-war, anti-establishment. Hair – the hippies' flag – symbolizing rebellion, the rejection of discrimination, equality between men and women. "Give me head with hair, long beautiful hair, shining, gleaming, streaming, flaxen, waxen…" Now being around their 70ties, would they still have it, the generation of the 1960ties, a scalp full of hair?
In all times, one way or the other hair has defined us. The 20th century, like no other century, demonstrates in a quick sequence of styles and modes, the impact of social culture, political preferences, the looks of famous movie stars and other men and women from the entertainment industry on the way we want to wear our hair.
The neat, tight hairline of the 1920ties, outside the house hidden under a hat. The poverty look after the great depression in the thirties often cut at home, on the porch or in the kitchen because a barber would be too expensive. During and after World War II the crew cut, a military look, until in the next decade popular music and movie stars like Elvis Presley and James Dean became the role model in hair fashion. And somehow they still are. In our time there is no longer a specific hairstyle. We are still showing who we are by the way we wear our hair, but we may vary our looks from day to day. Everything is possible now. Everything is fashion. Even the absence of hair can be a statement of who we are.
Given that we have a choice of course. Losing our hair involuntarily, at a young age, limits those possibilities drastically. But we are a fortunate generation really. We have the advantage of living in a time in which it possible to correct those minor imperfections that nature has given us. When we develop baldness by losing our hair, in most cases it is possible to have a hair transplantation. Over the last decades, hair implantation has evolved into an ultra-refined process of transplanting individual hair follicular units from the donor area at the back of the scalp to the balding areas.
Your Hair Transplantation in Istanbul
At MCAN Health Istanbul hair implantation surgeons and their medical teams have specialized in treating men as well as women who want to maintain and restore their hair, by using the latest hair implantation techniques, the FUE-method. In Follicular Unit Extraction (FUE) hair transplantation, each follicular unit is taken from the back of the scalp and to be transplanted to a bald site on the scalp. This method offers a permanent solution to baldness – the baldness won't return. You can read more about it here.
We think everybody should have the possibility to do style their hair the way they want to. And we know you this does not just have to be a wish, but can, in fact, be a reality. At MCAN Health we are very good at what we do. And we'd love to give you back your hair.
"Cos there ain't no words for the beauty, the splendor, the wonder of my hair, hair, hair, …"
---
---