All You Need to Know About Loose Skin After Weight Loss Surgery
Weight loss surgery is known to be a "life-changing" surgery. How would not it be? It offers a healthy life for patients. According to the research, gastric sleeve surgery reduces the risk of heart disease, high blood pressure, and stroke. And it definitely increases the quality and length of life by minimising weight-related health problems.
Weight loss surgery is a big step towards the "new you"! But for most patients, the journey to becoming a "new self" does not end here. Depending on the extent of weight loss and the type of skin/body, patients may need some plastic surgery procedures to achieve their desired looks!
Excess Skin After Weight Loss Surgery Is a Common Side Effect
Drastic weight loss may cause sagging and excess skin for some patients. It is always best to do workouts to get in the shape you want. It is one golden rule of a healthy lifestyle anyway. However, while workouts may help with minor sagginess, for major ones, they are not going to be helpful. In that case, you may benefit from various plastic surgery procedures to tighten, lift, and contour sagging areas.
What is less known is the fact that drastic weight loss may also result in losing volume in certain areas such as the buttocks and cheeks. So, a post-gastric sleeve surgery patient may need intervention to get rid of excess skin as well as to regain volume on certain parts of the body.
Does Everyone Has to Undergo a
Skin Removal After Weight Loss 
Everybody is different, so there is no single plastic surgery "prescription" for post-weight loss surgery patients. While some patients need some touch-ups on the breasts, some may need on the buttocks. This entirely depends on the unique needs and desires of the patient. The body is yours, and so is the decision on your body.
​​Loose Skin After Weight Loss Can Happen Anyways
Excess and sagging skin may be a problem for anyone regardless of whether they had bariatric surgery or not. Even with a drastic weight loss after working out or dieting we may end up with excess skin almost everywhere on our body including our face and neck. But thanks to technology, there is always a solution for excess and sagging skin no matter where you have it.
Post-Bariatric Surgery Seems to Be the Solution! 
If you wonder which plastic surgery procedures are in high demand after gastric sleeve surgery, then we are glad to give you more information on that!
Tummy Tuck After Weight Loss 
Also known as Abdominoplasty, a tummy tuck is one of the most popular plastic surgery treatments not only among post-bariatric surgery patients but also among anyone – both men and women – who are bothered about excess skin around the tummy area.
By removing excess skin and tightening the remaining skin in your tummy, a tummy tuck promises a flat stomach that most of us always dream of.
So, for the last three plastic surgery procedures, while you get rid of excess skin, you can also "add some volume" if you want to. For the ones who like enjoying the best of two worlds!
A Lift for the Sagging Buttocks After Weight Loss
Brazilian Butt Lift, aka BBL, is a plastic surgery aiming to enhance volume on the buttocks. The surgery involves getting the unwanted fat from mostly the stomach or other parts of the body and using (injecting) that fat into the buttocks. As a result of bariatric surgery, you may lose the lovely volume of your buttocks but no worries, BBL is here to get it back!
Breast Lift After Weight Loss
Breast Lift, also known as mastopexy or breast uplift, a breast lift is a great solution for sagging breasts. If you want to go for a bigger size, why not have implants with your breast lift?
Face Lift After Weight Loss
Facial Lift, also known as rhytidectomy, is a facelift surgery that promises a youthful-looking face by removing sagging skin. If you have lost volume on your cheeks, you can also benefit from cheek fillers for a better look!
Arm Lift After Weight Loss Surgery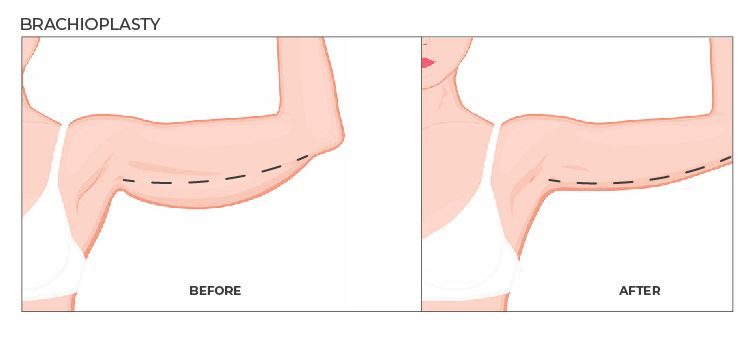 Arm Lift is also known as Brachioplasty, an arm lift is a plastic surgery treatment aiming to remove and reduce the excess sagging skin of the upper arm. An arm lift offers a great solution for people who even hesitate to wave bye! So, no more hesitations!
Thigh Lift Surgery After Weight Loss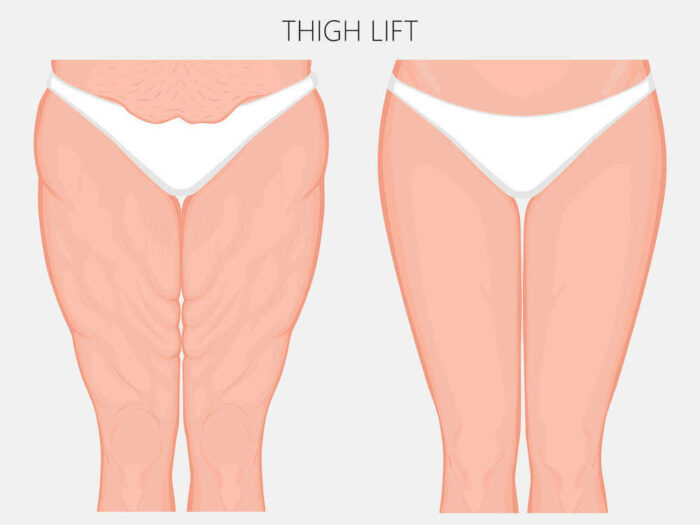 Even though you had a different body, now you can have the legs of Taylor Swift!
Thigh lift surgery, also known as Thighplasty, is a plastic surgery treatment to remove the unwanted fat and excess skin in the inner and outer thighs. The surgery improves the contour of the legs. 
Life After Bariatric Surgery
Your body is your temple! The only thing that matters is that you should be happy and content in it regardless of what others think. If you do not feel comfortable in your body, then we are here to support you, always! 
You can watch Nurias journey after a weight loss and post-bariatric surgeries and see what she thinks about it:
Thanks to advancements in technology, plastic surgery now offers endless opportunities to improve our looks. And thanks to medical tourism, plastic surgery is not exclusive to the few anymore. If you want to find out more about your options, you can contact us now!
Updated Date: Tuesday, March 15 2022
Published Date: Monday, July 31 2023
Medical Content Expert
Mehmetcan is MCANs Digital Marketing Manager and Content writer who has taken roles in medical tourism for years and created written materials for healthcare provider's websites.