2020 Highlights of MCAN Health – Striving for Excellency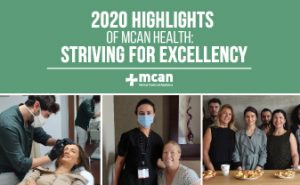 2020 was an intense year for all of us, and for sure, this year will have a very special page in the history books. Even after so long, historians will talk about 2020 and how people of that time – yes! It is us who have survived a year under restrictions, lockdowns, and quarantines. And at the same time, they will acknowledge our strength and resilience; how we were all capable of adapting, enjoying, and getting the most out of life.
We were not defeated by the pandemic and almost a year of restrictions because first, we always tried to keep our hopes up even on gloomy days thanks to global solidarity among the citizens of the world. And second, we all kept working, even harder than before. How can we forget the relentless work of health workers globally? They worked day and night to keep us alive. We did not give up! On the contrary, whatever we do, we have done it with more dedication.
Hope and dedication to excel have been the key things for MCAN Health too. We are going to be honest with you, 2020 was a very difficult year for us. Due to travel restrictions, we could not have our patients for some months. And for about 6 months, we could not even work from our offices. But did this stop us? No, not at all! Instead, we considered this unfortunate period as an opportunity to improve our services and to continue giving back to our societies.
We were positive that this pandemic would be over at some point, and when it would be over we wanted:
to welcome our patients with improved services that would make their experience with us even better and unique,
our patients to feel happy and proud to choose MCAN Health thanks to our continuous and increased efforts in giving back to our world!
So, what did we do? Quite a lot of things actually! We are happy and proud to share a few that made our year!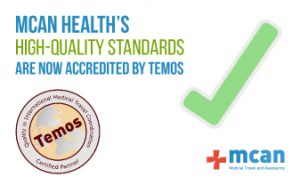 1. TEMOS global accreditation in international medical travel coordination: in 2020, MCAN Health's excellent patient care was acknowledged by a global accreditation, Temos International, a global quality program helping "hospitals, clinics, and medical travel coordinators to find their highest levels of performance to deliver top quality to domestic patients, patients with different cultural backgrounds, international patients as well as medical travellers they serve and to continuously take care of their quality". Temos International Healthcare Accreditation is only given to organisations that have an established track record in providing excellent patient care. And MCAN Health is very proud of having Temos accreditation.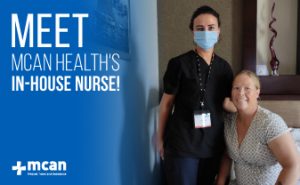 2. Multi-lingual in-house Nurse: to ensure excellent patient care, we hired an in-house nurse! Do not get us wrong, our patients already have multilingual patient hosts and a medical team as well as nurses at the hospital. But we decided to go one step further with an in-house nurse who will be there for you especially after your discharge from the hospital. And we know that this is the time when you most need some medical support and care. So, our in-house nurse will visit you at your hotel after your discharge to perform a general check-up and to support you in your medical needs such as dressing change or corset wearing. And our lovely nurse is fluent in English, German, and Turkish.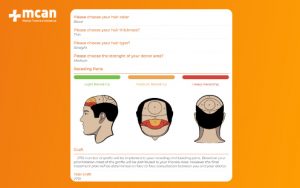 3. AI (Artificial Intelligence)-based Virtual Hair Transplant Consultations: when we say "Covid-19 did not stop us!" we really mean it! MCAN Health cooperated with an AI-based virtual consultation platform, Dr Ethos, to be able to offer its patients virtual hair transplant consultations at the comfort of their homes. Thanks to our cooperation with Dr Ethos, our patients can now enjoy safe, secure, private, and efficient hair transplant consultations and receive their treatment plan in minutes.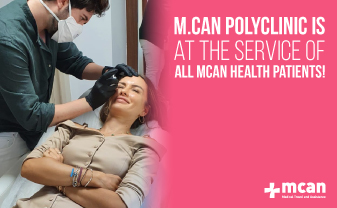 4. Cooperation with M.CAN Polyclinic: To be able to offer a holistic beauty experience for you, MCAN Health has formed a partnership with one of the most luxurious medical clinics in Istanbul, M.CAN Polyclinic! M.CAN Polyclinic offers a variety of beauty treatments, both medical and non-medical, from hair transplant to skincare, Botox, and nail art. MCAN Health patients can benefit from various beauty treatments at affordable costs thanks to this partnership. So, if you come to MCAN Health for your liposuction, why not have Botox or HydraFacial? Coming here in Istanbul with MCAN Health means a New You! And with our new partnership, we really mean it, from top to toe!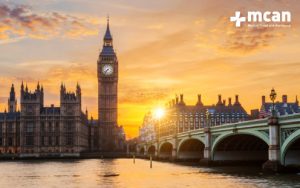 5. MCAN Health London: Great news for our patients from the UK; MCAN Health London is established in January 2020. MCAN Health London, a registered company in the UK, is an independent company that aims at facilitating communication between the UK patients and MCAN Health Turkey as well as providing aftercare support. MCAN Health London was supposed to start its operations in London if Covid-19 had not erupted. But no worries, it is just a little break! MCAN Health London will soon be working full force for patients in the UK. Please watch this space, we will proudly announce the opening day of MCAN Health London in 2021! And it is gonna be a BIG celebration!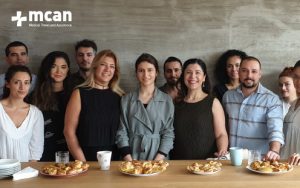 6. Scholarships for bright medical students: Covid-19 once again showed us the importance of healthcare systems and healthcare workers. MCAN Health has long been proudly supporting medical students financially and continued providing scholarships to medical students who cannot afford to cover the costs of internships abroad. These bright students are our future, and MCAN Health keeps supporting them thanks to its patients from all over the world!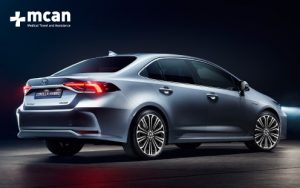 7. Carbon-free footprint: Unfortunately, Covid-19 will not be the only problem we need to deal with. Some other important problems are at our door such as global warming. Covid-19 also showed us that each of us has a responsibility in protecting our world. We know that even small steps/measures may have a huge impact. Therefore, in 2020, MCAN Health switched from fuel cars to hybrid electricity cars. Our dear patients, the cars that will be used for your internal transfers in Turkey will not leave the C02 footprint anymore. You can enjoy C02 footprint-free rides in Istanbul!
Thanks to our relentless work that puts our patients at the centre, in 2020, our Net Promoter Score (NPS) that is the percentage of patients rating their likelihood to recommend MCAN Health to a friend or relative has been doubled up! Yay! We feel extremely happy when our work is appreciated and acknowledged by our patients!
And we will keep working for excellence in 2021 too…
Bye 2020! You have not been very nice but we find ways to make this year useful for us and our patients. Thank you for all your lessons! And 2021; we can't wait to welcome you, please be nice to all of us!
Happy New Year to All of You! May 2021 bring health, happiness, success, and wealth to the world.
---
---