Mirror Mirror, Tell Me: Which Plastic Surgery Treatments Will Be Popular in 2020?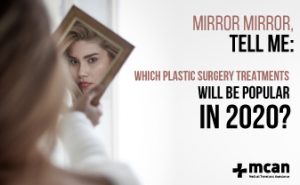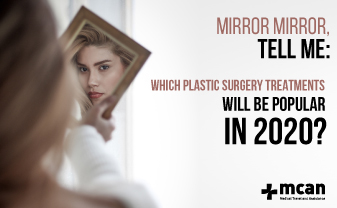 A brand new decade has kicked off only a month ago. 2019 was a 'full-on' year in the plastic surgery world; the number of people who had undergone plastic surgery kept increasing compared to the previous years with a large number of celebrities leading the way. In 2019's plastic surgery trends, breast enlargement, liposuction, BBL and rhinoplasty/nose jobs were among the most popular plastic surgery treatments. Who could forget Cardi B's courageous and honest statements about her boob job and liposuction?
What will be the 'IN's for Plastic Surgery in 2020?
Although we have just left a month behind us, we are pretty sure that 2020 will be even a better year for the plastic surgery industry. As the President of The Aesthetic Society, Charles H. Thorne says: '2020 promises to be a landmark year for aesthetic plastic surgery with innovations in nonsurgical procedures, refinements in established surgical procedures and a new generation entering the market'.
Are you as excited as we are? Then let's get started!
Booty Jobs
Butt augmentation including BBL has long been one of the most popular treatments for women all around the world. Especially BBL has gained so much popularity after celebrities like Kim Kardashian that it is called 'celebrity-driven procedure'. According to the statistics of ISAPS, the International Society of Aesthetic and Plastic Surgery, butt augmentation, both BBL and implant, has been widely performed in 2019m ranking the 10 among surgical procedures. We will also be occupied with the look of bootys in 2020 but with a little difference: in 2020 butts seem to look more natural, smaller but firmer.
Liposuction – Vaser or Laser?
Liposuction that aims to remove unwanted fat from different parts of the body was among the most preferred plastic surgery treatments in 2019. On the contrary to what some people think, liposuction is a great solution for stubborn fat. Because literally, some fat does not go away no matter how hard you work out or stick to a diet.
In 2019, Cardi B was criticised by some for being lazy just because she had liposuction and her answer was to the point: '[People tell me], 'You lazy, you should just work out.' I do whatever the f..k I want to do with my body, I don't have the time of the day like you do. Like, my job as an entertainer is a 24-hour job, bro. So no, I don't have time to work out and I wanted specific things that I know that no matter how much I work out, is not get fixed.'
In short, liposuction removes unwanted fat and also encourages a healthy lifestyle. Therefore, liposuction will be in high demand in 2020, too. MCAN Health's contracted surgeon Dr Murat says: 'liposuction will be popular in 2020 as well but Vaser Liposuction will be in higher demand than Laser Liposuction. Because more fat can be extracted by Vaser Lipo and its recovery time is shorter compared to Laser Lipo.'
Facelift is back!
Because of the increased popularity of botox and other non-surgical anti-aging treatments, many patients have the tendency to postpone facelift surgery as much as they can. But the reality is none of the non-surgical techniques can replace facelift. Facelift also referred to as rhytidectomy, is a plastic surgery procedure aiming to enhance the look of the face and neck by tightening and fixing sagging and wrinkled skin. Both women and men choose to undergo facelift surgery to have a more youthful appearance. And 2020 will be the year for facelift treatments to gain more popularity.
Injectables will remaIN
Having said that injectables such as botox and fillers will keep its popularity thanks to the desire to look younger and more beautiful in our 'selfie society'. Injectables would mostly be preferred on areas like fine lines, cheeks, and lips as well as nose. Because injectables are easy to perform with no recovery period, they are so popular and chosen by many people. Lip augmentation will continue to be one of the most preferred treatments. But in 2020, non-invasive techniques will mostly be preferred for lip augmentation.
Men and plastic surgery in 2020
Contrary to what some think plastic surgery is not exclusively for women! Although the majority of patients undergoing plastic surgery are women, men, increasingly, choose to have a variety of plastic surgery treatments year by year. According to the ISAPS,  gynecomastia, also known as male breast reduction, has been the most popular plastic surgery treatment for men in the last couple of years. Gynecomastia surgery is followed by liposuction, eyelid surgery, rhinoplasty, and ear surgery. Men also have their share in our selfie society and want to enhance their look. Their 'share' in plastic surgery will keep increasing in 2020, too.
Dear reader, 2020, for sure, will be an exciting year for plastic surgery with some new and remaining trends. And if you have been with me so far, it means that you are ready for your own plastic surgery journey in 2020. You might have already made your mind up or you might still be thinking, in any case, we are here to assist you in the best way whenever you are ready!
Finally, we wish 'beauty for everyone' and beauty to the whole world in 2020!
Which treatment are you interested in?
You can have a free consultation whenever you want!
---