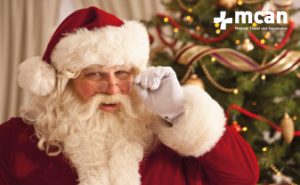 In Western Culture Santa Claus is a legendary figure. On Christmas Eve, December 24th, and the early hours of Christmas day, he is said to bring gifts to the homes of those children who well behaved during the previous year.
As we all know Santa as a cute man with a big belly, a red hat and red clothes and a white beard. Children just love him.
But what if he would not have big white beard, what if he would be bald? Would he be still so cute?
Actually the full beard of Santa Claus is one of the popular symbols of Christmas. And some people that play the part of Santa around this day take it very seriously. For instance there is the International Brotherhood of Real Bearded Santas (IBRBS). Also there is the Fraternal Order of Real Bearded Santas, an organization with 850 members who look like Santa vowed to make promote a positive image of Santa.
And then there also is this wide range of Hipster Santas that seem to pop up everywhere on Instagram and Facebook. All with real beards, naturally.
However, Santa is wearing his hat all the time but most probably he will only wear on those two days in December. Because wearing a hat all year round would make his hair fall down. Our hair needs to breath the air, it needs fresh oxygen. And also a tight hat would of course cause traction alopecia and receding hairlines.
What would be our advise to Santa to keep his hair and beard long and thick and healthy?
We would tell him to
1) limit use of hair dryers
2) eat healthy foods
4) avoid stress
5) have a scalp massage every now and then to increase the blood circulation
and not to
6) pull his hair too tight back
7) smoke of course
Yet even if our dear Santa would keep up to all this well meant advice, he could still be in bad luck because of his genetic structure and lose his hair after all.
But in that case, Santa would have a wonderful option: to have a hair and beard transplantation.
We would advise him to go to have a 6-8 hours hair transplant procedure to get back the hair loss and to restore his receding hairline.
We would also advise him to have a beard transplant if it seemed necessary because there are a lot of possibilities nowadays to restore a beard.
Our dear Santa Claus would never lose the transplanted hair because transplanted hair will never fall down again.
Santa Claus was born in Patara, Turkey, in the province of Antalya in the second half of the 3rd century BC. So what would make more logical than having his hair transplant in his country of origin?
In recent years Istanbul, Turkey has become the top destination for hair transplantation and beard transplantation.
From all around the world every year thousands of people are coming to Istanbul, Turkey, the land of Santa Clause, to restore their hairline, get back their hair or have the beard they long for.
MCAN Health, Istanbul and whole Turkey wish all of you a Merry Christmas. A Year with all the hair you could wish for! But most of all we hope peace, love, respect, and tolerance will be always in your lives.
Merry Xmas and a Happy New Year
MCAN Health
---