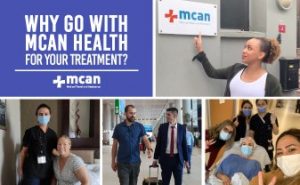 Once you have decided that you would have that treatment, you start searching for the best place to have your treatment.
Where to start? Should you have direct contact with a doctor from his Instagram? Should you make a Google search? Who should be responsible to organise your medical journey?
In this piece, we mentioned why going with MCAN Health means more security, the best price guarantee, the whole package experience and continuous after-care.
The experience and the quality of the doctor: With MCAN Health you have the best surgeon specialised in the area of your desired treatment
MCAN Health does not work with one surgeon only. We work with a number of surgeons and our contracted surgeons are evaluated regularly based on certain criteria.
One of them is the complication ratio of the surgeon and the other one is the Net Promoting Score (a survey to determine satisfaction of the patients). MCAN Health only continues working with the surgeons whose Net Promoting Score is satisfactory and complications ratio is under a certain percentage.
For instance, in 2018, MCAN Health ended its contract with two plastic surgeons based on the previous 6 months evaluations; complication ratio and NPS result.
The current surgeons whom MCAN Health works with have been working with us for a long time, all are experienced and selected based on certain criteria. But they still are evaluated every month for the previous 6 months results.
Briefly, MCAN Health works not only by the most qualified surgeons on the papers but also with high satisfaction rates and low complication ratio.
Also, because MCAN Health works with a variety of surgeons who may have different specialisms, MCAN Health can offer you the right surgeon among its contracted surgeons who is very well-known and reputable for instance with their nose jobs if you are after rhinoplasty.
Experienced surgeons with high satisfaction rates specialised in the treatment areas you are interested in. Could a patient ask for more?
The quality of patient care: With MCAN Health you receive excellent patient care that is certified by the global authorities
MCAN Health was accredited by TEMOS International in October 2020 as being a medical travel company with excellent patient care. It is a "seal of approval" given by a private, independent, global group to healthcare providers and medical travel companies.
MCAN Health has a Customer Experience Specialist Team who speak not only English but also Spanish, Dutch, German. We support our patients during their journey in their native language. For peace of mind, MCAN Health organises even the tiniest details of your visit from arranging your hotel to internal transfers which is not allowed by Turkish Regulations for a surgeon to organise on behalf of a patient.
MCAN Health has gone one step further and hired an in-house nurse who is fluent in English and German. She visits the patients at the hotel after they discharge from the hospital for dressing change and medical controls. We identified a need for an in-house nurse as most of our patients are coming to Turkey without an accompanied person. To be checked at the hotel by a nurse not only increases the safety of the patient but also gives them a sense of caring by someone close to them.
The Best Price Guarantee
As a medical travel company that works like a bridge between the surgeons/hospitals and the patients, we have special contracts with the hospitals since we create high volume of occupancy  and medical supplier firms since we place high numbers of orders as in the case of health insurance companies contracting with healthcare providers. That is why MCAN Health can provide its patients with more affordable prices. So that we can guarantee the best price from MCAN Health instead of any surgeon themselves.
And there is one last but not least factor that proves the fact that going with MCAN Health is the best decision.
Protecting the patient's rights: With MCAN Health you are not alone!
There is always a risk of complication or dissatisfaction in any surgical procedure. At MCAN Health, we aim to reduce the likelihood of these risks by working with qualified and experienced plastic surgeons. But still, as happening anywhere in the world and by any plastic surgeon, complications or dissatisfaction as a result of plastic surgery may happen. In that case, if there is a complication or dissatisfaction from the result, we always support our patients.
So what does MCAN Health do?
We first consult the original doctor on behalf of the patient.
If there is a dispute related to free corrective surgery, we seek the opinion of two independent plastic surgeons and get a second opinion from them on behalf of the patient.
We share these reports/second opinions with the original surgeon.
If the second opinion results require corrective surgery, then we advocate on behalf of our patients so that they can have their corrective surgery free of charge.
We aim to be neutral between the patient and the contracted surgeons and protect the rights of the patient and the surgeon when needed based on the neutral second opinion reports.
With our patient centric approach, you are at safe hands when you book with MCAN Health.
---
---