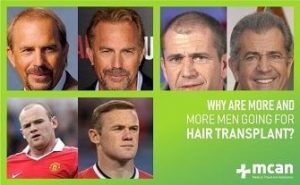 MCAN Health is a medical travel company in Istanbul, Turkey, specialized in plastic surgery, hair transplantation, weight loss surgery, IVF and cosmetic dentistry. Ever since our company was founded, we have seen that the number of men who wanted a hair transplant increased every year.
Why do so many men want this, not just celebrities, showmen or rich people but also ordinary people of every age, nationality, from every profession and income level?
We remember that when hair transplant started to become popular, some 20 years ago, many hair transplant surgeons predicted that this demand would last for no more than 10 years. After that, they would turn to specializations in other fields. When we ask them what is happening now, they tell us just the opposite: it will increase even more.
One of the reasons for this is actually very obvious: the development of medical technology and methods. Ten years ago Follicular Unit Transplantation (FUT) was the most popular technique. The surgeon would remove a strip of skin from the back of the head to harvest as many hair follicles as needed. However, this method would always leave a nasty scar at the back of the head, clearly visible when a man would have his hair cut short. Many men found that disturbing. Then, Follicular Unit Extraction (FUE) started to become popular, a technique in which hair follicles are collected one by one from the back of the head. If a talented and experienced surgeon extracts the grafts, there is almost no scar in FUE. Even if a man cuts his hair short, nobody will notice that the hair was harvested from the back of his head.
Another reason is the short healing period. Once the hair transplant is over, a man can go back to work within 3 days after the procedure and he can continue his social life after approximately 10-15 days without any problem. He can go to the gym, a football match, he can catch up with his social life at the latest after 15 days and people will only think he had his hair cut short.
Who wouldn't like to be seen as the younger version of himself? Our patients tell us just that and when we look at their before-and-after pictures we also observe that many seem so much younger after a hair transplant. Baldness somehow makes a man look older.
Is it scary to have a hair transplant? Really, it is not anymore. Under local anaesthesia, it takes only 6-8 hours and patients do not feel any pain. Some may only complain about the first few minutes of local anaesthesia and say that this is the only moment they feel a slight pain. And now it is even easier: with needless anaesthesia, the pain is minimized to nothing at all.
Now, how about the other alternatives to prevent hair loss? They all work quite well, but once you stop using them, the loss of hair comes back.
And last but not least is the affordability, the prices of FUE Hair Transplant vary from 1500 EUR to 15,000 EUR, though. However, a higher price does not necessarily mean better treatment. Because prices change from country to country because of labour cost. That is why nowadays, so many men are going abroad to have a hair transplant.
Turkey is a preferred destination for hair transplant. As MCAN Health, over the years we have seen how the demand for hair transplant increased and how it still becomes more and more popular.
When we see the result of our patients we also witness the change of their looks and we share their happiness. We are proud to be a part of their increased self-confidence. You can look at the changes on our Instagram account.
We think the demand for hair transplant will not stop. We think that in the coming years the demand for hair transplant will increase, regardless of social or cultural background or economic level. We live in an era that makes it all possible for everyone. That is why our motto is "Beauty For Everyone". And we feel fortunate to be a part of that.
---
---