Will Smith Oscars Scandal! Wife Jada Pinkett Smith Hair Loss Taboo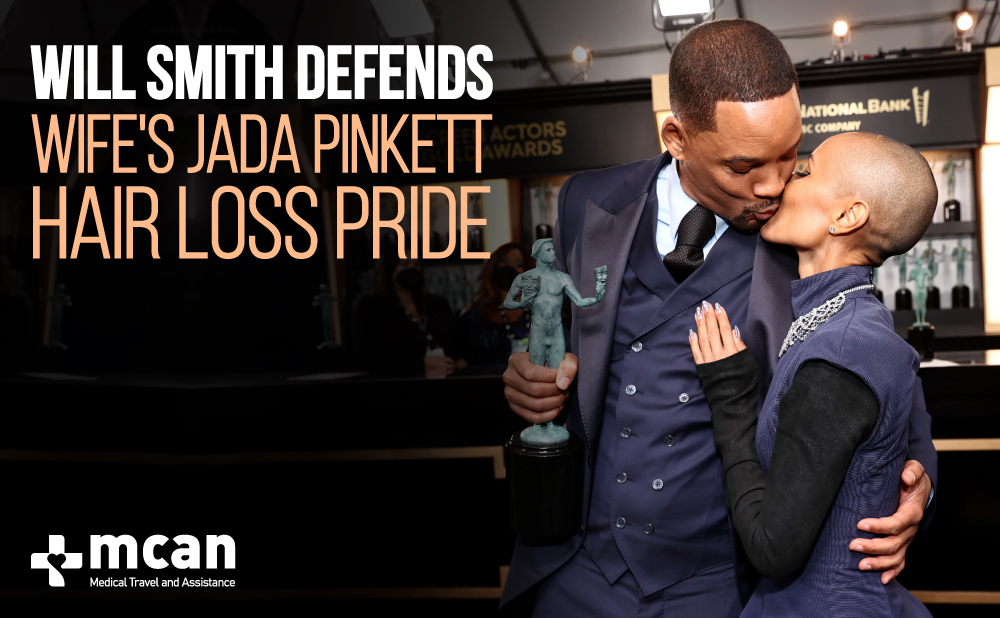 The 94th Academy Awards Ceremony will be one to remember. Especially for Will Smith. 'The greatest night on television', as stated by Chris Rock right after receiving the biggest smack of his life. Rock's joke on his wife's Jada Pinkett Smith hair loss spilled the glass for the actor: ​​'Jokes at my expense are a part of the job, but a joke about Jada's medical condition was too much for me to bear,' tweeted Smith the day after the incident, talking about Jada Pinkett's alopecia.
Will Smith Oscars Scandal
This was not Smith's first display of violence. In 1989, the Prince of Belair spent a night in prison after attacking William Hendricks, his record producer. It doesn't end there. In 2000, he was also charged with aggravated assault, a charge that was later dropped. The knowledge of such facts has got the public to discuss whether the recent Will Smith Oscars aggression was a legitimate defense of his wife Jada, or another outburst of his true character, hidden beneath his smiley persona. 
All things be said, the actor seems to have been taking a lot recently. Will Smith and Jada have been targeted by gossip media for quite some time. As early as two weeks before Will Smith's Oscars scandal, Bafta host Rebel Wilson jokingly said that the actor's 'best performance in the past year has been being OK with all of his wife's boyfriends', commenting on the couple's unconventional open marriage. 
Fortunately for Wilson, Smith was not present in the Bafta's ceremony.
Not the First Chris Rock Joke About Jada Smith
It was also not the first time that Chris Rock poked fun at Jada! The comedian's comments back in 2016 might have created bad blood after Tupac's ex girlfriend criticized the Oscars for underrepresenting black people. Rock joked about it:
"Jada said she's not coming. Jada's gonna boycott the Oscars? Jada boycotting the Oscars is like me boycotting Rihanna's panties. I wasn't invited!"   
Daring. Very daring. Maybe too daring? 
Chris Rock's Joke on the Oscars
With all of this lurking in the background, and the known struggle of Jada Pinkett Smith hair loss, Chris Rock's 'Jada, can't wait for G.I. Jane 2′ comment understandably got Smith to lose his nerves. He's trigger-happy, after all.
At first, the actress was seen rolling her eyes and Smith laughing, before taking to the stage and striking the comedian with his bare hand. Rock tried cooling things down as Smith shouted twice, fuming on his seat: 'Keep my wife's name out of your f**king mouth!' 
The Aftermath
Little over half an hour later, Will Smith's Best Actor Award added more fuel to the fire. In his acceptance speech, pressmen rejoiced while capturing pictures of Will Smith crying as he excused himself: 'Love makes you do crazy things.'
Somewhat unapologetic, Smith conceded: 'In this business, you gotta be able to have people disrespecting you and you gotta smile and you gotta pretend like that's OK.'
The actor further apologized after the Academy formally condemned his actions on the next day. 'We have officially started a formal review around the incident and will explore further action and consequences in accordance with our Bylaws, Standards of Conduct and California law,' the Academy stated.
Jada Pinkett Smith Hair Loss
Behind it all lies a woman's struggle with alopecia. Contrary to popular belief, hair loss does not only affect men. Jada Pinkett Smith hair loss was first diagnosed in 2018, and, unlike many male celebrities, like Lewis Hamilton or David Beckham, the actress was open about it from the beginning, commenting it was "terrifying when it first started." 
Pickett commented on social media: 'I was in the shower one day and had just handfuls of hair in my hands, and I was just like, "Oh my god, am I going bald?' It was one of those times in my life where I was literally shaking with fear. That's why I cut my hair and I continue to cut it."
Solving Jada Pinkett Smith Hair Loss
Fortunately for Jada and many other women around the world, hair loss is not irreversible. Technological improvements have allowed patients to regain the splendor of their younger years through a hair relocation procedure known as hair transplantation.
The most popular hair restoration method for women is the avant-garde DHI hair transplant. DHI hair transplantation allows for the reallocation of 2,500 grafts in a single sitting (approximately 7,500 follicles), without shaving the patient's head. Results become fully visible 12 months after the procedure, and chances are Jada Pickett Smith hair loss has already got treated, or will shortly (especially if she wants her husband to maintain the remainder of his reputation).
---
---