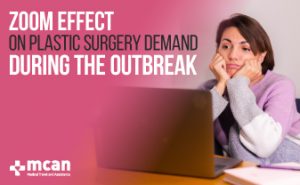 Lockdown days brought a new favorite working style: home office. It's no lie that we are spending more time inside, and our beauty routines have gotten altered. We are not waking up and thinking about how long it will take us to do our makeup or to groom ourselves anymore. This new office style made it as easy as "just wash your face, brush your teeth and you're all set".
The Zoom Effect
What we call "the new normal" has changed all the ways of human contact and interaction with the people in their surroundings. You must have heard of Zoom Boom, the new virtual interaction medium of the new normal. We are spending more time on the computer and the phone, attending video calls, meetings, and other kinds of activities which were part of our old lives. But, watching ourselves on a screen for long periods has made us more conscious about our appearances.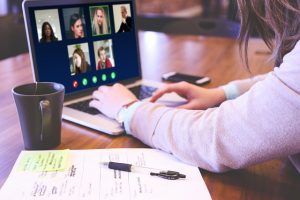 This is better known as the Zoom Effect (yes, Zoom as the video conference platform), it seems that our new lifestyle has become a pointer to all those imperfections that were not too obvious before, but now are making noise in our heads, and got us looking for a way to fix them. It is amazing how spending time inside got us all worried about how we look on the outside.
Just think of the regular pre-Covid-19 meeting in the meeting room at your office, you were not able to see yourself but only the participants of the meeting. However, right now, you are forced to watch yourself during a Zoom meeting as your live video is attached somewhere on the corner of the screen. Considering that you are dressed more comfy at your home, you will begin to see and notice the things that you want to change about your skin, nose or eyes day by day.
Self-image during COVID-19 days
As we mentioned before, the Zoom Effect has been proving to us that we can always do something to upgrade our image and self-esteem. Don't get us wrong, of course, natural beauty is great but unfortunately, it will not last forever, and a little bit of body adjustments here and there has never hurt anyone.
Also, we must highlight that people have become more open-minded about it, even celebrities that used to hide getting done any work done, are now speaking up about their experiences and how it has helped them overcome some of their insecurities. As an example, we can name two of our favourite influencers, the youngest of Kardashian's clan, Kendall and Kylie Jenner.
Zoom effect and plastic surgery rising
So, the situation has risen the demand to get plastic surgery done during COVID-19 days. And how can people not get all hyped about it? The zoom effect has opened our eyes to all things that might need a little bit of maintenance, and to be working from home has made everything easier.
Before the outbreak, going to work after getting plastic surgery done would not only mean feeling to be judged but uncomfortable. Taking the bus or drive to the office with a swollen body would not have only made you uncomfortable but even may make you regret your decision. Thankfully, a lot of companies have adopted this new working modality which means that more people are getting more plastic surgery or aesthetic treatments done.
Why? Because they don't need to ask for vacation or off time to recover, they can just go back home to rest after being discharged from the hospital and wait for their new bodies to recover. No one will see them until they decide that is the perfect time to show their new self.
Plastic surgery in Turkey
If after reading this article, getting any kind of plastic surgery has gotten stuck in your mind and you want to know the best place to get it done, come to Turkey. The country is listed among the best health standards in the world. During the past few years, plastic surgery in Turkey has been increasing and making the country popular in the field.
The nation offers the most specialized surgeons in the field, and the best service (before, during, and after the treatment). These two reasons are making people decide to come because they know that they will not only have great results but are going to be well cared for.
The Best Place to Get Plastic Surgery in Turkey
The competition in the plastic surgery field in Turkey is BIG. But some companies stand up from the rest. In MCAN Health, you will be offered all of these and more. Just check our social media platforms and see the great results of our patients' transformation during the past few years. We have also created a safe environment against the COVID-19 so our patients are free from any harm and can enjoy their process.
Discover how MCAN Health and Turkey can offer the best of both worlds to you, enjoy the beautiful city of Istanbul and go back home being the best version of yourself!
---