Über 10.000 zufriedene Patienten wurden von den Vertragsärzten von MCAN Health in Istanbul, Türkei behandelt. Das erfahrene Ärzteteam von MCAN Health führt seit über 10 Jahren Haartransplantationen durch. Wir verstehen unsere Patienten und ihre Anliegen, deshalb behandeln wir jeden Patienten individuell. Wir verwenden unterschiedliche Methoden wie FUE, DHI und Sapphire Perkutane, je nach den Bedürfnissen unserer Patienten.
Die Türkei ist aufgrund der neuesten Technologien, der relativ günstigen Preise im Vergleich zu anderen Ländern aufgrund der niedrigen Arbeitskosten und der großen Anzahl von Behandlungen das Top-Ziel für Haartransplantationen. Wir begrüßen viele internationale Patienten aus Großbritannien, Deutschland, Neuseeland, Australien, den USA, Kanada, Spanien, Italien, Albanien, den Niederlanden und viele andere…
Die Haartransplantation ist eine ambulante chirurgische Behandlung, bei der das Haar von einem Teil der Kopfhaut, der Spenderstelle, in einen anderen Teil der Kopfhaut, die Empfängerstelle, transplantiert wird. Mit anderen Worten handelt es sich um einen Prozess der Haarumverteilung. Normalerweise befindet sich der Spender auf der Rückseite des Kopfes zwischen den beiden Ohren. Die Empfängerstelle ist der Bereich, in dem die Kopfhaut kahl ist, der Haaransatz zurückgeht oder in denen das Haar dünner wird. Die Haare an der Spenderstelle am Hinterkopf sind immun gegen das DHT-Hormon, welches Haarausfall verursacht. Deshalb fallen die Haare, die von dort aus verpflanzt werden nie wieder aus.
Kostenlose Beratung
Hinterlassen Sie uns Ihre Nummer und wir werden uns bald zurückmelden
Eine Haartransplantationsreise in der Türkei
Wie fängt Ihre Reise an?
Für Ihre Behandlung werden unsere Case Manager nach Ihren Bilder von Ihren Haaren fragen und einige Fragen zu Ihrem medizinischen Status stellen.
Der Arzt wird Ihren persönlichen Behandlungsplan auf der Grundlage der Bilder und Ihres medizinischen Status bereitstellen.
Sie erhalten Ihren Behandlungsplan für die Haartransplantation und unser Pauschalangebot.
Sie buchen den Tag Ihrer Haartransplantation und wir arrangieren jedes Detail für Sie.
Für alles andere sehen Sie das Video oben.
Sie brauchen nur 3 Tage für eine Haartransplantation mit MCAN Health in Istanbul. Sie bleiben 2 Nächte, 3 Tage und gehen mit Haaren zurück. Sie können nach 3 Tagen wieder arbeiten, wenn Ihre Arbeit keine körperlichen Aktivitäten erfordert. Die kurze Heilungszeit, das schmerzlose Verfahren und die erschwinglichen Kosten sind nur einige der Gründe, warum die Haartransplantation bei Männern immer beliebter wird.
Kosten für eine Haartransplantation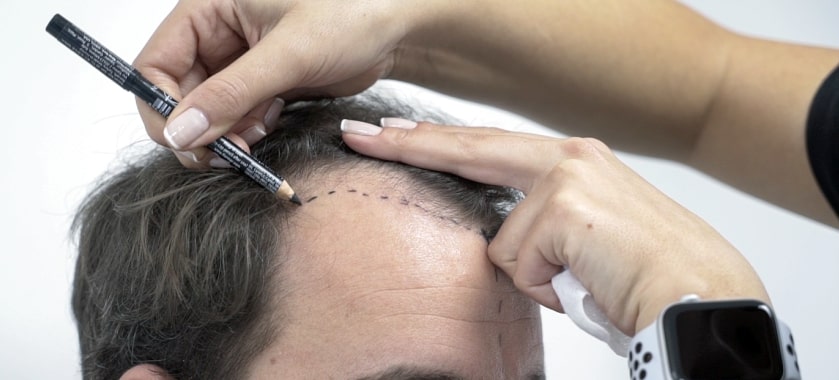 Die Kosten für eine Haartransplantation im Vereinigten Königreich, in den Vereinigten Staaten oder in Europa beginnen bei 10.000 €. In einigen Ländern gibt es auch eine Wartezeit für die Behandlung.
Die Preise für eine Haartransplantation in der Türkei beginnen bei den vertrauenswürdigen und anerkannten Gesundheitsdienstleistern ab 1499 €. Die Kosten einer Haartransplantation hängen von verschiedenen Faktoren ab.
Kontaktieren Sie uns jetzt und informieren Sie sich ausführlich über Ihre Behandlung. Wir bieten Ihnen Pakete in verschiedenen Ausführungen, einschließlich Unterkunft, Flughafentransfer, interne Transfers, Patienten Host, Flugticket und Stadtrundfahrt an.
✔ FUE
Haartransplantation:
€1499 – €2150
✔ DHI Haartransplantation
(unrasierte FUE):
€1800 – €2450
✔ Bart
Transplantation:
€1499 – €2150
✔ Nadelfreie
Betäubung:
€1699 – €2250
✔ Saphir perkutan
Haartransplantation :
€1799 – €2350
MCAN Health Haartransplantation Türkei
Sie erhalten eine sichere, hygienische und die beste Haartransplantation in der MCAN-Klinik durch ein erfahrenes medizinisches Team.
Haartransplantation Türkei vorher – nachher Bilder
Streichen Sie nach links und rechts, um die Ergebnisse der Haartransplantation zu sehen.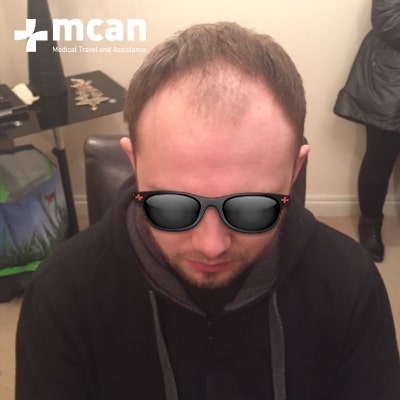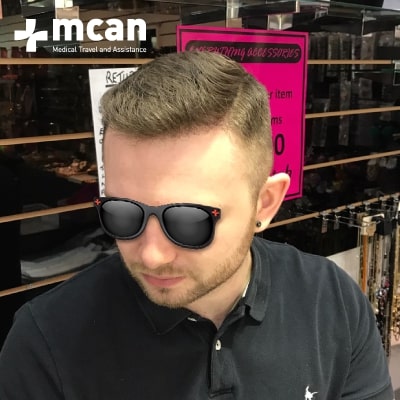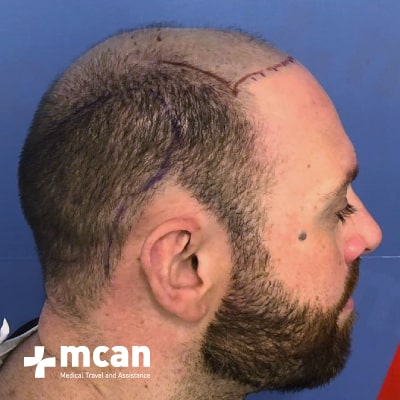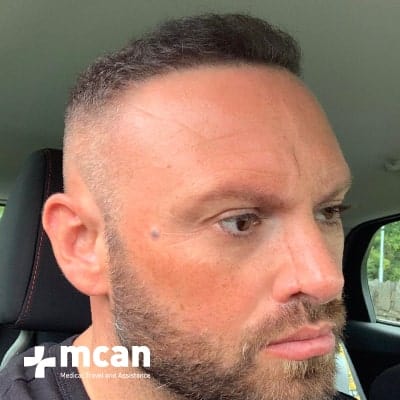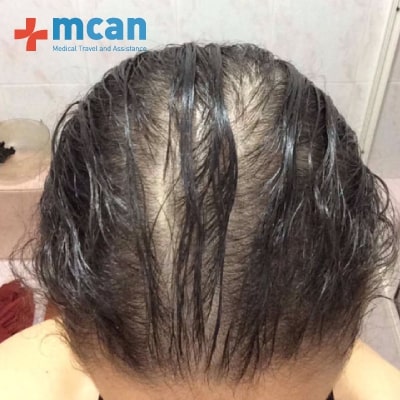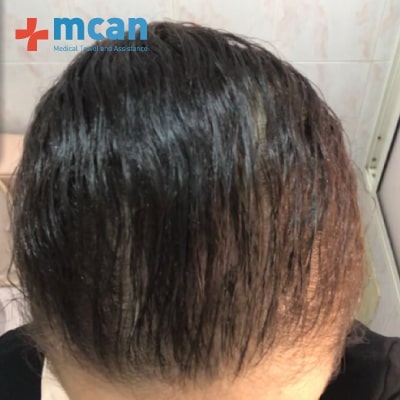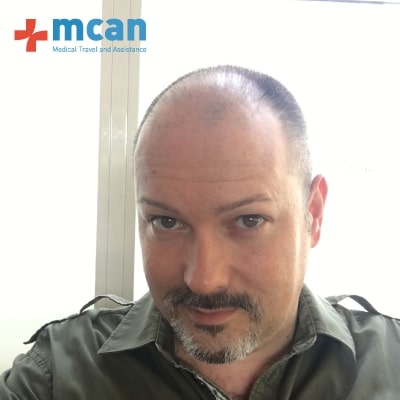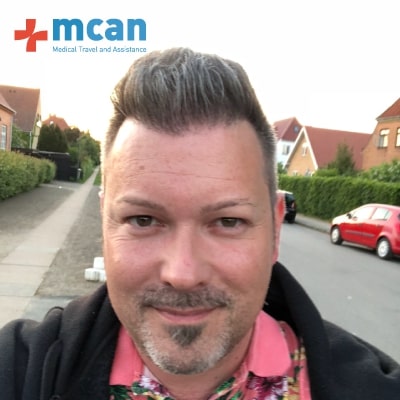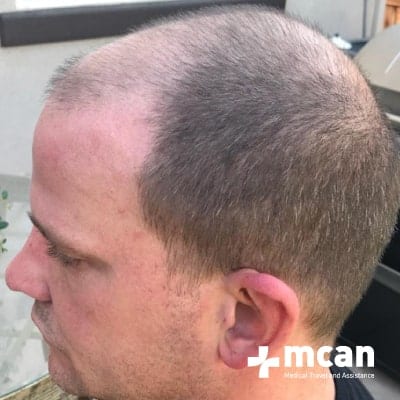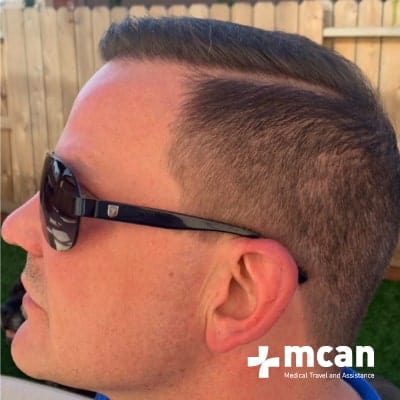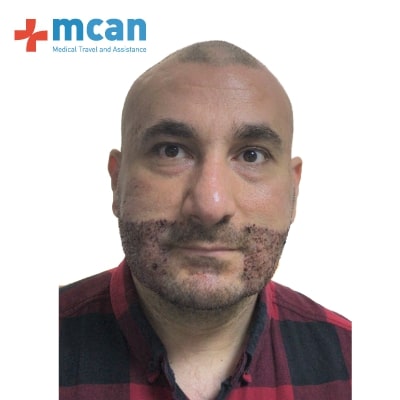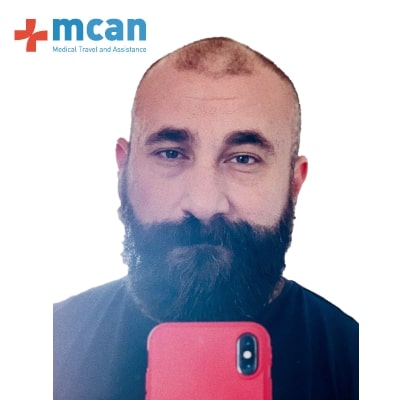 I choose Mcan health after allot of research online & I'm so glad I did. I'm very happy with my results I had tummy tuck, 3 area lipo, muscle repair and breast uplift with 295 g implants. When arriving in Istanbul I was very nervous, however after meeting the team and Dr my nerves was put at ease. I couldn't be happier with how I look now. Thankyou mcan for a delightful experience and I will be back for my rhinoplasty in the next few years!
Posted 2 days ago
The staff at MCAN upon arrival to Istanbul were very organised and reassuring. They planned my whole stay to the last detail and kept in contact with me at all times. Doctor was very professional and skilled. My rhinoplasty procedure went amazingly well and the hospital facilities were very modern and clean. All in all, a professional, high quality service at an affordable price!
Posted 2 days ago
The admin staff are quick to reply and very helpful, the drivers are gentlemen, everything was straight-forward and easy. The hospital duration was a very pleasant experience with constant monitoring, the surgeon was lovely (and handsome!) and since returning home I have been advised I have 'perfect' breasts, thanks to him! I would definitely recommend this company
Posted 5 days ago
The care given in making me feel at ease and the general feeling being good around the procedure as a whole was outstanding and the nurses and staff made everything less stressful
Posted 1 week ago
This was my second procedure and have to say that I'm pretty happy with how it went. The doctor explained me exactly what can be achieved given my current condition, and made sure that the assistants carry out their tasks efficiently. Thanks again team and I'll make sure to recommend your services to friends and colleagues.
Posted 1 week ago
Amazing service from start to finish I am 4 days post op after a facelift and upper and lower eye surgery doctors driver case manager and interpreter are all amazing would reccomend troya hotel for your stay would highly recommend
Posted 2 weeks ago
Best trip for rhinoplasty I came from Holland to get a rhinoplasty. I'm so happy with the results and the whole trip went perfectly. The communication went well and my nose is healing good. I recommend this to everybody because I don't have any pain and my nose is looking beautiful already.
Posted 4 days ago
❮
❯
Mehr Informationen zur Haartransplantation
Warum passiert Haarausfall?
Haarausfall ist ein natürlicher Zustand, der jeden Menschen in bestimmten Lebensbereichen unabhängig von Geschlecht und Alter betreffen kann. Es kann viele Ursachen haben, wie Stress, hormonelle Störungen, es kann genetisch bedingt sein, saisonal bedingt, ernährungsbedingt oder durch die Verwendung bestimmter Arzneimittel verursacht werden. Einige Arten von Haarausfall sind dauerhaft, andere können vorübergehend sein.
Unser erstes Prinzip ist, Ihre Art des Haarausfalls zu verstehen. Wenn es vorübergehend scheint, warten wir lieber und beobachten den Haarausfall. Aber wenn es wirklich notwendig ist, haben wir die beste Lösung für Haarausfall. Der wichtigste Faktor für eine Haartransplantation ist eine korrekte Diagnose, bei der sowohl der gegenwärtige als auch der zukünftige Grund für den Haarausfall perfekt verstanden werden muss.
Um herauszufinden, ob Sie ein guter Kandidat für eine Haartransplantation sind, lesen Sie bitte unseren Artikel, um weitere Informationen zu erhalten:
Wie wird die Haartransplantation durchgeführt?
The whole procedure is explained in our FUE Hair Transplant section where you will find all the information about hair transplant in detail.
Wir bieten eine sichere ambulante Behandlung mit den neuesten Technologien. In örtlicher Betäubung durchgeführt, dauert die Haartransplantation 6 bis 8 Stunden.
Das Verfahren ist schmerzfrei, und tatsächlich schauen Patienten einen Film oder hören Musik oder schlafen sogar während einer Haartransplantation ein. Meist wird der Schmerz der Injektion als "Mückenstich" bezeichnet.
Für diejenigen, die keine Nadeln bevorzugen, tragen wir die Sedativak-Chemikalie über Hochdruckluft auf die Kopfhaut auf. Sie werden absolut nichts mit dieser Option fühlen.
Das gesamte Verfahren wird in unserem Abschnitt FUE-Haartransplantation erläutert. Dort finden Sie alle Informationen zur Haartransplantation im Detail.
Methoden der Haartransplantation
Bei einer Haartransplantation gibt es zwei verschiedene Methoden der Transplantat-Extraktion: FUT und FUE. Da die FUT eine Narbe hinterlässt, extrahiert unser Chirurg die Transplantate nur mit der FUE-Methode (Follicular Unit Extraction), um bessere Ergebnisse und keine Narben zu erzielen. Die Kanalöffnung und der Implantationsprozess können variieren, aber alle können als unterschiedliche Methoden unter FUE klassifiziert werden. DHI, Perkutan sind verschiedene Arten von Haartransplantationen und der MCAN-Chirurg wird entscheiden, welche Lösung am besten zu Ihnen passt.
Schnurrbart-, Barttransplantation und Augenbrauentransplantation werden auch von MCAN-Chirurgen in unserer Klinik erfolgreich durchgeführt.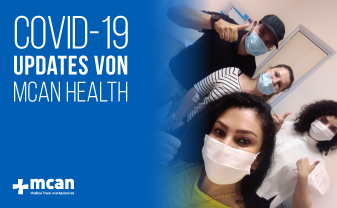 COVID-19 Updates von MCAN HEALTH
Als die ersten internationalen Flüge wieder begonnen haben, begrüßten wir unsere Patienten aus der ganzen Welt. Die Worte reichen nicht aus, um unser Glück auszudrücken. Wir haben Sie so sehr vermisst und freuen uns riesig auf diese kommenden Tage… Als MCAN Health sind wir uns jedoch auch der Tatsache bewusst, dass wir jetzt in der […]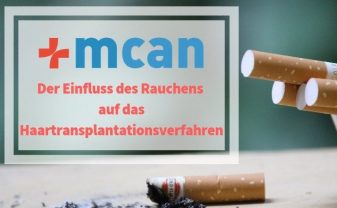 Haartransplantation und Rauchen
Alle unsere Patienten werden von ihren Ärzten darauf hingewiesen, zumindest in der Zeit nach der Haartransplantation auf das Rauchen zu verzichten. Doch trotz aller Schuldgefühle ignorieren viele Menschen diesen medizinischen Rat. Die gesundheitlichen Risiken Natürlich wissen wir es alle: Rauchen ist schlecht für unsere Gesundheit. Für unsere Gesundheit im Allgemeinen und hier stellt sich die […]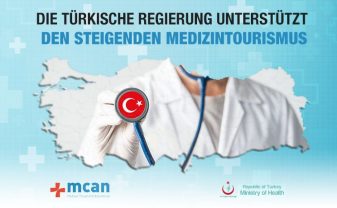 Staatliche Unterstützung der Türkei für den steigenden Medizintourismus
Das türkische Gesundheitsministerium ergreift verbindliche Vorschriften, um die Sicherheit und Legitimität internationaler Patienten zu gewährleisten Die Türkei gehört zu den Top- Destinationen für Medizintourismus und baut ihre Position dramatisch aus. Dies gilt nicht nur für die Anzahl der Patienten, sondern auch für die vom türkischen Gesundheitsministerium angekündigten und angewandten Vorschriften. Laut der Statistik des Gesundheitsministerium […]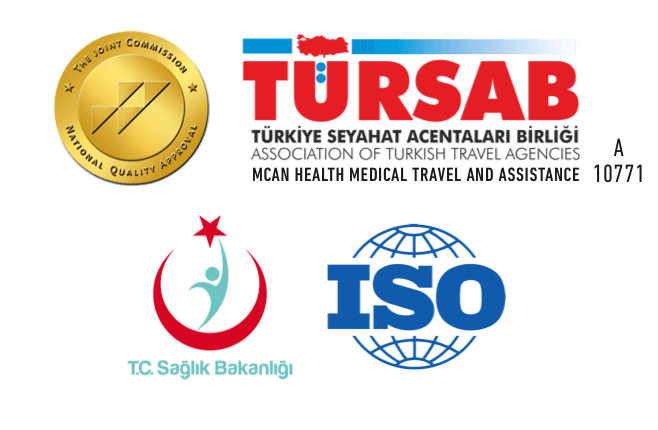 Mit dem Ziel die maximale Patientenzufriedenheit zu erreichen sorgt MCAN Health dafür, dass die Patienten die optimale Behandlung erhalten. Auch nach der Haartransplantation werden die Patienten regelmäßig kontaktiert um sicherzustellen, dass die Heilungsphase gut voran geht, dass die Patienten zufrieden sind und ob Sie weitere Hilfe benötigen. Obwohl es sehr selten vorkommt sind die Korrekturoperationen bei MCAN Health für die Haartransplantation in Istanbul immer kostenlos.