Haartransplantatie is toegepast op meer dan 10.000 tevreden patiënten door MCAN Health, in opdracht van gecontracteerde artsen in Istanbul, Turkije. Het ervaren medisch team van MCAN Health voert al meer dan 10 jaar haartransplantaties uit. Wij begrijpen onze patiënten en hun zorgen goed, daarom behandelen we elke patiënt op een unieke manier. Daarbij gebruiken we verschillende methoden, zoals FUE, DHI, en Sapphire Percutaneous, afhankelijk van de behoeften van onze patiënt.
Turkije is de topbestemming voor haartransplantaties, vanwege het gebruik van de nieuwste technologieën, de relatief goedkope prijzen van een haartransplantatiebehandeling in vergelijking met andere landen vanwege de lage arbeidskosten en het grote aantal praktijken. We hebben veel internationale patiënten behandeld voor Haartransplantatie uit het Verenigd Koninkrijk, Duitsland, Nieuw-Zeeland, Australië, Verenigde Staten, Canada, Spanje, Italië, Albanië, Nederland en nog veel meer …
Haartransplantatie is een ambulante chirurgische behandeling waarbij het haar wordt getransplanteerd van een deel van de hoofdhuid, de donorplaats, naar een ander deel van de hoofdhuid van de ontvanger. Met andere woorden, het is een proces van herdistributie. Meestal bevindt de donorplaats zich op de achterkant van het hoofd, tussen de twee oren. Het donorhaar wordt geimplanteerd op dat deel waar de hoofdhuid kaal is of waar de haarlijn terugwijkt, de gebieden met dunner wordend haar. Het haar op de donorplaats aan de achterkant van het hoofd is immuun voor DHT-hormonen dat haarverlies veroorzaakt. Dat is de reden waarom het op die plek getransplanteerde haar nooit meer uitvalt.
GRATIS CONSULTATIE
Laat uw gegevens achter en we nemen zo snel mogelijk contact met u op.
Hoe gaat je reis voor een Haartransplantatie in Istanbul van start?
Voor een gratis consult zullen onze casemanagers je vragen naar foto's van je hoofd en zullen je een aantal vragen stellen met betrekking tot je gezondheid.
• De dokter stelt een behandelplan op voor je haartransplantatie, gebaseerd op de foto's en je medische toestand.
• Je ontvangt je behandelplan plus een all-inclusive verblijfsaanbieding.
• Je boekt je behandeling en wij zullen verder alle details voor je regelen.
• Hoe het verder gaat kun je zien op de video hiernaast.
Haartransplantatie prijzen in Turkije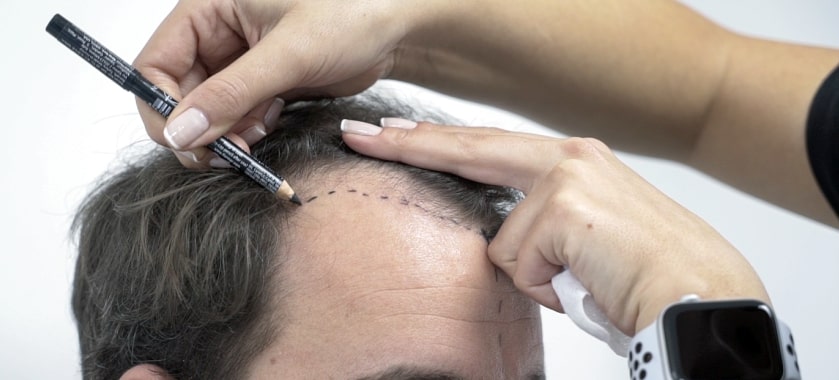 De kosten voor haartransplantatie in het Verenigd Koninkrijk, de Verenigde Staten en in Europa beginnen vanaf € 10.000 en in sommige landen is er ook een wachttijd voor de behandeling.
Prijzen voor Haartransplantatie in Turkije beginnen vanaf € 1500 met de betrouwbare en geaccrediteerde zorgaanbieders. De kosten van haartransplantatie zijn afhankelijk van verschillende factoren.
Neem nu contact met ons op en ontvang gedetailleerde informatie over MCAN Health Haartransplantatie Turkije Pakketten die in verschillende soorten worden geleverd waaronder accommodatie, luchthaven en interne transfers, gastheer/gastvrouw, vliegticket en rondleiding door de stad.
✔ FUE Haartransplantatie:
€1499 – €2150
✔ DHI (Ongeschoren FUE):
€1800 – €2450
✔ Baardtransplantatie:
€1499 – €2150
✔ Naaldvrije haar (transplantatie):
€1699 – €2250
✔ Sapphire Percutaan:
€1799 – €2350
Haartransplantatie Turkije – Voor – Na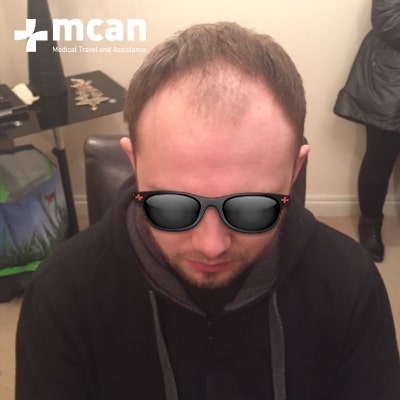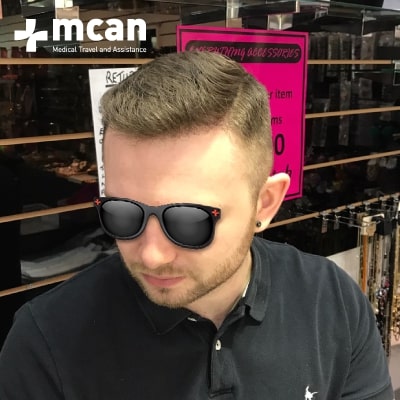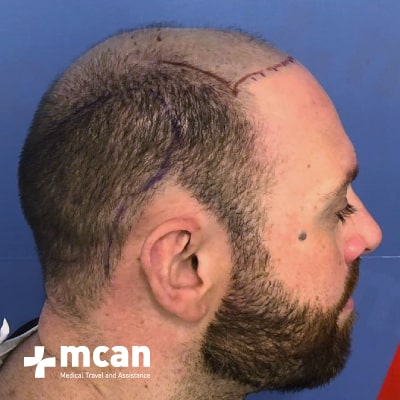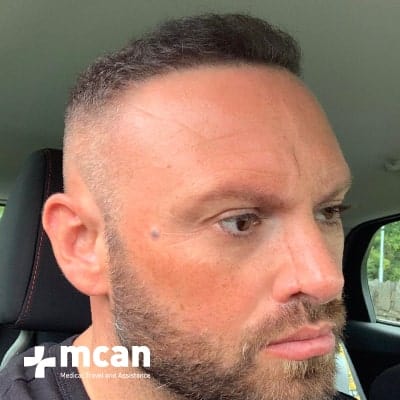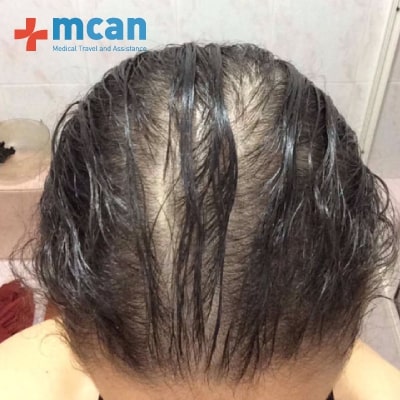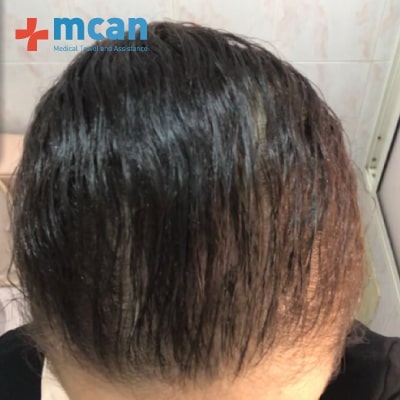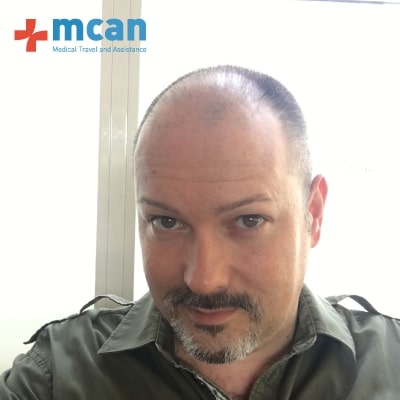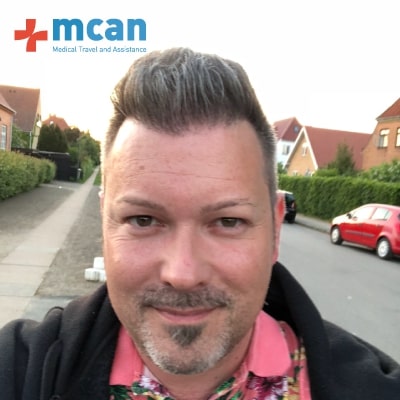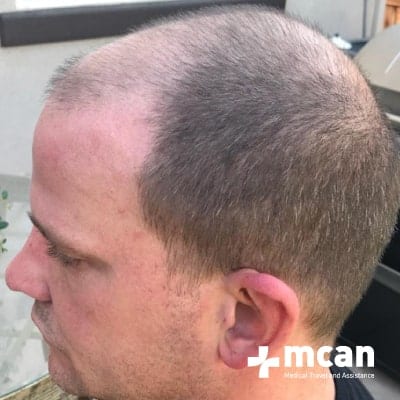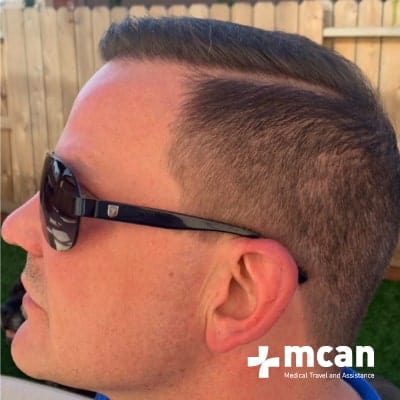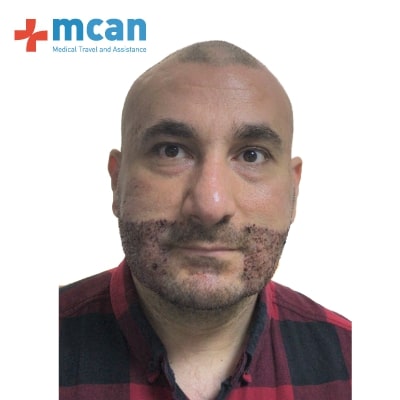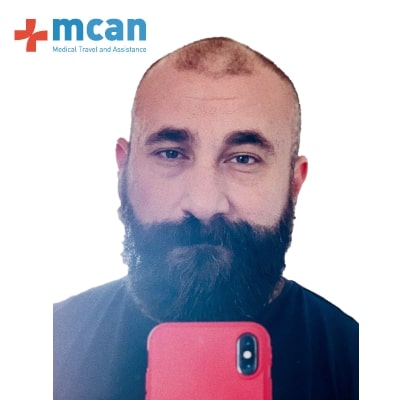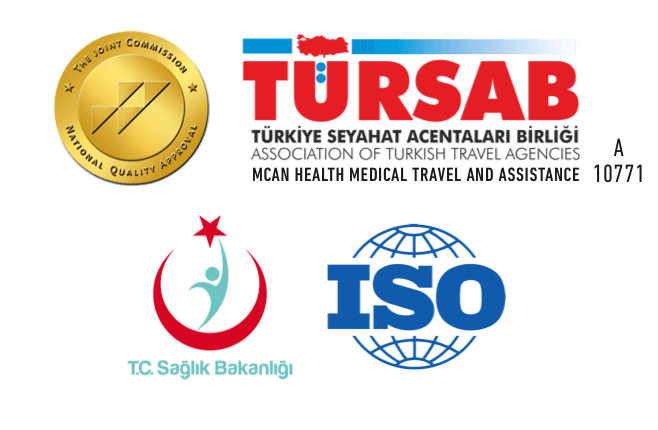 Gericht op een maximale klanttevredenheid, doet MCAN Health er alles aan om er voor te zorgen dat de patiënten het beste uit onze behandelingen kunnen halen. Zelfs na de behandeling nemen we regelmatig contact op met elke patiënt bij wijze van follow-up nazorg, om te vragen of ze tevreden zijn en of ze nog hulp nodig hebben. Hoewel het eigenlijk nooit voorkomt zijn correctieve behandelingen door onze chirurgen bij MCAN Health altijd zonder extra kosten voor de klant.