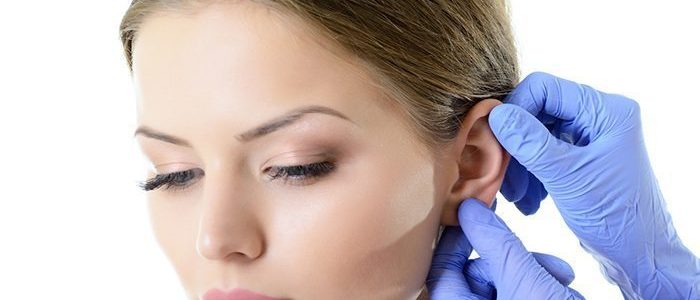 Wat is Oorcorrectie?
Oorcorrectie, ook wel otoplastie genoemd, of pinnaplastie, is een tak van chirugie die zich bezig houdt met het aanpassen  van de vorm, de plaats of de grootte van één of beide oren of het platter tegen het hoofd leggen van de oren.  Oorcorrectie is een zeer veilige ingreep en kan worden gedaan bij zowel kinderen als volwassenen. Bij kinderen onder de 5 jaar kan een ingreep wel complicaties opleveren.
Als mens psychische last hebben van de vorm van hun oren of van de stand van hun oren dan is een oorcorrectie een adequate oplossing.
Oorcorrectie wordt gedaan door de kraakbeenstructuur die achter het oor zit te verdunnen.
Hoe wordt Otoplastie uitgevoerd?
Aanpassen van de lengte van het oor: Deze ingreep duurt over het algemeen 2 tot 3 uur.
Opname of poliklinisch: het betreft een poliklinische ingreep.
narcose: Beiden, zowel onder algehele narcose als onder locale verdoving, afhankelijk van de ingreep. Het zal worden vastgesteld in overleg met uw doktor.
Instructies vóór de operatie:
U ontvangt uw instructies van uw MCAN Health chirurg. Een aantal van die instructies kunnen zijn:
We stellen voor dat u voor de operatie een douche neemt en uw haar wast, want het verband kan tot een week moeten blijven zitten.
Rook op z´n minst een week voor de operatie niet meer.
Stop voor de operatie (tijdelijk) met het slikken van asperine of andere medicatie (in overleg met uw doctor).
Instructies voor ná de operatie:
Na uw operatie vertelt uw dokter hoe u zich kan gaan voelen en geeft hij u een aantal instructies. Dat kunnen zijn:
De herstelperiode is erg kort.
U hebt last van pijn, gevoelloosheid of tinteling in uw oren na de operatie.
Er kan een lichte bruis ontstaan rond de oren.
Er kan een klein litteken ontstaan achter uw oren.
U moet vermijden op uw zij te slapen.
Resultaat van de oorcorrectie in Turkije door MCAN Health
Klik hier op onze galerijpagina voor foto´s
Oorcorrectie in Turkije door MCAN Health biedt u:
Een groter gevoel van eigenwaarde,
Meer mogelijkheden om u haar te doen
Als u zich ongelukkig voelt vanwege het uiterlijk van uw oren, dan is het hoog tijd om daar wat aan te doen. Neem nu contact met ons op!
GRATIS CONSULTATIE
Laat uw gegevens achter en we nemen zo snel mogelijk contact met u op.