Weight loss surgery also known as bariatric surgery is a surgery that is performed for drastic weight loss.
Bariatric surgical procedures help you lose weight significantly by making some changes to your digestive system. There are different types of weight-loss surgeries.  While some limit the amount of food the stomach can hold, some reduce the calories and nutrients that the body absorbs. And some bariatric surgery methods aim for both.
Most weight-loss surgeries in Turkey today are performed using laparoscopic surgery technique. The most common bariatric surgery (weight loss) procedures are gastric bypass and gastric sleeve in Turkey.
FREE CONSULTATION
Leave us your number and we will get back to you soon.
Types of Bariatric Surgeries
Bariatric surgery is not a plastic/aesthetic surgery; it is a medical surgery. Bariatric surgery should be considered if the patient tried many diets and exercises but still at the obesity level. However, thanks to the latest developments in technology, bariatric surgeries are safer and convenient more than ever. Therefore, weight loss surgery is getting popular among patients who have a BMI of over 35.
There are different types of weight loss surgeries aiming for significant weight loss by using different methods.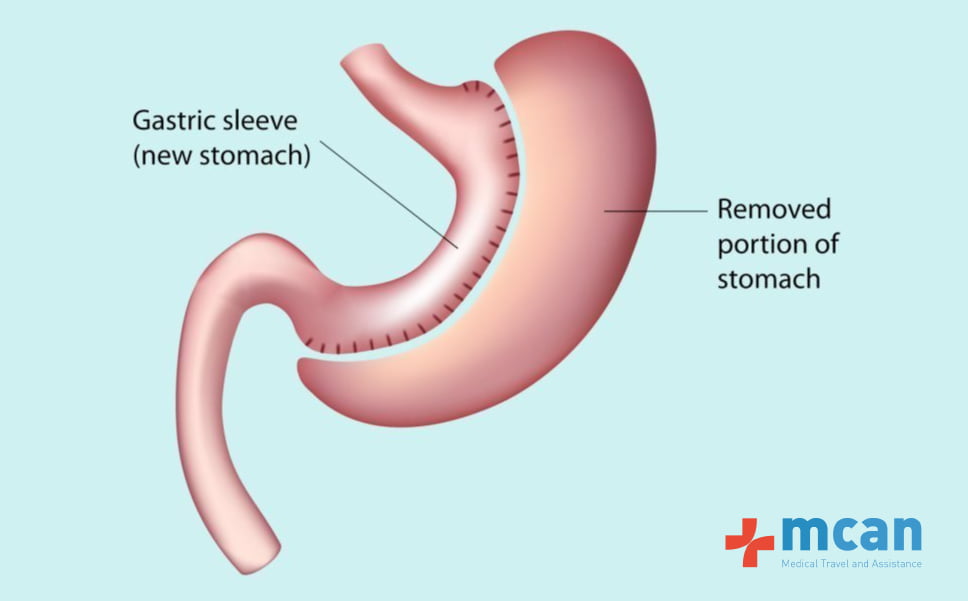 Gastric Sleeve or Sleeve Gastrectomy is a surgery that removes some of the stomach. The aim is to make the stomach smaller so that it cannot hold much food.
Gastric Sleeve Surgery is becoming increasingly popular for patients seeking effective and straightforward procedure. Gastric Sleeve in Turkey with MCAN Health is performed under laparoscopic surgery  with a  shorter healing period.
Your surgeon will use a stapling device to create a small tube or 'sleeve' in your stomach, then remove the rest of your stomach. After surgery, your stomach will hold only about 20% of what it did before. So, you will feel full sooner and not eat as much as you used to.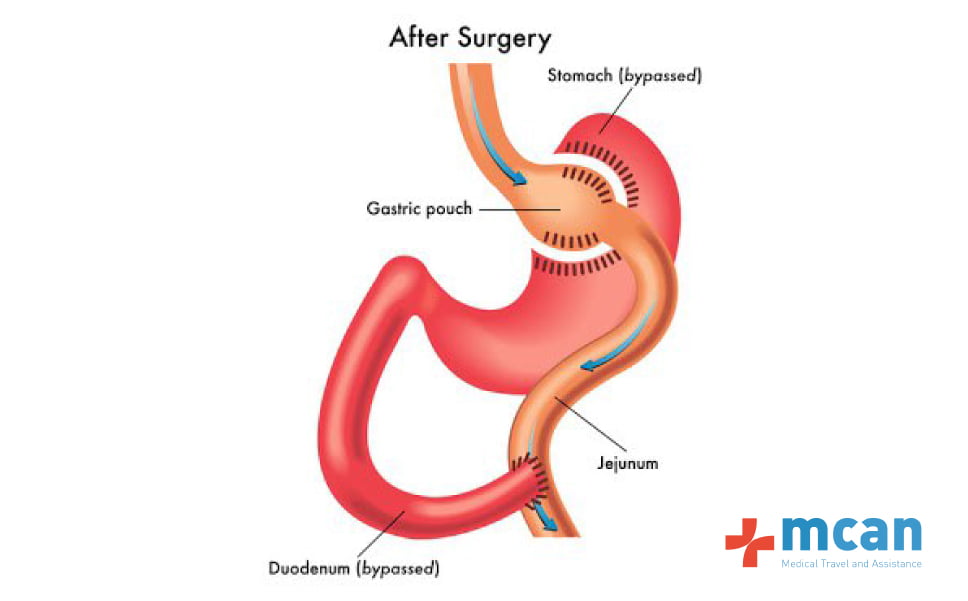 Gastric bypass is a method that connects the top part of the stomach to the small intestine. The aim is to make the stomach smaller as well as decreasing the amount of absorption.
A small pouch is created at the top of the stomach which will be the only part of the stomach that will receive food. Then this pouch is connected to the small intestine. The food will be bypassed over the stomach to the small pouch towards the small intestine. You feel full sooner and your body will not absorb as many calories from food.
The operation can be done with open surgery or laparoscopy.
Weight Loss Surgery with MCAN Health
All-Inclusive Packages include operation fees, multilingual patient host, transfers and accommodation
Who is the Good Candidate for Weight Loss Surgery?
You are a good candidate to have a weight loss surgery in Turkey, if:
your body mass index (BMI) is equal or greater than 40
your body mass index (BMI) is equal or greater than 35 and you're having problems due to excessive weight such as high blood pressure, type 2 diabetes
you have already tried other methods of weight loss (such as diet and exercise) but unable to lose weight
you are well understood that your eating habits will change and you need to follow the post-operation instructions very strictly
you are psychologically ready for a significant change
Your Body Mass Index is the value for your height and weight ratio.
BMI is valid for the average adult. It does not work for children, pregnant women and those who practice excessive physical exercises such as bodybuilding.
Body Mass Index is strongly related to determining the limits of weight for a healthy body. Below you can find a table showing the categories for BMI ranges:
| | |
| --- | --- |
| BMI Value | Category |
| 18.5 and below | Underweight |
| 18.5 – 24.9 | Healthy |
| 25 – 29.9 | Overweight |
| 30 – 39.9 | Obese |
| 40 and over | Morbidly Obese |
If your BMI value is 35 or over, you may be an eligible candidate for a weight loss surgery in Turkey.
Calculating Body Mass Index (BMI)
BMI can be calculated with a simple formula:
BMI= Weight (kg) / Height (m)²
Calculating Body Mass Index (BMI) Using English System
In Imperial System, Body Mass Index is calculated as below:
BMI= Weight (lb) / Height (in)² x 703
You can use the Body Mass Index Calculator to find out what your BMI is.
MCAN Health's BMI Calculator
How Does Bariatric Surgery Helps Losing Weight?
Weight loss surgeries reduce the size of the stomach which makes the patients feel full even after a small portion of food. Some weight loss procedures also create a smaller intestinal tract for the body to absorb calories which leads to lower calorie absorption. Moreover, ghrelin production (the 'hunger hormone') is reduced which results in a significant reduction of the feeling of hunger.
The other function of Weight Loss Surgery in Turkey with MCAN Health is to learn and get a habit of healthy eating. MCAN Health's contracted Bariatric Surgeons keep supporting their patients after the surgery to advise on the diets.
Most importantly, since the patients learn the way of healthy eating, they will be selective in their food consumption decision. This inevitably has a positive impact on overall health and well-being.
Weight Loss Surgery with MCAN Health
It is time to lose the weight, gain your healthy state back and increase self-confidence with affordable prices.
| | |
| --- | --- |
| Operation: | Weight Loss Surgery – Gastric Sleeve |
| Operation Goal: | To reduce the size of the stomach |
| Operation Time: | Around 2 hours |
| Type of Anesthesia: | General |
| Side Effects: | Some side effects may include but not limited to pain, bruising and swelling around your wounds, nausea, inability to eat certain foods |
| Risk: | Blockage or leakage, Blood clots, Vitamin and Iron Deficiency |
| Recovery Time: | 4 weeks or less |
| Scarring: | Depending on the technique, minimal to none |
Arrival Day
A warm welcome from MCAN Health: Welcome to Istanbul! You will be welcomed at the airport. You are either taken to your 4 or 5-star hotel or to the hospital for your consultation depending on your arrival time.
Day 1
Check-in to the hospital: You will check-in to the hospital.
Consent is everything: You will sign a consent form.
Medical tests before the surgery: You will have medical tests such as blood, ECG tests, endoscopy, Chest X-Ray before weight loss surgery. Not only your doctor but the other specialists such as cardiologist will also examine you. These pre-operative tests will take around a half day.
Say hello to your surgeon: You will have an in-person consultation with your surgeon before your surgery. You will have a chance to discuss your weight loss surgery plan and your surgeon will inform you about the details of your operation.
Yes, it is now time for 'the big thing': You will undergo your weight loss surgery which usually takes around 2 hours depending on the process.
It is over! Now excitement kicks in! Initial check-ups: Your surgeon will do the initial check-ups when you regain your consciousness after anesthesia.
Enjoy your stay at a top-quality hospital: You will spend 3 nights at our internationally accredited, high-quality hospital.
Day 2 – 3
Enjoy your stay at a top-quality hospital: During your stay for 3 days, your surgeon and nutritionist see you daily. Your surgeon makes all necessary checks. For the success of the surgery, it is extremely important to follow your diet given by your surgeon and nutritionist. Usually for a month after your surgery, you only consume liquids that are advised by your surgeon and nutritionist. During your hospital stay, you will be provided with your 'liquids'.
Day 4
Check-out from the hospital: On your 4th day after your surgery, you are ready to be discharged. You are provided with your epicrisis (discharge) report, diet list, vitamins, and all other medication.
Private transfer, why not?: You will be transferred from the hospital to the hotel via a private car and private chauffeur.
A 4-5-star comfort: Now it is time to enjoy your hotel stay.
Day 5 – 6
Who does not like lazy days in bed?: You are advised to rest and relax and not to do any physical activities that may tire you. The only and the most important thing is that you have to stick on your diet.
Day 7
Final check-up before the 'goodbye': You will meet your surgeon again for your final check-up. You will also be informed about your post-op care and personal diet in detail and get your safe to fly report.
Private transfer to the airport: Just enjoy the last ride in Istanbul!
Ready to take-off?: You are flying back home with your new look and hopefully with great experience at MCAN Health in Istanbul. We will miss you! Hope you had an unforgettable journey with us.
The most important instructions to be strictly followed after weight loss surgery is related to your special diet.
Please find below the diet programme to follow after weight loss surgeries:
Cost of Weight Loss Surgery in Turkey
Both gastric sleeve and gastric bypass require an experienced surgeon who has specialized in weight-loss surgeries. Although we can offer comfortable surgery and post-operation to our patients, the techniques are very complicated in themselves. That is why bariatric surgeries may be hard to afford.
In Europe, the average prices range for weight loss surgery is between €10.000 and €20.000. It only covers the surgery itself. However, weight loss surgery in Turkey costs 60% less. Along with the surgery, it covers your accommodation, transfer, patient host, personal diet plan and post-operational support.
The difference in price is not due to the quality of treatment. It is about the labour cost in Turkey. There are a lot of reputable weight loss surgeons in Turkey with fantastic results. However, compared to their colleagues in Europe, these surgeons can operate with lower costs. Also, bear in mind that the currency is another factor for the lower prices in weight loss surgery.
The Benefits of Weight Loss Surgeries
Losing weight in a short amount of time.
Remission for type 2 diabetes and improvement in cardiovascular health
Reduced risk of cancer
Longer life span
Decreasing medications required by comorbidities which caused by being overweight
Increase in quality of life, self-confident and self-esteem
Bariatric Surgery Before and After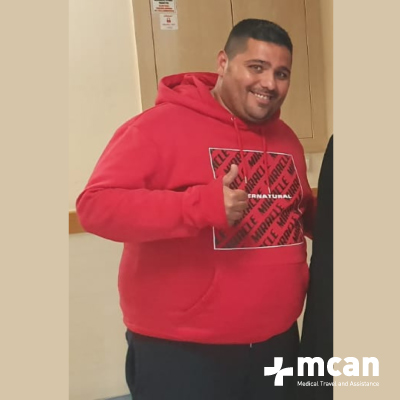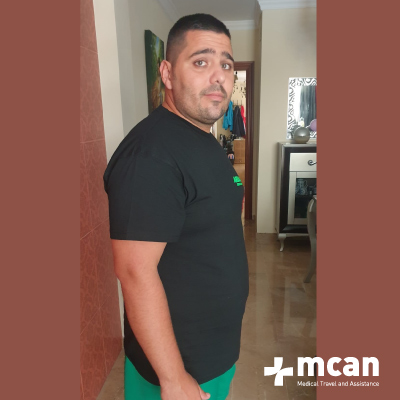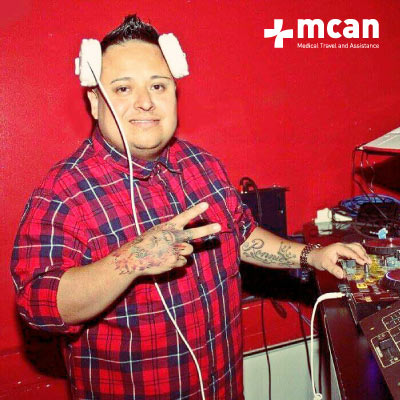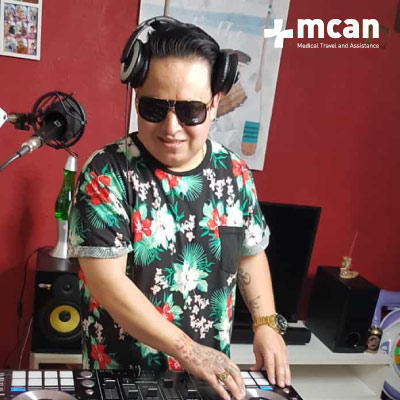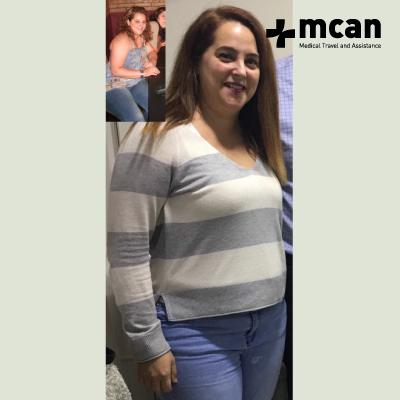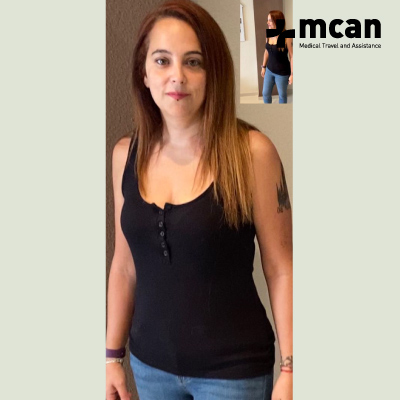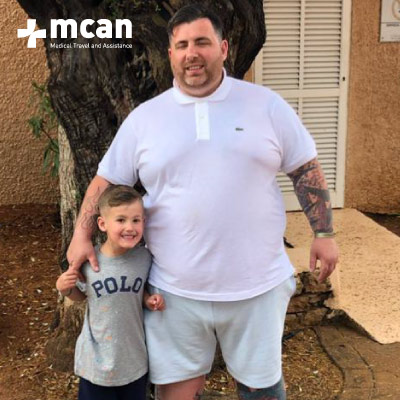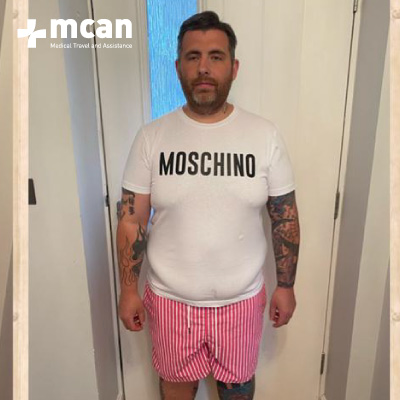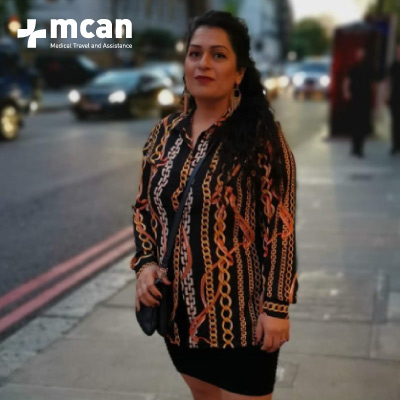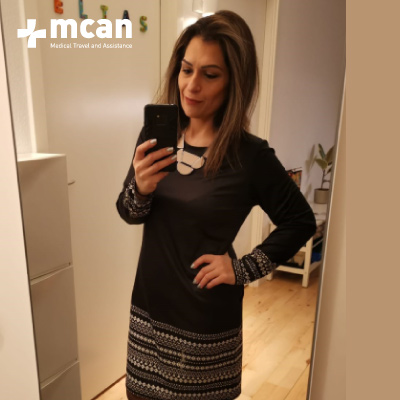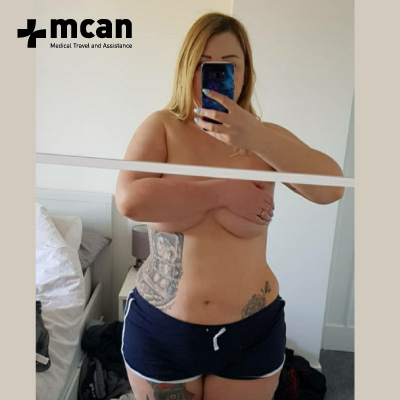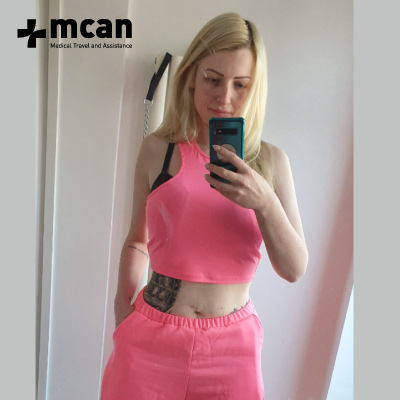 Weight Loss Surgery in Turkey Reviews
My experience with MCAN has been great, they comply with everything agreed upon, 100% by 100% are recommended to all their team, I thank my doctor and Dilara very much who was watching me at all times until the end very attentive and very professional I am delighted I will repeat (Gastric Sleeve)
Posted 2 days ago
I have just completed a gastric sleeve surgery and Miss Dilaraa from MCAN health was wonderful. She was very supportive and did an incredible work. She has reassured me when I was getting nervous. She was messaging me all the time to check how well I am doing. Thank you sooo much to MCAN and special thank you to Dilaraa.
Posted 1 week ago