UK Registered MCAN Health provides high quality DHI hair transplant Turkey with it's top-notch surgeons. If you desire a successful hair transplant in Turkey, MCAN Health is the ideal choice for you. Fill out the form now to get your free consultation from our medical experts.
What is DHI Hair Transplant?
DHI hair transplant, or direct hair implantation, is a modified version of FUE hair implants. DHI technique is an effective way to regain lost hair for men and women. As a minimally invasive hair restoration technique, DHI hair implants can provide natural-looking hair and long-lasting results for individuals experiencing hair loss problems. DHI procedure involves extracting hair follicles from the donor area (usually the nape area) and implanting them in the recipient area where the hair loss occurs.
In DHI procedure, the surgeon uses a specialized tool, a CHOI implanter pen, to implant the hair follicles into the recipient area. The Choi implanter pen has a hollow needle with a diameter of less than 1mm, allowing for precise hair follicle implantation. The tool also has a special mechanism that ensures the correct depth and angle of implantation, resulting in more natural-looking hair.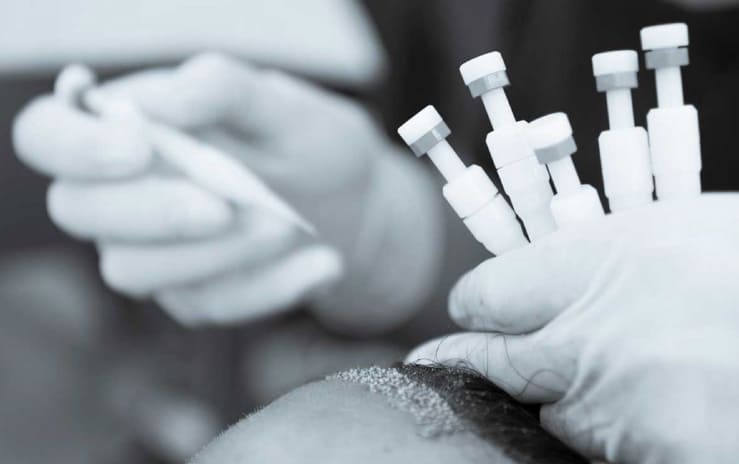 DHI Hair Transplant Advantages
DHI hair restoration methods offers many benefits. The following are some benefits of DHI technique:
DHI is a minimally invasive hair restoration technique and does not require incisions or stitches, resulting in reduced scarring and faster recovery time than other techniques.
Unlike other hair transplant techniques such as FUE, DHI hair restoration may not require shaving before the procedure, making the DHI procedure less noticeable during the healing process and allowing the patient to resume normal activities sooner.
DHI minimizes the time between hair follicle extraction and implantation, which can improve the survival rate of transplanted hair.
DHI provides high density results. Surgeons can apply 70-95 hair follicles per cm2 with DHI method whereas with FUE method surgeons can implant 40-45 hair follicles per cm2.
DHI Hair Transplant Before After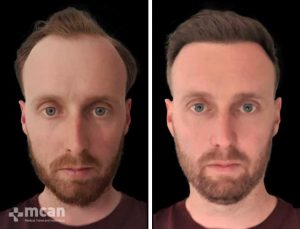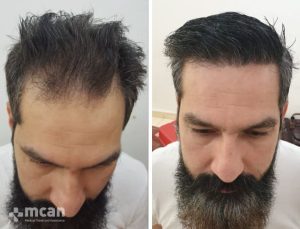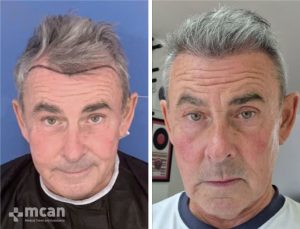 Many international people from the US to Australia fly overseas to restore their hair growth and to boost their confidence. As a hair transplant center of the world, Turkey is home to MCAN Health, which has been performing hair transplant procedures such as DHI, FUE, needle-free hair transplant, and others for more than 10 years. Improved significantly in hair restoration, MCAN Health proudly shows its DHI hair restoration results! Would you like to see the transformation of MCAN patients?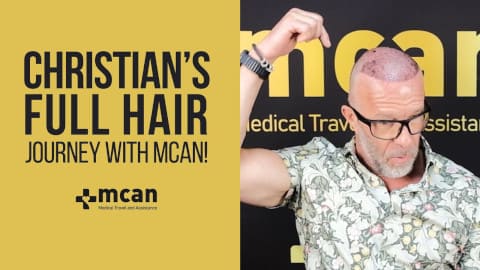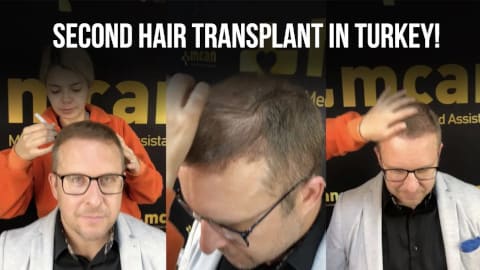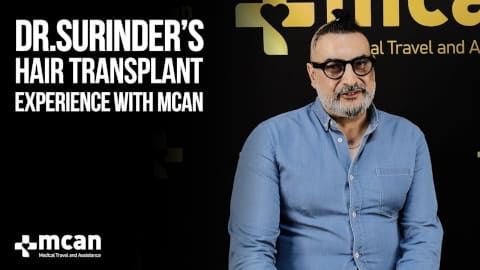 DHI Hair Transplant Turkey Testimonials | Journey of MCAN Health's Patients
From the moment our patients contact us until the end, MCAN Health does its best to provide the best DHI treatment experience. Our patients are talking about their unique experiences in Turkey with MCAN Health. Watch now!
DHI Hair Transplant Reviews
DHI Hair Transplant Cost Turkey vs. DHI Hair Transplant Cost UK
DHI hair transplant cost is one of the primary concerns of individuals seeking a successful DHI operation at an affordable cost. Even though DHI hair transplant Turkey cost varies depending on the surgeon's experience, reputation, the location of the clinic, and the facilities and services offered, Turkey DHI hair transplant prices is still much lower than in other countries, including the UK and the US.
Hair restoration centers in European countries mostly charge individuals according to the number of grafts that will be extracted and implanted. However, DHI cost in Turkey depends on the treatment technique and other additional services, including accommodation, transfer, patient hosts, translators, follow-up services, and aftercare kits. In the UK, DHI prices on average range from 5.000€-17.000€; and the US, it is between 6.000€-20.000€. However, the DHI hair transplant cost Turkey is between 2.000€-4.000€, which can cover the accommodations and other services. Therefore, for many people, having a DHI hair transplant in Istanbul, Turkey is reasonable in every aspect.
| Country | Price |
| --- | --- |
| TURKEY | 2.200€ – 4,000€ |
| UNITED KINDGOM | 5.000€ – 17.000€ |
| UNITED STATES | 6.000€ – 20.000€ |
Why Should You Get DHI Hair Transplant with MCAN Health?
Are you considering a DHI treatment in Turkey? Regarding hair transplantation, Turkey is the first great option for individuals seeking long-lasting treatment in a reliable, well-experienced, and well-equipped clinic. MCAN Health, one of the pioneers of the industry, has a long-standing reputation for providing the best DHI results in Turkey. Staffed with well-qualified and experienced doctors and technicians who can utilize the latest techniques and technology to achieve excellent DHI success rate. Furthermore the all-inclusive DHI package offered by MCAN Health make all the process convenient and affordable. The packages include airport transfers, accommodation, and transportation to and from the clinic. This means that patients can focus on their recovery and enjoy their time in Turkey without worrying about anything.
MCAN Health are committed to providing excellent customer service to ensure patients have a comfortable and stress-free experience throughout the process. From the initial consultation to the post-surgery follow-up, the team at MCAN Health is dedicated to providing personalized care to each patient to achieve the best possible outcome.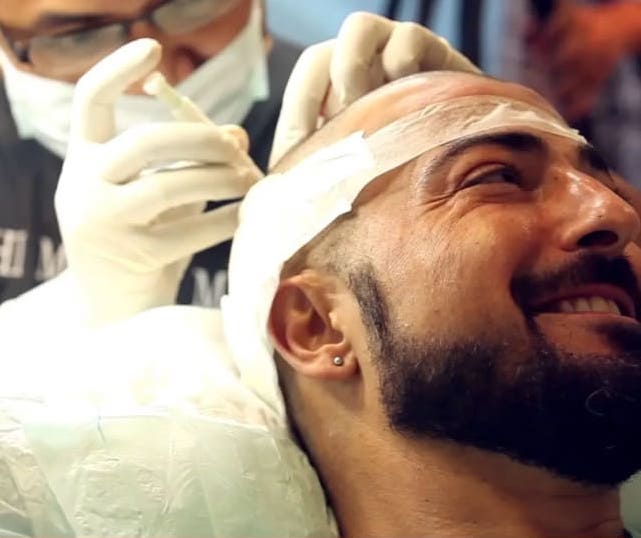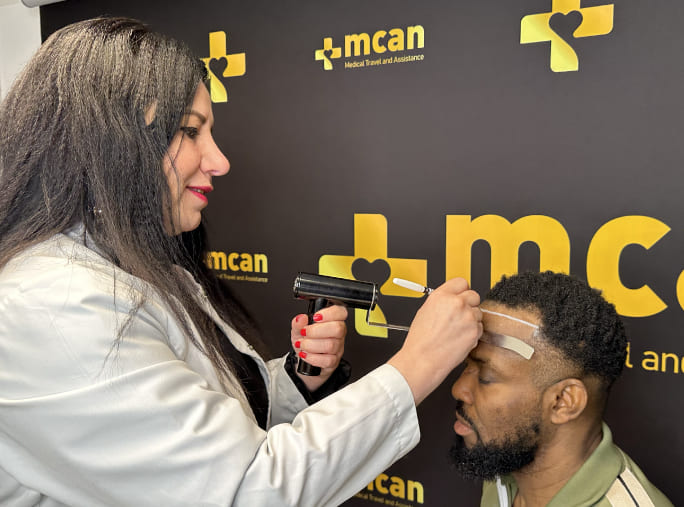 Best Surgeons for DHI Technique
MCAN Health is recognized internationally for its expertise in performing hair implantation with DHI technique. MCAN Health carefully selects its surgeons based on their years of experience and high success rates. These surgeons are accredited professionals specializing in hair restoration techniques, such as FUE, DHI, Sapphire, and Needle-Free hair surgeries.
Before recommending a particular technique, MCAN Health's medical team thoroughly analyze each patient's hair loss source to determine the most suitable approach. Due to the unique nature of each case, MCAN Health surgeons gives a great importance on consultation to identify patient needs and understand expectations.
DHI can be the newest method but it does not mean it is the best hair restoration technique available. Our surgeons will choose the most suitable hair restoration method based on your medical condition and expectation.
How is DHI Performed?
DHI technique involves following steps:
Consultation
The surgeon examines the patient's hair loss case and determines the best approach. Factors such as the cause and type of hair loss, the probability of future hair loss, the patient's hair type and expectations, age, gender, and medical history are considered during the consultation. The surgeon draws the hairline based on the patient's natural hairline and preferences and evaluates the donor and recipient areas to determine the number of grafts needed. Pre-operative tests are conducted, and the patient's medical history is reviewed.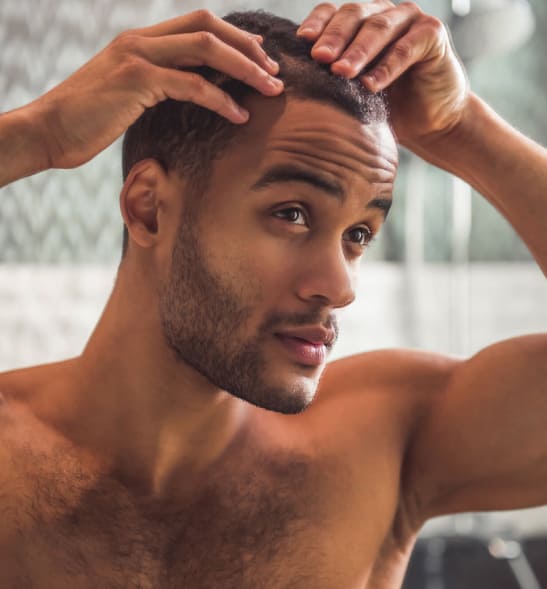 DHI Hair Transplant Recovery Timeline
DHI hair transplant recovery timeline last for approximately 12 to 18 months. After operation you may experience slight redness, soreness, and tenderness on your scalp. However, these symptoms typically subside relatively quickly, usually within one to two weeks after the transplant procedure. Between the second and eighth week, it is common to go through a phase referred to as "shock hair loss", during which a significant portion of the transplanted hair may fall out. If this occurs, there is no need to be alarmed. It is entirely normal and observed in approximately 95% of cases, and represents a temporary reaction to the treatment. In the subsequent weeks and months, your transplanted hair will recover and begin regrowing. We will also apply PRP (Platelet Rich Plasma) to stimulate the healing process. During this period, hair growth may be relatively slow. However, by the sixth month, most patients typically notice that approximately 45-50% of the transplanted hair has started to grow. Between the sixth and ninth month, hair growth tends to reach approximately 75%. Additionally, the transplanted hair usually gains thickness and density. At around nine months after your DHI operation, the remaining 25% of transplanted hair follicles should start to grow. However, it is important to note that it may take up to 18 months to see the complete and final results.
Protecting the scalp and avoiding movements that may dislodge the hair follicles after the surgery is essential. Patients can typically return to work within 5-7 days, as the recovery time compare to FUE is relatively short. However, the best results are seen gradually over time, so it is essential to carefully follow the doctor's instructions.
Best Candidates for DHI Hair Transplant
The most appropriate candidates for Turkey DHI hair transplant are the patients who:
Suffering from hair loss and are at least 18 years of age.
Have sufficient donor hair density and realistic expectations regarding the extent and timing of hair regrowth.
Want eyebrow, beard, and mustache transplantation.
have small areas to cover such as receding hairlines
looking to increase the density
prefer not to have their hair shaved. Unlike other techniques that require shaving the donor area, DHI allows for extracting and implanting hair follicles without extensive shaving.
are suitable for DHI method.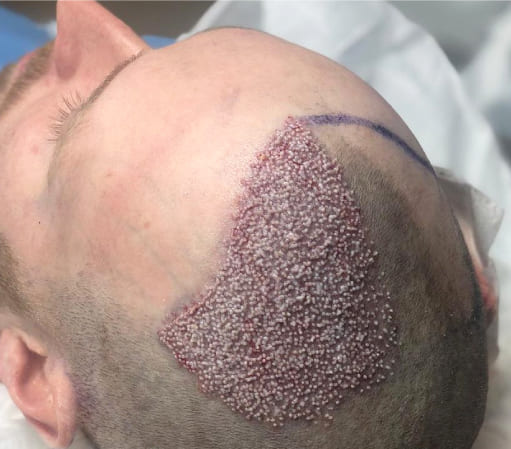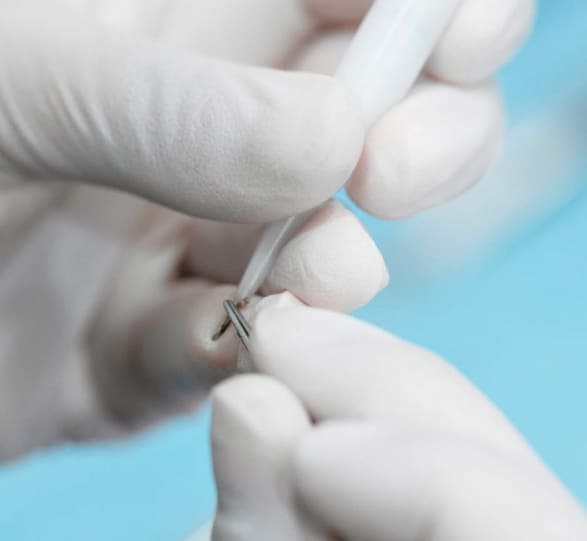 What You shouldn't Expect from DHI Hair Transplant Turkey
DHI hair transplant Turkey can effectively treat hair loss, but it does have some limitations.
Immediate results: Patients should not expect immediate results, as the transplanted hair can take several months to grow and reach the desired density and thickness.
A full head of hair: While hair transplant surgery can restore hair to areas that have experienced significant hair loss, it cannot create a full head of hair if there is insufficient donor hair. It is also important to note that hair loss may continue in other areas of the scalp, and additional surgeries may be necessary to maintain the desired hair density.
Pain-free experience: While modern hair transplant techniques are painless, patients may experience discomfort and swelling during and after the procedure, which can be managed with over-the-counter pain medications.
DHI Hair Transplant Overview
| | |
| --- | --- |
| Operation Goal: | To regain lost hair back. |
| Duration of the Operation: | 4-8 hours, depending on the extent of the hair loss. |
| Anesthesia: | Local Anesthesia. |
| Maximum Number of Grafts: | Around 4.000 grafts. |
| Staying in the hotel: | 2-3 Days |
| In/Outpatient: | Outpatient |
| Possible Side Effects: | Bleeding, bruising, swelling, discomfort, pain, and necrosis. |
Possible DHI Hair Transplant Side Effects
Like any other medical procedure, DHI hair transplant may cause temporary side effects:
Bleeding
Blood clots
Swelling
Bruising
Pain
Discomfort
However, to reduce the risk of complications and side effects, MCAN Health takes essential precautions to ensure a safe and successful procedure, leading to optimal results.
Conducts necessary blood tests before the procedure.
Reviews the patient's medical history
Provides post-operative instructions
Performs the first hair wash in the clinic
Offers follow-up care for up to 12 months to monitor the patient's recovery
DHI Hair Transplant Recovery & Aftercare
Proper aftercare is critical in achieving optimal DHI results in Turkey. Patients need to be aware of the recommended dos and don'ts post-surgery.
Avoid exposing to sunlight: After a DHI operation, patients should avoid exposing the scalp to direct sunlight for at least two weeks.
Avoid touching or scratching the transplanted area: The transplanted hair follicles are still in a delicate healing phase and can easily be dislodged or damaged by any physical contact. Patients should avoid touching or scratching the transplanted area for at least two weeks.
FAQ

Do You Have A Question?
Didn't find your question?
You can ask any questions you have regarding DHI Hair Transplant in Turkey right now!
Ask Now
The duration of a DHI hair transplant operation can vary depending on several factors, such as the number of grafts to be implanted, the patient's hair characteristics, the expertise of the surgeon, and the technique used. Generally, a DHI procedure can take 4 to 8 hours to complete.
DHI hair transplant is a low-pain and minimally invasive procedure. Since the surgeon applies local anesthesia to numb the scalp, most patients experience no pain. However, after the process, patients might feel mild pain and discomfort.
Yes, women can undergo a DHI hair transplant to restore hair loss or thinning. Still, they need to undergo a thorough evaluation by a qualified surgeon to determine if they are good candidates for the procedure. The approach to hair restoration may need to be tailored to the individual patient's needs based on factors such as the cause and extent of the hair loss, the density and quality of the donor's hair, and the patient's overall health and medical history.
Choi implanter pen is a special tool that surgeons use while performing DHI. Choi implanter pen enables simultaneous canal opening and hair follicle implantation.
The transplanted hairs with DHI are considered to be permanent, as they are taken from the donor area of the scalp, which is resistant to hair loss. The donor hair follicles are transplanted into the recipient area of the scalp, where they continue to grow and behave like natural hair.
You can wash your hair after a DHI hair transplant, but you should wait at least 48 to 72 hours and follow your surgeon's post-operative instructions carefully to avoid damaging the newly transplanted hair follicles.
Dr. Sefadiye, who holds a Medical Degree (M.D) in the Faculty of Medicine from Ege University, has specialized in medical aesthetics. Dr. Sefadiye's admiration for Medical Aesthetics was shaped while studying and led her to have various educational pieces of training. Mainly focused on hair transplantation, Dr. Safediye performs, ozone therapy, mesotherapy, acupuncture, and aesthetic fillings.
Published by MCAN HEALTH
Published:
Updated:
Dunkin, Marry Anne. "Hair Transplants: What to Expect", April 26, 2022, https://www.webmd.com/skin-problems-and-treatments/hair-loss/hair-transplants (Date of Access: 09.05.2023)