Are you experiencing female pattern baldness? If you are eager for professional help and find a permanent solution, you can fill out the form quickly and contact MCAN Health's professionals for a free online consultation and treatment plan.
Women's Hair Transplant in Turkey
Hair loss in women, just like in men, can be a profoundly impactful experience, significantly affecting their self-esteem and emotional well-being. Thinning hair or baldness can create feelings of self-consciousness and loss of confidence. Women make up approximately 17.5% of the global hair transplant patient population. Furthermore, according to statistics, around 40% of women with hair loss have genetically inherited 'female pattern hair loss.'
Female Pattern Baldness, or Androgenetic Alopecia, primarily affects the top of the scalp in women. It is characterized by a widening part line, thinning on the crown, and overall diffuse hair thinning. Unlike men, the frontal hairline is typically preserved. However, there are instances where women may desire to address their hairline concerns for various reasons, such as receding hairline or asymmetry.
As most people suffering from hair loss and receding hairline prefer to visit Turkey for a hair transplant procedure, many women choose Turkey to fix their hair problems. In conclusion, hair transplant solutions are not just for men but also women.
In women's hair loss cases, it is essential to analyze the specific condition and determine its origin before deciding on a treatment plan. There are various causes of hair loss in women, and each requires a different approach to address it effectively. Knowing the origin of women's hair loss is crucial for an accurate diagnosis and tailored treatment plan. Identifying the cause allows for targeted interventions, avoiding unnecessary treatments, and addressing underlying health issues.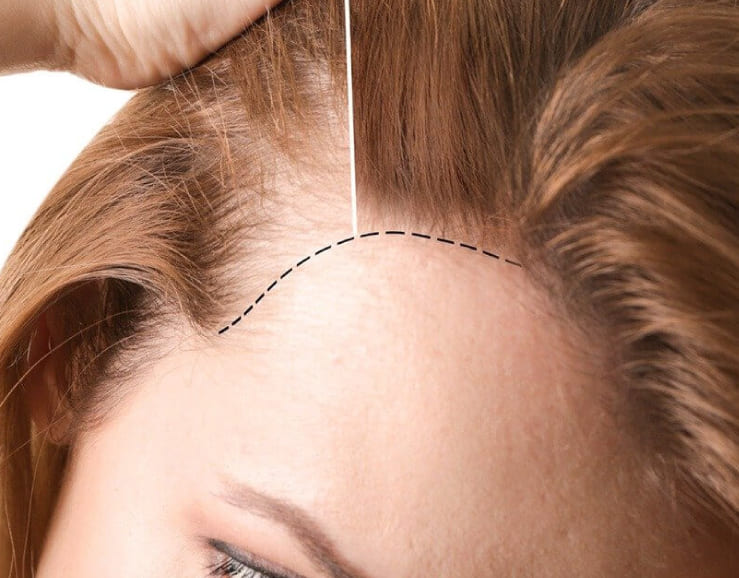 Causes of Female Hair Loss
Women can experience thinning hair or baldness due to various reasons such as hormonal imbalances, genetics, aging, or medical conditions.
Androgenetic Alopecia (Female Pattern Hair Loss): It is an inherited condition characterized by a progressive thinning and shrinking of hair. Typically, it manifests as diffuse hair thinning on the crown and upper area of the scalp. Hair transplant procedures are better suited for individuals experiencing androgenetic alopecia (genetic hair loss) or other conditions where hair follicles have permanently ceased production.
Telogen Effluvium: A temporary condition characterized by excessive shedding of hair caused by stress, illness, surgery, hormonal changes, or nutritional deficiencies. Hair transplant procedures are generally not advised for women with telogen effluvium. If a woman is facing hair loss due to telogen effluvium, seeking guidance from a dermatologist or healthcare expert is crucial to identify and treat the root cause. Once the underlying issue is addressed, hair growth should typically resume naturally, eliminating the need for a hair transplant.
Alopecia Areata: It is a condition where the body's immune system unintentionally targets the hair follicles, resulting in patchy hair loss. A hair transplant procedure is not a good choice for those experiencing alopecia areata.
Hormonal Changes: Hormonal imbalances due to pregnancy, childbirth, menopause, or conditions like polycystic ovary syndrome (PCOS) can trigger hair loss.
Medical Conditions: Certain conditions like thyroid disorders, scalp infections, and skin disorders can contribute to hair loss.
Medications: Some medications used to treat specific health issues may have hair loss as a side effect.
Hairstyles and Hair Treatments: Excessive use of hair treatments, hairstyles that pull on the hair (traction alopecia), or harsh chemicals can damage hair follicles and lead to hair loss.
Nutritional Deficiencies: Inadequate intake of essential nutrients, such as iron, zinc, biotin, and vitamins, can affect hair health.
Emotional or Physical Stress: High levels of stress, whether emotional or physical, can lead to hair shedding.
Aging: As women age, the rate of hair growth may slow down, and hair may become thinner and more fragile.
Alternative Hair Loss Treatments for Women
Depending on the underlying cause and specific circumstances, there are several alternative hair loss remedies for women that can be considered.
Topical Minoxidil: Minoxidil is an over-the-counter drug that has received FDA approval and can aid in promoting hair growth and reducing hair loss. It is offered in different strengths and formulas made especially for women.
Aging: As women age, the rate of hair growth may slow down, and hair may become thinner and more fragile
Low-Level Laser Therapy (LLLT): Laser combs and helmets can stimulate hair follicles and promote hair growth. For some types of hair loss, this non-invasive treatment might work.
Platelet-Rich Plasma (PRP) Therapy: PRP involves injecting the scalp with a concentrated solution of the patient's blood platelets. It might encourage thicker, more vigorous hair growth.
Hormonal Therapy: Hormone replacement treatment or oral contraceptives can be recommended to assist balance hormone levels and reduce hair loss in cases of hair loss caused by hormonal imbalance.
Nutritional Supplements: Supplements with vitamins, minerals, and amino acids, such as biotin, iron, and zinc, can promote healthy hair development, particularly in cases of nutritional deficiency.
Anti-Androgen Medications: Anti-androgen drugs may be used in some cases of androgenetic alopecia to prevent the effects of male hormones on hair follicles.
Scalp Treatments: Treatments for the scalp that contain substances like salicylic acid or ketoconazole can aid in controlling scalp issues that cause hair loss.