MCAN Health,
Your Transformation

MCAN Health touched more than thousands people live by making them more confident with the combination of art and medicine...
Plastic Surgery Types
The possibilities that plastic surgery provides are endless. From sculpting the perfect nose to enhancing the body's contours, people can achieve the desired shape and look through plastic surgery Turkey.
What is Plastic Surgery?
Involving reconstruction, restoration, or body alteration, plastic surgery Turkey can be performed for both cosmetic and surgical reasons. Because many people feel insecure about their appearance, they tend to have plastic surgery in Turkey, a popular destination thanks to its success and affordable prices. Therefore, liposuction, mommy makeover, and many other procedures are so popular. Through plastic surgery, both women and men have the desired appearance to feel full of self-esteem. The body is self-disclosure. Therefore, it is essential to know how individuals like to express themselves and be seen by others. Besides cosmetic concerns, plastic surgery is helpful for those suffering from physical defects, injuries, or abnormalities.
For those who feel insecure about their appearance, plastic surgery can be a life-changing experience. Whether it's correcting asymmetrical features, reversing the signs of aging, or achieving the ideal body shape, the confidence boost that comes with looking and feeling your best is priceless.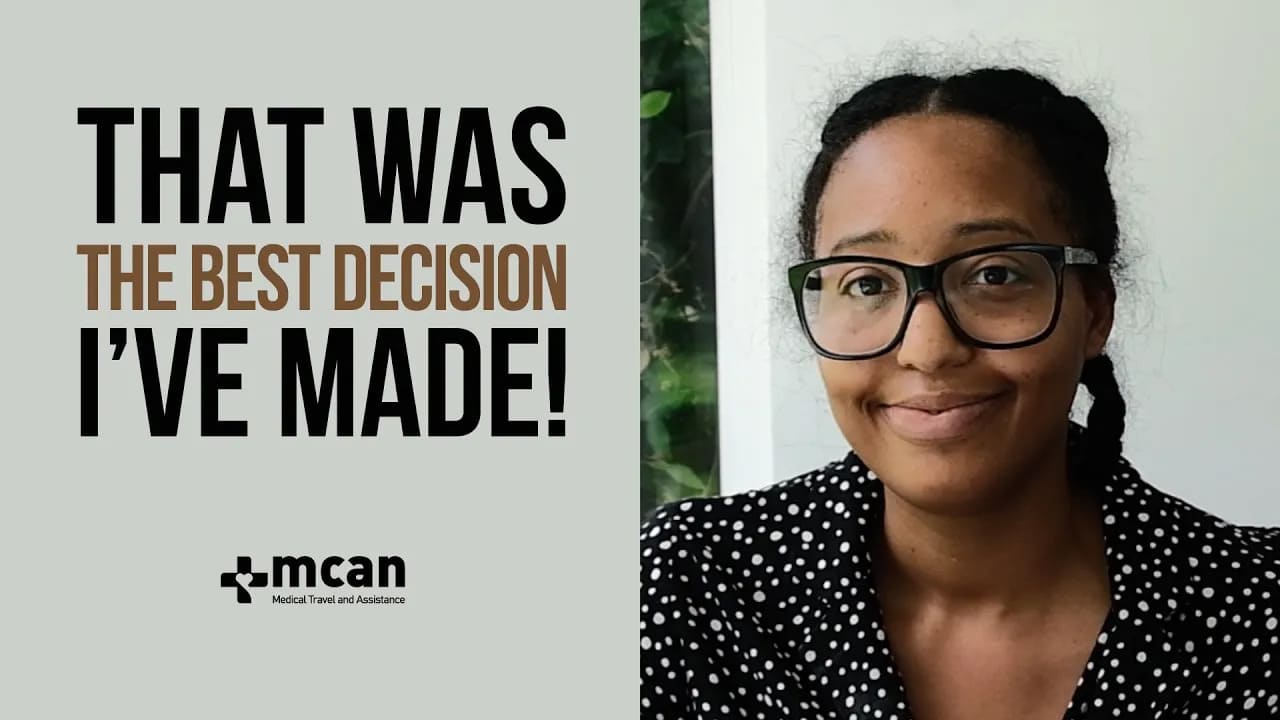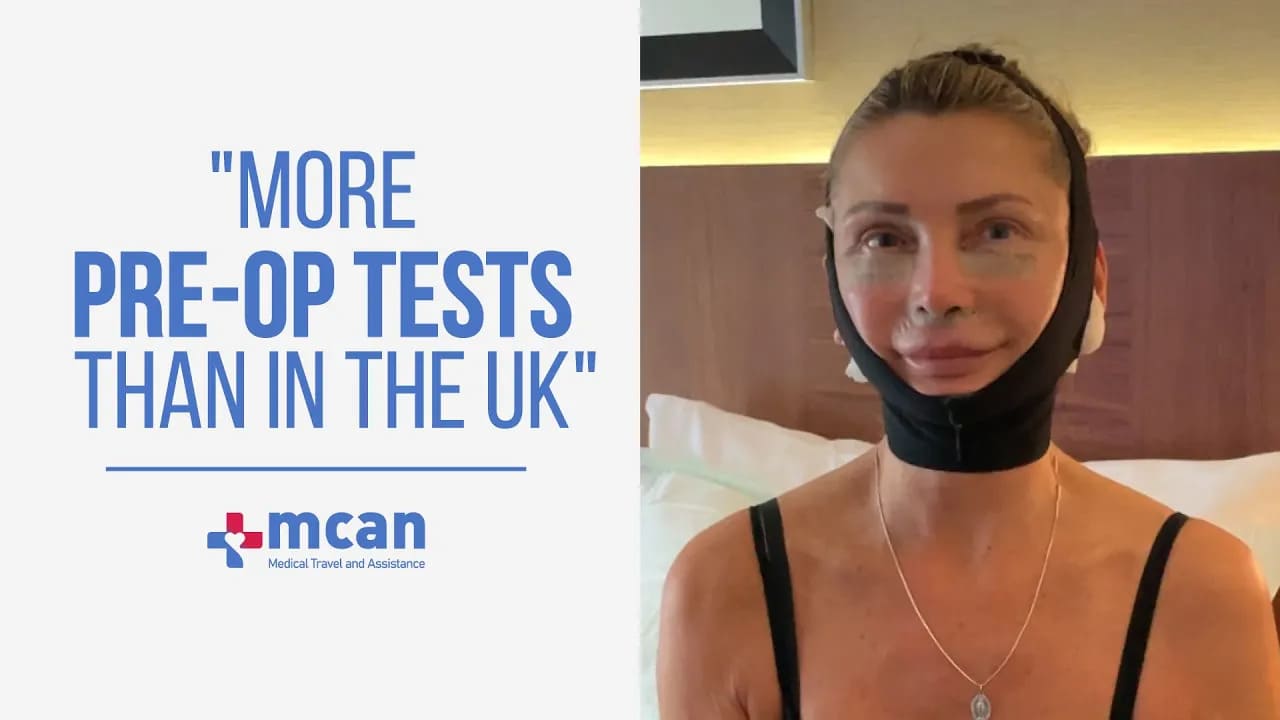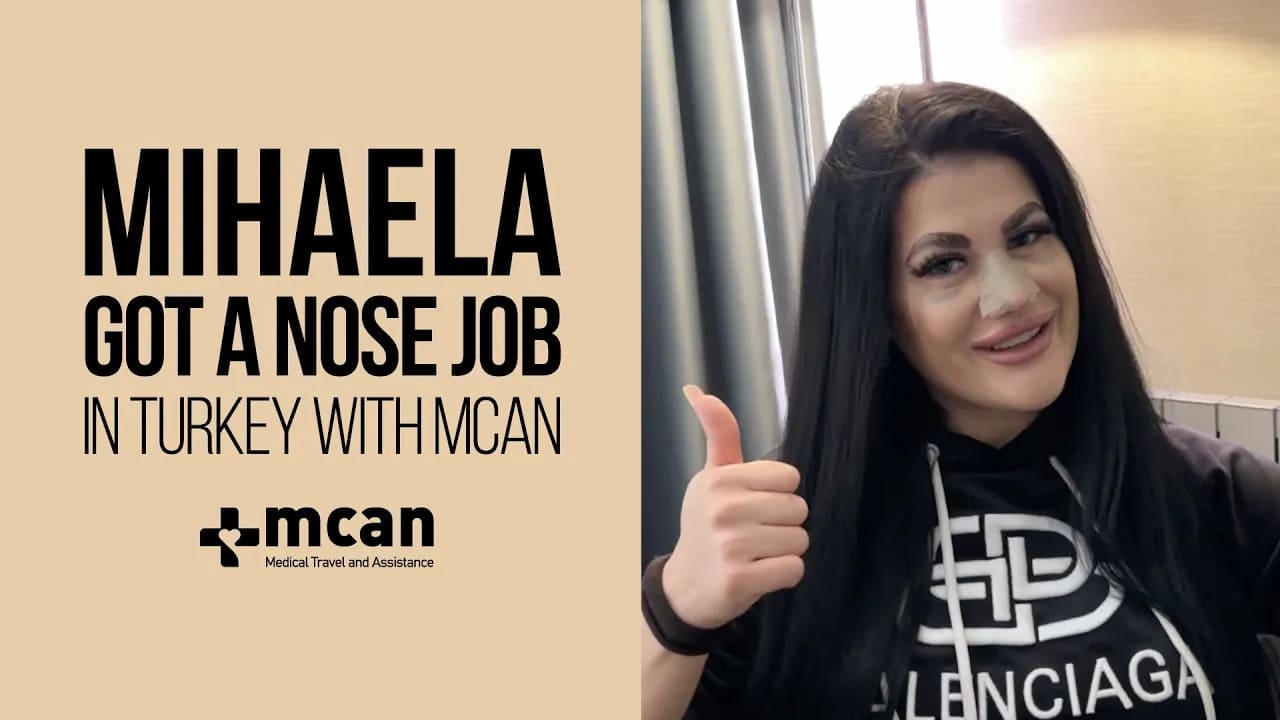 Plastic Surgery Turkey Journey of MCAN Health's Patients in Istanbul
MCAN Health prioritizes creating a pleasant and comfortable experience for patients seeking plastic surgery in Turkey. The focus is not solely on providing top-notch surgical services but also on ensuring that patients feel at ease and welcome throughout their visit.
Plastic Surgery Turkey Cost vs. Plastic Surgery Cost UK
Besides delivering effective results for plastic surgeries, Turkey presents cost-efficient options. Compared to other countries such as the UK, and the US, and other European countries, patients can save up to 70% on expenses by choosing plastic surgery Turkey. Many clinics, like MCAN Health, offer all-inclusive cosmetic packages Turkey encompassing accommodations, transportation, and other essential services. Despite the reduced prices, it's important to note that Turkey's commitment to quality remains strong. The balance of currency, low living costs, and competition amongst clinics contribute to the affordability of the procedure. For this reason, Turkey has become a leading destination, tempting diverse international visitors seeking plastic surgery Turkey conducted by certified surgeons utilizing advanced technology.
Book Now and Start Free
Whatsapp Consultation
Book Now
Assessments of Breast Enhancement with Breast Augmentation
MCAN's patients share their breast uplift experiences, including preparation for the surgery, the procedure, and post-operative care. Are you interested in hearing their stories?
Why Should You Get Cosmetic Surgery Turkey and MCAN?
Being on the trend lists for plastic surgeries, Turkey is one of the most attractive countries welcoming millions of international people annually. The state-of-art technology, well-experienced doctors, internationally accredited clinics, and hospitals with budget-friendly costs, Turkey offers many opportunities for people to have the best service and successful operation in a reliable and comfortable environment. MCAN Health is the one pioneering plastic surgery in Turkey. MCAN Health is a medical tourism agency that provides specialized counseling and support to patients seeking medical care in Istanbul. Our main objective is to ensure patients receive the best possible treatment at affordable prices, with complete transparency and communication in their preferred language. To provide a comfortable and hassle-free experience, a personal assistant from MCAN Health will be available to guide patients through every step of their medical journey, from initial quotes to the completion of treatment.
At MCAN Health, initially, empathizing with patients and understanding their needs and expectation is the main goal to provide them with the best services. Having surgery abroad might sound challenging. Fortunately, MCAN Health, with its high-quality services focusing on the patient's needs and comfort, has overcome the challenges and proven its success.
From the start until the end, MCAN Health's different services care for the patients in the various stages of the procedures. Harmonious and meticulous work for every department at MCAN brings out the best results with happy patients.

The Highest Quality Treatment

Optimal Results

Guaranteed Money Saving
Best Plastic Surgery Turkey Doctor
MCAN Health puts great emphasis on ensuring the safety and satisfaction of their patients, which is why they take a meticulous and delicate approach to their work. They have carefully selected their team of doctors based on their qualifications, success rates, low complication rates, and global accreditations. These professionals are always open to adopting innovations and advancements in plastic surgery, and MCAN Health is confident that they will provide the best possible results for their patients.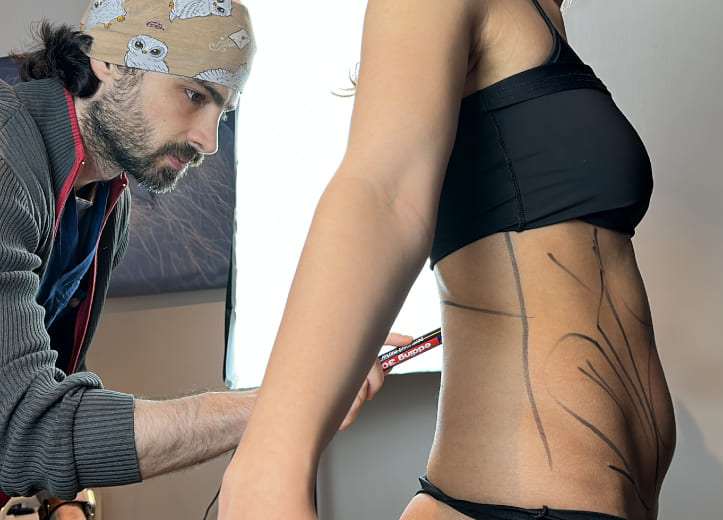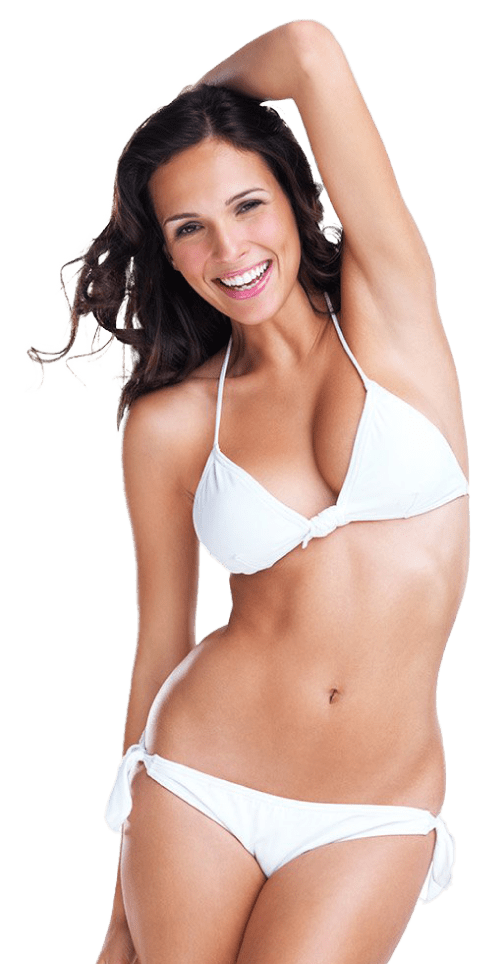 Plastic Surgery Procedure in Turkey
The plastic surgery procedure in Turkey starts when the candidates contact the case manager. The case managers of MCAN are the first to give the necessary information about the process and arrange a doctor consultation so that patients express their expectations and needs and arrange the accommodation and transfers.
The case managers manage this pre-operative part of the procedure. When the patients land in Turkey, the patient host and MCAN Health's transfer welcome the patient to pick up. Face-to-face consultation and evaluation occur on the day of operations; necessary blood tests are made, and the patient's medical history is viewed. The doctor explains the surgery steps based on the type of plastic surgery, and general anesthesia is applied to start the plastic surgery. Patients are expected to stay in the hospital for 1-2 nights, according to the type of surgery, and 5-6 nights stay in the hotel. The initial period after the surgery is controlled with a keen eye by MCAN Health's nurses. When the patient is discharged from the hospital to stay in the hotel, nurse service continues in the hotel. The nurses do dress changes, lymphatic massages, and daily checkups. 1 week after the surgery, patients can return to their countries.
At MCAN Health, safety is first. Therefore, each patient's healing process is followed up for 1 year by the patient experience specialist team. MCAN Health shares the patients' plastic surgery journey attentively until the patients have optimal results.
Best Candidates for Cosmetic Surgery in Turkey
Those wishing to improve their appearance or address specific concerns can have cosmetic surgeries in Turkey. However, several factors should be considered before deciding to undergo plastic surgery in Turkey.
Patients should have good overall health. Before the surgery, patients should inform the doctor about their medical history, the medications they are currently taking, and allergies.
Patients should have realistic expectations about what the surgery can and cannot achieve.
Patients should have specific concerns that can be addressed through surgery, such as excess skin or fat, wrinkles, droopy breasts, and a disproportioned nose.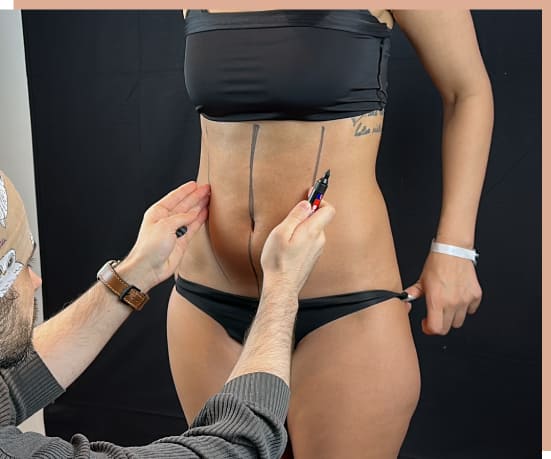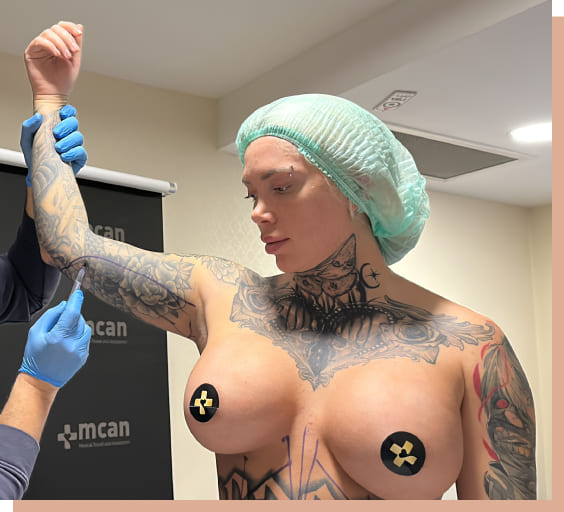 Common Possible Reactions Of Plastic Surgery
All types of plastic surgery, arm lift, thigh lift, rhinoplasty, and others, come with some possible reactions, which are temporary. Depending on the operation, the patient can feel pain, discomfort, swelling, bruising, numbness, and scarring. MCAN Health takes precautions to minimize these possible complications by providing all necessary medicines and aftercare, daily vital checks, and following up for 12 months after the patients leave for their countries.
Proven Results of Plastic Surgery Before and After
MCAN's patients with successful plastic surgeries such as breast reduction, enlargement, uplift, BBL, Tummy Tuck, Mommy Makeover, and many more are on the highlights to become a muse for others! Would you like to swipe to see what plastic surgeries have achieved?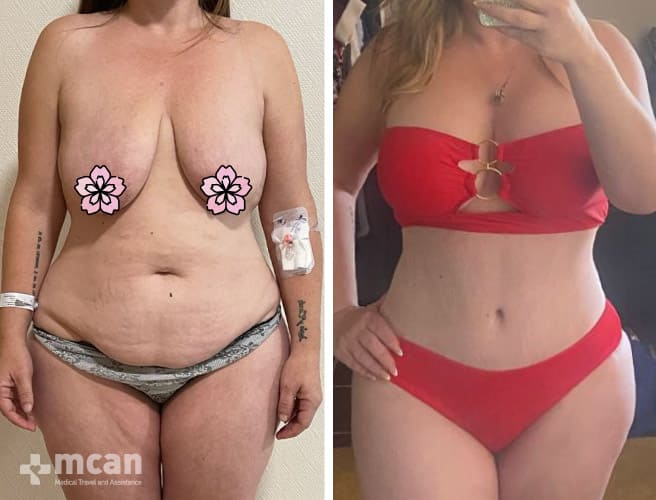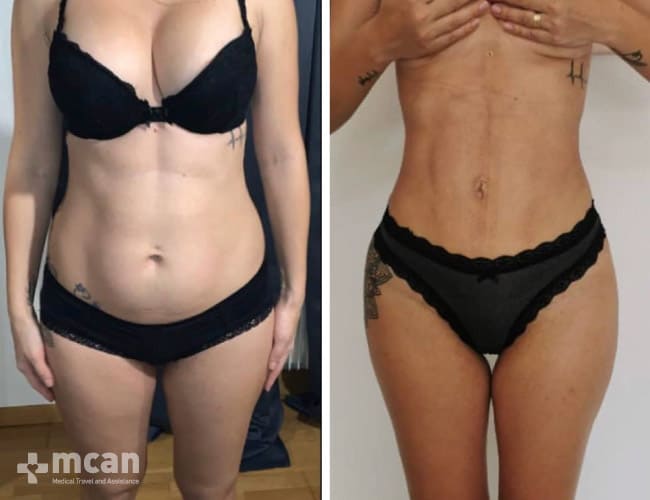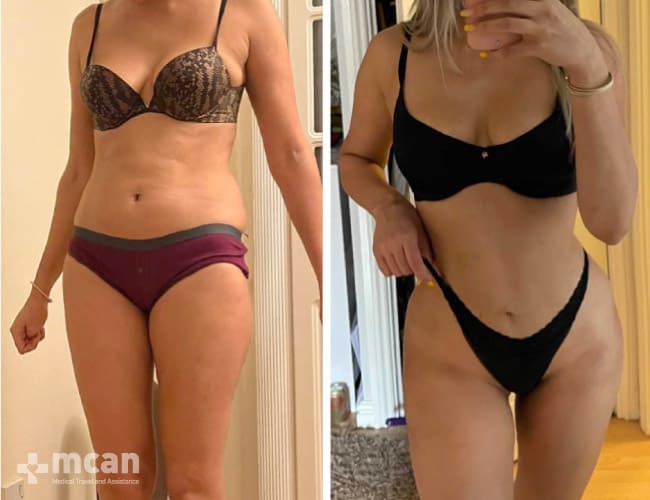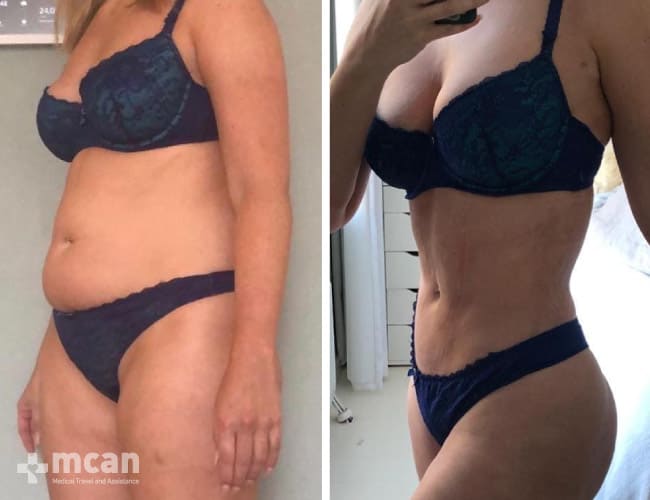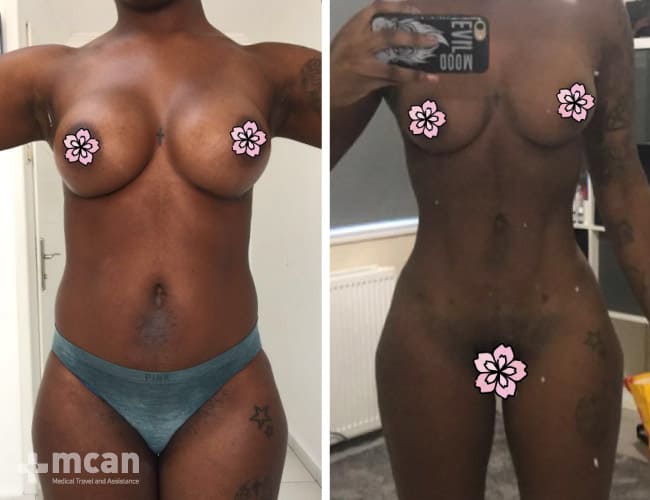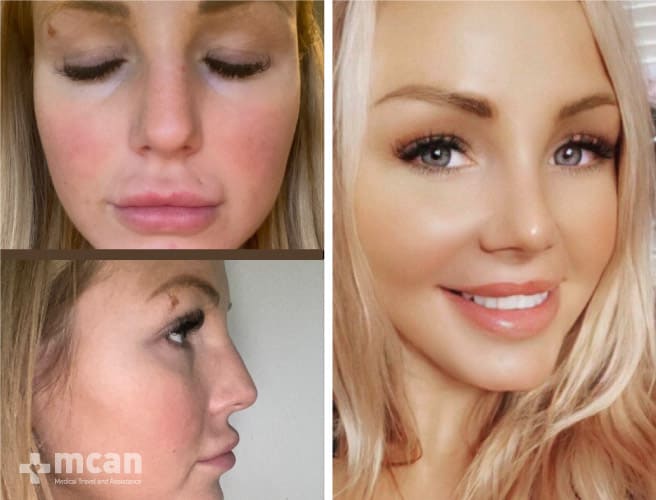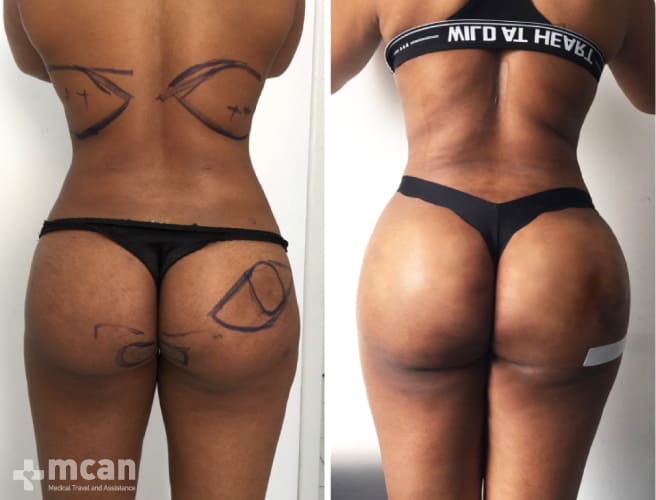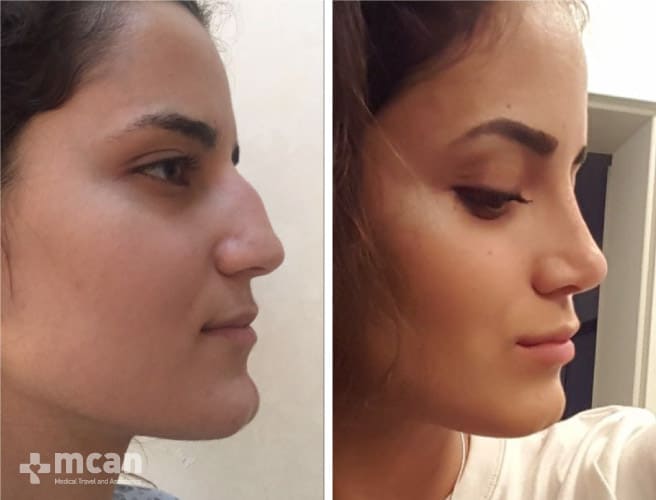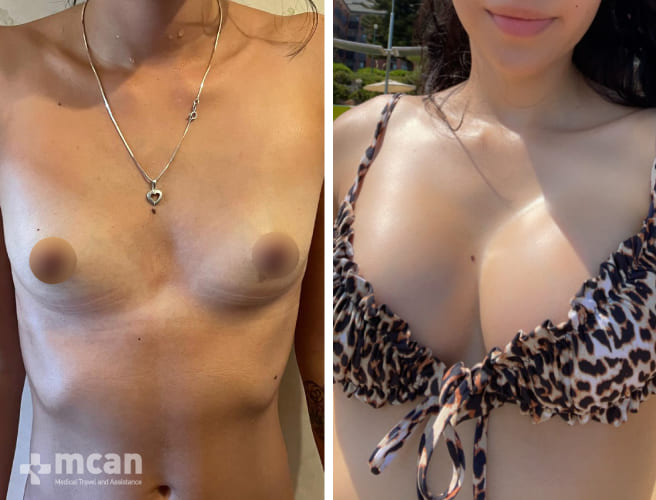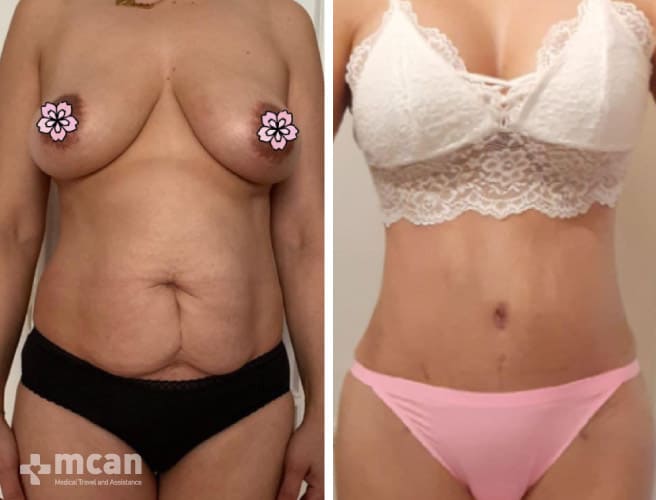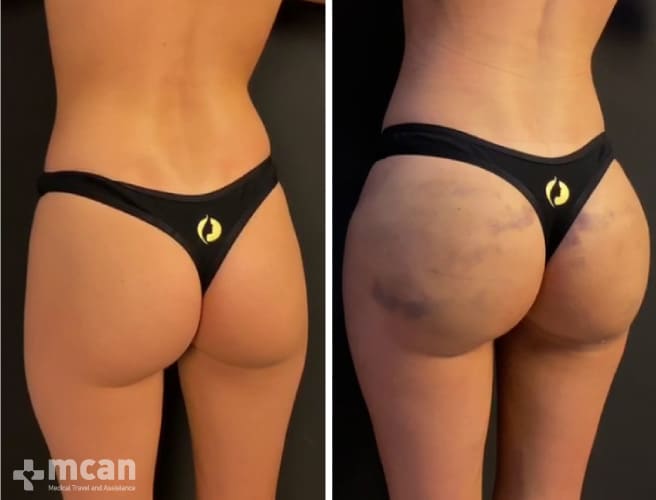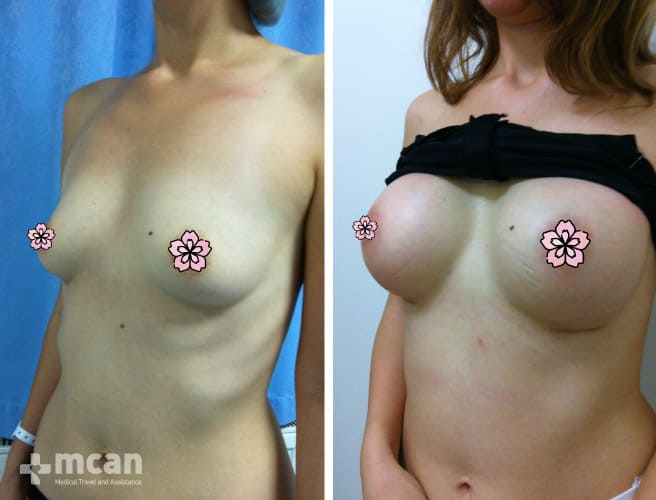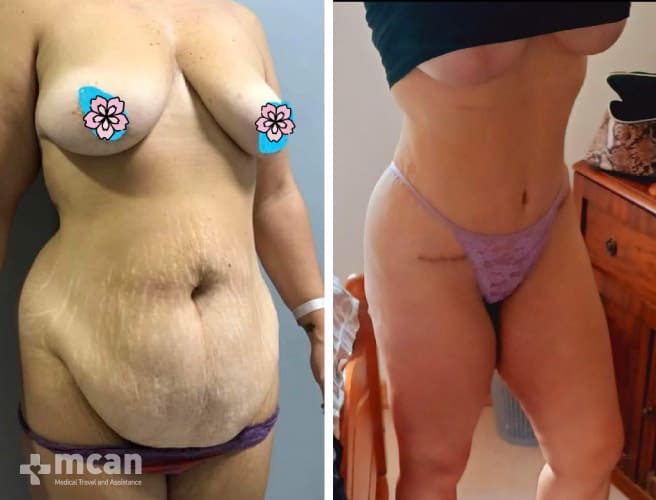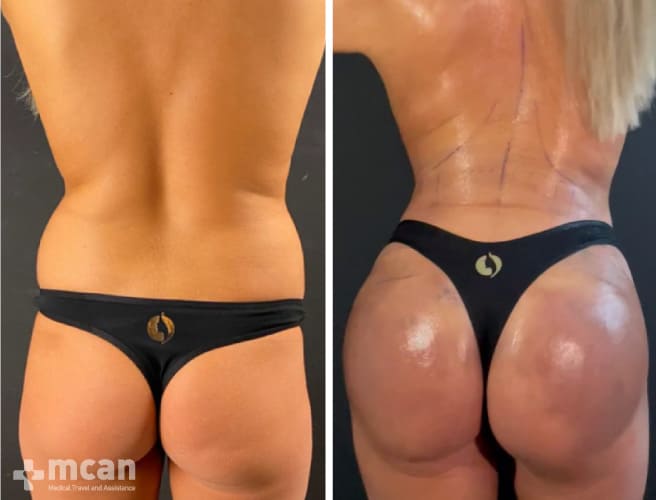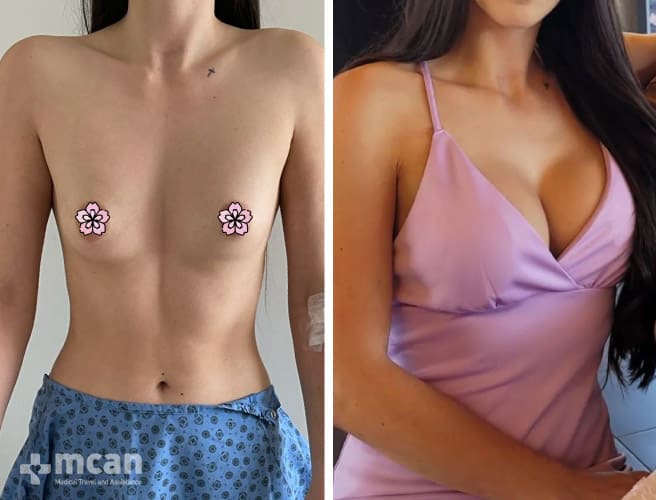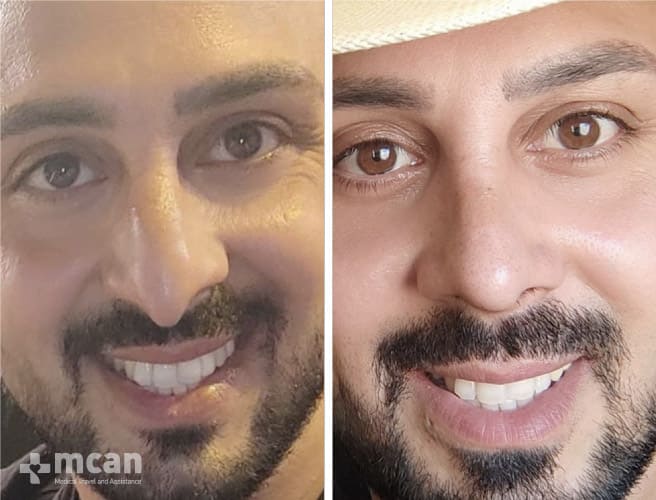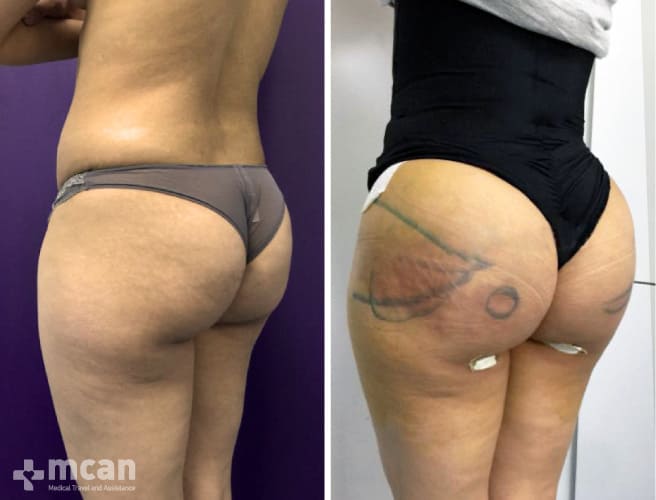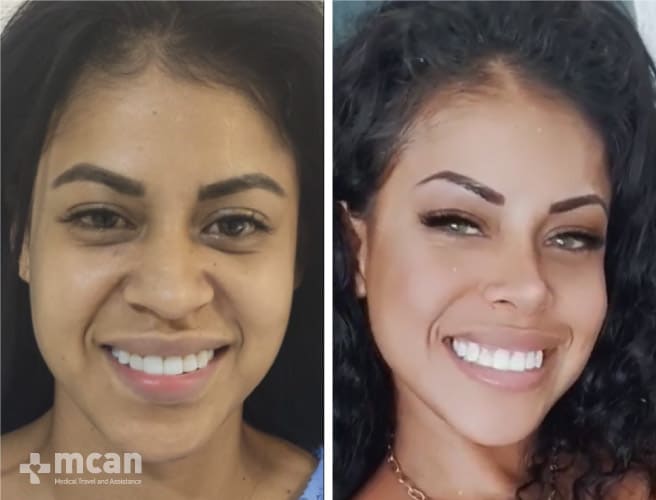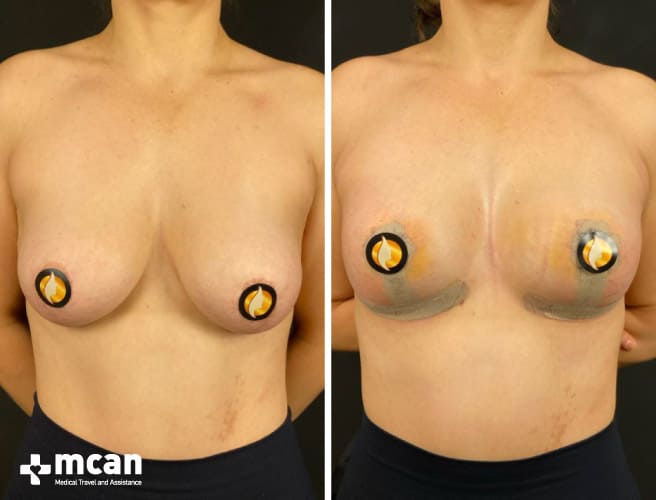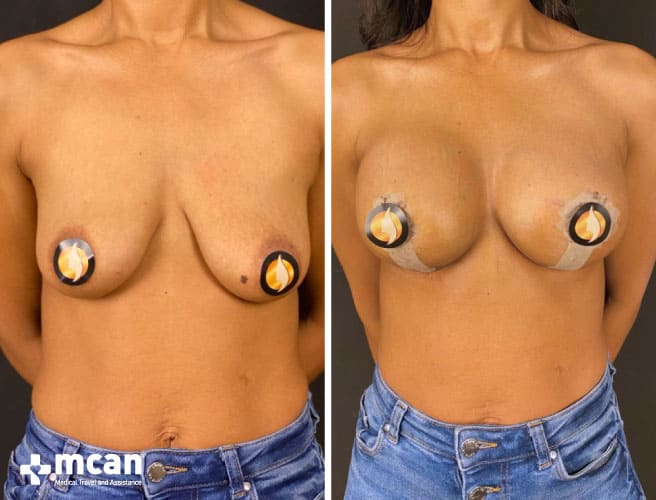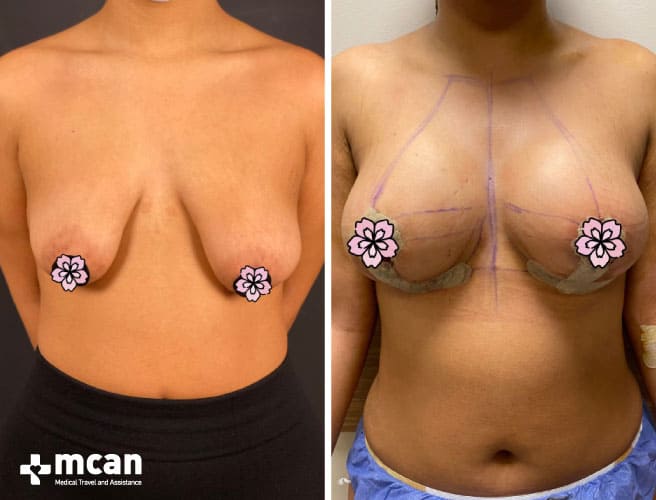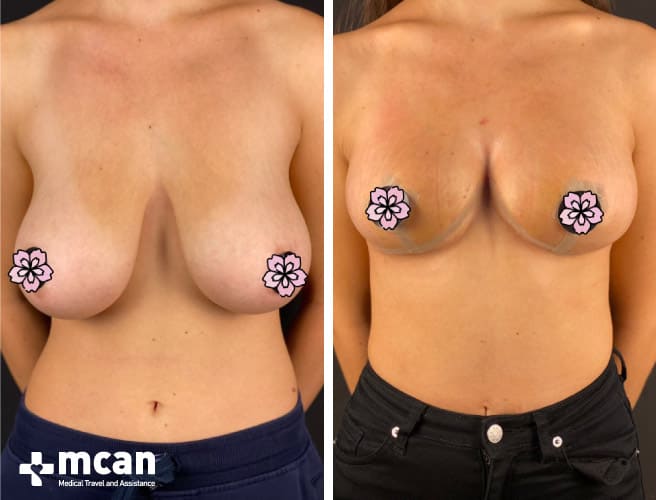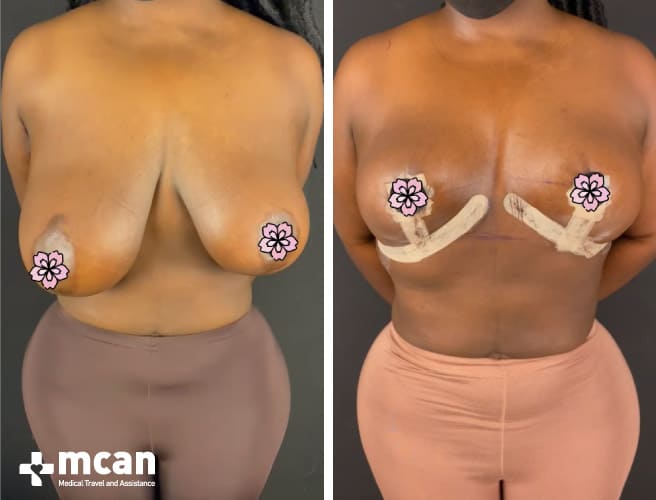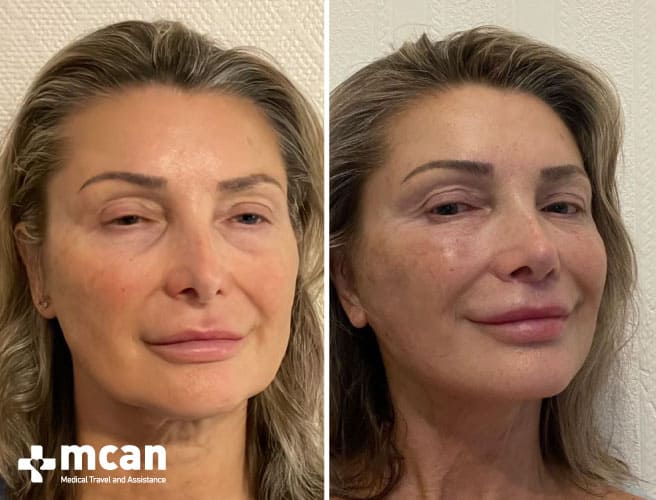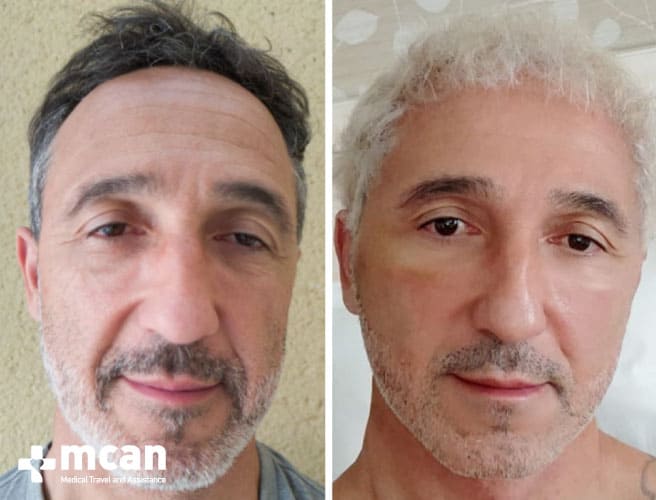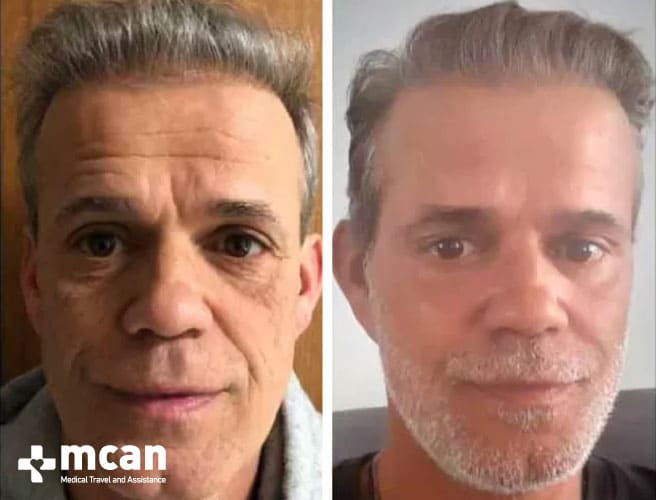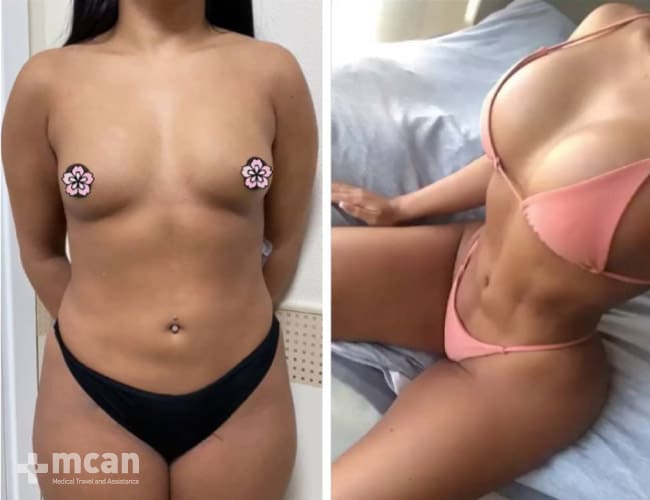 Plastic Surgery Aftercare
For optimal results and smooth recovery, patients should pay attention to aftercare, regardless of the surgery; it can be BBL, mommy makeover, or other.
Avoid Swimming: oking can increase the risk of complications, reduce oxygen supply, delay wound healing, and increase the risk of infection.
Avoid Exercising: It is recommended to avoid them for a certain period because they can strain the body and impede healing.
Continue Reading
Plastic Surgery Abroad
How MCAN Health handles your experience in Turkey is in 3 steps.
01
Before Your Travel
The medical experts arrange flight tickets, accommodation, and hotel transfers. The initial treatment plan is created through the doctor's consultation.
02
Flying Back
Once the surgery is done, the patient stays in the hospital and hotel for at least 1 week, depending on the procedure. In this process, the nurses monitor the initial recovery part of the patient's daily life. 1 week after the surgery, it is safe to return home
03
Before Your Travel
The medical experts arrange flight tickets, accommodation, and hotel transfers. The initial treatment plan is created through the doctor's consultation.
Our professional and experienced team provides extra services for your family, in order to meet their needs and to comfort them while you are treated in the most skilful hands.
Plastic Surgery Turkey
Discover Our Medical Staff
Certifications & Awards

Plastic Surgery FAQ

Do You Have A Question?
Didn't find your question?
You can ask any questions you have regarding Plastic Surgery in Turkey right now!
Ask Now
There are age restrictions for plastic surgery, and they can vary depending on the type of procedure and the country where it is being performed. Plastic surgery is typically only performed on individuals who have reached a certain age of maturity and are considered mentally and physically healthy enough to undergo surgery.
Yes, you can. There are several surgeries combined together. For example, liposuction and tummy tuck is the popular plastic surgery combination. Face and neck lift, and mommy makeovers with breast surgeries, tummy tuck, and liposuction can be done with a single operation.
Cosmetic surgery is a type of plastic surgery that focuses on enhancing the appearance of a person's body, often for aesthetic purposes. Cosmetic procedures are typically elective, meaning they are not medically necessary and are done by choice. Reconstructive procedures may be medically necessary; they aim to restore or improve the function and appearance of a body part damaged or altered by injury, illness, or a congenital abnormality.
Combining plastic surgery with a vacation in Turkey is possible, as the country has become a popular destination for medical tourism. Many people travel to Turkey for plastic surgery because of the high quality of care, experienced surgeons, and lower costs compared to other countries.
The type of anesthesia used during plastic surgery depends on the type and extent of the procedure being performed and the patient's medical history and individual needs.
Dr. Ceran believes combining an artistic approach and technical expertise yields the most favorable patient results for plastic surgery. His proficiency extends beyond the technical aspects of plastic surgery as he is genuinely dedicated to comprehending the desires and objectives of his patients and assisting them in attaining the most optimal outcomes possible.
Published by MCAN HEALTH
Publish:
Update: