What is Arm Lift?
Arm lift, also known as brachioplasty, is a surgical procedure to remove and reduce the excess sagging skin of the upper arm, to tighten the supportive tissue, soothe the shape of the upper arm and reduce the fat pockets in the upper arm area.
Sagging of the skin of your upper arms is heredity, due to old age, or is the result of sudden weight changes. Usually, it cannot be corrected through exercise. In those cases, an Arm Lift can provide a solution
How Arm Lift is Performed?
During the consultation the surgeon will determine the type of branchioplasty you will have and mark the incision lines accordingly.
After the consultation and the necessary blood tests, you will go under anesthesia.
Then your surgeon will make the previously marked incisions and start to remove the excess skin and fat. (he may use liposuction to remove excess fat before making the incisions)
When the excess skin and fat has been removed, the incisions are sutured very carefully to give the arm a firm and smooth look, and to prevent scar tissue…
Then dressings and garment are applied and the surgery is over.
The whole process usually lasts 1 to 2 hours.
Below are the types of incisions that may take place:
1) Inner arm incision:

2) Back arm incision: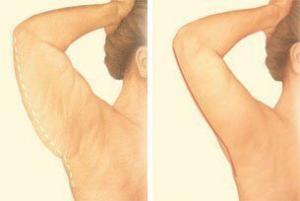 3) Minimal Incision: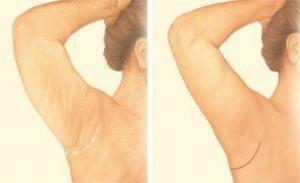 Who is suitable for an Arm Lift Surgery procedure?
People who:
have a significant excess of skin with a stable weight;
are healthy and without medical problems that will interfere with the healing process or increase the risk of the surgery;
most importantly: have realistic expectations about the final result
Pre-Operation Instructions:
Do not take blood-thinning medications such as aspirin or anti-inflammatory medications such as ibuprofen for 2 weeks prior to your surgery.
Do not take supplements like vitamin E and fish oil for 2 weeks prior to your operation. However, a multivitamin that has less 700 IU is fine.
Do not smoke for 2 weeks prior to the surgery as it increases the chances of complications.
Do not use alcohol at least one week before the surgery
Post-Operation Instructions:
You will be given a painkiller and antibiotics by the doctor and if needed, the doctor may prescribe other medications. You should use the medications as your doctor has described.
You should stop strenuous activities, contact sports and heavy lifting for at least 3 weeks.
Results of Arm Lift in Turkey by MCAN Health:
For a long-lasting result, you will have to follow your procedure. You will get smoother, tighter contours that will show almost immediately, you will feel more self-confident and more youthful than have felt for a long time.
So it is essential to the success of your operation to follow your surgeon instruction carefully.
You will be given medications to help with the healing process. Always get in touch with your MCAN Health surgeon whenever you have any specific concerns
Arm Lift Before & After Photos
You can check out the before after gallery for results of Arm Lift here.
FREE CONSULTATION
Leave us your number and we will get to you soon back.