Even waving bye bothers you and make you feel uncomfortable due to your flabby arms? You are not alone!
MCAN Health is here to help you with Arm Lift in Turkey:
1. Request a free consultation by filling the form.
2. We will contact you within 1 hour.
3. Get a free personalized treatment plan and quote.
FREE CONSULTATION
Leave us your number and we will get back to you soon.
Arm lift, also known as Brachioplasty, is a surgical procedure to remove and reduce the excess sagging skin of the upper arm.
Arm lift aims to:
tighten the supportive tissue,
soothe the shape of the upper arm,
reduce the fat pockets in the upper arm area
Sagging of the skin of your upper arms happens due to heredity, old age or sudden weight changes. Usually, it cannot be corrected by exercise. In such cases, arm lift can provide a good solution.
How is Arm Lift Performed?
During the consultation, the surgeon will determine the type of Brachioplasty you will have and mark the incision lines accordingly.
After the consultation and the necessary blood tests, you will go under anesthesia.
Then your surgeon will make the incisions and start to remove the excess skin and fat. They may also need to use liposuction to remove excess fat before making the incisions for a better tightening.
When the excess skin and fat have been removed, the incisions are sutured very carefully to give the arm a firm and smooth look, and to prevent scar tissue.
Then dressings and garments will be applied to finish up the surgery.
Arm Lift in Turkey
All-Inclusive Packages include operation fees, multilingual patient host, transfers and accommodation
The types of incisions in Arm Lift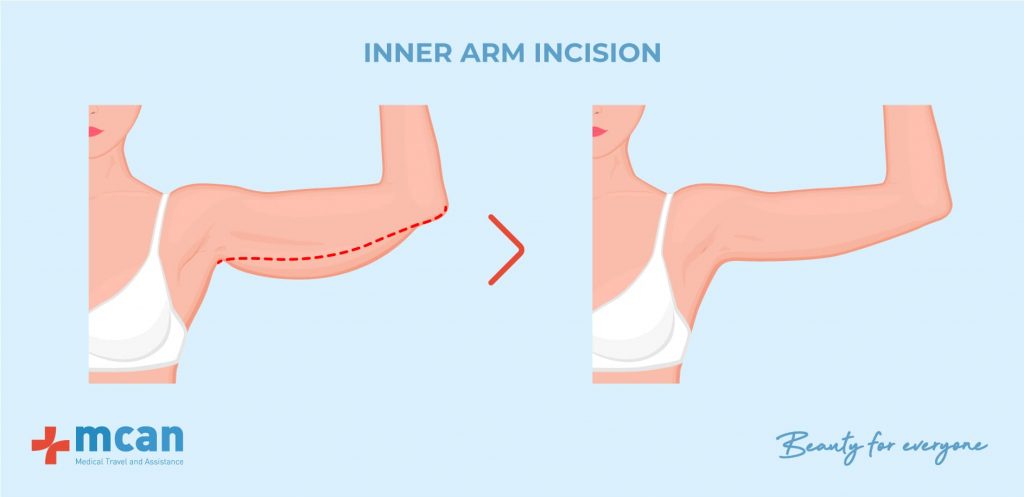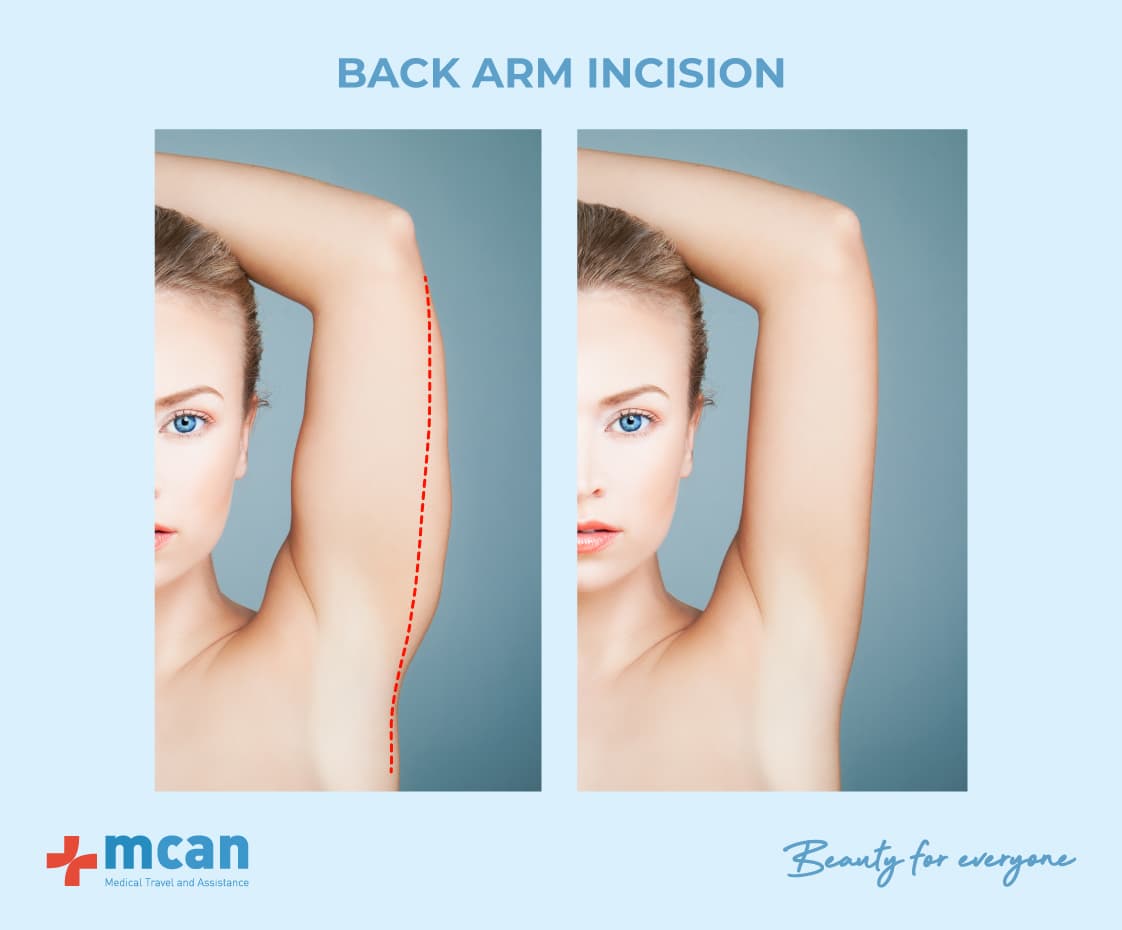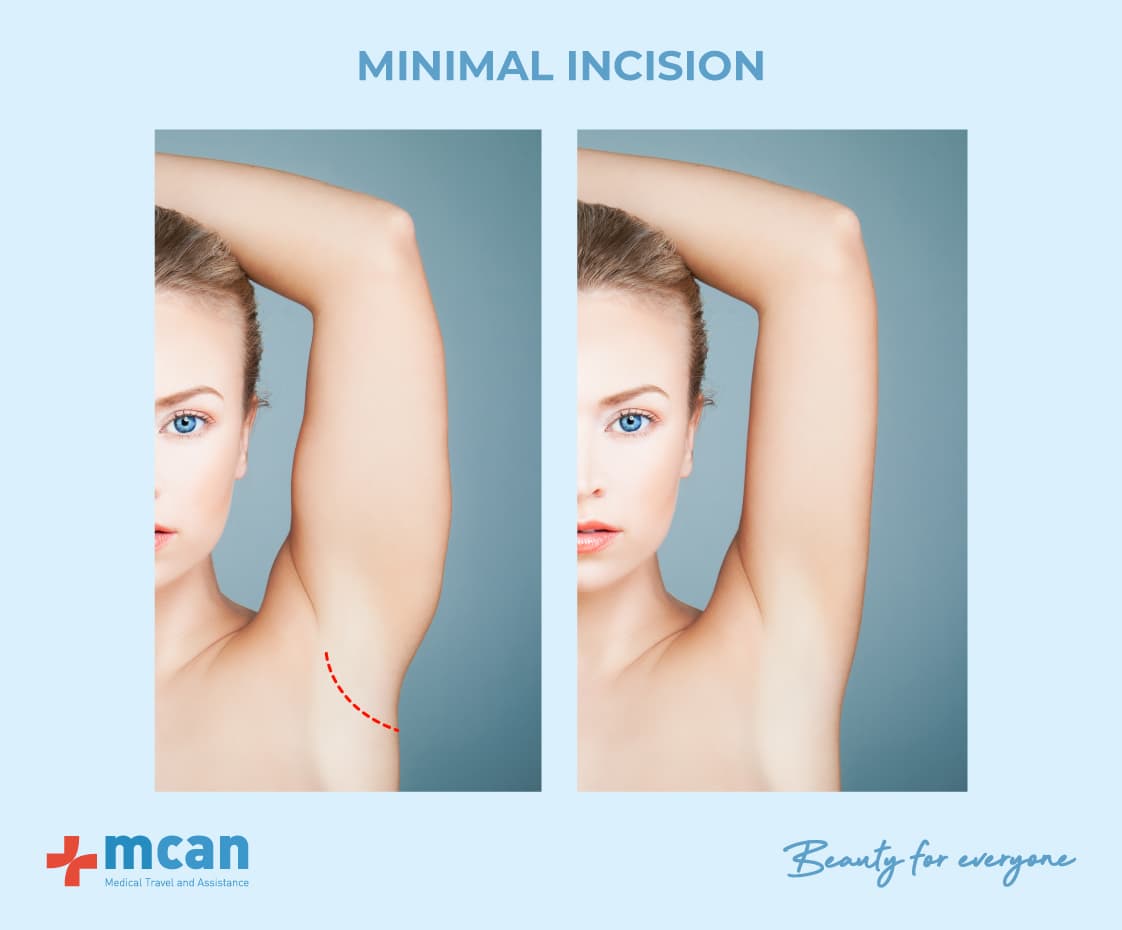 Who is the right candidate for Arm Lift Surgery in Turkey?
You are the right candidate for Arm Lift in Turkey if you:
have a significant excess of skin with a stable weight
are healthy and without medical problems that will interfere with the healing process or increase the risk of the surgery
most importantly: have realistic expectations about the final result
Why should you choose MCAN Health to have Arm Lift in Turkey?
Because MCAN Health offers:
Experienced and talented surgeons
Arm lift with state of the art technology
Arm lift with minimal scarring
Natural-looking arm lift results
Excellent patient care service
Excellent post-op follow-up and support
How much is Arm Lift in Turkey?
To have an arm lift in Turkey is affordable compared to the UK and other parts of Europe thanks to lower labour costs in Turkey and the difference in the exchange rate (Turkish Lira is not powerful against Euro, Sterling and USD Dollar). So, you can have a high-quality arm lift surgery in Turkey for affordable prices.
Arm Lift in Turkey with MCAN Health
It is time to enhance your appearance, tighten your arms, boost your self-confidence and feel more attractive with affordable prices!
| | |
| --- | --- |
| Operation: | Arm Lift |
| Operation Goal: | To get rid off sagging skin on arms, to make arms firmer |
| Operation Time: | 1 to 2 hours |
| Type of Anesthesia: | General anesthesia |
| Side Effects: | Temporary swelling, numbness and, bruising |
| Risk: | Infection, changes in skin sensation |
| Recovery Time: | 1 to 2 weeks |
| Scarring: | Depending on the incision type, generally very minimal |
Arrival Day
A warm welcome from MCAN Health: Welcome to Istanbul! You will be welcomed at the airport. You are either taken to your 4 or 5-star hotel or to the hospital for your consultation depending on your arrival time.
Day 1
Say hello to your surgeon: You will have an in-person consultation with your surgeon before your surgery. You will have a chance to discuss your arm lift treatment plan in detail and your surgeon will inform you about the details of your operation such as the type of incision.
Consent is everything: You will sign a consent form.
Medical tests for your well-being: Your surgeon will perform medical tests such as blood test before arm lift.
Yes, it is now time for 'the big thing': You will undergo your arm lift surgery which usually takes around 2 to 3 hours depending on the process.
It is over! Now excitement kicks in! Initial check-ups: Your surgeon will do the initial check-ups when you regain your consciousness after anesthesia. You will wake up in your hospital room dressed in your compression garment on your arm.
Enjoy your stay at a top-quality hospital: You will spend the night at our internationally accredited, high-quality hospital.
Day 2
Hospital Stay: You will spend your second day at the hospital as well. Your surgeon will visit you and watch the progression of your recovery.
Day 3 & 4
'Should I stay or should I go?': You can either continue enjoying the comfort of your hotel or go out and do some sightseeing to enjoy Istanbul, the city of two continents!
Day 5
Final check-up before the 'goodbye': You will meet your surgeon again for your final check-up. They will remove your stitches and drains. You will also be informed about your post-op care in detail and get your safe to fly report.
Private transfer to the airport: Just enjoy the last ride in Istanbul!
Ready to take-off?: You are flying back home with your new look and hopefully with great experience at MCAN Health in Istanbul. We will miss you! Hope you had an unforgettable journey with us.
Arm Lift Turkey Before After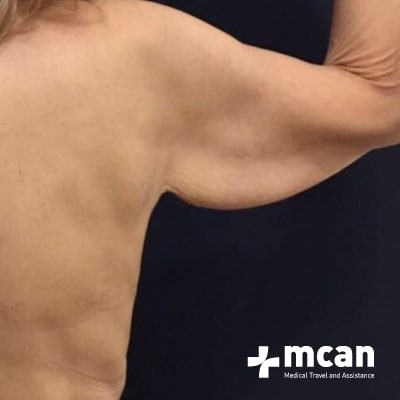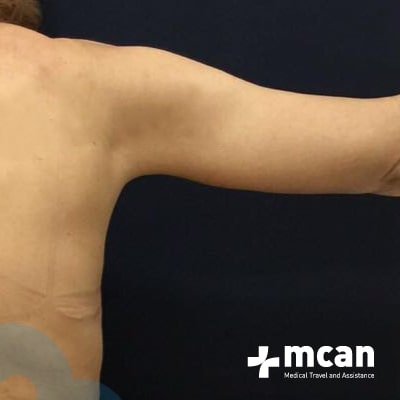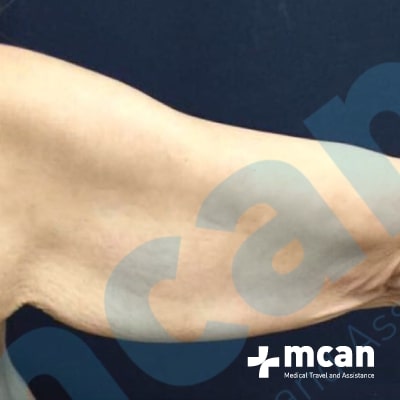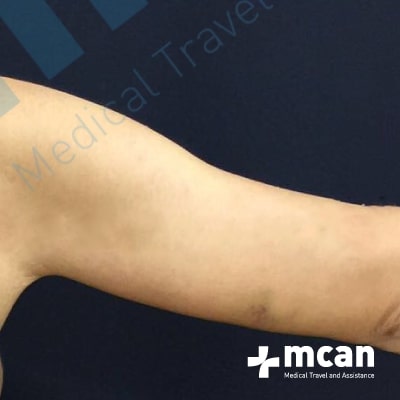 MCAN Health Arm Lift Turkey Reviews
I choose Mcan health after allot of research online & I'm so glad I did. I'm very happy with my results I had tummy tuck, 3 area lipo, muscle repair and breast uplift with 295 g implants. When arriving in Istanbul I was very nervous, however after meeting the team and Dr my nerves was put at ease. I couldn't be happier with how I look now. Thankyou mcan for a delightful experience and I will be back for my rhinoplasty in the next few years!
Posted 2 days ago
The staff at MCAN upon arrival to Istanbul were very organised and reassuring. They planned my whole stay to the last detail and kept in contact with me at all times. Doctor was very professional and skilled. My rhinoplasty procedure went amazingly well and the hospital facilities were very modern and clean. All in all, a professional, high quality service at an affordable price!
Posted 2 days ago
The admin staff are quick to reply and very helpful, the drivers are gentlemen, everything was straight-forward and easy. The hospital duration was a very pleasant experience with constant monitoring, the surgeon was lovely (and handsome!) and since returning home I have been advised I have 'perfect' breasts, thanks to him! I would definitely recommend this company
Posted 5 days ago
The care given in making me feel at ease and the general feeling being good around the procedure as a whole was outstanding and the nurses and staff made everything less stressful
Posted 1 week ago
This was my second procedure and have to say that I'm pretty happy with how it went. The doctor explained me exactly what can be achieved given my current condition, and made sure that the assistants carry out their tasks efficiently. Thanks again team and I'll make sure to recommend your services to friends and colleagues.
Posted 1 week ago
Amazing service from start to finish I am 4 days post op after a facelift and upper and lower eye surgery doctors driver case manager and interpreter are all amazing would reccomend troya hotel for your stay would highly recommend
Posted 2 weeks ago
Best trip for rhinoplasty I came from Holland to get a rhinoplasty. I'm so happy with the results and the whole trip went perfectly. The communication went well and my nose is healing good. I recommend this to everybody because I don't have any pain and my nose is looking beautiful already.
Posted 4 days ago
❮
❯
Latest Arm Lift Posts From Our Blog
Need a Change?
Safety focused treatment, experienced surgeons, artistic approach and affordable prices!