MCAN Health,
Your Transformation

Located in the bustling city of Istanbul, MCAN Health is at the forefront of cosmetic dentistry, utilizing state-of-the-art technology and employing highly-qualified dental professionals. With affordable prices, patients can receive top-notch cosmetic dental treatments while enjoying a relaxing holiday in Turkey. MCAN Health is dedicated to providing exceptional care and ensuring patients achieve their desired smile transformation.
What is Dental Treatment?
Turkey dental treatment and cosmetic dentistry Turkey have become increasingly popular in recent years, offering various treatments to help individuals achieve their desired smile and healthy teeth. One exciting aspect of dental treatments is that even individuals with healthy teeth tend to seek out these treatments. One of the most sought-after procedures is the Hollywood smile makeover, which involves a combination of cosmetic dental treatments such as teeth whitening, veneers, dental implants, and cosmetic bonding, designed to improve the appearance of the teeth, resulting in a bright, white, and attractive smile. Each treatment is tailored to individual needs and goals, resulting in a healthy, natural, and beautiful smile. While Turkey dental treatment and cosmetic dentistry Turkey attract the ones who wish to improve their smiles aesthetically.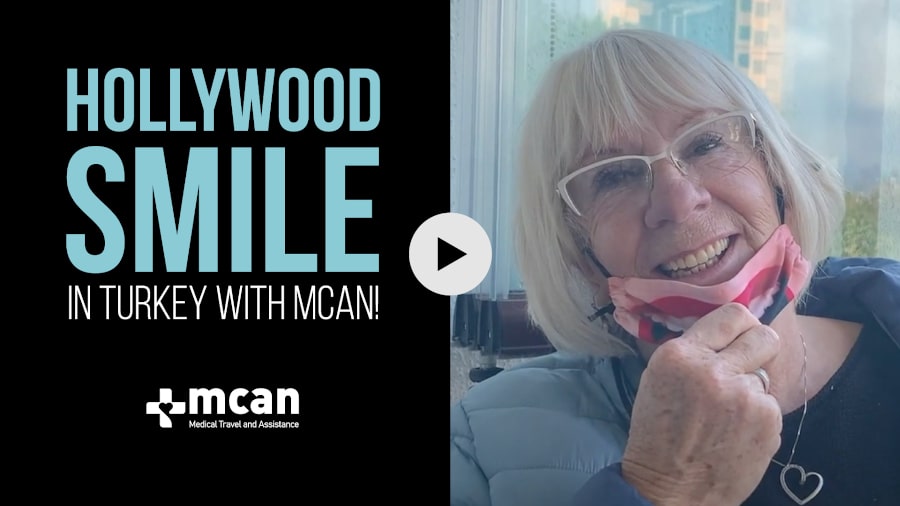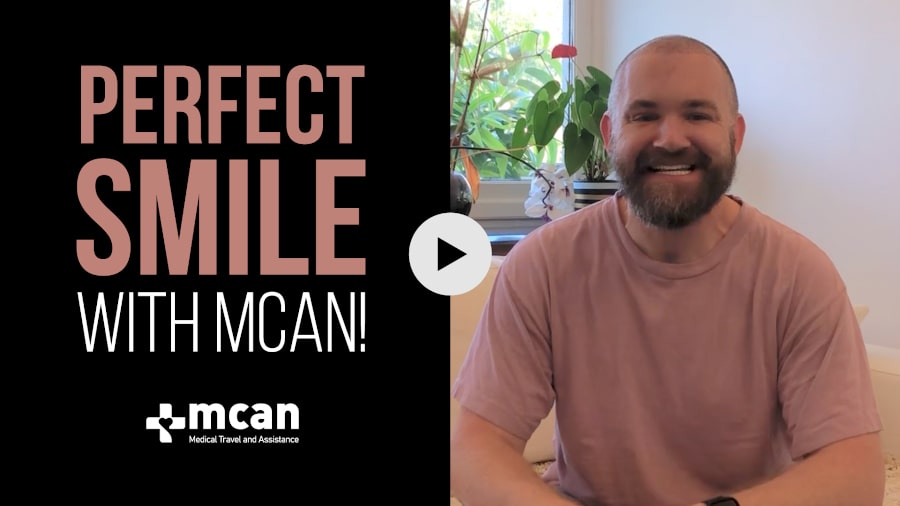 Dental Treatment Turkey Journey of MCAN Health's Patients
Enhanced aesthetically, improved functionally! MCAN Health patients share their unique experiences with dental treatments in Turkey.
Dental Treatment Turkey Cost
Turkey's generally lower dental treatment prices than the UK and the US have become a favored location for individuals seeking reasonably priced dental care. For instance, the cost of a dental implant in Turkey can be approximately 50% less than that of the same procedure in the UK or the US, highlighting its affordability. Furthermore, Turkey offers all-inclusive dental treatment Turkey prices packages, which include hotel, transfer, city tours, and patient experience specialists. So, these packages are intended to give consumers seeking comprehensive dental care a hassle-free and affordable solution.
Dental Treatment Types
Depending on the patient's specific needs and expectations, there are several types of dental treatments.
Hollywood Smile Design
All on 6
Zirconium/Porcelain / Emax Crowns
Porcelain/ Emax/ Composite Veneers
Teeth Whitening
Canal Treatment
Surgical Extraction
Bridges
Best Surgeon Dental Treatment Turkey Doctor
At MCAN Health, creating dental implants and delivering stunning smiles to their patients is a proper art form that requires careful attention to detail, a deep understanding of the patient's needs and desires, and a keen aesthetic sense. That's why MCAN Health has handpicked its team of qualified dentists, some of the most skilled professionals with years of experience in dental treatment types, including teeth whitening, dental implants, crowns, veneers, and Hollywood Smile.
MCAN Health is dedicated to staying at the forefront of the latest technology and techniques. Their team works tirelessly to ensure that every patient receives the highest quality dental care, a comfortable dental implant procedure in Turkey, and an experience that exceeds their expectations.
It's important to remember that your dentist at MCAN Health is your partner in achieving optimal dental health and solving any dental issues you may have. They will guide you every step, ensuring you receive the best possible care and achieve the beautiful smile you deserve.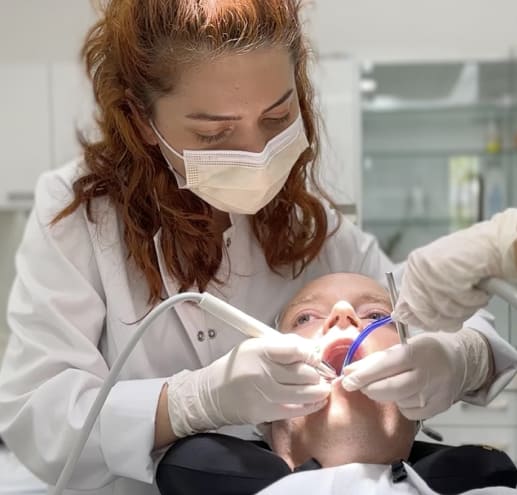 Book Now and Start Free
Whatsapp Consultation
Book Now
Dental Treatment Turkey Reviews
MCAN Health's patients who have had various dental treatments express their feelings about the journey. Would you like to hear about dental treatment in Turkey reviews?
Why Should You Get Dental Treatments Turkey with MCAN Health?
Getting dental treatments in Turkey with MCAN Health offers many benefits. Here are some reasons why people rush to MCAN Health to get Turkey dental treatments:
High-Quality Care: MCAN Health is dedicated to offering the best dental care using top-notch technology and methods. Our team of qualified dentists has years of experience and a track record of success.
Affordable Dental Treatment in Turkey Prices: Dental treatment packages Turkey with MCAN Health are more affordable than in many other countries. Furthermore, MCAN Health provides its patients with additional services without extra charge.
Personalized Care: Every patient is unique, and MCAN Health considers this when developing a personalized treatment plan for each patient. They work with each patient to understand their specific needs and goals.
Successful Results: MCAN Health is dedicated to creating beautiful, natural-looking results for its patients. The desired smiles are given to patients at MCAN Health.
Aftercare: MCAN Health's patient experience specialist monitors the aftercare process for 1 year.

The Highest Quality Treatment

Optimal Results

Guaranteed Money Saving
Dental Treatments Procedure in Turkey
Turkey dental treatment procedure with MCAN Health typically follows these steps:
1- Consultation:
Turkey dental treatment procedure starts with doctor consultation and evaluation. During the consultation, dental health is evaluated, and concerns are discussed.
2- Treatment Plan:
Depending on the consultation, patients' desires, and needs, the dentist creates a customized treatment plan.
3- Treatment:
The dental procedure can start after a treatment plan is created by the dentist and approved by the patient. After the first treatment, the second, third, and even fourth treatment days are communicated to the patient, and each one is organized by MCAN's patient experience specişlaişst. During the whole journey, patients were always transferred by MCAN's drivers and supported by our experienced patient's hosts.
4- Follow-up Care:
After the treatment, the dentist provides instructions on how to take care of your teeth and maintain the new smile. Besides, MCAN Health's patient experience specialists will be in contact with patients for 1 year for follow-up. Dental implant patients must come to Istanbul to our clinic after 3-6 months again to have dental crowns on top of the implants or an all-on-four hybrid prosthesis.
Dental Treatment Recovery Turkey
Recovery from Turkey dental treatment can vary depending on your treatment type. However, here are some general tips for dental treatment recovery:
Follow your dentist's instructions: The dentist will provide specific instructions after dental treatment. It is essential to follow the instructions carefully to ensure proper healing.
Take pain medication as prescribed: IfIf you experience pain or discomfort after dental treatment, your dentist may prescribe pain medication. Make sure to take it as directed.
Rest: Depending on the treatment, you may need to rest to allow your body to heal.
Dental Treatment Abroad
01
Getting a treatment plan and quote
Patients send mouth pictures and X-rays to our case managers. The doctor delivers treatment plans based on the patients' expectations and budget—patient books for dentistry treatment.
02
Before Your Travel
The case managers arrange accommodation and transfers between hotels and book the dentists.
03
Getting to Turkey
Each patient is transferred from the airport to the hotel by MCAN Health. On the first visit, an x-ray is taken, the first examination is done, and the treatment plan is finalized. The first treatment starts. During the stay of the patients, the second and third visits are planned to finalşise the dental treatment. Patients are free until they leave to dsişcover the beauty of Istanbul.
04
Flying Back
Patients must stay in the hotel for several days depending on the procedure. Once the whole procedure is completed, MCAN Health's driver takes patients to the airport.
Proven Results Dental Treatment in Turkey Before and After
MCAN Health's patients have spread lovely smiles around them after getting their teeth done successfully. At MCAN Health, some patients benefit from cosmetic dentistry in Turkey to enhance the appearance of their teeth and achieve pearly smiles, while others seek treatment to correct irregularities. Despite their specific aims, MCAN Health's dental treatments, including dental veneers, crowns, implants, and other advanced procedures, have made patients happy. With a focus on delivering exceptional results and personalized care, MCAN Health's team of skilled dental professionals work closely with each patient to tailor their treatment plans to their unique needs and goals. Would you like to swipe to see before-and-after photos of dental treatments in Turkey at MCAN Health?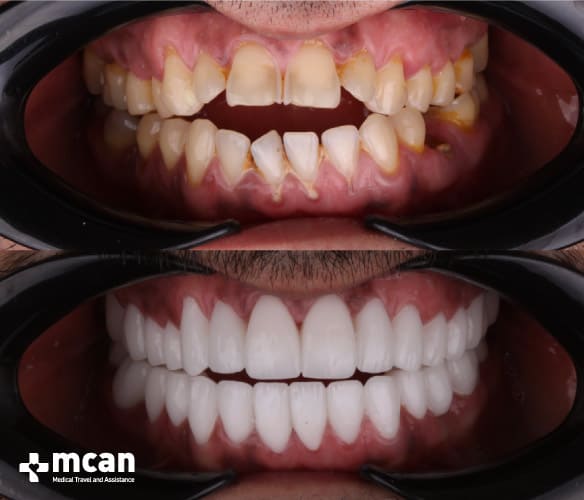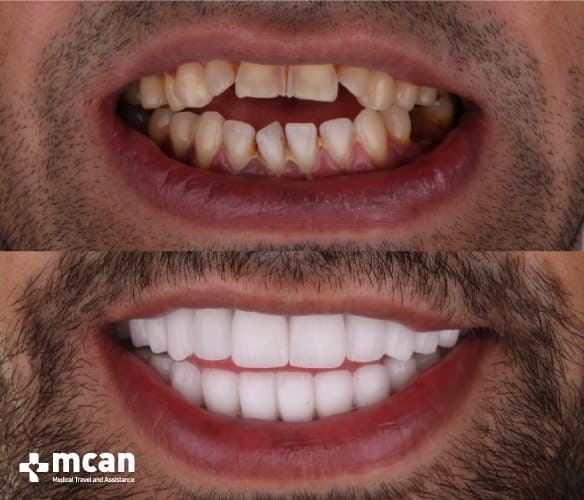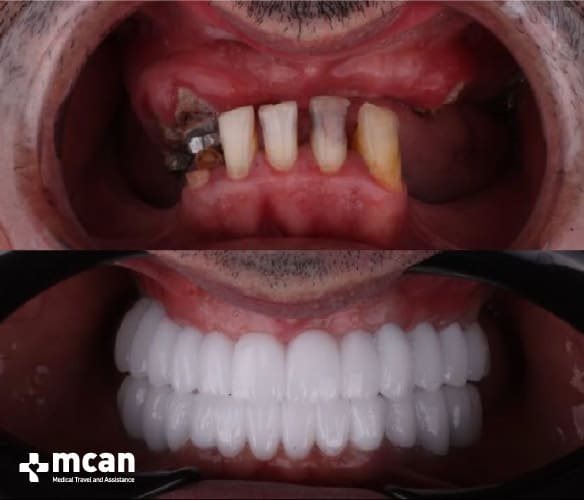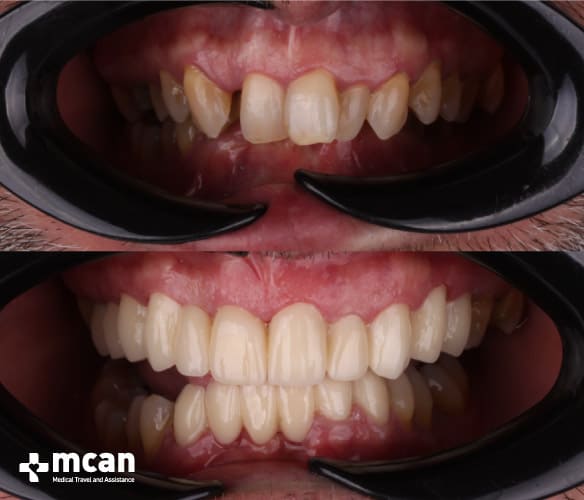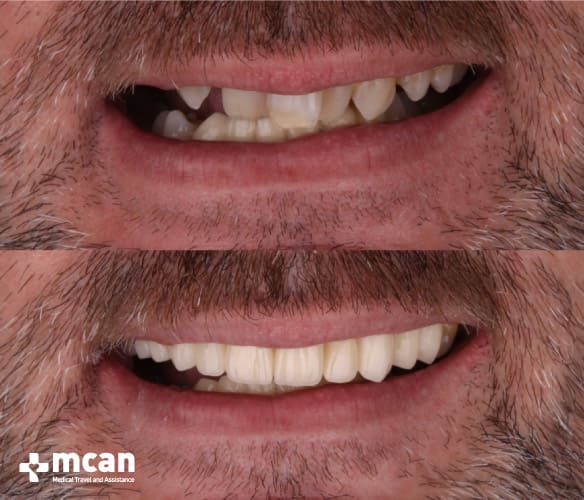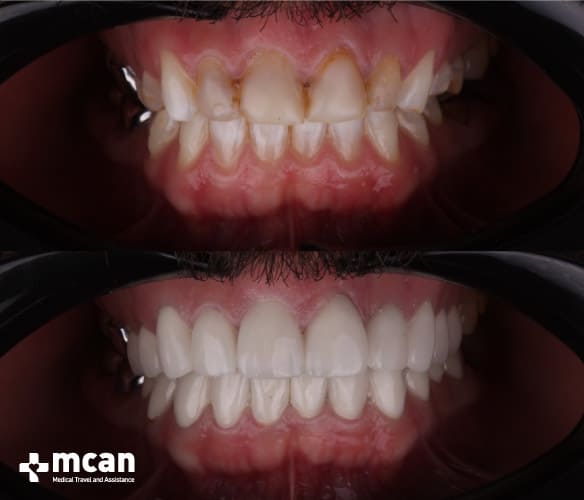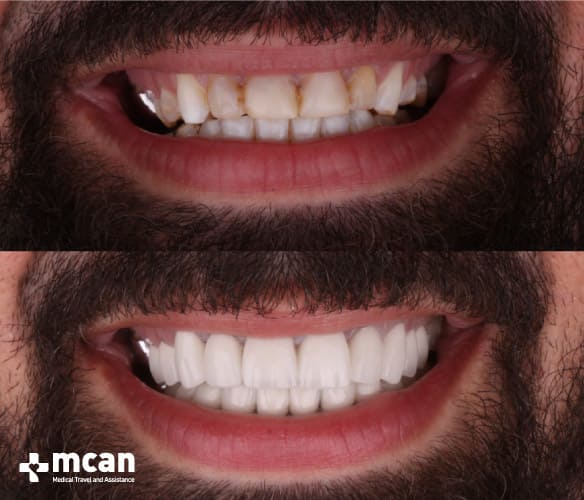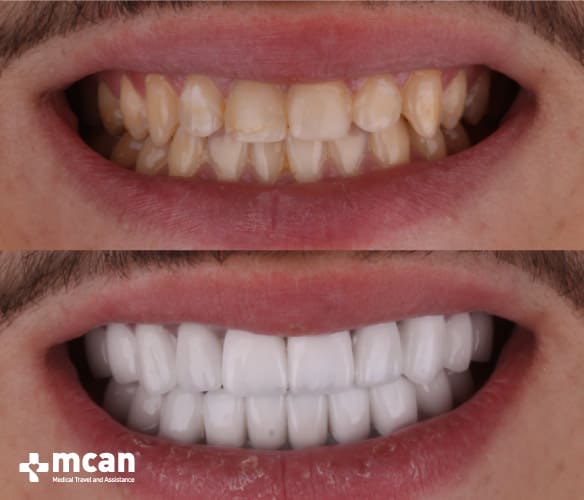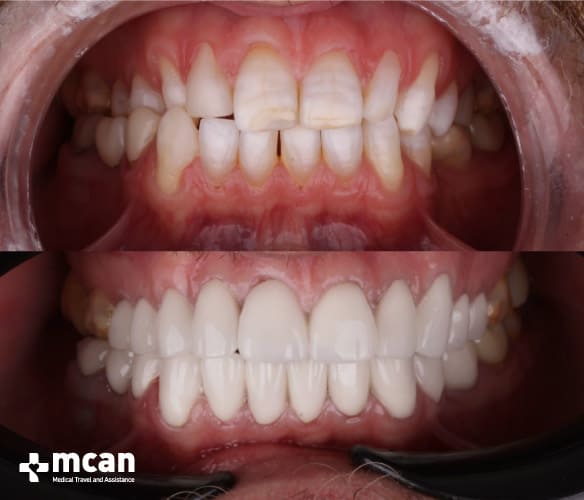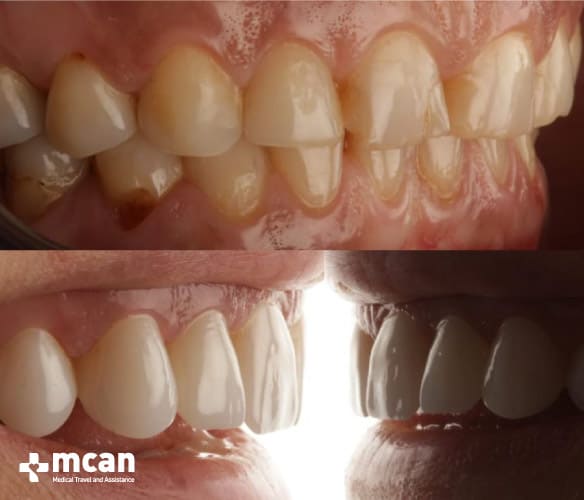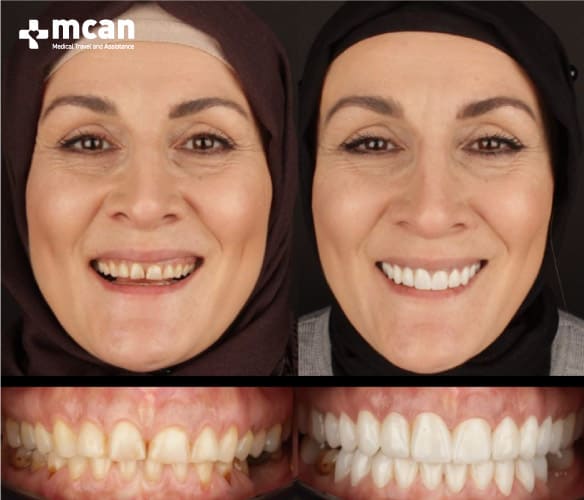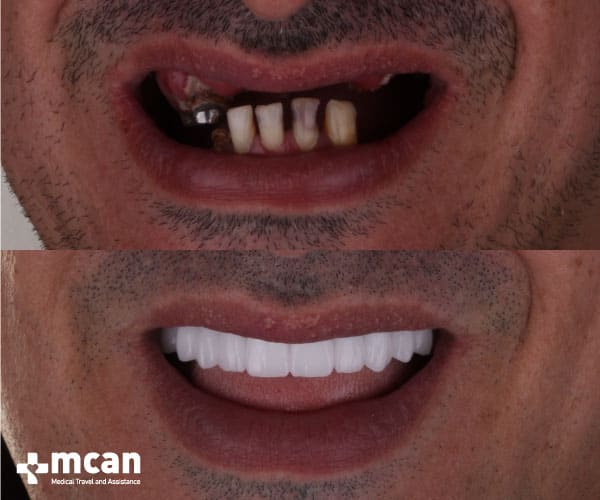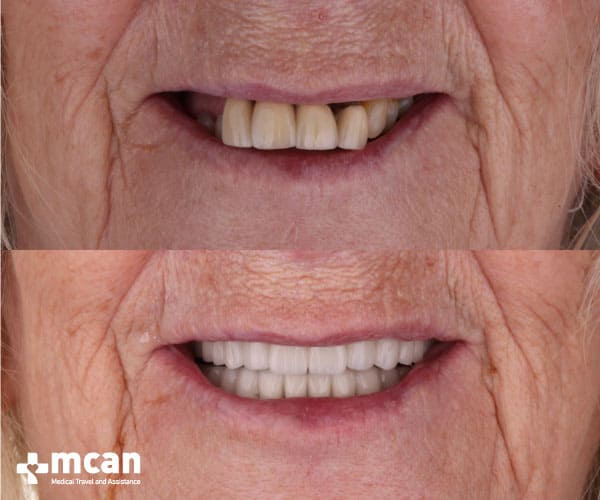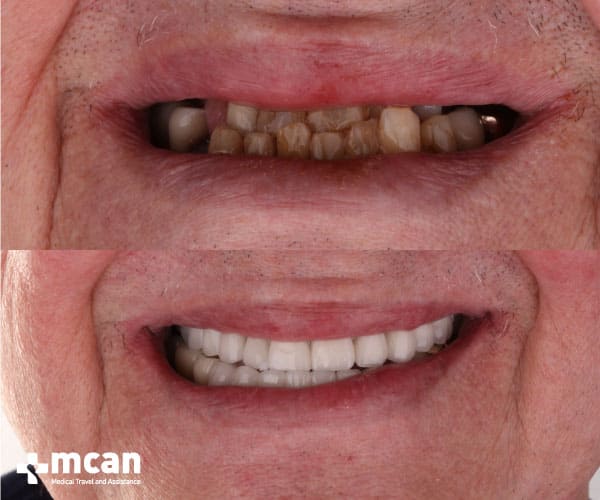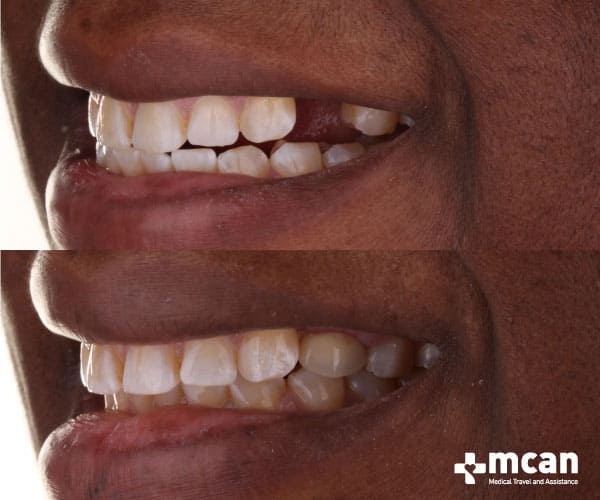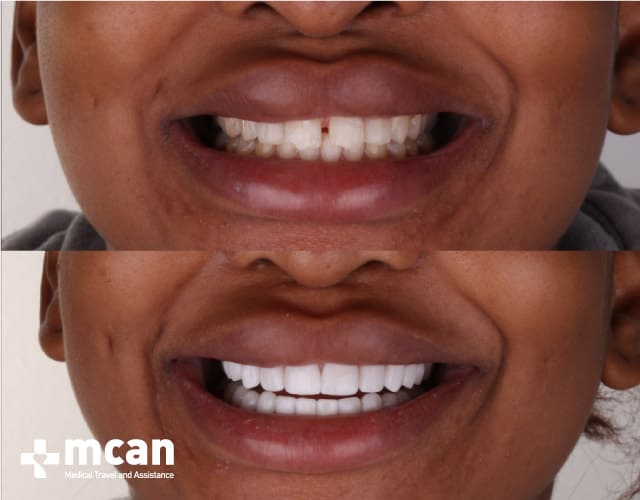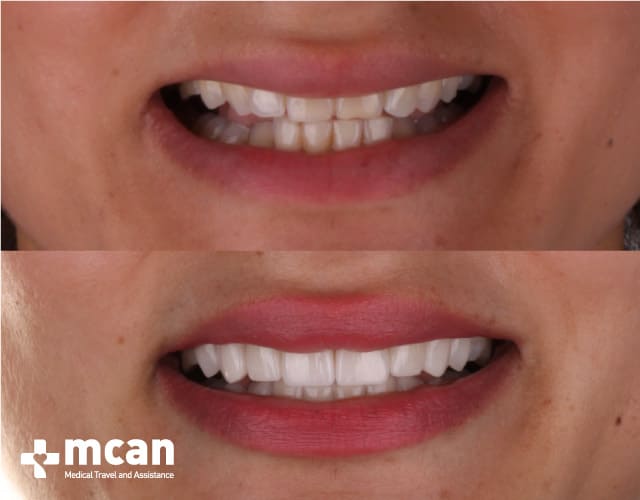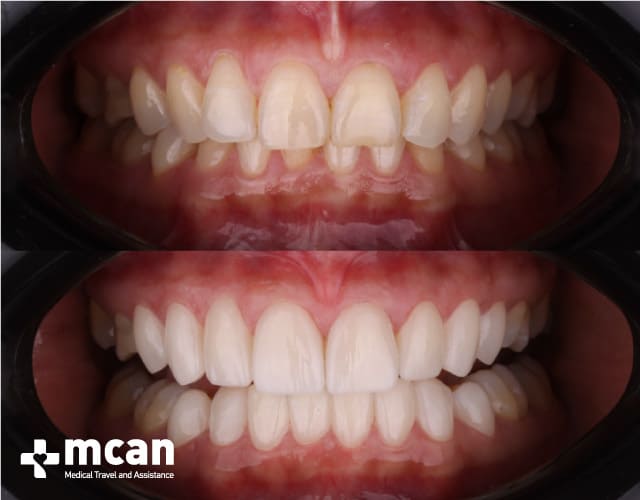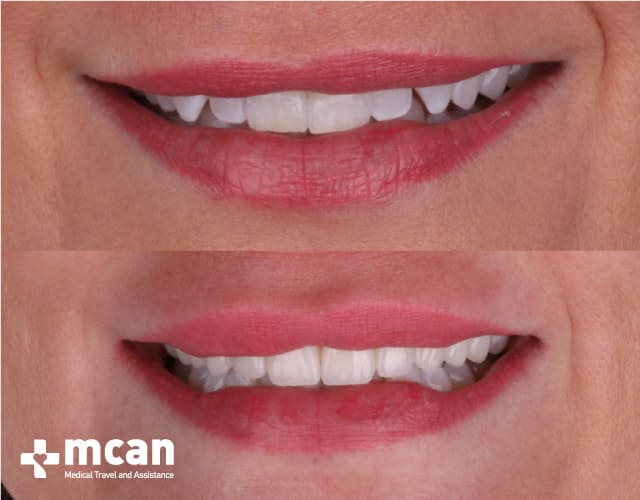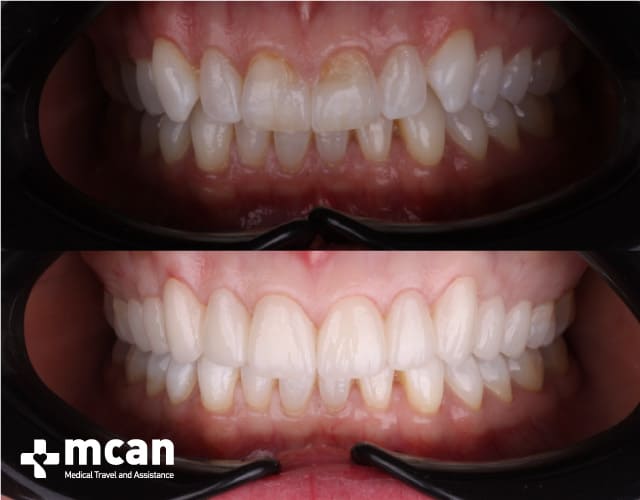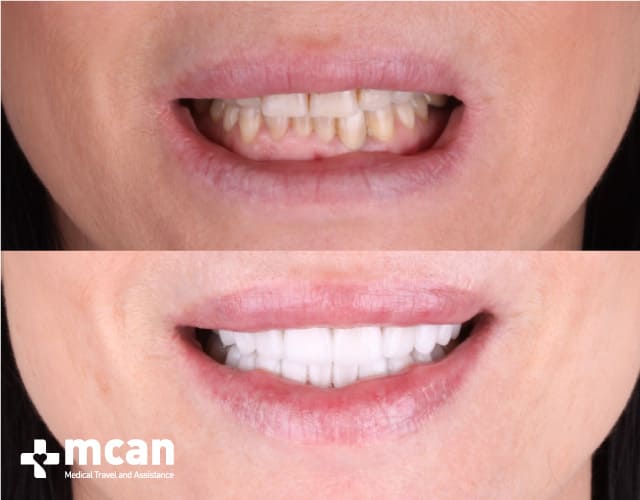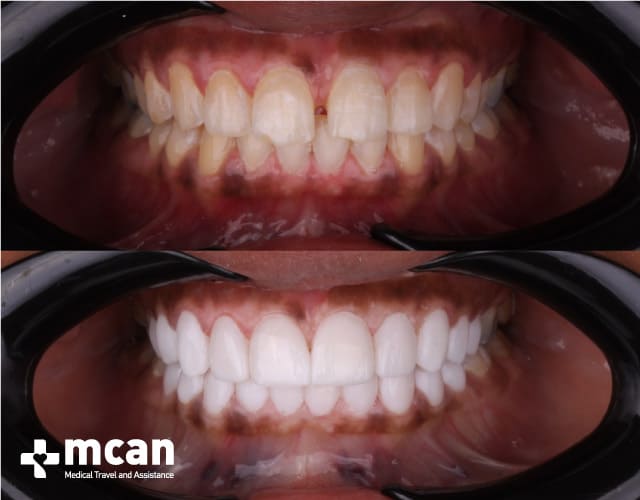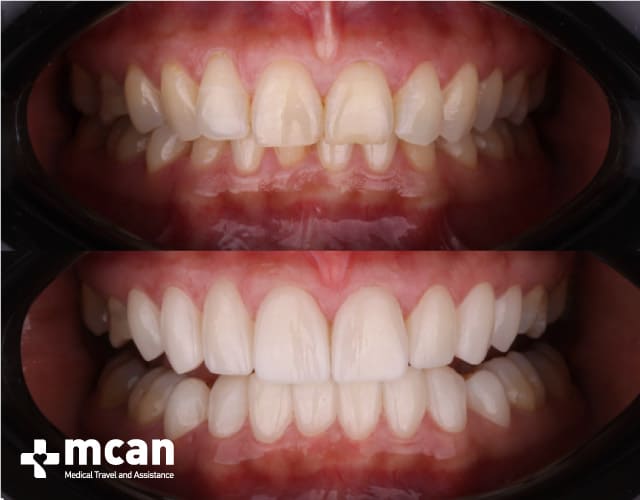 Best Candidates for Dental Treatment in Turkey
Patients who suffer from missing teeth and unshaped or decayed teeth can have dental treatment in Turkey. Patients to get Turkey dental treatment should have the following:
Realistic Expectations
healthy overall health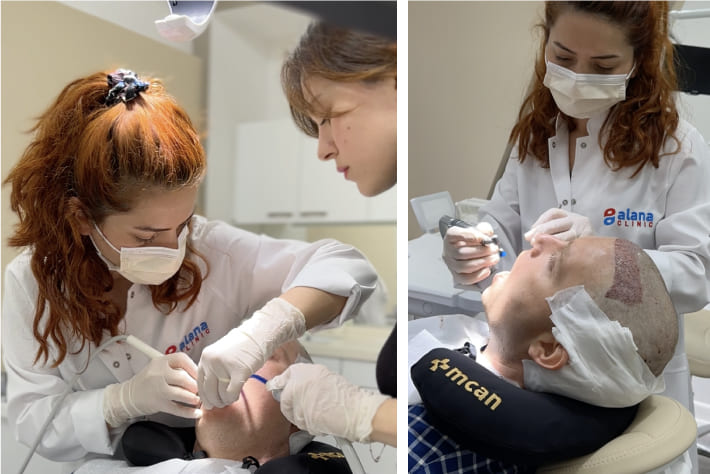 What You Shouldn't Expect From Dental Treatment Turkey
While Turkey dental treatment can effectively address a wide range of dental issues, there are certain things that you shouldn't expect from it.
Unrealistic results: Dental treatment can improve the appearance of teeth. However, it is essential to have realistic expectations.
Pain-free treatment: Some dental treatments, such as root canals, tooth extractions, or dental implants, can cause discomfort and pain after the procedure. The dentist will prescribe painkillers for patients.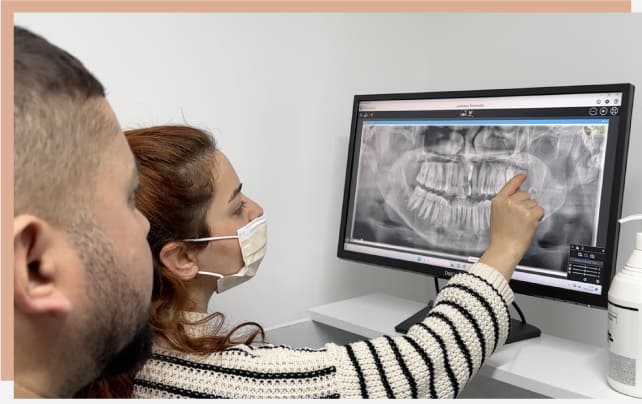 Common Possible Reactions Of Dental Treatment
Turkey dental treatments are safe and well-tolerated. However, as with other procedures, there may be some possible reactions or side effects, such as:
Pain and Discomfort
Swelling
Bleeding
Sensitivity
Infection
Allergic Reaction
To minimize these side effects after the dental treatments, MCAN Health takes its precautions:
Before the procedure, the patient's medical history is reviewed; necessary tests are made.
Necessary medications are prescribed after the procedure.
12 months of follow-up service is provided to observe the patient's healing phase after returning to their countries.
Dental Treatment in Turkey Aftercare
After Turkey dental treatment, paying attention to the aftercare process is crucial to promote healing and prevent complications.
Avoid smoking and alcohol: Smoking and consuming alcohol can interfere with healing and increase the risk of complications.
Practice good oral hygiene: Brushing, flossing, and mouth washing are important to maintain oral health and preserve new teeth.
Continue Reading
Our professional and experienced team provides extra services for your family, in order to meet their needs and to comfort them while you are treated in the most skilful hands.
Dental Treatment Turkey
Certifications & Awards

FAQ

Do You Have A Question?
Didn't find your question?
You can ask any questions you have regarding dental treatment in Turkey right now!
Ask Now
The duration of dental treatment in Turkey depends on the patient's dental treatment and its complexity. Some treatments, such as teeth whitening or filling, can be completed in one appointment, while most complex procedures, such as dental implants or full mouth restorations, take several appointments.
After the procedure, the patient experience specialist will contact MCAN Health's patients for 12 months to follow up on the healing process. In this process, if something is gone wrong, the patient experience specialist takes the necessary steps to correct the situation.
Yes, you can. Many patients combine their Turkey dental treatment with a vacation or travel. Turkey is a well-liked travel destination with a fascinating history, stunning scenery, and lively culture. MCAN Health provides a city tour for its patients accompanied by patient hosts.
All types of dental treatments are available at MCAN Health in Turkey. According to the patient's needs and expectations, MCAN Health's dentists can perform all-on-4 dental implants, Hollywood smile, dental crowns and veneers, teeth whitening, root canal treatments, and fillings.
Some signs, such as tooth decay, pain, discomfort, bleeding gums, discoloration, and sensitivity, indicate that the individual needs a specific type of dental treatment. So, if you are experiencing dental issues or concerns, scheduling an
Dr. Bayraktar is dedicated to delivering customized treatment to every individual she treats. She firmly believes that each patient deserves exceptional care and consideration. As a result, Dr. Bayraktar consistently endeavors to fulfill her patients' requirements and objectives, fostering confidence in their smiles. With a meticulous approach and extensive expertise, Dr. Bayraktar remains up-to-date with the latest advancements in cosmetic dentistry techniques. By blending her proficiency with cutting-edge technology, she ensures that her patients achieve optimal results.
Published by MCAN HEALTH
Publish:
Update: