About MCAN Health
MCAN Health is a medical travel company based in Istanbul – Turkey with a global presence in the United Kingdom and Spain.
Since 2015, MCAN Health has been providing hair transplantation, plastic surgery, weight loss surgeries, dental treatment, in-vitro fertilization (IVF), and eye surgery in Istanbul with its carefully selected and regularly evaluated contracted surgeons at internationally accredited hospitals. Up until today, MCAN Health had patients from diverse ethnic backgrounds who chose to travel to Turkey from different corners of the world to have their desired treatments.
MCAN Health's mission; providing excellent and exceptional medical journey experience to its global patients with affordable prices and its motto "beauty for everyone" is at the core of MCAN Health's growth.
In line with its motto and mission, MCAN Health is strongly committed to work for the best interest of its patients. From carefully choosing and regularly evaluating the performance of the surgeons to providing care to and treating its patients as a member of the family, and listening to and valuing the feedback of its patients, MCAN Health always puts patients' well-being and satisfaction above anything else.
The milestones of MCAN Health reflect the results and success of MCAN Health's patient-centric approach as well as MCAN Health's leading position in the medical travel coordination field.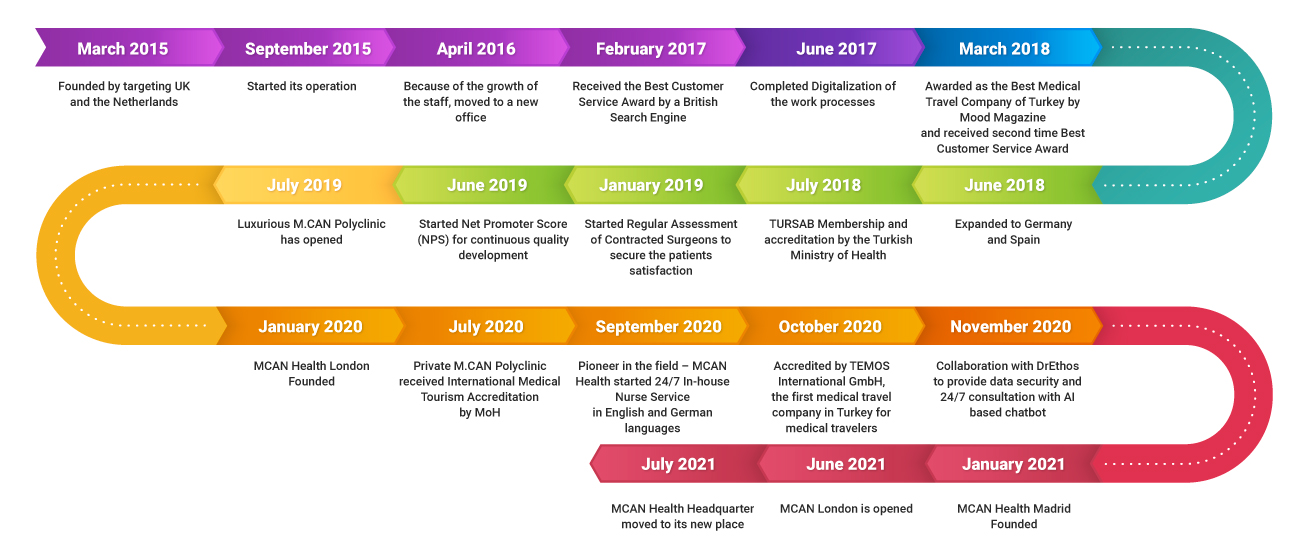 MCAN Health is proud to be the pioneer in the industry; being one and only medical travel company offering an in-house nurse service to its patients, having offices in London and Madrid, offering Artificial Intelligence (AI)-based virtual consultation that ensures privacy, data protection, and efficiency for its patients are among the many pioneering examples of MCAN Health in the field.
MCAN Health is also exemplary thanks to its commitment to social causes such as the protection of the environment and giving back to the community. MCAN Health leaves zero carbon footprint by using electric cars for its patients transfers from the airport to the hotel and hospital. And since 2018, MCAN Health has been supporting bright medical students financially who otherwise will not be able to do internships abroad. Each and every MCAN Health patient contributes to these causes and together make the world a better place to live in.