About MCAN Health
MCAN Health, a medical travel company based in Istanbul, Turkey, with a global presence in the United Kingdom, has been offering a wide range of services since 2015. Specializing in hair transplantation, dental treatments, plastic surgery, weight loss surgeries, in-vitro fertilization (IVF), eye surgery MCAN Health has become a reliable choice for patients from diverse backgrounds worldwide.
The treatments are provided by carefully selected and regularly evaluated contracted surgeons at internationally accredited hospitals and in a contracted luxurious clinic in Istanbul.
MCAN Health is motivated by a desire to provide world-wide patients with excellent medical journey experiences, living up to its motto, "beauty for everyone." From cautious surgeon selection to treating patients like family and appreciating their feedback, its commitment to patients' well-being is visible throughout all of their offerings. The NPS survey's amazing 8.8 score demonstrates MCAN Health's dedication to offering exceptional customer service.
A number of milestones have been achieved as a result of MCAN Health's outstanding patient-centric strategy, firmly establishing their position as the pioneer in medical travel coordination.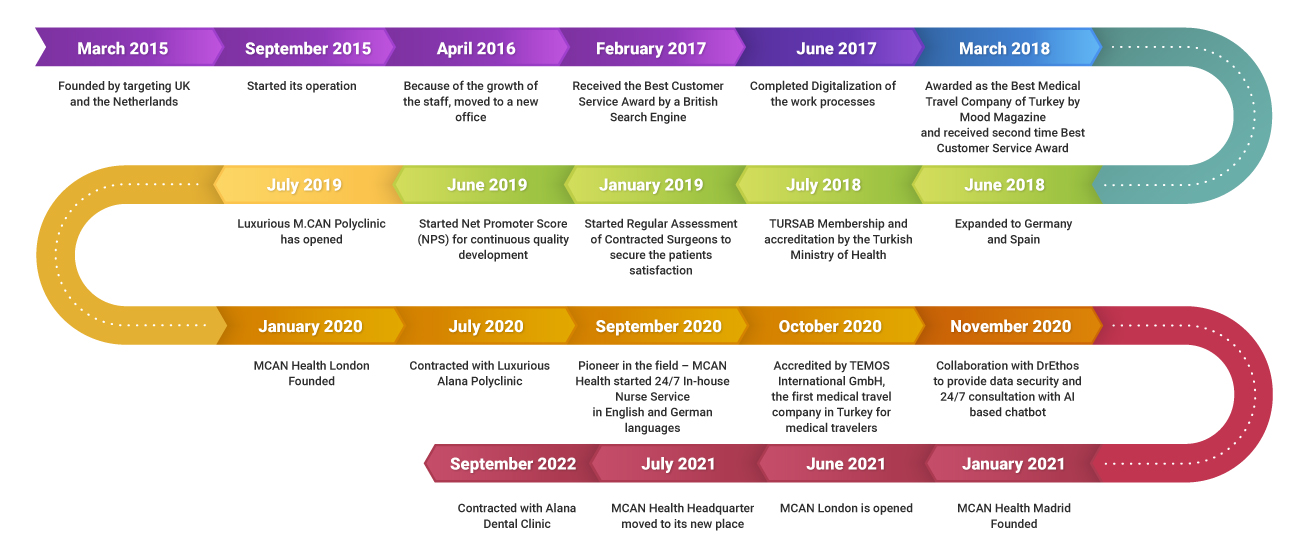 Reflecting the Pioneering Spirit: Always a Step Ahead
Setting new bar standards for excellence, MCAN Health is recognized as a true innovator in the field. We demonstrate our dedication to providing patients with the best possible care as the only medical travel company offering an exclusive in-house nursing service, with a office in London. Our AI-driven virtual consultations, which embrace cutting-edge technology, provide unmatched privacy, data protection, and efficiency, further establishing MCAN Health's position as a leader in the industry.
0% Carbon Footprint, 100% Environment Friendly
MCAN Health is committed to being sensitive to societal concerns like environmental issues. Therefore, our company chooses to use hybrid cars for all of our patients' transfers from the airport to the hotel and hospital. We want to set an example regarding our concern for reducing toxic wastes and other pollutants. Earth is humans' only home, so we should protect it at all costs.
Empowering the Future of Healthcare
Since 2018, MCAN Health has been providing financial assistance to talented medical students who would not otherwise be able to complete internships overseas. This initiative fills us with immense pride as we actively contribute to shaping the future of healthcare. We are grateful to our esteemed patients, as their choice to trust MCAN Health plays a vital role in making these scholarships possible. By choosing MCAN Health, you not only benefit from exceptional medical care but also become a part of a larger mission to empower and uplift aspiring doctors.
Celebrating Diversity, Empowering Community, and Embracing a Shared Vision for a Harmonious Future
MCAN Health genuinely cherishes diversity and cultivates an environment that empowers each individual by valuing and respecting their unique characteristics, which may include age, gender, ethnicity, religion, disability, sexual orientation, level of education, and origin.
We understand the value of accepting and embracing our differences in our quest for progress and betterment, since doing so helps us come up with innovative concepts and gain a better understanding of the world we live in. Together, we construct an atmosphere of acceptance and empowerment where everyone's individuality is valued and their potential is realized, resulting in a better and more peaceful future for all.