Nose Job Turkey,

Rhinoplasty Cost 2022

Operation | Type of Noses | Structure of the Nose | Cost | Benefits | Results | Recovery | Reviews | FAQs

Reviewed and Approved by Prof. Dr. Alhan



A rhinoplasty is a surgical procedure whose objective is reshaping the nose structure and softer tissues of the patient's nose. A nose job in Turkey may be performed for aesthetic or beauty reasons, or for complications caused by breathing shortages. In this case a septorhinoplasty is the preferred nose surgery method.
What is a Nose Job?
Rhinoplasty surgery or nose reshaping is performed by combining a high-tech surgical procedure with attentive after-care services. A nose job Turkey is planned following a thoughtful medical strategy, taking into consideration every patient's special requirements to achieve the best rhinoplasty Turkey results.
Nose Job in Turkey is one of the most popular surgeries among patients, commonly chosen to reshape nose defects such as deviated septum or to perform a nose reduction. People willing to achieve a more graceful facial harmony opt for a rhinoplasty Istanbul as the best cost-effective and high-quality service worldwide.
Rhinoplasty in Turkey has become increasingly popular among international patients because of its world-class rhinoplasty surgeons and medical facilities. Having a nose job surgery in Turkey will result in a more affordable price and the best possible nose reshaping, whether it be a nose lift or nose tip surgery in Turkey to correct a droopy nose, to fix a curved nose shape, or a nose hump, big nostrils or wide nose wings. Nose surgery in Turkey is usually performed in less than 2 hours under general anesthesia.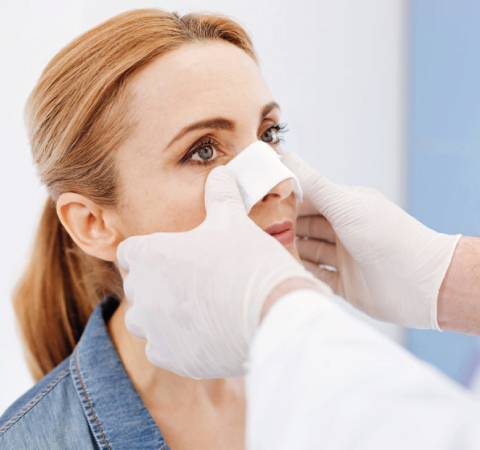 What is a Septorhinoplasty?
If you suffer from dry mouth syndrome, sleep apnea (snoring), and/or experience breathing difficulties, you might be looking for a septorhinoplasty. A septorhinoplasty is a kind of nose job Turkey operation whose objective is to perform a deep nose reshaping, both to fix the nasal shape (rhinoplasty) and the nasal septum (hence the name septorhinoplasty).
The nasal septum is the tissue separating your nose in two halves. An atypical nasal septum is the most common underlying cause behind breath shortages, dry mouth syndromes and/or snoring. For example, a deviated septum will prevent air flow from smoothly travelling through the nasal conduct. Such a deviation might be genetic or it might have been caused by trauma or injury. Septorhinoplasty in Turkey is also performed to fix a disfigured nose causing breathing difficulties.
A septorhinoplasty can both improve the aesthetic appearance of a patient's nose while correcting health problems. It is also the most recommended treatment for a surgical revision, in order to correct former nose surgery and perform a nose cartilage treatment.
Type of Noses
The nose is so central in our face that our brains erase it so it does not obstruct our vision. Even the slightest nose reshaping can radically alter facial appearance. It is all about balance, proportion and harmony. What that means is that, depending on your facial structure, and the shape of your nose, you might want different corrections.
Structure of the Nose
The Bridge
The nose bridge is the central and, as such, the most important part of the nose. All other nasal parts either converge into or out of it, such as the nostrils and the nasal canals. The general well functioning of the nose depends on it.
The Tip
The tip of the nose is one of the most popular parts chosen for nose reconstruction. Its angle and shape can have a significant impact in changing a person's appearance. It is the part that sticks out the most from the face, and so closer to our viewers, it often serves as a focal point.
The Nostrils
The nostrils are the doors through which air enters the nasal canals. Nostrils are fundamental, in so far as the air flow entering the nasal cavity allows us to breathe.
Different Nose Shapes
Achieving the desired results is crucial for our surgeons and patients alike. A close patient-surgeon collaboration is required to clearly establish the best surgical plan and discuss the different possibilities and expectations of a Rhinoplasty Istanbul.
Our surgeons will share their knowledge about nasal symmetry and suggest nostril and nose tip restructuring that will fit your facial structure and give you a natural look. The best nose surgery Turkey can be achieved by changing the symmetry of your nose, straightening your nose, reducing nasal openings and/or changing the size of your nose.
Techniques of Rhinoplasty and Septorhinoplasty in Turkey
A personalized nose surgery Turkey is designed by MCAN rhinoplasty surgeons to meet each individual's needs and wants. A medical consultation will be carried out online and in-person to establish the most appropriate nose job technique according to each patient. Three main rhinoplasty methods are performed depending on the patient's medical condition:
Closed Rhinoplasty
A closed rhinoplasty has the amazing advantage of not leaving any scars after the nose surgery. This makes it the preferred nose job technique by rhinoplasty surgeons and patients alike. Its aim is aesthetic, its recovery smooth and its results fantastic.
Open Rhinoplasty
On top of the internal and non-visible incisions performed during closed rhinoplasty in Turkey, open rhinoplasty also operates external incisions over the tissue dividing the nostrils. This allows the surgeon to obtain a clearer view of the internal nasal structure, which allows for a more accurate nasal reshaping.
Rhino-Septoplasty
A rhino-septoplasty is performed to correct both the appearance and the functioning of the nasal apparatus. This surgical method is operated by making small incisions inside the nasal cavity, allowing to change the symmetry of the nose, to straighten the nose and to improve air flow.
Best Rhinoplasty Turkey with MCAN
One of the most common regrets we hear our patients express after their operation is: 'why didn't I do this before?' The confidence boost they experience after a rhinoplasty in Turkey can be truly life-changing. Thousands of patients from Europe and beyond come to get a nose job in Turkey and return home with deep satisfaction. Our affordable nose job Turkey price further augments their feeling of reward.
The service could not be better accomplished: patients get picked up at the airport and driven to the best hotels and hospitals for nose surgery Turkey. You will be assisted at all times by our surgeons, nurses and/or case managers even after you leave Istanbul and return back home, providing constant follow-up services and availability upon request. We will be happy to see your jaw-dropping Turkey nose job before and after pictures!
Best Rhinoplasty Surgeon in Turkey
MCAN Health works with recognised doctors in the best hospitals in the country. Our surgeons are meticulously selected according to their medical experience, international accreditations, their quality and their success rate.
MCAN doctors are also certified by medical institutions of global prestige, such as ISPAS and EBOPRAS .
According to Prof. Dr. Alhan , "a rhinoplasty can be performed as long as the patient has no chronic illnesses or experiences allergic reactions to anesthesia."
Op. Dr. Habib stresses on the importance of after-care procedures to achieve the best possible results: "wearing the bandages, drinking a lot of water, doing daily exercises and eating correctly will make all the difference."
MCAN Health's surgeons deliver nose job Istanbul operations with world-class results at an affordable nose job cost Turkey. They will assist you from the consultation to the operation stage and post-operatory follow-up. They will establish the best surgical plan for your individual needs, and will remain at your disposal after you return back home.
Nose Job Turkey Price 2022
The total nose job Turkey price varies according to the patient's needs and medical condition. For this reason, it is not possible to establish a fixed Rhinoplasty cost Turkey without a prior consultation with our surgeons. To give a rough estimate, the average Turkey nose job price often halvens their European counterparts, including flights, 4-5 star hotels, transportation, food and follow-up services.
The type of rhinoplasty required is another important factor determining the rhinoplasty cost in Turkey. For example, a normal rhinoplasty is cheaper than a septorhinoplasty. Both can be found in our affordable Turkey Rhinoplasty package. Istanbul is one of the most attractive medical tourism destinations thanks to its experienced medical staff, the high number of operations performed and government subsidies allowing for a low nose job Turkey price.
The Turkey nose job price will be worth every cent with the best rhinoplasty surgeon in Turkey. Rather than asking how much is the Turkey nose job price, ask yourself: how much does my personal well being cost? To know your specific rhinoplasty cost Turkey, contact our online specialist for free and receive the help of one of our medical consultants.
Get a personalized treatment plan today and find out all about your nose job cost Turkey.
Benefits of Nose Surgery in Turkey with MCAN Health
MCAN Health proudly offers the best rhinoplasty Turkey. Our confidence comes from having changed the life of innumerable other patients.
With MCAN Health you will have:
Complete satisfaction with your overall facial appearance
Improved breathing
A more comfortable sleep thanks to wider nostrils
Greater self-esteem
A more beautiful face from every possible angle
All for the cheapest nose job cost Turkey
Nose Surgery Results in Turkey
Patients will need to wait for up to a whole year to see the final nose surgery results. This does not mean that a change will not be immediately apparent after a nose job in Turkey. It simply means that nose tissue will continue adapting to the new shape of the nasal bone, and new slight changes will be noticeable in the following months. In the end, patients will have a smaller and more symmetrical nose, any nose humps will be eliminated upon request, and Turkey nose job before and after pictures will show the full extent of your facial transformation.
Overall benefits include:
A more aesthetic facial harmony
Increased confidence and self-esteem
Better breathing capacity
Our great nose job Turkey price
A nose surgery Turkey can be truly life-changing, especially for septorhinoplasty patients. You should wait at least for a month after your rhinoplasty Istanbul surgery to see clear nose job results. As months go by, your facial appearance will continue to improve and your Turkey nose job before and after photos will look increasingly better.
Nose Operation Recovery in Turkey
A rhinoplasty or nose job operation is a serious surgical procedure requiring careful medical follow-up and a prolonged period of resting time (generally six days). Your recovery will be followed by our surgeons and nurses at the hospital, at your hotel, and even after you leave Istanbul.
Right after your nose job surgery in Turkey, you will wake up in a hospital room with bandages covering your face and a nasal splint with a tampon inside your nose, depending on the rhinoplasty technique employed for your operation. The tampon will be taken out two days after your operation, whereas the nose splint will be removed before your departure, during your last medical check-up with your operating surgeon. The splint helps keep the tissue in place and protects the nose while facilitating the healing process.
Mild pain is commonly experienced on the first 2-3 days after a nose surgery. The early recovery phase is also characterized by varying degrees of bruising and swelling that will diminish over the first month. However, it will take approximately a whole year for a full recovery. For more detailed information, you may want to read our rhinoplasty guide from consultation to recovery.
Rhinoplasty Overview
Operation

Rhinoplasty / Septorhinoplasty (Nose Job)

Duration

1-2 hours

Stay

1-2 night at the hospital, 6 at the hotel

Type of Anesthesia

General

Recovery Time

7-10 days without working

Results

Beautiful appearance, easier breathing

Side Effects

Swelling, bleeding, mild pain, loss of smell

Scarring

Very minimal or invisible

Pain

Mild

Sports

4 weeks after the surgery (at least)

What to Bring

Comfortable clothes (the rest will be provided)

Possible Combined Surgeries
All Inclusive Turkey Rhinoplasty Package
At MCAN Health, we make sure your stay in Istanbul runs as smoothly and comfortably as possible. That is why we have established the best Turkey Rhinoplasty package for our patients. Our nose job in Turkey packages include:
Best Rhinoplasty Surgeon in Turkey
To become an MCAN Health contracted surgeon, candidates must meet very strict criteria: a very high success rate, national and international accreditations (EBOPRAS, ISAPS and/or ASAPS), and the authorship of prestigious medical publications. Notwithstanding this, MCAN Health Surgeons are further evaluated based on their complication ratio and satisfaction rate. This is how we perform the best rhinoplasty in Turkey.
Stay at the Best National Hospitals
Patients operated at Türkiye Hastanesi, Cerrahi Hastanesi or Derindere Hastanesi are operated at the best facilities in the whole country. After discharge, back in the hotel, our nurses will make sure the recovery process shows no complications and will remain at your complete disposal upon request.
Accommodation at ⅘ Star Hotels
We offer special prices to accommodate our patients at some of the most luxurious hotels in the centre of Istanbul. Enjoy the most amazing views of the city before and after your rhinoplasty surgery.
All Istanbul Transfers Included
We pick our patients up at the Airport with electric VIP cars and drive them to the hotel. We then drive them to the hospital and back to the hotel after being discharged. On the return day, we accompany them to the airport and say goodbye.
Medical Garments
After a nose job in Turkey patients need a special garment to be worn at all times. This consists in a bandage covering the face, a nasal splint and a tampon inside your nose.
Post-Operatory Follow-Up
At MCAN, we provide a full 12-month post-operatory follow-up service and remain at your complete disposal even after you return back home.
Rhinoplasty & Septorhinoplasty Turkey Reviews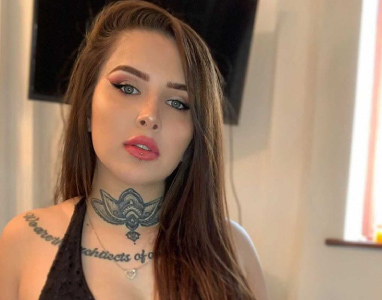 The surgery with MCAN has been the best thing I have ever done and honestly I love Mcan health so much! I had rhinoplasty, bichectomy and fat transfer to my face. By far the best money I've ever spent, I would love for my current pictures to be used, hopefully it will inspire more people to go for it and to get their confidence, love you all so much and hopefully I'll be back soon!

Layna from United Kingdom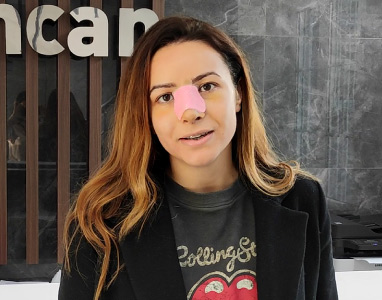 I came from Romania for my secondary nose job Turkey with MCAN Health. The services are very nice. People are very open and very nice. The surgery was a success. The doctor explained everything to me. In the beginning we had a discussion of what the results should be and I felt really comfortable. I am confident with my results. I think it went very well, everything is safe and sound.

Eunice from Romania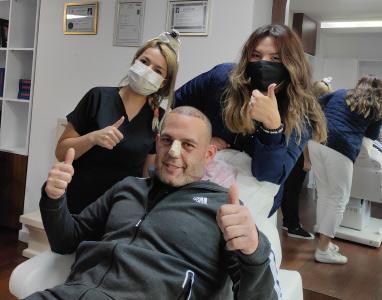 I had my hair transplant, rhinoplasty, and veneer treatment during my stay. I couldn't ask for better service quality. I am quite satisfied with MCAN Health in all my three treatments, my experience was beyond amazing!

Juan from Switzerland
Rhinoplasty in Turkey with MCAN Health
If you are not happy with the size of your nose, whether because of its natural shape, because of an accident, or because you experience breathing problems, we have the solution for you: the best nose job Turkey. Because of its central position, the nose is the most defining feature of the human face. Being unhappy with the shape or size of your nose can cause low self-esteem and emotional problems. Thanks to our Rhinoplasty Istanbul package, MCAN Health will help you to boost your confidence and have the face profile you always dreamed of.
Nose Job in Turkey FAQ
Can you fix breathing problems by rhinoplasty?
Yes. MCAN Health offers nose surgery for both cosmetic and medical reasons. With the Septorhinoplasty technique operated by MCAN Health nose surgeons, we can meet both your esthetic and medical expectations. You can have a nose harmonious with your face and get rid of breathing problems at the same time.
Am I going to have visible scars after nose reshaping surgery?
No. Thanks to the latest technology employed by MCAN Health's rhinoplasty surgeons, you will not have any visible scars after your nose job.
What can I expect after a rhinoplasty Istanbul operation?
You might have to wait for up to a whole year to see the final rhinoplasty results of your nose job. Breathing might be slightly obstructed for a period of about 3 weeks after your operation. Swelling will completely disappear in approximately two months, the bulk of it will be gone after 1-2 weeks.
How soon after rhinoplasty Istanbul are the stitches removed?
A nose job is liable to be performed as long as nasal transformation is complete after puberty, approximately at the age of 16-18. A rhinoplasty might be exceptionally performed for younger patients suffering from a severe breathing dysfunction.
Does nose surgery affect the sense of smell?
No. On the contrary, a nose job offers a solution to people having breathing problems due to a nasal septum deviation.
What is ethnic rhinoplasty?
Ethnic rhinoplasty is a term used to describe a nose surgery performed on persons from a non-caucasion background: Asian, African and any other non-caucasian.
How to choose the best rhinoplasty Surgeon in Turkey?
When it comes to choosing the best rhinoplasty surgeon in Turkey, there are few things to look for. First thing is to choose the right medical travel company. You need to look for medical travel companies that are accredited by the Ministry of Health (MoH) in Turkey, and work with experienced and talented surgeons. MCAN Health provides the best nose job Turkey because of its prestigious plastic surgeons. MCAN Health is also accredited by MoH and it provides its patients with excellent customer service. You are in the right place for the best rhinoplasty in Turkey.
Does MCAN Health carry out ethnic rhinoplasty?
Yes. MCAN Health's internationally recognized surgeons have experience working abroad with people from different ethnic backgrounds. Therefore, they have a great deal of experience in ethnic rhinoplasty.
Do I need to take time off from work?
Yes. The length of your break depends on the type of work you do and the physical effort it requires. Usually, patients go back to work 1 week after the operation.
Can I have a nose piercing after nose surgery?
Yes, but not immediately after the nose surgery, you can have it sometime after the nose job (at least 1 year after).
Does MCAN Health perform nose surgery on men as well?
Yes. MCAN Health offers nose job treatment for both women and men thanks to its experienced surgeons.
Can I wear glasses after my nose surgery?
You should not put any pressure on your nose for a while after your nose job. We advise our patients not to wear sunglasses or glasses for a while.
I am planning to have a long haul journey right after my nose job, is it going to be OK?
No. We would not advise our patients to take a flight right after your nose job. As the pressure on the plane may have negative effects. But of course, you can travel some time after your nose job.
What if I sneeze after my nose job?
Sneezing is natural but you should not pressure or force your nose for a while after your nose surgery. If you feel like sneezing, try to do it not via your nose.