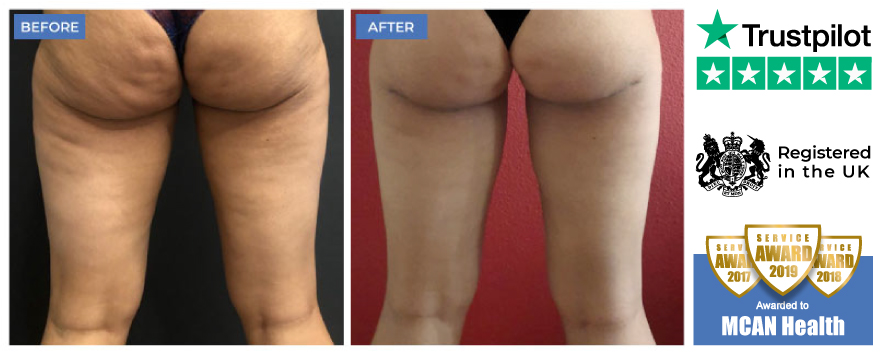 Thigh Lift in Turkey, Surgery Price and Procedure 2023
Operation | Benefits | Recovery | Cost | Overview | FAQs
Thigh lift Turkey is the best option for patients willing to tighten their skin and acquire the desired appearance. Choosing MCAN Health is choosing the best national surgeons at the most cost-effective thigh lift cost Turkey. All you have to do is:
Fill out the consultation form Our medical experts will contact you within 1 hour You will receive a treatment plan and quote

What is a Thigh Lift?
Thigh Lift, also known as thighplasty, is a surgical procedure aiming to improve the contour of the patient's legs by removing unwanted fat and excess skin on the inner and outer thighs.
Thigh Lift in Turkey is generally performed in combination with other plastic surgeries, such as an arm lift operation. The purpose of a thigh lift is to reduce loose and sagging skin on the thighs. It is the best solution for people who feel unsatisfied with the shape of their legs and would like to have a firmer and more attractive appearance.
Thigh Lift surgery Turkey is often chosen by patients who have lost their natural elasticity or have experienced a dramatic weight loss. If that is your case, it is normal to have excess skin on your thighs.
How is Thighplasty Performed?
Depending on the extent of the surgery, a thighplasty usually takes 2 to 3 hours. The operation is performed under general anaesthesia.
After the anaesthesia phase come the incisions. The type of incision most suitable for you is determined by your plastic surgeon considering your needs and expectations. After the incisions are performed, excess skin is removed, and, at the very end of the intervention, incisions are closed.
A Thigh Lift is an inpatient procedure. Thigh Lift Turkey patients generally need to stay at the hospital for one night. In some cases, patients may need to stay for a total of 3-4 nights in the hospital.
Types of Thigh Lift Surgery
There are different types of Thigh Lift in Turkey. MCAN Health contracted surgeons always choose the thigh lift technique that will best meet your expectations.
Inner Thighplasty Incision
An Inner Thigh Lift, also known as a Medial Thigh Lift, targets excess skin that cannot be eliminated through exercise and diet. This skin may have lost its elasticity due to aging or an extreme weight loss. The surgeon makes the incisions at the junction where the thigh meets the pubic area. By performing this incision, the surgeon can access the underlying tissue. A medial thigh lift is simple and it does not result in any major complications.
Outer Thigh Lift Incision
An Outer Thigh Lift is also called Lateral Thigh Lift. An outer thigh lift is a much more complicated operation, as the incisions are more extensive. This is so because it involves a greater skin removal than the former technique.
THIGH LIFT IN TURKEY
All-Inclusive Packages include operation fees, multilingual patient host, transfers and accommodation.
Who is the Right Candidate for Thigh Lift in Turkey?
You are the right candidate for Thigh Lift in Turkey if you:
Do not have any medical condition that would pre- vent you from having surgery
Have excess skin along the inner thigh region and/or the outer thigh
Are in your ideal weight and committed to maintaining your weight
Are realistic about your expectations
You want to enjoy excellent Thigh Lift cost Turkey prices.
Benefits of Thigh Lift in Turkey with MCAN Health
MCAN Health's contracted plastic surgeons are highly experienced in thigh lift surgery Turkey. With us, you will also have your treatment at a fully equipped hospital. Thanks to MCAN Health's excellent patient care ethics, you will feel safe and comfortable all along your stay. Plus you will:
Get rid of loose skin on your thighs
Not feel the urge to hide your legs anymore
Have smoother skin
Feel more self-confident and youthful
Thigh Lift Recovery
Patients should expect a recovery time of at least 1 week after the operation. Once this period is over, patients are generally able to return to their normal work routine. Physical exercise should be totally interrupted for at least 1 month, however. Final results will be visible approximately 3-6 months after surgery and incisions will heal until they become practically invisible. You may also want to read our aftercare instructions for thigh lift to access more detailed information.
How Much Does Thigh Lift Cost Turkey?
Thigh lift cost Turkey is much more affordable compared to UK, US or European prices. The cheaper cost is explained through government subsidies to the industry, as well as the cheaper labour costs and the cheaper value of the Turkish currency. Thigh lift cost Turkey also attracts more patients to Istanbul than to any other European city, which means that Turkish surgeons are also more experienced than their European colleagues. In order to establish your final thigh lift cost Turkey, we suggest you contact us to receive a personalised treatment plan and quote.
| Country | Cost |
| --- | --- |
| Turkey | 3.000€ to 4.000€, |
| United Kingdom | 7.000€- 11.000€ |
| United States | 7.000€ to13.000€. |
Thigh Lift in Turkey with MCAN Health
A thighplasty Turkey with MCAN Health offers a whole set of advantages. First and foremost, we should mention the quality of MCAN surgeons, certified by international medical institutions, such as ISAPS and EBOPRAS. MCAN Health operates its patients at the best medical facilities of the country, using avant-garde technology. Once the thighplasty Turkey operation is concluded, our MCAN nurses will take care of you and follow your recovery both at the hospital and at your hotel, once you are discharged. You will be assisted at all times and we will remain at your complete disposal even when you return back home.
Thigh Lift Turkey Overview
| | |
| --- | --- |
| Operation | Thigh Lift |
| Duration of the operation | 2 to 3 hours |
| Stay | 6 nights in the hotel |
| Type of Anesthesia | General |
| Recovery Time | Full recovery takes 12 months. After 1 – 2 weeks, you can go back to work and your daily routine |
| Side Results | Up to 6 months for the final result). |
| Side Effects | Temporary pain or numbness |
| Potential Complications (when performed incorrectly or by an inexperienced surgeon): | Bleeding, scarring. |
| Pain | Will be diminished with medication |
| Sports | None for at least 1 month after surgery |
| What to Bring | Comfortable clothes (the rest will be provided) |
| Possible Combined Surgeries | Liposuction |
Thigh Frequently Asked Questions
Can you walk after a thigh lift?
Yes, you can. It is advised to do short walks during the recovery period.
Will a thigh lift get rid of cellulite?
A thighplasty Turkey is a surgery aiming to remove excess skin. It does not specifically target cellulite, but it helps reduce the appearance of cellulite while tightening the skin.
What is a mini thigh lift?
A mini thigh lift is a great solution for patients who do not have a large amount of excess skin. It is performed along the upper part of the inner thigh.
Does a thigh lift leave scars?
It depends on the incision type and skin condition. But in time, scars mostly fade away.
How do you sleep after a thighplasty Turkey?
During the first three days after a thigh lift surgery, it is advised to sleep with pillows under your legs to keep them in an elevated position. You will get full after-care instructions from your plastic surgeon specifically for your unique needs.