Hair Transplant Turkey 2019: MCAN Health has so far provided the best hair transplant service to over 10,000 satisfied patients. We offer patients a top-notch service experience and treatment by qualified doctors and internationally accredited hospitals in Istanbul, Turkey. MCAN Health has also a contract with MCAN Clinic with their luxurious and hygienic environment. We bring together patients and experienced medical teams who has been performing hair transplantation for more than 10 years. We understand patients' needs well with the benefit of hindsight, and accordingly approach their needs and concerns. We use different methods such as FUE, DHI and Sapphire FUE, depending on the needs of our patients.
Turkey is the top destination for hair transplant treatment. It is due to the fact that hair transplantation practices in Turkey utilise state-of-the-art medical technologies. Furthermore, hair transplant in Turkey is relatively cheaper compared to other countries because of factors such as a lower labour cost, and the high number of active practices in this field of medical expertise. MCAN Health provided treatment for many international patients for Hair Transplant Turkey from countries ranging from the United Kingdom, the United States of America, Canada, New Zealand to Australia, Italy, Spain, Albania, the Netherlands among many others. 
We offer patients a variety of medical treatment packages according to their individual needs. No matter which package you choose, you will be provided with the maximum number of grafts that is medically and cosmetically suitable for your scalp. You will also be guaranteed that more than 80% of the transplanted hair will grow successfully. The 80% Regrowth is also a standard rate for a successful hair transplant that is defined by ISHRS (International Society of Hair Restoration Surgery).
Our all-inclusive packages include the treatment service itself, VIP transfer service to and from the airport and from the hotel to the clinic, accommodation at a 4-, or 5-star hotel, pre-operative tests, a care package with medication, lotions and hair transplant accessories such as a headband and neck pillow, patient hosts with multiple language fluency (English, German, Dutch, Spanish, Italian, French and Arabic), a regular follow-up procedure (on the following 15th day, and  3rd, 6th, and 12th months throughout the healing process). 
MCAN Health's Hair Transplant Package takes the service one step further while containing all the services mentioned above. With the Luxury Package, you will stay in a 5-star hotel for 3 days and you will be provided with a special breakfast and lunch with a good variety of options while enjoying your fresh fruit juices and iPad to be used at the operation day!
FREE CONSULTATION
Leave us your number and we will contact you within 1 hour.
Hair Transplant Journey in Turkey
How to Begin Your Journey?
First things first, you will need to fill the free consultation form and leave your contact details. Then, our case managers will be contacting you in no time.
For your treatment, MCAN Health case managers will ask for pictures of your head.
They will also ask a few questions about your medical status and medical history.
The doctors will provide you with your own individual treatment plan based on the head pictures, and your medical status.
You book the date of your hair transplant treatment, and we will arrange each and every detail for you.
For everything else, see the video above.
All you need to do is to spend 3 days in Istanbul for hair transplant with MCAN Health. You will be staying in Istanbul for 2 nights, and 3 days, and you will leave for your home with your new hair. You can go back to work after 3 days if your work does not involve any physical activity. Hair transplantation becomes more and more popular among men thanks to the short duration of the healing period alongside a painless procedure and affordable costs.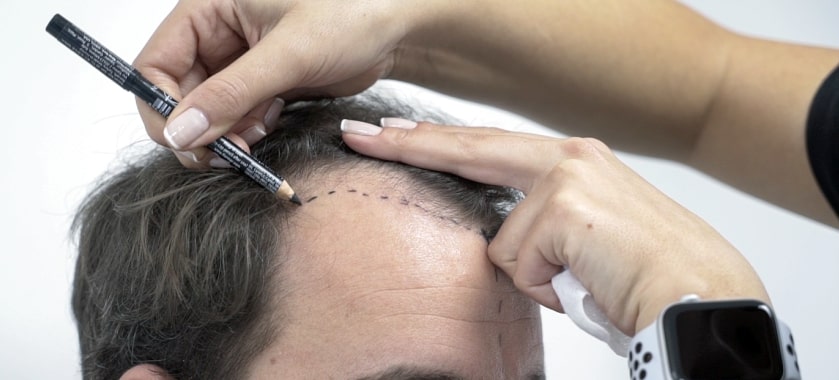 The cost of hair transplant in the United Kingdom, the United States of America, and Europe starts from €10,000. There is also a considerably long waiting period for the treatment in some countries. 
Prices for Hair Transplant in Turkey start from €1499 at trusted and accredited healthcare providers. The cost of hair transplant depends on various factors such as low or high labour costs in different countries. 
Visit our hair transplant cost page to get an exact idea about MCAN Health's Hair Transplant Packages.
We are running various special campaigns with discounts. Contact us now to learn about them and benefit from the discounts.
MCAN Health Hair Transplant Turkey Clinic Video
You will get a safe, hygienic and the best hair transplant in MCAN Clinic by the experienced medical team.
Hair Transplant Turkey Before and After
Swipe left and right to see hair transplant results.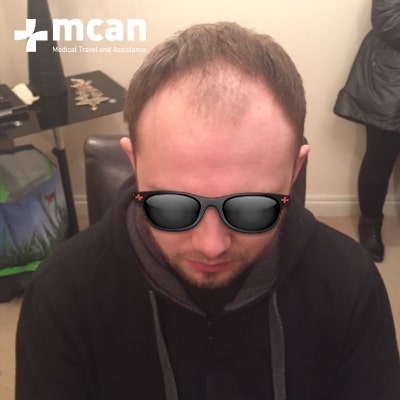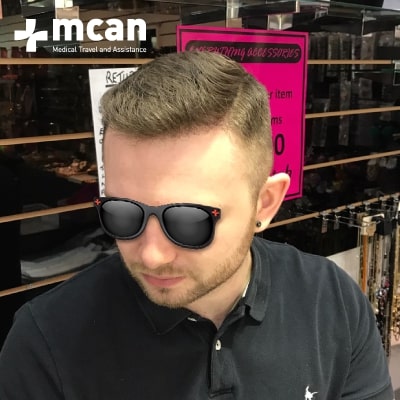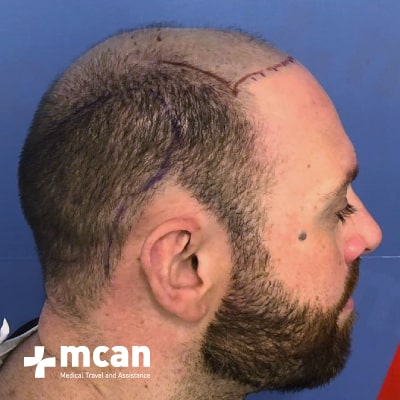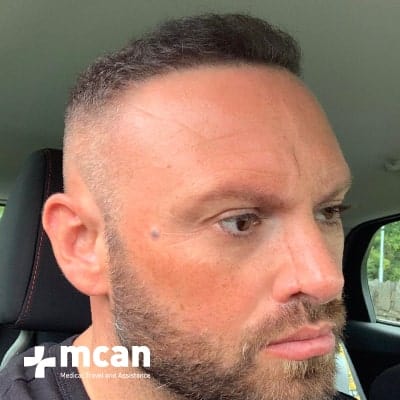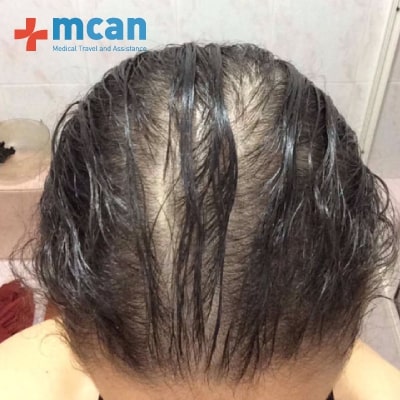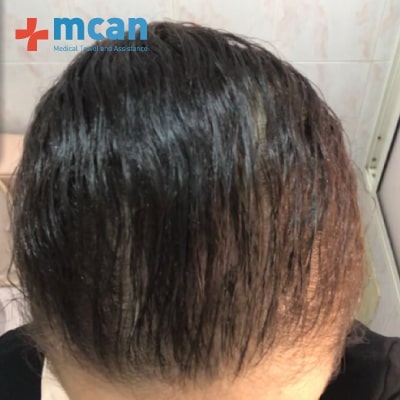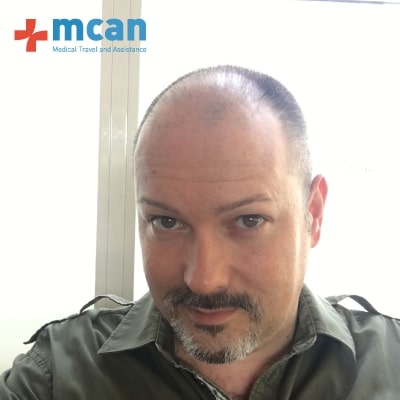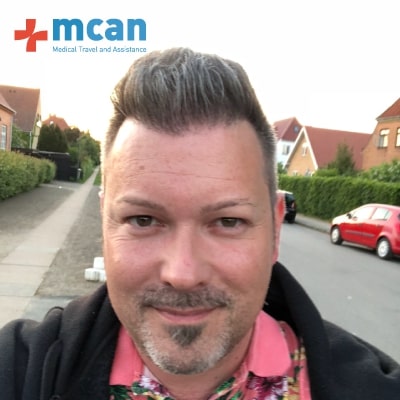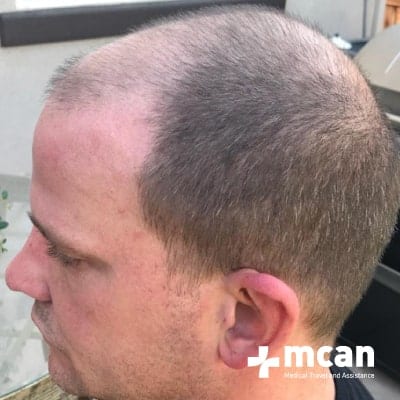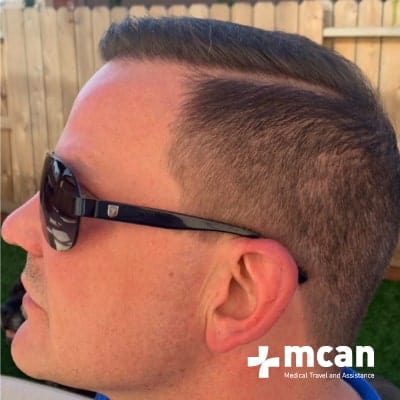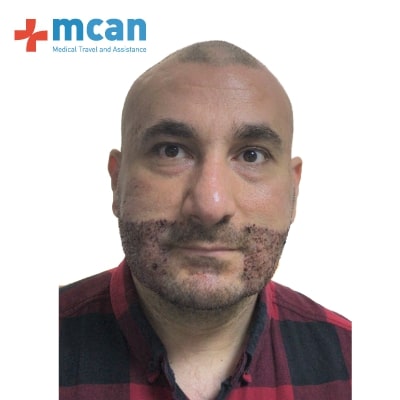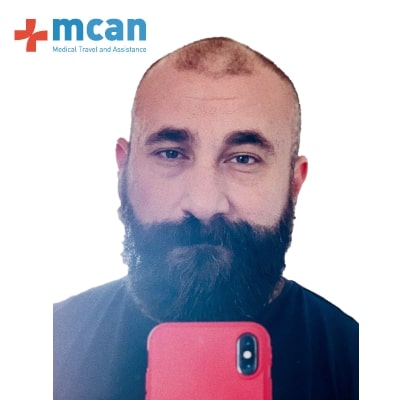 MCAN Hair Transplant Turkey Reviews
I wasnt sure what to expect having never looked into hair transplant let alone travelling to turkey to have it done. I can honestly say the experience couldnt have been any less stressful or professional. Drivers were on time always, always asked if i was doing ok, they really make it a care free environment. I will be recomending 100%, Thank you Mcan
Posted 3 days ago
The whole procedure went very smooth. All the clinic staff was very friendly and interested in offering the best service with excellent care. I will definetily recommend this clinic to all my friends in need. Really appreciate all the work these people did in the last 2 days.
Posted 4 days ago
Professional and friendly service from start to finish. The clinic was absolutely spotless and the team here were able to answer any questions or put to bed any concerns you may have. The procedure was pretty painless, and I even fell to sleep during the actual transplatation itself. low value with a high service, couldnt recommend enough. Thank you MCAN!
Posted 1 week ago
I had great experience from start to finish with Mcan. Information provided for all stages is very helpful and the procedure itself was amazing with little to no pain at all. Anyone looking into the procedure I would recommend having a look at Mcan.
Posted 6 days ago
A really great experience all around. The procedure was professional, the facility was clean and i spoke with a lot of other patients that had great results as well. I chose the Comfort-in anaestheic which I'm glad I did. The attention to detail really made me feel much more at ease.
Posted 2 weeks ago
From arriving at the airport to the hotel eveything went great and then the next morning i was picked up on time then taken to the clinik,Once i arrived the staff were really friendly and looked after me throught the whole process ,The operation went well and pain free which was great and the aftercare package will get me the best results,My friend used Mcan and he had the same experiance as myself.
Posted 1 week ago
I have had fue hair transplant treatment at mcan, i am very pleased with everything from airport pick up, transfers to hospital and also the treatment. I would highly recommend mcan to anyone else who would like any treatment they provide. The staff are very helpful and friendly and always answered any questions i had very prompt. Thank you mcan
Posted 5 days ago
❮
❯
How Hair Transplant is Done?
MCAN Health provides safe outpatient treatments with the use of the latest medical technologies. Hair transplant takes from 6 to 8 hours under local anaesthesia. This hair transplantation procedure is pain-free to a degree.
In fact, patients can listen to music, or watch a movie, and even fall asleep during the operation. However, there is a tolerable presence of a minor pain during the anesthetic injection. 
For those patients who do not prefer needles, there is a needle-free option with a sedative chemical applied to the scalp via high pressured air. You will absolutely feel nothing through this option. The entire procedure is explained in detail in FUE Hair Transplant Section. There, you can find all the information on hair transplant. 
There are direct flights from 12 cities from the United Kingdom to Istanbul: London, Edinburgh, Birmingham, Manchester, Leeds, Dublin and Cork.
The cost of the tickets for a round trip to Istanbul is around €175 – €220. The prices get even cheaper if you get your flight ticket several months earlier than your visit.
The length of flight is approximately 2 – 4 hours.
Getting a visa from Turkey is very easy.
Just visit Electronic Visa Application System, follow the steps and you will have your visa ready at the very same day.
Hair loss is a natural condition that may affect anyone in certain periods in life regardless of age, gender, or sex. Hair loss can be caused by different factors such as stress, hormonal disorder. Besides, it can be a result of genetics. Furthermore, hair loss can be genetic, seasonal, diet-related, or a side effect of certain medicines. While some types of hair loss are permanent, others can be temporary.
MCAN Health's first principle is to understand the type of your hair loss. If it seems to be temporary, it is preferred that your hair loss progress is observed, and monitored during a waiting period. If it is necessary for you to have a hair transplant treatment, MCAN Health offers the best solution for your individual hair loss. The most important factor in hair transplant is the correct diagnosis by which the present and future reasons for the hair loss should be understood perfectly.
We have created a Graft Calculator tool for all hair transplant candidates. You can get an idea of how many grafts you may need in 3 simple steps.
Please read the following article to see if you are a fitting candidate for hair transplantation: 5 Things That Makes You The Perfect Hair Transplant Candidate.
More Information on Hair Transplantation
What is hair transplantation?
Hair Transplantation is an outpatient surgical treatment in which hair is transplanted from one part of the scalp, the donor site, to another part of the scalp, the recipient site.
In other words, it is a process of Hair Redistribution.
Usually, the donor site is located on the back of the head, between the two ears. The recipient site is that part where the scalp is bald or where the hairline is receding, the areas that have thinning hair.
The hair at the donor site at the back of the head is immune to DHT hormone that causes hair loss. That is why the hair transplanted from that spot will never fall out again.
Methods of Hair Transplant
In a hair transplant treatment, there are two different methodological options for graft extraction: Strip Harvesting Method, and Follicular Unit Extraction (FUE). Since the strip harvesting method leaves a scar, our contracted surgeons extracts the grafts only via Follicular Unit Extraction (FUE) for better results and no scars whatsoever. The canal opening and implantation may vary. But, all of them can be classified as different methods under FUE. Direct Hair Implantation (DHI), and Sapphire Hair Transplant are two different types of hair transplantation. Your MCAN Health contracted surgeon will be deciding the one that suits you the best.
MCAN Health contracted surgeons do also perform successful eyebrow, moustache and beard operations in MCAN Clinic.
Latest Hair Transplant Posts from Our Blog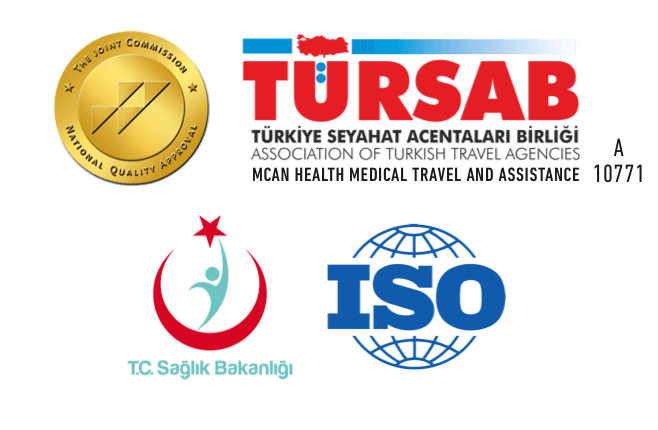 MCAN Health is devoted to the maximum patient satisfaction. We assure that patients get the most out of their medical service experiences, and treatments. In the aftermath of their operations, MCAN Health does regularly follow up patients' progress, and results. In the first, third, sixth, and finally the twelfth months, patients are contacted by MCAN Health Customer Relations Department and its specialized personnel. Patients are reassured and guided according to their immediate needs. Although it is a very rare condition, a free of charge revisionary treatment is offered to our patients according to expert views in case they encounter individual medical complications that need revision.