Are you tired of the extra "burden" on your shoulders? No need to worry anymore! MCAN Health is here to help you with Breast Reduction in Turkey, the size of your breasts can be reduced dramatically and you can have a younger look with no more backache. You only need to follow these steps:
1. Request a free consultation by filling the form.
2. We will contact you within 1 hour.
3. Get a free personalized treatment plan and quote.
FREE CONSULTATION
Leave us your number and we will get to you soon back.
What is Breast Reduction?
Breast reduction also called reduction mammoplasty is a type of plastic surgery aiming to reduce the size, volume and weight of the breasts. Breast size varies from one woman to another. It is determined by hormones, genes, and weight of a woman. Disproportionate breast size to body may lead to both physical and psychological problems. Large and droopy breasts may cause physical problems including chronic backache, neck pain, poor posture, skin irritation, over sweating as well as emotional problems such as low self-esteem, being unhappy about the look of breasts.
Breast reduction surgery offers a solution to women who are unhappy and uncomfortable about the disproportionate size of breasts by lifting and making them smaller. Women have breast reduction surgery to physically feel more comfortable, to enhance the look of their breasts and to boost self-esteem and femininity. Every year almost 700.000 women worldwide get breast reduction operation to decrease the disproportionate size and to uplift their breasts. Breast reduction is among the most commonly demanded type of cosmetic surgeries carried out worldwide.
Breast Reduction in Turkey with MCAN Health
MCAN Health offers you a breast reduction surgery:
With lower costs
At JCI accredited hospitals
Performed by highly talented, English speaking contracted breast reduction surgeons
With natural looking results
With a patient-centric approach
Breast Reduction in Turkey Starting From £2150
All-Inclusive Packages include operation fees, multilingual patient host, transfers and accommodation
Breast Reduction Cost in Turkey
In the United Kingdom and Europe, breast reduction prices are between £6500 and £8000. Moreover, this only covers the surgery itself as consultation and aftercare are extra expenses.
Breast Reduction in Turkey is starting from £2050. While it is the treatment only price for the mammoplasty, it includes the consultation, the surgery and the aftercare. There is also the all-inclusive package option that includes all you need from the accommodation, transfers, patient host and many more features.
The gap between the prices of Turkey and the United Kingdom is caused by the difference in labour cost and operational fees. In Turkey, the labour cost of the surgeon and the medical team is lower than it is in European countries, so is the operational fees which cover the hospital related expenses. This difference leads to a great advantage to doctor to perform more operations and gain more experience. With their experience on variety of cases from all around the world, MCAN Health contracted plastic surgeons are very well-trained to perform plastic surgeries with great results.
Breast Reduction for Men: Gynecomastia in Turkey
Breast reduction is also preferred by men who have enlarged breasts condition which is called gynecomastia. Obesity, genes, hormone imbalance, too much alcohol consumption, liver cancer or failure, and excessive weight loss without sports can be among the reasons of gynecomastia. Breast reduction surgery is used to flatten the breasts of a man who feels discomfort due to his enlarged breasts.
For men, breast reduction can either be performed in the same method or with liposuction. The unique case of the patient determines the treatment plan.
Mammoplasty in Turkey with MCAN Health
It is time to enhance your appearance, reshape your breasts, lift your self-confidence and feel more attractive with affordable prices!
Breast Reduction Turkey Before After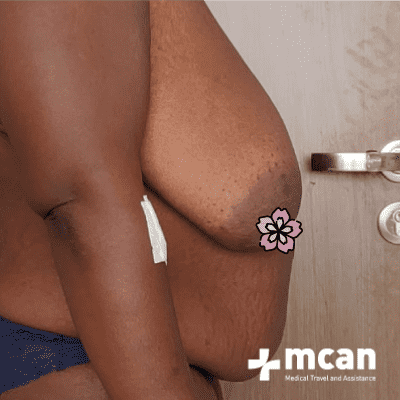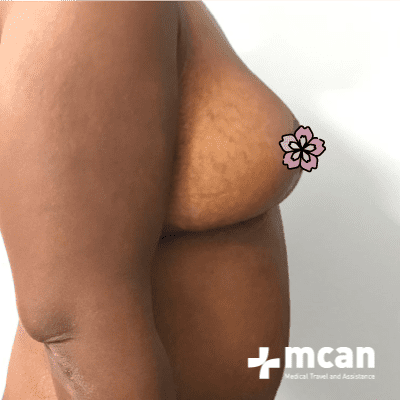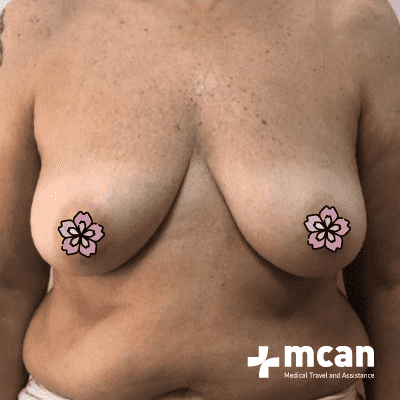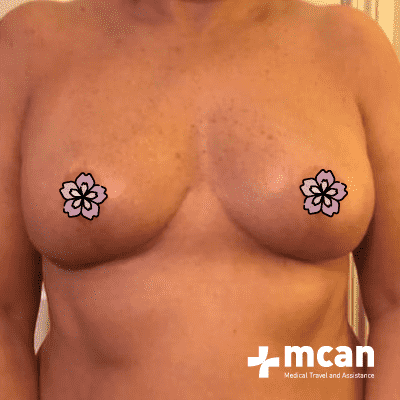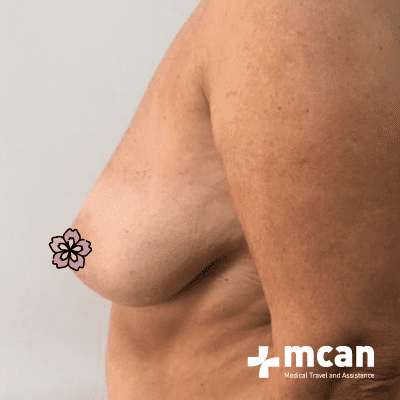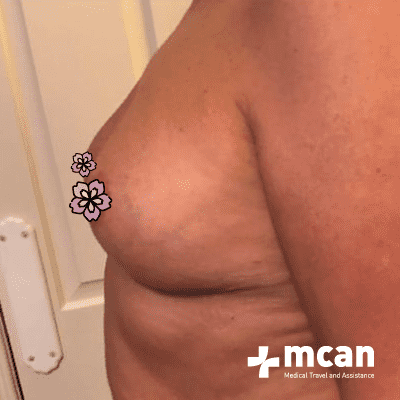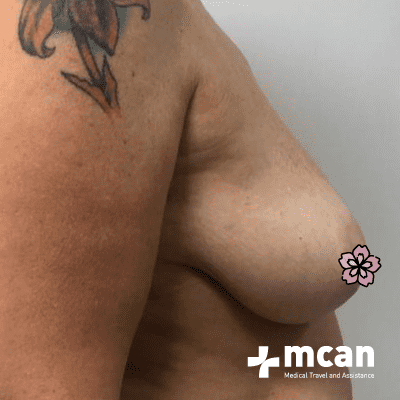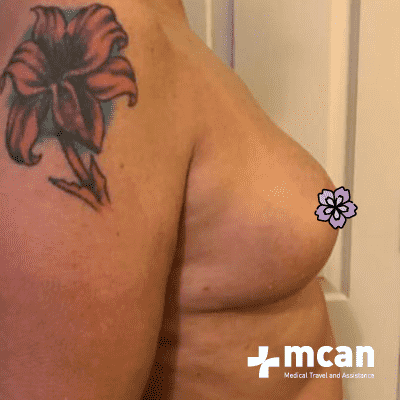 MCAN Health Breast Reduction Turkey Reviews
I choose Mcan health after allot of research online & I'm so glad I did. I'm very happy with my results I had tummy tuck, 3 area lipo, muscle repair and breast uplift with 295 g implants. When arriving in Istanbul I was very nervous, however after meeting the team and Dr my nerves was put at ease. I couldn't be happier with how I look now. Thankyou mcan for a delightful experience and I will be back for my rhinoplasty in the next few years!
Posted 2 days ago
The staff at MCAN upon arrival to Istanbul were very organised and reassuring. They planned my whole stay to the last detail and kept in contact with me at all times. Doctor was very professional and skilled. My rhinoplasty procedure went amazingly well and the hospital facilities were very modern and clean. All in all, a professional, high quality service at an affordable price!
Posted 2 days ago
The admin staff are quick to reply and very helpful, the drivers are gentlemen, everything was straight-forward and easy. The hospital duration was a very pleasant experience with constant monitoring, the surgeon was lovely (and handsome!) and since returning home I have been advised I have 'perfect' breasts, thanks to him! I would definitely recommend this company
Posted 5 days ago
The care given in making me feel at ease and the general feeling being good around the procedure as a whole was outstanding and the nurses and staff made everything less stressful
Posted 1 week ago
This was my second procedure and have to say that I'm pretty happy with how it went. The doctor explained me exactly what can be achieved given my current condition, and made sure that the assistants carry out their tasks efficiently. Thanks again team and I'll make sure to recommend your services to friends and colleagues.
Posted 1 week ago
Amazing service from start to finish I am 4 days post op after a facelift and upper and lower eye surgery doctors driver case manager and interpreter are all amazing would reccomend troya hotel for your stay would highly recommend
Posted 2 weeks ago
Best trip for rhinoplasty I came from Holland to get a rhinoplasty. I'm so happy with the results and the whole trip went perfectly. The communication went well and my nose is healing good. I recommend this to everybody because I don't have any pain and my nose is looking beautiful already.
Posted 4 days ago
❮
❯
Who is the right candidate for breast reduction in Turkey?
If you are complaining about:
Constant backache, neck pain and poor posture due to large and sagging breasts
Skin irritation and over sweating on your breast area
Your breasts are limiting your physical activity
Feeling uncomfortable in your clothes
Feeling unattractive
You are the right candidate for breast reduction in Turkey by MCAN Health, if you want to:
Have increased self-confidence and self-esteem.
Feel more attractive and feminine.
Have more clothing options.
Be able to take part in sports and physical activities.
Have an improved posture.
Get rid of backache, neck and shoulder pain
How is Breast Reduction Performed?
Basically, breast reduction surgery is usually performed through incisions on the breasts followed by the removal of excess fat, breast tissue, and skin to resize and reshape the breasts with stitches to be proportional to the body.
Breast reduction can be explained in 3 steps: