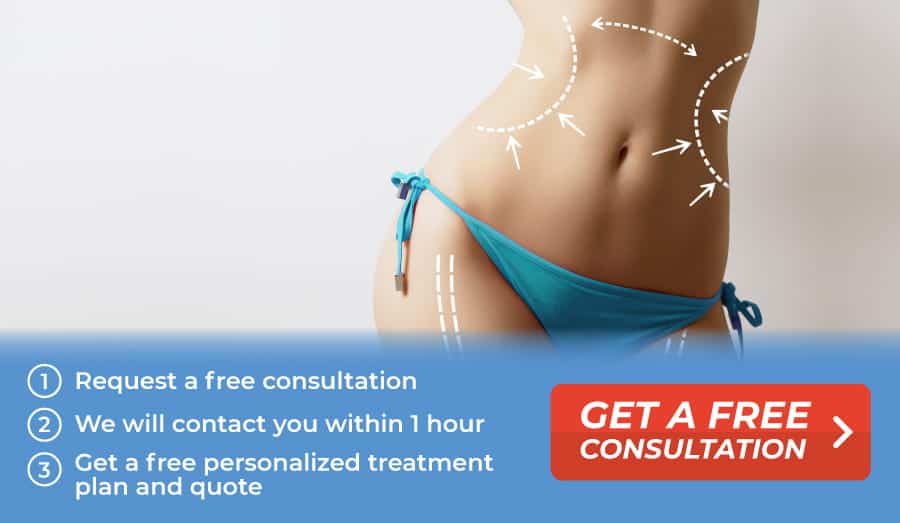 Endless diets and workouts fail to burn your unwanted fat but 'burn' you? Liposuction is a great solution to deal with the stubborn fats. No need to worry anymore, MCAN Health is here to help you with liposuction in Turkey.
1. Request a free consultation by filling the form.
2. We will contact you within 1 hour.
3. Get a free personalized treatment plan and quote.
FREE CONSULTATION
Leave us your number and we will get to you soon back.
What is Liposuction?
Liposuction is, also known as lipo or fat removal, a surgical operation aims to remove unwanted body fat from different parts of the body. Liposuction is performed on areas of the body such as buttocks, arms, waist, chin, thighs, and tummy where fat cells are usually stored. Fat deposits can be removed permanently and the desired body shape can be achieved by liposuction.
Increased body weight means increased fat cells, medically known as adipose tissue. When the fat cells are expanded in size and volume, they are collected under the skin. Liposuction aims for such type of fats, medically named as subcutaneous fat (the fat tissue formation underneath the skin). In time, collection of fat tissues becomes permanent. Such fat tissues are casually called as stubborn fats that cannot be removed even with gym training.
Liposuction is the best method to remove the stubborn fats. After a liposuction, the fat tissues are removed permanently. As long as the patient stay in a stable weight, fat collection does not happen. Fat removal also helps with body reshaping very well. During liposuction surgery, the surgeon can easily mold the skin after taking away the fat tissue. So, the patient can have a more muscular, thinner or athletic look after liposuction.
The purpose of liposuction is to correct the body contouring and reshaping. It is not the right method to help losing weight or to treat obesity. Generally, people over 39 Body Mass Index (BMI) should go to weight loss surgery also known bariatric surgery but not liposuction.
Who is the right candidate for liposuction in Turkey?
Unwanted body fat is a problem for many women and men around the world regardless of age. People spend time, money and effort on various diets and sports to get rid of unwanted body fat. However, no matter how much exercise or diet is done, there can still be some parts of the body left with stubborn body fat. Thanks to liposuction that offers the best and the quickest solution, stubborn body fat is not unbeatable anymore.
You are a right candidate for liposuctin in Turkey:
If you are not overweight or more than 30% of your ideal body weight,
If you want to get rid of your stubborn fat,
If you want a thinner waist,
If you want to tone up your muscles and have an athletic look,
If you are not happy with the dense volume on your neck, arms or legs
If you need gynecomastia
Liposuction in Turkey is among the most popular cosmetic surgeries. Liposuction cost in Turkey is more affordable than liposuction cost in other countries. Clients who want to have liposuction abroad prefer Turkey because of affordable cost and state of the art technology and experienced contracted plastic surgeons. MCAN Health is chosen by a high number of clients from different parts of the world who desire to have high-quality liposuction surgery with affordable costs to have a desired result.
Liposuction in Turkey Starting From £1950
All-Inclusive Packages include operation fees, multilingual patient host, transfers and accommodation
How Is Liposuction Performed?
Liposuction is performed into the area between skin and muscle where the fat tissues are located. The aim of the operation is to remove the fat tissues. The fat tissues are extracted with a special liposuction cannula that is blunt and has holes on its end. The cannula is attached to a suction device.
The cannula needs to touch the fat tissues to suck them out. Thus, the surgeon creates openings with incisions on the treatment area where liposuction will be performed. The incisions are minor and inconspicuous. Based on the size of the treatment area, one or multiple incisions may be needed.
After the incisions are made, the cannula is inserted through the openings and the surgeon reaches to fat tissue formation. By moving the cannula beneath the skin, the surgeon takes out the fat tissue via holes on the cannula's end into a container.
Liposuction operations usually take between 1 and 4 hours depending on how big the treatment area is. Liposuction operation can be performed under local anesthesia or intravenous sedation or general anesthesia depending on the size of the treatment area, the excess of fat and specific circumstances of the patient.
How much Fat Can Be Taken Out By Liposuction?
The answer depends on various factors. The potential fat removal varies in each unique case. You need to consult your surgeon for your situation to learn about potential fat removal. But please keep in mind that liposuction is not a weight loss surgery. It is for body contouring and reshaping.
The maximum fat can be collected safely is around 5 liters. Still every patient's own situation determines the amount of fat to be sucked by liposuction. It may be higher or lower. For some patients, MCAN Health's contracted plastic surgeon can perform mega liposuction and collect fat over 5 liters depending on the unique health situation of the patient.
How much does Liposuction Cost in Turkey?
In the United Kingdom and the rest of Europe, liposuction prices are between £4000 – £6000. However, liposuction cost in Turkey is starting from £2000 with MCAN Health. The prices change based on the number of liposuction areas.
The reason behind the big difference between Europe and Turkey is the average labour costs for each country. In Turkey, the labour cost is much lower than it is in Europe. This allows more people to have their treatments with affordable prices and meanwhile the plastic surgeons in Turkey gets more and more experienced compared to their European colleagues.
BUT, your first concern should always be the safety of your treatment. Thus, you should check if the provider is accredited by Ministry of Health and the hospitals are internationally approved.
If you have your liposuction in Turkey with MCAN Health, you will have the option to have a treatment package that covers the treatment cost, hospital stay, the airport transfer, city transfer, accommodation and patient host services.
Benefits Of Liposuction In Turkey By MCAN Health
MCAN Health's experienced and talented contracted plastic surgeons perform liposuction surgery by using a variety of latest technology techniques including Laser Liposuction, Vaser Liposuction, Traditional Liposuction.
MCAN Health aims to give you the best quality liposuction with affordable costs. Our contracted plastic surgeons will evaluate your case, learn your expectation and will offer the best liposuction technique that is suitable for your case.
After Liposuction in Turkey with MCAN Health, you will have:
The desired body shape
An easy and long-lasting solution to unwanted fat.
Liposuction treatment at luxury and internationally certified hospitals.
Liposuction treatment provided by MCAN Health contracted plastic surgeons.
Liposuction in Turkey with MCAN Health
It is time to enhance your appearance, reshape your body, increase self-confidence and feel more attractive with affordable prices!
Liposuction Turkey Before and After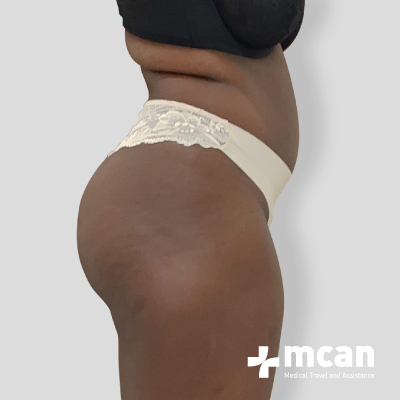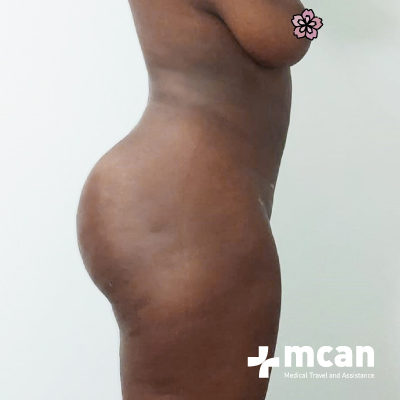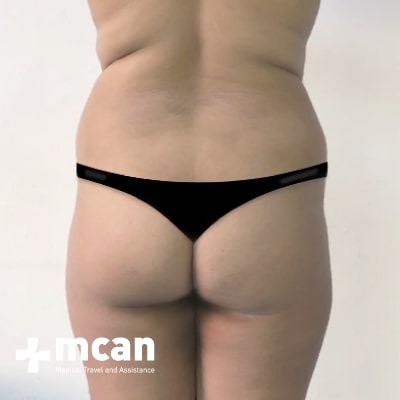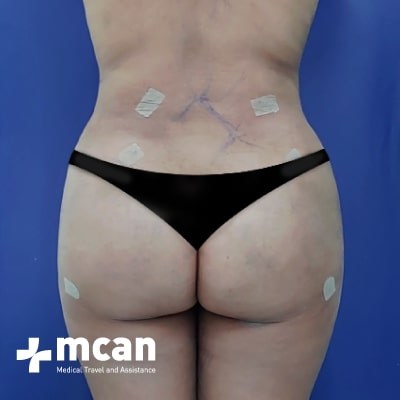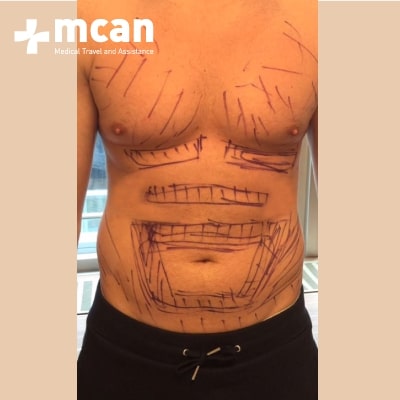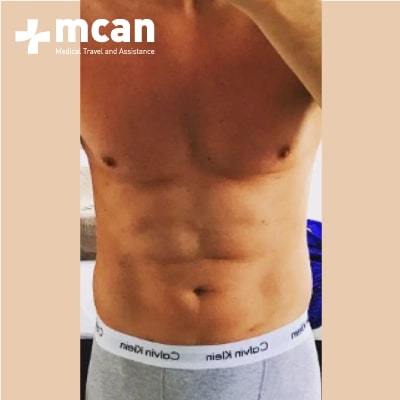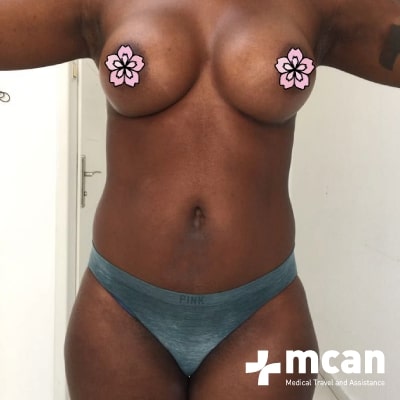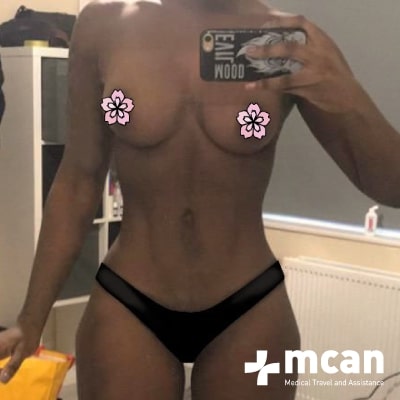 MCAN Health Liposuction Turkey Reviews
I choose Mcan health after allot of research online & I'm so glad I did. I'm very happy with my results I had tummy tuck, 3 area lipo, muscle repair and breast uplift with 295 g implants. When arriving in Istanbul I was very nervous, however after meeting the team and Dr my nerves was put at ease. I couldn't be happier with how I look now. Thankyou mcan for a delightful experience and I will be back for my rhinoplasty in the next few years!
Posted 2 days ago
The staff at MCAN upon arrival to Istanbul were very organised and reassuring. They planned my whole stay to the last detail and kept in contact with me at all times. Doctor was very professional and skilled. My rhinoplasty procedure went amazingly well and the hospital facilities were very modern and clean. All in all, a professional, high quality service at an affordable price!
Posted 2 days ago
The admin staff are quick to reply and very helpful, the drivers are gentlemen, everything was straight-forward and easy. The hospital duration was a very pleasant experience with constant monitoring, the surgeon was lovely (and handsome!) and since returning home I have been advised I have 'perfect' breasts, thanks to him! I would definitely recommend this company
Posted 5 days ago
The care given in making me feel at ease and the general feeling being good around the procedure as a whole was outstanding and the nurses and staff made everything less stressful
Posted 1 week ago
This was my second procedure and have to say that I'm pretty happy with how it went. The doctor explained me exactly what can be achieved given my current condition, and made sure that the assistants carry out their tasks efficiently. Thanks again team and I'll make sure to recommend your services to friends and colleagues.
Posted 1 week ago
Amazing service from start to finish I am 4 days post op after a facelift and upper and lower eye surgery doctors driver case manager and interpreter are all amazing would reccomend troya hotel for your stay would highly recommend
Posted 2 weeks ago
Best trip for rhinoplasty I came from Holland to get a rhinoplasty. I'm so happy with the results and the whole trip went perfectly. The communication went well and my nose is healing good. I recommend this to everybody because I don't have any pain and my nose is looking beautiful already.
Posted 4 days ago