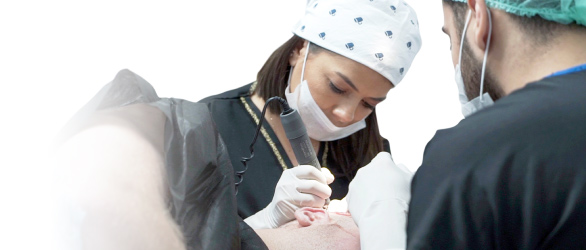 FUE Hair Transplant Turkey
Operation | Techniques | Advantages | Before & After | Reviews | Polyclinic |
FUE (Follicular Unit Extraction) is one of the most performed hair transplant techniques that is known as the "modern" hair transplant method thanks to the latest technology it uses. FUE Hair Transplant does not require a strip of donor tissue to be taken from the donor area. In the FUE hair transplant technique, each follicular unit is extracted one by one directly from donor areas on the scalp that is usually the back of the head between the two ears.
In FUE, the follicular units are individually excised with a micro-punch and moved from the permanent donor area to the area of hair loss called the recipient area. Based on the research by ISHRS, over 90% of hair transplant surgeons in the world are preferring FUE because it does not involve stitches or leave a linear scar as in the case of strip harvesting (FUT Hair Transplant). MCAN Health's Hair Transplant Team prefers FUE Hair Transplant in Istanbul like the other surgeons in the world when it comes to extraction of the grafts from the donor site.
How is FUE Hair Transplant performed?
FUE Hair Transplant is performed under local anaesthesia. Depending on the extent of hair loss, FUE Hair Transplant takes from 6 to 8 hours. And it involves these main steps: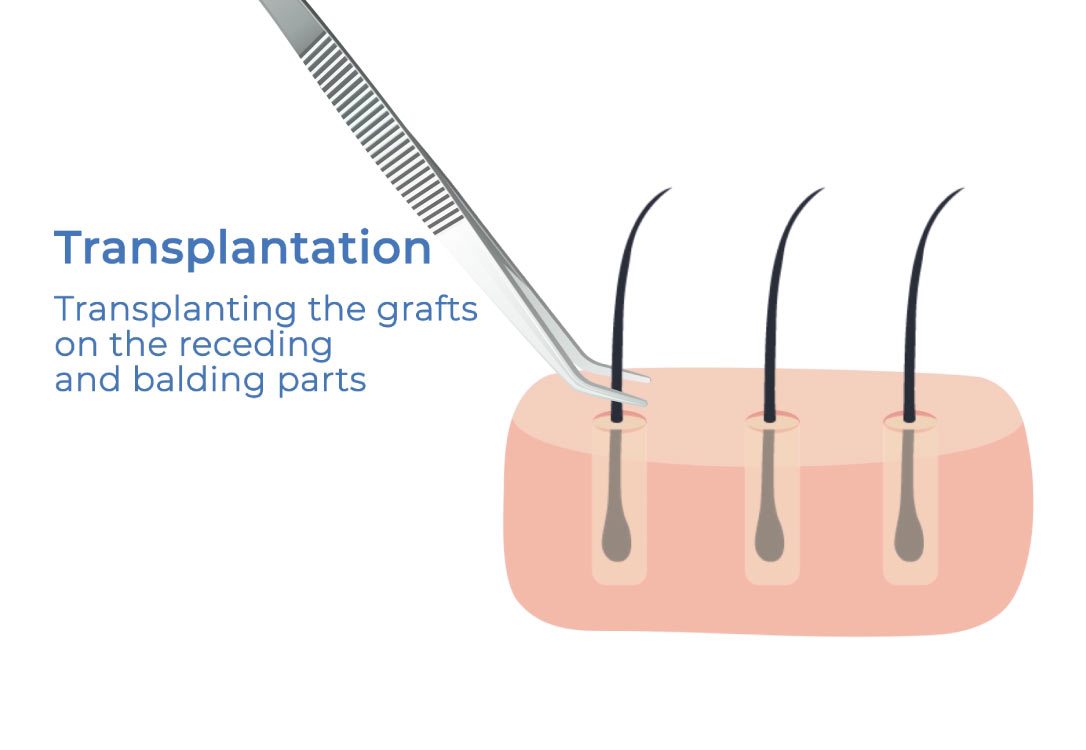 FUE Hair Transplant is performed under local anaesthesia. FUE Hair Transplant takes from 6 to 8 hours. And it involves these main steps:
1. Consultation
The individual patient characteristics are determined by the hair trichologist during the consultation by considering the cause of hair loss, type of hair loss, the likelihood of hair loss progression over future years, hair type (thick or thin), the patient's expectation, age, gender, and medical history.
During the consultation, the hairline is drawn based on the natural hairline and patient wishes, and the recipient parts are determined with how many grafts are needed at each area and how many grafts can be collected from the donor site.
2. Preparation
Pre-op tests will be performed and your hair will be trimmed. After that, your scalp will be sterilised.
3. Local Anaesthesia
Some patients think that hair transplant is a painless procedure but not the local anesthesia. For the one who can't stand the pain or are afraid of needles, MCAN Hair Transplant Team offers needle-free anesthesia.
4. Extraction
Manual punch or micro motor punch are used in extraction and FUs are collected one by one. The size of the punch is determined in the surgery depending on the softness of the tissue of the scalp, the hair type; being curly or straight.
When hair follicles are removed from a donor site and transplanted to a recipient site, the follicles should be all physiologically healthy and anatomically intact. Healthy, intact follicles are more likely to thrive and produce hair at the recipient site. That is why an experienced medical staff should do it. Otherwise, the transaction which is a complication of FUE can happen. A Transaction is slicing or tearing FUs at a cross-sectional angle. The damaged follicle(s) in the FU may be useless for transplantation or fail to thrive if transplanted.
5. Canal Opening
It is the formation of micro-cuts into which the hair follicles will be planted. These cuts are very thin slits and determined based on the graft's width and length in FUE Hair Transplantation.
While making slits or holes in the recipient area, it is very important to follow the direction of the existing hair in that region. The present hair growth angle must absolutely be taken into consideration to provide a natural-looking hair transplant result. This stage definitely should be performed by an experienced hair trichologist.
In DHI, FUs are implanted directly into the recipient area by using a pen called Choi Implanter with a diameter of 1 mm or less without prior creation of holes or slits.
6. Implantation or Graft Insertion
Harvested grafts are typically placed into slits or holes using fine-angled forceps. Two, or even three persons can insert grafts at the same time to make the procedure faster and efficient. In this phase, experienced nurses complete the process.
Methods of FUE Hair Transplant
Classic FUE: Mostly referred to as the "FUE Hair Transplant" is performed with micro motors and it uses steel blades. It is the most performed FUE Hair Transplant method.
DHI Method: It is performed with a special pen called CHOI Pen. The extracted grafts are directly implanted into the recipient area by CHOI pens.
Sapphire Method: Same as the classic FUE with one difference. It uses sapphire blades instead of steel blades.
Advantages of FUE Hair Transplant
In FUE Hair Transplant, the hair follicles are directly collected from the donor area(s) one by one. Therefore, FUE is less invasive compared to the FUT method; it does not leave visible scars on the donor area.
FUE is a hair transplant technique developed for patients who are not suitable for traditional hair transplant methods. So, it offers a more accessible treatment.
FUE offers a high number of grafts – in one session up to 5000 grafts can be implanted.
Is FUE better than Strip Harvesting Method?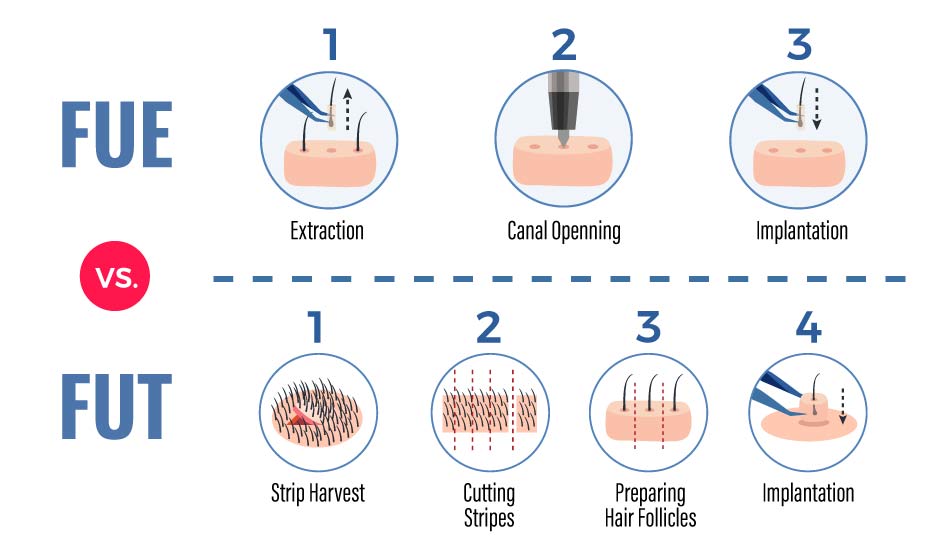 Strip Harvesting Method, also known as FUT Hair Transplant, is one of the traditional techniques of hair transplant. It has been performed for so long and is still performed in some clinics.
In FUT Hair Transplant, a strip of tissue, with hair follicles on it, is removed from the donor area (generally from the back of the scalp). Then hair follicles are collected from this strip of tissue to be implanted into the recipient areas. The removal of a strip tissue results in a linear scar that is about 1-3mm in width.
Before the FUE technique, FUT was the most popular hair transplant technique. However, after the FUE, the FUT technique has lost its popularity. Because the FUE technique offers a less invasive hair transplant experience and does not leave visible scars as the FUT does.
By considering the advantages of the FUE technique, MCAN Health hair trichologists prefer performing hair transplants by the FUE method.
Who Is A Good Candidate For FUE Hair Transplant?
Anyone, both men and women who:
have hair loss caused by androgenetic alopecia, also known as male/female pattern of hair loss,
do not have an illness that will prevent them from having a hair transplant,
have adequate amounts of hair on the donor area
FUE Hair Transplant Cost in Turkey
The average price of FUE hair transplant in Turkey is €2350, the minimum price is €1300, and the maximum price is €3400.
Hair Transplant Turkey Before And After
Hair Transplant Turkey Reviews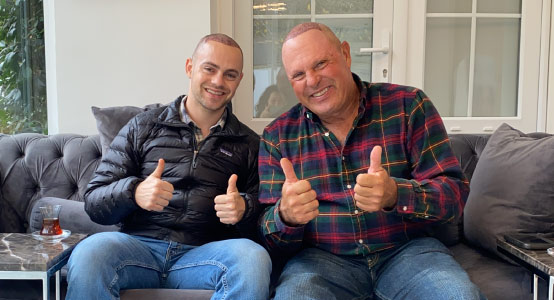 The people are very professional. Outstanding care! I mean I can't emphasize it enough. Total procedure took about 7 hours and I was totally focused on paying attention to them. It was a very detailed procedure and MCAN is very detail oriented and precise on what they do. Everybody speaks English and I felt very comfortable. I would not hesitate to recommend MCAN to anybody.
John & Carson from United Kingdom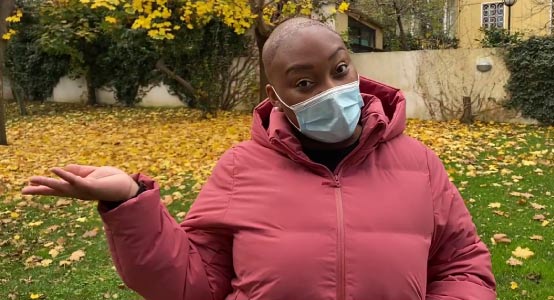 Everybody is so professional at MCAN. I hope you guys choose here because everything went perfect. I am so happy to come to the professionals who are experienced with Afro-American hair, come to MCAN! It was perfect. Everybody is practicing on, you know being safe and sound. I would definitely say my experience here in İstanbul is the one that I appreciate. It was a positive experience for me. I think it's worth it!
Kimberley from United States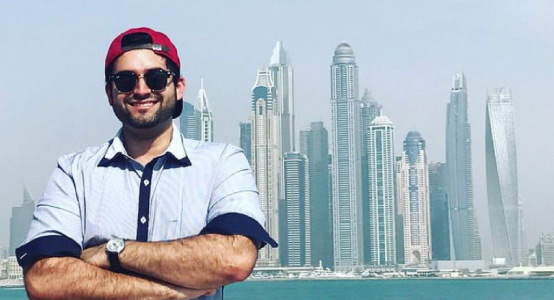 I am Jas Gill from the United Kingdom. I was recommended by a friend of mine and I came to MCAN to get my hair transplant operation. All the doctors are professional, the travel was very safe. All and all very good experience from MCAN! I would definitely recommend MCAN Health to everyone!
Jas Gill from United Kingdom
MCAN Polyclinic
You will get a safe, hygenic and the best hair transplant in MCAN Polyclinic by the experienced medical team.