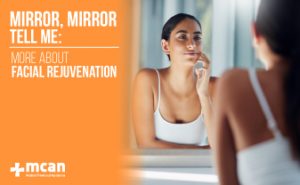 When you look at the mirror, you should not ask the mirror anything; when you look at the mirror you ought to see a beautiful self; confident and content, that's it! But if you cannot see a happy and content You in the mirror and are bothered about the wrinkles, fine lines, or asymmetry, please read this blog piece. Because it is going to tell more about facial rejuvenation that would help you see your youthful self in the mirror, so no more concerns when you look at the mirror, just a confident, smiley face! Ready? Then, let's get started!
What is Facial Rejuvenation?
Facial rejuvenation is a general name for the treatments that aim to restore the youthful look on your face and neck. Depending on your needs and expectations, facial rejuvenation may involve surgical or non-surgical treatments or may combine both.
What is Surgical Facial Rejuvenation?
Surgical facial rejuvenation treatments aim for a youthful and symmetrical appearance in your face by targeting any asymmetry and the signs of aging. Surgical facial rejuvenation treatments may involve facelift, forehead lift, neck lift, and eyelid surgery. Let's look into each separately!
What is Facelift?
Facelift surgery involves tightening sagging skin to achieve a rejuvenated look. We may lose the youthful appearance of our face due to various reasons including but not limited to aging, gravity, sun damage, smoking, alcohol consumption, stress, genetics. Sagging and wrinkled skin makes us look older than how we feel. And when we look different than how we feel, we do not feel comfortable and content. Facelift offers us the chance to look the same as how we feel, therefore it is a popular plastic surgery treatment globally, preferred by both women and men.
What is Neck Lift?
If you are tired of hiding your neck behind the scarves then why not consider a neck lift? Neck lift, also known as a lower rhytidectomy, is a surgical procedure involving the removal of excess and sagging skin and fat from the neck area to achieve a tighter and smoother look. When there is a need, a neck lift is performed together with facelift surgery. Otherwise, you may end up with a youthful facial appearance with a saggy neck.
What is Eyelid Surgery?
While droopy eyelids make us look older, eyebags make us look tired constantly, no matter how we feel! It is unfair to hear "are you tired? or haven't you slept well?" when it is not the case. And if you are also fed up hearing these questions or comments or seeing "aged" and "tired" yourself in the mirror, eyelid surgery may be an option for you. Eyelid surgery, also known as blepharoplasty, is a surgical procedure that involves the removal of the excess skin and fat on eyelids to improve the appearance of eyelids.
What is Brow Lift (Forehead Lift)?
Droopy eyebrows may make us look angry or tired even if we are not. If you are bothered about your droopy eyebrows, a brow lift offers the solution you need. A brow lift, also known as a forehead lift or browplasty, is a type of surgical procedure that involves raising eyebrows and removing the deep frown lines. Correcting and repositioning eyebrows dramatically change the look of the eyes that are considered to be the most prominent feature of our face. Who can resist youthful and meaningful looking eyes?
Facial Rejuvenation with MCAN Health – a holistic experience in partnership with M.CAN Polyclinic
So, when you look at the mirror, if you cannot smile at your reflection and are bothered about the look of your face, MCAN Health is here to support you. We offer all of these surgical rejuvenation procedures at affordable costs.
When it comes to facial rejuvenation, it is very important to be in qualified and experienced hands. And our contracted plastic surgeons are specialised in facial rejuvenation. Thanks to the experience, they can offer you the best and the most suitable treatment plan. And MCAN Health is here to support you not only for surgical facial rejuvenation treatments but also non-surgical ones if you also need any, such as botox and fillers.
You may have heard already that we have partnered with one of the most renowned aesthetic polyclinics in Turkey, M.CAN Polyclinic, to be able to offer a holistic beauty experience for you. If you missed this amazing news, please read our previous blog piece about medical aesthetics in M.CAN Polyclinic to find out more.
M.CAN Polyclinic, a luxurious and accredited polyclinic preferred by the celebrities in Turkey, offers a variety of aesthetic procedures from Hydrafacial to Botox and Fillers. And thanks to our partnership with M.CAN Polyclinic, our patients can benefit from exclusive deals for non-surgical facial rejuvenation procedures. We are proud to offer a "one-stop" facial rejuvenation service for you!
Would you like to find out the best and the most suitable treatment plan, then please contact us now. And we promise that we will make you say: "who is that beautiful in the mirror, oh! It is me!"
---
---