Celebrity Boob Job, Who Really Got One?
Celebrities are always considered hero models by the public! They can trend any new cool phenomena and change the ideas about it! A good and presentable appearance is generally a positive effect on celebrities.
To be an influencer on people, celebrities undergo some cosmetic surgeries such as hair transplants, boob jobs, bbl and liposuction. As breasts have always been seen as one of the most important features that reflect a woman's femininity and fertility, most women choose breast implant surgery to feel more feminine and sexier. That's why celebrities mostly prefer having boob jobs to enhance the size and shape of their breasts.
But the interesting point is while we have some celebrities who honestly talk about their plastic surgery procedures, we also have celebrities who do not want to reveal or even deny their plastic surgery procedures. And for some reason, the number of celebrities in denial is more than the honest ones.
Let's take a look at what they say about the drastic changes in their breast sizes!
Sarah Jessica Parker Boob Job
Sex and the City star, Sarah Jessica Parker was not pleased with her boobs at all even if she had a very pretty face and fit body. Parker has thought that undergoing a boob job was a must for her self-confidence.
She described her boobs as 'nothing' before breast enlargement. She did not care about other people's thoughts on breast enlargement by saying "when you're born with nothing, you don't care what anyone thinks about breast augmentation".
Taylor Swift Boob Job
Taylor Swift – did she or didn't she? This is one of the most frequently asked questions since 2016. And unfortunately, we are left with no 'certain' answer for the last four years. Yes, this is indeed very hard!
Taylor Swift keeps denying that she has had breast enlargement surgery but ordinary people and even the plastic surgery experts believe the opposite. By judging from her pictures, most people think she had a boob job. And again, we leave you to decide. Do you think she had a boob job or did she just grow up and happens to have larger breasts?
Carol Vorderman Boob Job
I know she said she didn't, but checking her photos 30 years ago and now, not only me all the experts believe she did! As a TV star, ageing in front of our eyes and seeing the before and after photos, Carol Vorderman's breasts have definitely get augmented by plastic surgery.
Salma Hayek Boob Job
The Mexican-American actress and academy awards nominee, Salma Hayek still got very beautiful breasts, at her 55 and in her idea this beauty is coming from her menopause!
According to the Mirror, Salma Hayek denied her boob job on the Red Table Talk and she said her breasts used to be smaller but now they have just kept growing. But if you check the before and after photos and ask the experts Salma Hayek got a boob job!
Kylie Jenner Boob Job
The most followed woman on Instagram, Kylie Jenner declared that her augmented breasts are the result of maturing! But come on Kylie we all know that if it was not completely clear, you would have denied your lips fillers too!
In April 2022 after wearing a cut-out dress while promoting her latest makeup collaboration with her sister, Kendall Jenner, she re-ignited all the rumours about her boob job. The shape of the breasts is a bit far away from naturally maturing, but whatever!
Victoria Beckham Boob Job
Victoria Beckham – Boob Job or no Boob Job? Our lovely Posh Spice has always denied any 'cosmetic touches'. In one of her interviews, she said: "I haven't been tempted by a cosmetic procedure, but never say never."
But we see some great change in her look especially after she met the most handsome footballer, David Beckham. Even though she keeps denying her boob job, in another interview, she accidentally mentioned her 'silicones'. Silicones or no silicones, that is the question! So, what do you say?
Angelina Jolie Boob Job
This beautiful Hollywood actress, activist, and the United Nations Refugees Ambassador found out that she had an 87% chance of developing breast cancer in 2013. She decided to minimize the risk as much as she could.
Angelina Jolie had her breasts removed by having a preventive double mastectomy. Then, she had undergone breast augmentation surgery. Jolie supports women to undergo breast enlargement after mastectomy by saying "there have been many advances in this procedure [breast augmentation] in the last few years, and the results can be beautiful."
Kelly Rowland Breast Implant
Destiny's Child star, Kelly Rowland frankly talks about her breast implant operation. She said that she thought of undergoing a boob job at the age of 18. She even tried on padded bras and walked around to see what her boobs looked like after her breast implant.
But Rowland waited for 10 years before having her breast enlargement operation by taking the advice of her mum and Beyonce's mum. When Kelly was 28, she finally had her breast augmentation surgery. And she is very happy that she followed her heart and had her boob job!
Cardi B Boob Job
Cardi B boob job was one of the biggest plastic surgery events of 2019. After honestly sharing with her fans that she was using duct tape to lift her breasts up, she proudly showed off the result of her recent boob job in 2019 in this stunning white dress.
Breast augmentation is such a popular surgery that people keep talking about the boobs or actually the boob jobs of celebrities for years and years and years…
Breast Augmentation Is a Healthy Cosmetic Operation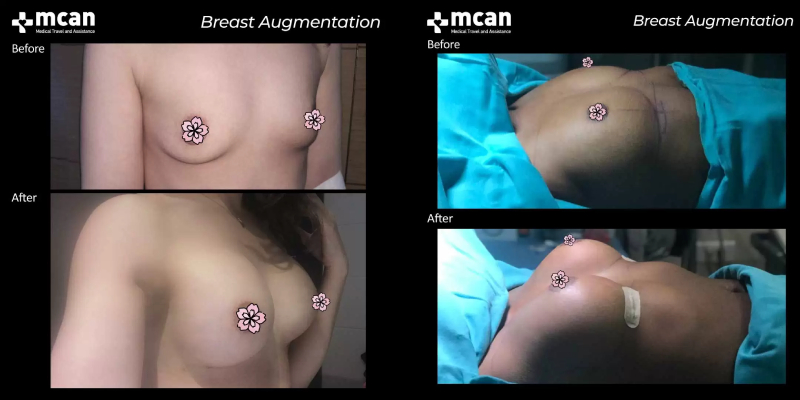 Most women prefer to have a boob job to boost their self-confidence and to feel more comfortable about their bodies. It is very important to be happy in our bodies. Otherwise, it is inevitable to experience depression or anxiety. Why would we do this to ourselves?
Plastic surgery is safe and accessible more than ever before. If you are also considering having a boob job for any reason, there is no need for hesitation. You can take the first step now by contacting us to find out more about breast enlargement. At the end of the day, 'it is your body, your decision'!
Which treatment are you interested in?
You can have a free consultation whenever you want!
Updated Date: Thursday, May 26 2022
Published Date: Monday, July 31 2023
Medical Content Expert
Mehmetcan is MCANs Digital Marketing Manager and Content writer who has taken roles in medical tourism for years and created written materials for healthcare provider's websites.