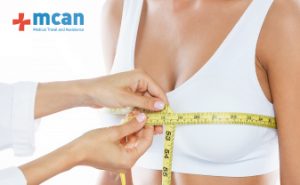 Nearly all women desire for fuller and bigger breasts. When we look at the reason why some women have small and underdeveloped breasts, it is generally because of hereditary background or an injury. Some women who might have beat breast cancer or undergone a mastectomy in the past. However, having small and underdeveloped breasts or loss of the breasts are not the destiny. There are many ways to get bigger breasts. Let's have a look at the solutions.
1. Breast Enlargement with Breast Implants
The most famous and permanent solution is having breast augmentation surgery. Breast enlargement, also known as breast augmentation, breast implant, augmentation mammaplasty, is used to change the size, shape, and form of the breasts. Two types of breast implants are generally used for breast augmentation: silicone and saline breast implants. Silicone gel breast implants are filled with silicone gel. They are filled before they are inserted into the breasts. Saline breast implants are filled with sterile salt water. The implants could be filled before they were inserted into your breasts or could be filled after they were inserted into your breasts.
2. Fat Transfer Breast Augmentation
This type of breast enlargement is performed together with liposuction. Your plastic surgeon will take fat from a part of your body, and s/he will inject the fat to your breasts. Fat transfer breast augmentation will provide you with a small increase in your breast size and it will look very natural. However, some plastic surgeons do not approve fat transfer breast augmentation for each patient. You need to ask your doctor if you are a candidate for fat transfer breast augmentation.
3. Breast Enlargement Pills & Creams
Women who seek for non-surgical solutions generally try breast enlargement pills or creams to have bigger breasts. The pills are generally advised to be taken twice a day and the cream should be applied to your chest area by rubbing into your skin. Before using breast enlargement pills or creams, you should consult your doctor. Even if the ingredients of the cream and pill are natural and they are safe to use, you may be allergic to one of the components in them.
4. Exercising
Exercising is the key to a healthy life. Swimming, yoga or doing push-ups… All these physical activities will help you to have fuller and bigger breasts. For example, while swimming, you need to use your pectoral muscles. Building up the pectoral muscles with exercising means having higher and firmer breasts. With regular exercise, you will feel that your chest is fuller and your breasts look firmer. To achieve the firm and full chest that you have always long for, you should be patient and never miss your sports time.