Dr. Celik - Prosthodontist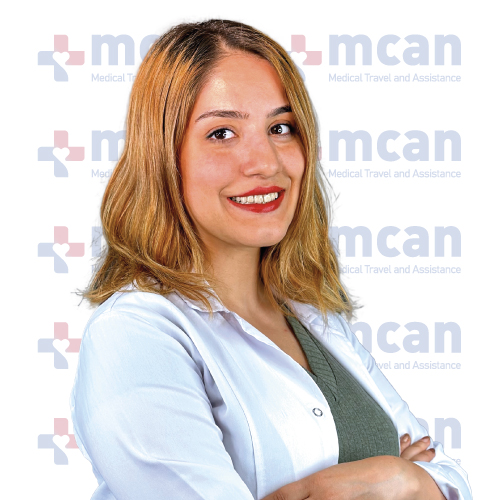 Dr. Celik is a skilled dentist passionate about lifelong learning and career advancement. She completed her Bachelor's degree in Dentistry at Selcuk University in 2018, followed by a Master's degree in Prosthetic Dentistry at Ordu University.
Driven by her commitment to excellence, she pursued a doctorate degree in Prosthetic Dentistry. Throughout her academic journey, Dr. Celik actively participated in various congresses and obtained multiple certifications, underscoring her dedication to expanding her knowledge and expertise in dentistry. Dr. Celik, who had a solid academic background, got beneficial professional experience as a research assistant in the Department of prosthetic dentistry at Ordu University Faculty of Dentistry.
Dr. Celik's areas of expertise encompass a wide range of advanced dental treatments. She excels in Hollywood Smile design and offers aesthetic treatments using cutting-edge materials such as zirconium, glass ceramics, and composites. Her skills extend to crown and laminate veneers, teeth whitening (bleaching), and digital dentistry applications. Additionally, she is proficient in providing implant-supported fixed restorations, both cemented and screw-retained, and various other treatments such as endodontics, inlays, onlays, overlay, and table-top restorations.
Along with providing treatments like All-On-Four/Five prostheses, Toronto prostheses, implant-supported removable prostheses, conventional complete and partial dentures, and precision attachment prostheses, Dr. Celik also has extensive experience in prosthetic dentistry. She is also skilled in performing root canals, restorative fillings, tooth extractions, gum treatments, and TMJ and bruxism therapy.
Her expertise in her area is thanks to her extensive dental knowledge and abilities and her constant dedication to patient care. She is an honored member of the prestigious team of MCAN Health.
Location: Istanbul
Field of expertise: Dentistry
Languages: Turkish, English
Our Other Contracted Surgeons