Have Concerns About Your Surgery Abroad? MCAN Health In House Nurse Is With You!
"Going abroad for my plastic surgery scares me a little!"
"What if they don't speak English?"
"I am scared that I will feel lonely after my surgery."
"What if I may need some aid during my hotel stay after the surgery?"
"How am I going to take a shower by myself after my surgery?"
"How do I know they will take good care of me there?"
You want to have your dream surgery abroad but you have lots of concerns in mind similar to these ones, then you definitely need to read this blog piece. Because we have some very great news that will take all your concerns away and give you peace of mind! We promise when you finish this blog piece, you cannot wait to come to Istanbul to MCAN Health to have your dream surgery!
Are you ready to hear the great news? OK, no counting backwards from 10.
But 3, 2, 1…
MCAN Health now has an in-house nurse who is fluent both in English and German and will be available for our dearest patients 24/7. Yes, you got it right! We are proud to announce that we now have a qualified in-house nurse to be able to better support our plastic surgery patients especially during their post-operative time in Turkey.
As we always say, we are aware that deciding on having surgery is a big one, and having surgery in a foreign country may even be a bigger one. It is absolutely normal to have some concerns. As we humans do feel safer and comfortable in familiar places. When we are in a place that is not very familiar, it is a normal human reaction to have some concerns. And if our patients have any concerns, then as MCAN Health, it is our job to ease these concerns.
We have some patients who have been to Turkey before and some who have never been to but they still choose us to have their surgery because they trust us that we will provide them with the highest quality treatments for affordable costs. We are very happy about that and at the same time very aware of our responsibility! Our responsibility is to turn your "big decision" into "the best decision" of your life. This is the very exact reason why we now have an in-house nurse. We are very positive that our in-house nurse will make your experience with us even better!
An in-house nurse that will be by your side when you need the most!
So, let's be a little more specific and talk about what our new service will offer you. In addition to your plastic surgeon, nurses, and medical staff at the hospital, there will also be a nurse who will support you during your stay in Turkey, especially during your post-op period in Istanbul.
How is she going to support you?
1. She will meet you at the hospital before your discharge and share her contact details with you. You can contact her with your questions related to your surgery whenever you need
2. She will explain to you the details of your prescription and medication and how you need to use your medication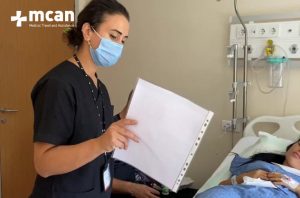 3. She will also be in contact with the nurses at the hospital. They will have her contact details and contact her when needed; such as when they have any difficulty communicating with you. This is very important to overcome any possible language barrier. Our in-house nurse is fluent both in English and German. So, you will not have any difficulty in communicating with her. And if you need any support in communicating with the hospital staff, our nurse will support you for that too.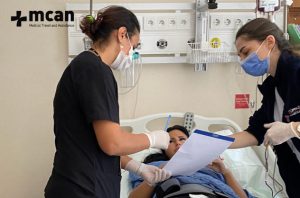 4. One day after your discharge from the hospital, she will visit you at the hotel. And prior to her hotel visit, she sends you aftercare instructions
5. She will visit you at the hotel after your discharge to dress your wound, help you take a shower, give you a massage if needed. She will communicate with your surgeon and inform the surgeon about your current health status.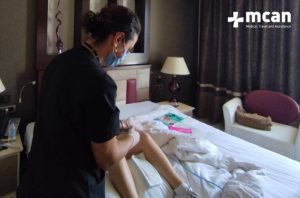 6. During her hotel visit, she will answer all your questions related to your surgery or aftercare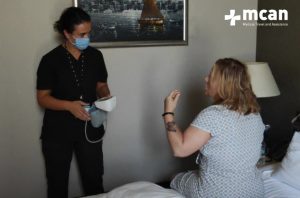 7. During her hotel visit, she will perform a general check-up and contact your plastic surgeon if it is needed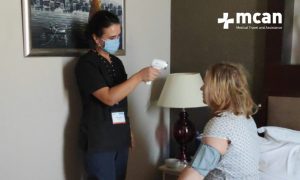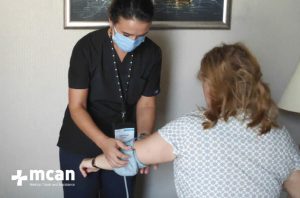 8. She supports you if you need to order extra corset and help you wear your corset if need to wear one as a part of your aftercare
9. To ensure your safety, well-being, and comfort fully, our nurse leaves her contact details not only to you, but also to the nurses at the hospital and, to the hotel staff
10. Our nurse will be available to support you when needed 24/7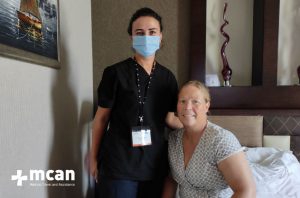 Turkish hospitality is very well-known globally. When we have a guest at home, we do whatever it takes to make them feel comfortable. We even have a saying that we tell our guests: "kendini evinde hisset" translates as "make yourself feel at home". Following this great tradition, as MCAN Health, we are very proud that with our new in-house nurse service, we will provide our patients with more holistic care and excellent support during their stay in Turkey.
Last but not least, we offer this new service completely free. So, this additional care does not come with an additional cost and will not be exclusive to some. It will be equally accessible to all patients of MCAN Health as you are all very dear to us!
We are sure that we now eased your mind! You should now be ready to take the first step towards your dream surgery. contact us now to start your journey!
Mehmetcan Kotil Medical Content Expert
Mehmetcan is MCANs Digital Marketing Manager and Content writer who has taken roles in medical tourism for years and created written materials for healthcare provider's websites.
Updated Date: Tuesday, October 20 2020
Published Date: Monday, July 31 2023