Most Popular Plastic Surgery Treatments of 2019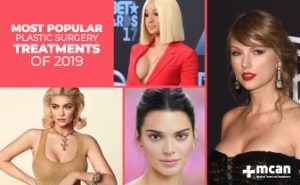 We are going to close out a decade soon! Reviews of 2019 are all around. We also wanted to look back at 2019 and talk about stuff that we like the most: plastic surgery!
Shall we look at the 'top' plastic surgery treatments of 2019 chosen by our patients as well as the celebrities this year?
Most Popular Plastic Surgery Treatments in 2019 are listed below:
Cardi B's Boob Job
Taylor Swift's Boob Job
Kylie Jenner's Boob Job
Cardi B's Liposuction
Kendall Jenner's Rhinoplasty
Let's start off with Breast Augmentation! A surgery that aims to enhance the size and fullness of breasts was among the most popular treatments for our patients in 2019. This is not surprising at all because breast enlargement has long been the number one plastic surgery treatment for women around the world including the celebrities.
Cardi B Boob Job
Cardi B boob job was one of the biggest plastic surgery events of 2019. After honestly sharing with her fans that she was using duct tape to lift her breasts up, she proudly showed off the result of her recent boob job in 2019 in this stunning white dress.
Breast augmentation is such a popular surgery that people keep talking about the boobs or actually the boob jobs of celebrities for years and years and years…
Did Taylor Swift Get a Boob Job?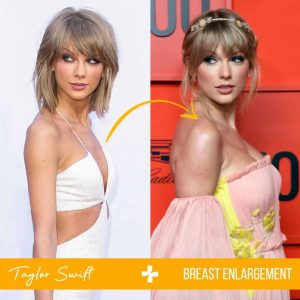 In 2019, people were still wondering if Taylor Swift had a Boob Job. I know! This issue has been going on and on since 2016! And I am afraid Taylor Swift boob job will continue to be a trending topic in 2020, too! Because we still do not know whether Taylor Swift had enhanced her breasts or not! I will leave this with you, be the jury and decide but please do it soon, before 2019 ends! No more Taylor Swift boob job in 2020, please!
When did Kylie Jenner get a boob job?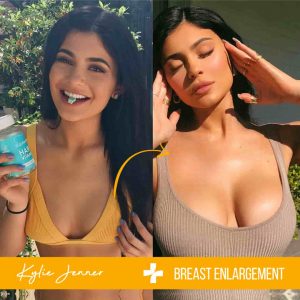 And although Kylie Jenner publicly shared in 2015 that she had not undergone a knife to get a boob job with this note: "No, people – I haven't gotten breast implants! Everyone is obsessed with that. Truth is, as I've gotten older, I've gained 15 pounds and my body has changed; I've definitely filled out" 'Kylie Jenner boob job' was still commonly asked/googled questions 4 years after this statement.
So, the legacy of a breast augmentation or even the 'rumor' of it continues for long, long years ☺
Done with the boobs!
Liposuction and Tummy Tuck
Let's carry on and go a little down and, talk about Liposuction and tummy tuck which were also among the most popular plastic surgery treatments for our patients this year. Liposuction aims to remove fat from the different parts of the body such as the abdomen (tummy), buttocks, arms, waist, chin, and thighs. Tummy tuck aims to achieve a flat tummy by removing excess skin. Both surgeries are performed with the aim to enhance the body contour and physique.
Most of our patients preferred to have liposuction and tummy tuck because in their own words:
'to get rid of stubborn fat and excess skin which do not go away no matter how hard I work out'.
Indeed, this is one of the common reasons why people choose to have liposuction and tummy tuck because both help with the stubborn fat and excess skin and offer a long-term solution if a healthy lifestyle is maintained.
Cardi B's Liposuction
Stubborn fat and excess skin might be a reality for most of us and this is no different for the celebrities! 2019 will also be remembered for Cardi B's liposuction and the way she answered back at people who criticise her of being lazy because she had liposuction:
"[People tell me], 'You lazy, you should just work out.' I do whatever the f..k I want to do with my body, I don't have the time of the day like you do. Like, my job as an entertainer is a 24-hour job, bro. So no, I don't have time to work out and I wanted specific things that I know that no matter how much I work out, is not get fixed."
In her Cardi B style, she has answered back and people could not say any word further against this righteous statement!
And finally, let's go up again and find the most authentic feature of our faces! Yes, indeed, our nose! It would not be wrong to say that one's nose is the signature of their face. Because the nose can dramatically change the appearance of the face. Therefore, it is not surprising to have Rhinoplasty, aka nose job, that aims to enhance the look of the nose among the most preferred plastic surgery treatments for our patients in 2019. Rhinoplasty in Turkey is preferred by our patients not only for cosmetic reasons but also to improve certain health conditions such as problems in breathing. Along with traditional nose jobs, our contracted surgeons performed a good number of ethnic rhinoplasty, ethnic nose job, in 2019.
Kendall Jenner's Rhinoplasty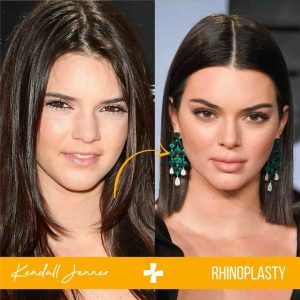 And just we were about to say bye to 2019, a rumor about Kendall Jenner that she had a nose job hit the news couple of days ago! After sharing a video on Instagram, most of her followers seemed to be convinced that the world's highest-paid model had rhinoplasty. Her followers claim that she now has a slimmer and smaller nose than before. Kendall has always been adamant that she has not gone under the knife but the rumor about her nose is there. So, we leave you with it too! The decision is all yours!
2019 has been a good year for plastic surgery. The figures show that the demand for plastic surgery has been on the rise this year too. It has also been a sensational year; celebrities occupied the headlines about their plastic surgery journeys! Let's see what 2020 will bring! Before we go, we hope your New Year is filled with success, health, prosperity and happiness.
See you next year 😉
Which treatment are you interested in?
You can have a free consultation whenever you want!
---
---