Turks are Determined to Solve the Hair Loss Problem of the Whole World
Male pattern baldness, also called androgenic alopecia, is the most common type of hair loss in men. For some, hair loss is a serious issue and may even cause psychological problems.
The major factors that contribute to hair loss in people are genetics, stress, illness, water condition and physiological factors such as malnutrition, stress and ageing.
Hair loss is also a global problem for men and women all around the world. Based on a research made by American Hair Loss Association, by the age of 50, 85% of men and 40% of women has been reported to experience hair loss problems.
There are a few solutions to hair loss. By far the most popular one is hair transplantation. The hair transplant business is expected to experience a robust growth in the hair transplant with an estimated CAGR (Compounded Annual Growth Rate) of 25% between 2018 and 2022.
According to the International Society of Hair Restoration Surgery, 84.6% of the hair loss treatments are curing male pattern baldness that is caused by genetic structure of the individual.
When it comes to hair transplants, the most popular destination is Turkey. Turkey's hair transplant industry surpassed over $1 billion in 2018.
All Over The World Turks Are Working On The Global Problem Of Hair Loss
Thousands of physicians, trichologists and nurses in Turkey are working to solve the hair loss problem of men coming from all around the world to Turkey.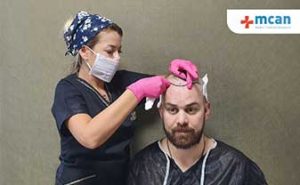 Turks are people who bring together the East and the West. In eastern side of the world, Turkish hair transplant surgeons are treating a great number of hair transplant patients in Turkey. In the western side of the world, a group of Turkish scientists, led by Osman Kibar, are working on hair restoration via cellular regeneration in vitro environment.
Both in Turkey and North America, it is Turks that are working hard to solve the hair loss problem of men, one with hair transplantation and the other with medicines. As you may already know, Turkey is becoming the capital of hair transplantation.
Hair transplant surgeons are having a great number of patients and gain a vast experience with the extensive variety of cases. In North America, Mr. Kibar and his team is also working on different ways to treat hair loss and the process looks very hopeful.
Who is Osman Kibar?
Let us introduce Osman Kibar, the founder and CEO of Samumed, a biotech firm in San Diego, USA. Mr. Kibar is a self-made biotech entrepreneur from Turkey. He is currently developing experimental drugs to fight hair loss, and reverse aging.
According to Forbes, Kibar is worth $2.1 billion in real time. At first, his firm Samumed was an incubator of Pfizer. Now, Samumed works independently. He was among the Forbes 400 in 2018, and Global Game Changers in 2016.
The Medicine developed by Turks to Cure Hair Loss: SM04554
SM04554 is the experimental drug developed by Samumed to cure hair loss and male pattern baldness. The medicine is in the third phase of testing.
Osman Kibar and his colleagues, Cevdet Samikoglu and Yusuf Yazıcı are working on reversing the aging process. One of the expected effects of the medicine they have developed is that it will regrow hair in bald men. The same medicine is also expected to turn gray hair back to its original color.
Samumed is in the medical research and development for tissue-level regeneration. It is run by 3 Turkish scientists and they are all working with their team to regenerate the cells of ageing people, making them as powerfully as those of a developing fetus.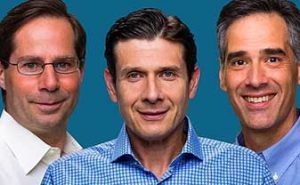 Source: Business Insider
Now, Samumed's most advanced program, androgenetic alopecia, is in phase 3 of its development. The company value is already over 12 billion USD.
When will the medicine be available on the market?
We do not know exactly when it will happen, but maybe the next generation will witness the medicines developed by Samumed to regrow hair in bald men. But until then, we will continue to treat your hair loss with hair transplant in Turkey with experienced Turkish surgeons. With innovative methods and artistic approach, hair transplant surgeons in Turkey create wonders when it comes to cover the balding parts with permanent hair coverage..
"What is the best hair loss treatment available today?"
For anyone who wants to give a chance to change his appearance and cover the baldness with hair, hair transplantation is and will remain the most popular treatment in the world. It can be either transplanted with FUE, or DHI, or Sapphire Percutaneous.
Just 2 nights and 3 days are enough to come to Istanbul and have a hair transplant at a safe clinic, for around 2000 EUR to 3000 EUR. And that is far below the amount you would pay for a hair transplant in other countries.
---
---