MCAN Health is proud to announce the graft calculator for hair transplant candidates.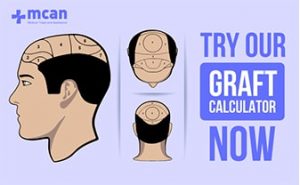 MCAN Health is receiving dozens of hair transplantation inquiries from all around the world every day. Hair transplant candidates are generally informed and have some ideas about the procedure. They usually either ask a friend, or consult with a specialist in their home country or most of the times they simply google it.

The most common question coming from our candidates is: "How many grafts or hairs do I need to be implanted to my receding and balding parts?"
How many grafts do you need?
To answer this question, we ask for the head pictures of the patient, and then, get an opinion from our contracted doctors. This is for sure the best way.
However, before this step, patients may want to have a rough idea with a tool to estimate the number of grafts and hairs they need to be implanted to cover their balding and receding parts.
For that end, MCAN Health developed a graft calculator, and is proud to introduce it to all hair transplant candidates.
You will simply select the area of your scalp where you think you have balding and receding parts. Then, please simply move the bar below and decide the expected density based on the density of your natural hair appearance. Here comes the number of grafts and hairs you need for the implant. Please, do not forget to enter your age.
Important Reminder
Graft Calculator gives you a rough idea. It is because the number of grafts can change from person to person since each person's hair type and head size are different. To get a precise idea, an experienced hair transplant surgeon needs to evaluate your condition. For this reason, please fill out our contact form to get an expert opinion.
About MCAN Health
MCAN Health is a medical travel company of MCAN Group. MCAN Group is specialised in plastic surgery, hair transplantation, bariatric surgery, dentistry and IVF treatments with its medical travel company and medical aesthetic clinic. MCAN Health is awarded with the best customer service award by a British Search Engine, ranked among the 500 biggest service exporter of Turkey, and accredited by the Ministry of Health. Thanks to its world class standards, MCAN Group receives mostly reference patients and inquiries from different parts of the world, and facilitates the treatment of thousands of patients per year. Hair transplantation procedures are performed at MCAN Aesthetic Clinic by doctors and nurses. MCAN Medical Aesthetic Clinic is awarded as The Best Aesthetic Clinic in Stars of Turkey 2019! MCAN Group dedicates itself to a unique patient experience by offering the highest quality service at affordable prices.
---
---